Knowing how to sell a domain name can help you make a good side income.
The overall concept sounds easy: you have a domain, get the highest bidder, and make some money.
But where do you advertise your domain? What platforms can help you sell it? How much does a domain name cost?
If you've asked yourself any of these questions, you're in the right place.
In this guide, we'll break down the five most important steps to help you sell your domain and make maximum profit.
The good news is that you don't have to be a seasoned pro at this. Just be open to learning, and you'll be on the right track to successfully selling your domain names.
Let's get started!
---
How to sell a domain name in 5 simple steps
---
Step 1: Understand the value of your domain name 💵
The first step on our list of how to sell a domain name shouldn't come as a surprise. After all, in order to sell anything in life, you at least have to know what it's worth.
But this can be challenging in the digital space. After all, how do you find the value of something that's non-tangible, like a website?
Well, there are multiple factors that can help you determine the right value and price for your domain name. You'll need to consider the following:
How old the domain is. Older domains tend to be more valuable than younger ones.
Its relevance to the market. Buyers will be more interested if there's a clear, direct connection between your domain and a specific industry.
How memorable it is. Is the domain name easy to spell and remember? This is what your buyer will want.
How brandable the domain name is.
The domain's SEO ranking and current organic traffic.
You can also use a domain appraisal tool to help you determine the value of your domain name.
GoDaddy has a free tool to check your domain name value. All you need to do is enter your domain name and click Get Value.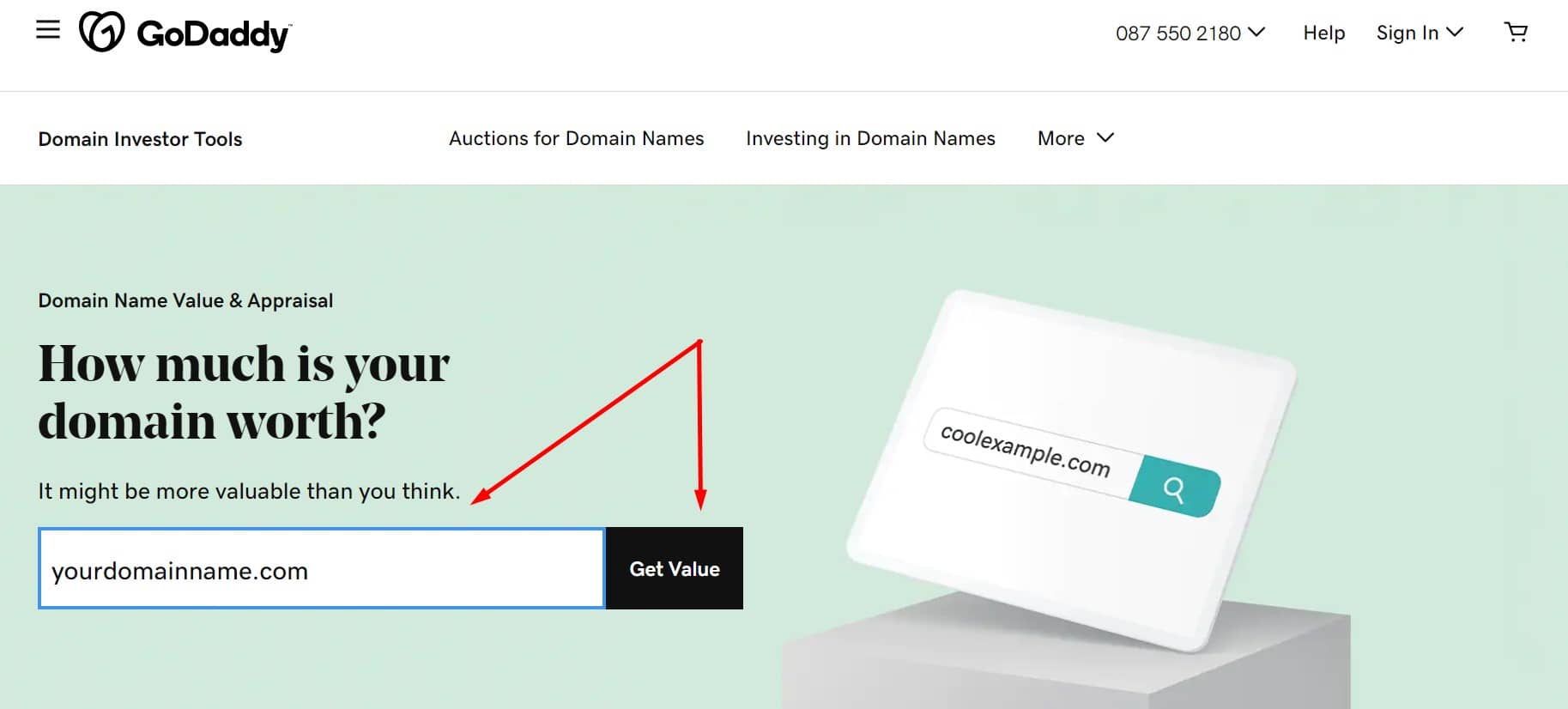 This will help you get a good estimation of what price to set for your own domain name.
---
Step 2: Set a realistic price 💰
When it comes to business, pricing is sometimes a sensitive topic.
In an ideal world, of course, you want to make as much money as possible from your domain.
In the same breath, being realistic and fair is also very important in domain flipping. If you price your domain too high, you might turn off potential buyers. And, if you price it too low, you'll end up receiving less than its actual worth.
The previous step in how to sell a domain name gave good tips on finding your domain's value. After doing that research, you should also consider the level of demand that currently exists for domains like yours.
To figure out what similar domains are selling for, head to domain-selling sites like Flippa or GoDaddy. This is where you can see how much people are selling their domains for and how much buyers are willing to spend.
For this tip, remember to filter your searches (e.g., keywords, domain age, industry, etc.).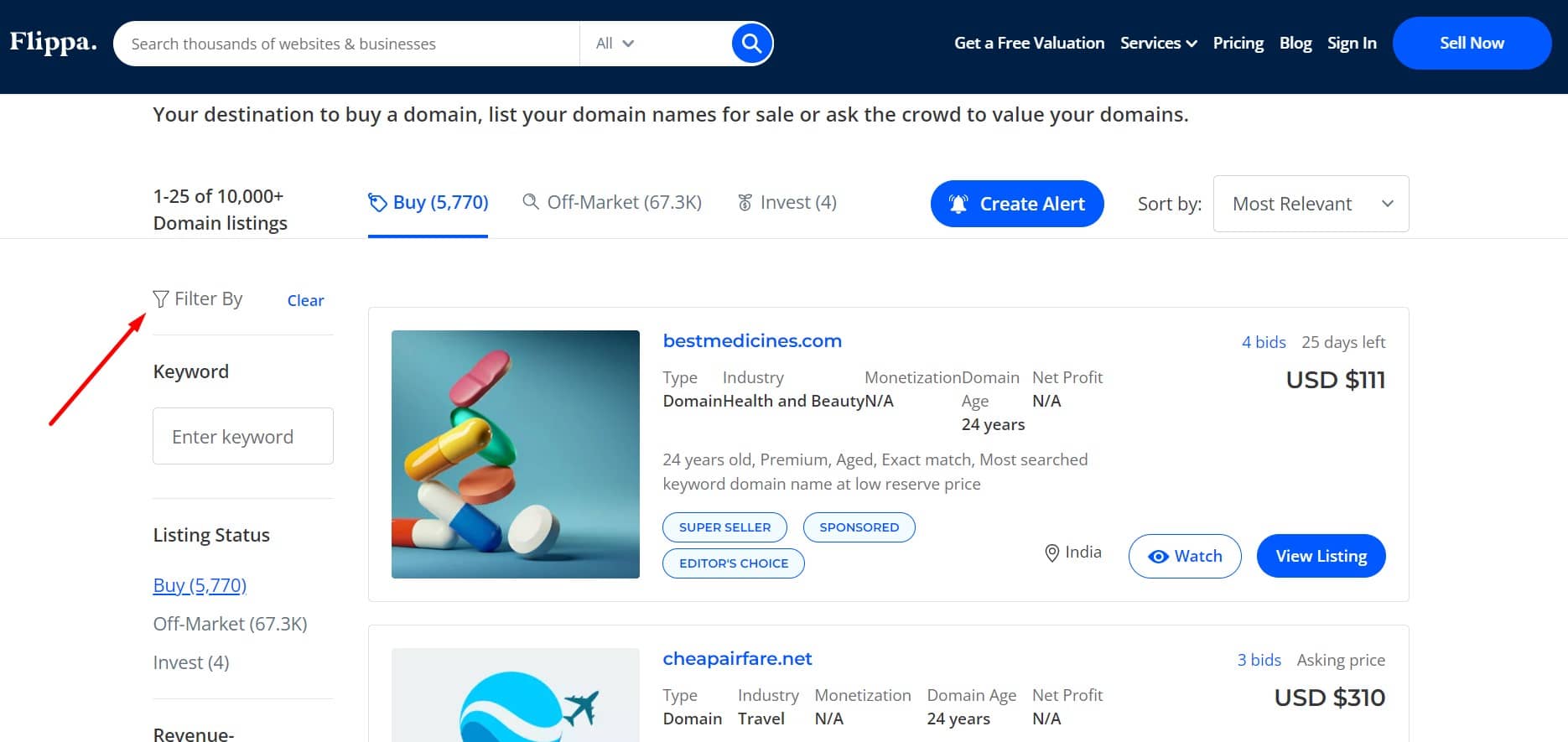 Often, the price will be somewhat lower than the actual value because buyers want to be able to make a profit. If there's only a small difference, you'll likely still be able to make a profit by selling your domain.
On the other hand, sometimes you'll notice that the selling price of domains like yours tends to be significantly lower than the value assigned by the appraisal tool you used. In these instances, you can either decide to base your price on what is actually selling, attempt to sell your domain for the full value, or wait to see if the selling price of similar domains increases.
---
Step 3: List your domain name 📝
The natural next step in how to sell a domain name is to actually list the domain online.
But where and how?
You'll probably want to go through a specialized domain marketplace to get the largest possible number of buyers looking at your site.
There are many on the market. Some of our favorites are:
Each of these platforms allows you to list and sell domain names easily. The user interfaces are easy to navigate and they also have large user bases and a global network. This can help increase your chances of getting the right buyer.
---
Step 4: Negotiate with potential buyers 🤑
Now, after doing all the hard work from steps one to three of how to sell a domain name, you've set a price that you think is right for your domain.
But what happens if the offers you get don't match up?
Then negotiations start!
You have to have the right strategies in place to ensure that you reach a price that works for both you and the buyer.
Here are a few tips to help you achieve this:
Provide evidence. What made you give your domain its selling price? Is it very brandable? Does it have great organic search traffic? Is there a trend in the market? Proving the domain's value to your buyer can help make them more willing to meet your asking price.
Know your worth. It's essential to set a minimum price for your domain name. This will help you know when it's okay to keep negotiating and when it's time to walk away from the deal.
Be flexible. Be open to finding creative solutions to help ensure that the sale is mutually beneficial. For example, you can offer payment plans instead of a one-time payment.
Always be professional. No matter how difficult a buyer is, remain respectful and professional throughout all your interactions.
---
Step 5: Complete the sale 🤝
Once you've successfully completed the previous step, it's time to close the sale.
Transferring the ownership of a domain name may sound complicated but it's actually quite straightforward, especially when using some of the trusted marketplaces we mentioned earlier.
For example, GoDaddy provides a domain transfer service that takes you through the process. It's fairly straightforward, but there's also 24/7 support if you need it. Escrow is another popular service that provides secure domain transfers and transactions.
---
How to sell a domain name: Get started today 🚀
Selling your domain name can be profitable, but only if done correctly.
We've given you all the tools you need. Now, all you need to do is follow the steps outlined above to help you make the most profit from this exciting venture.
While doing so, remember to take your time researching the real value of your domain name and set a realistic price for it.
You can also make your life a lot easier by using marketplaces that help you determine the value of your domain, connect with potential buyers, and sell, all from one place.
Domain flipping can be very lucrative, but only when done right. 👇
Check out our tips on how to make money flipping domain names to learn more about how to maximize your profit when selling a domain name.