Would you love to share your fascinating traveling experiences with the world, and even make good money while you are at it? Then you need to learn how to write a travel blog. ⛰️
Sharing about your wanderings is great fun. It's a creative outlet for your passion for visiting scenic places, meeting new people, and experiencing different cultures. And, of course, travel blogging also includes enjoying sumptuous food.
👉 In this tutorial, we will give you everything you need to start 🎬 and write a successful travel blog.
---
Step 1: Pick a travel blog niche to focus on
Before you write your first travel blog article, you must pick a niche.
Choosing a niche will help you start a travel blog that's focused. Concentrating on a specific range of topics related to travel gives you clarity on:
What to write.
How to write it.
Who to write it for.
Plus, a niche travel blog with a targeted audience is easy to monetize. There is a myriad of travel blogging niches to choose from, among them:
Backpacking
Luxury travel
Food travel
Ecotourism destinations
Solo trips
Travel photography
Adventure travel
Group travel
Road travel
Traveling with kids
Travel destinations
⛏️ Pick whatever you enjoy and go all in.
---
Step 2: Choose a catchy domain name
Once you've picked a travel blogging niche, the next step is creating an appealing domain name.
Your domain name is your website's address on the internet.
Creating a domain name from scratch can be a tad overwhelming. If you are stuck, prime the creativity pump by using a smart AI-driven domain generator tool like DomainWheel. Simply type in an idea and hit search. You'll get tons of cool ideas instantly.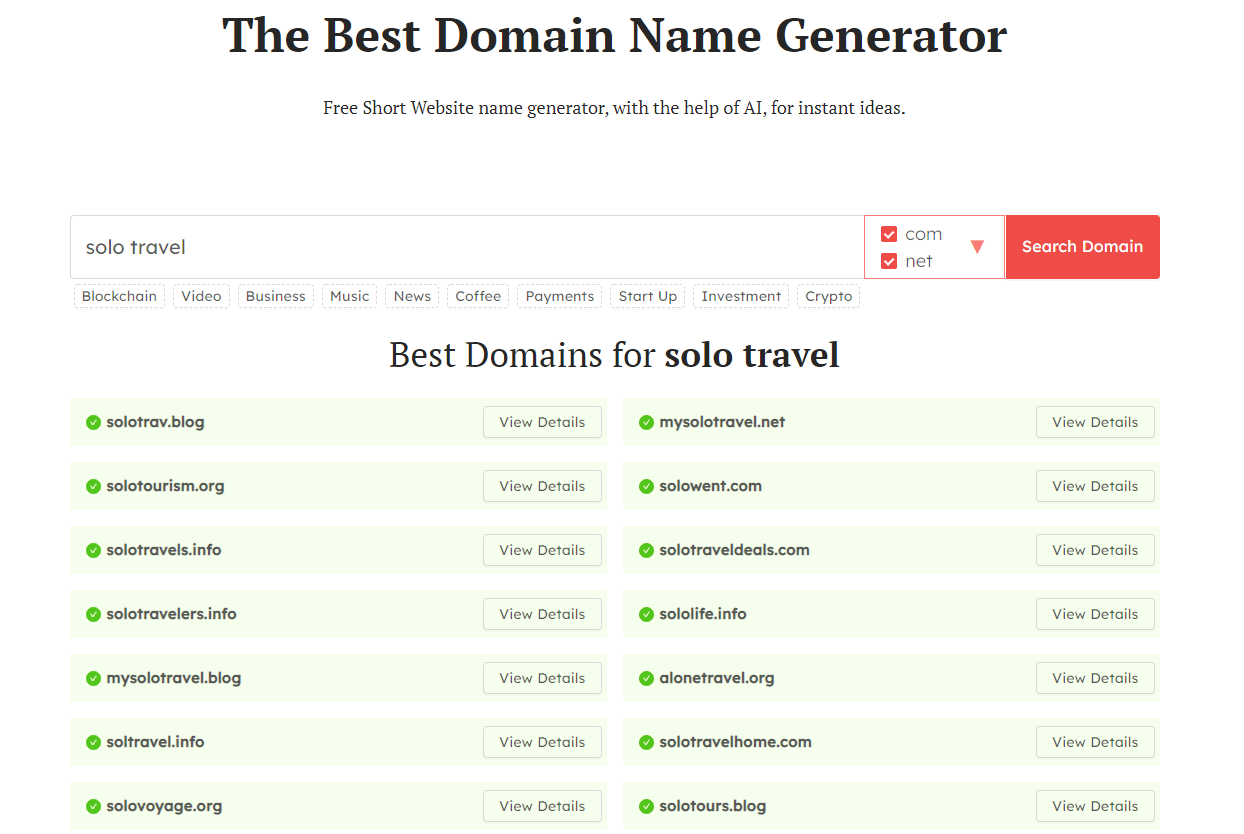 As you can see, DomainWheel gives you multiple options as to all the phrases, expressions, and words you could use as the foundation for a new travel blog name. You can use them as is or use them to do some more brainstorming.
Whether you choose your name manually or use an online tool, make sure it's simple, unique, and memorable. Try to get a keyword-rich name to drive organic traffic. Most of them are taken, but with a bit of creativity, you can still find untapped variants.
---
Step 3: Pick a hosting provider and install WordPress
Next, choose a web hosting service.
Hosting makes your travel website visible to people online. Choose a hosting company that has reliable servers, ensures your pages load fast, and has a beginner-friendly user interface. Our pick for hosting is Bluehost.
The company also has a stellar support team and cheap plans that start at only $2.95/mo. Above all, they have a simple WordPress installer.
👉 For step-by-step guidance on how to install WordPress, check out this tutorial.
---
Step 4: Choose a stylish travel blog theme
Picked a niche? Check. ✅
Bought a domain name? Check. ✅
Chosen a hosting company? Check. ✅
Installed WordPress? Check. ✅
Next thing on your to-do should be to choose a WordPress theme for your travel website. Your blog theme includes your blog's layout, style sheets, and images. Choose a professional striking theme for people to take you seriously.
There are plenty of free travel blog themes you can pick from.
No idea 💡 where to start your search for a theme?
We recommend Neve.
We give the Neve theme the thumbs up 👍 because it's:
Lightweight and loads super fast.
Compatible with popular page builders.
Customizable to suit your needs.
Easy to use, even for total newbies.
Once you find a theme you like, install it – it's easy.
In your WordPress dashboard click Appearance → Themes → Add New.
From there, enter "Neve" into the search field, and then click on Install and Activate next to the theme's name.
That's it. Your spanking new blog is ready for travel content! 🤩
---
Step 5: Generate stellar content ideas through keyword research
Content creation starts with research and planning, not writing.
So the next step is generating content ideas using keyword research. Keywords are the words and phrases people use to search for information online. By choosing the right keywords, you will write content that'll show up in search engines when people search for information connected to your travel niche.
Doing keyword research is a breeze with a keyword generator tool like Ahrefs. Just pop your niche seed keyword into the search bar and hit Search Keywords. Here are the partial results for "solo travel".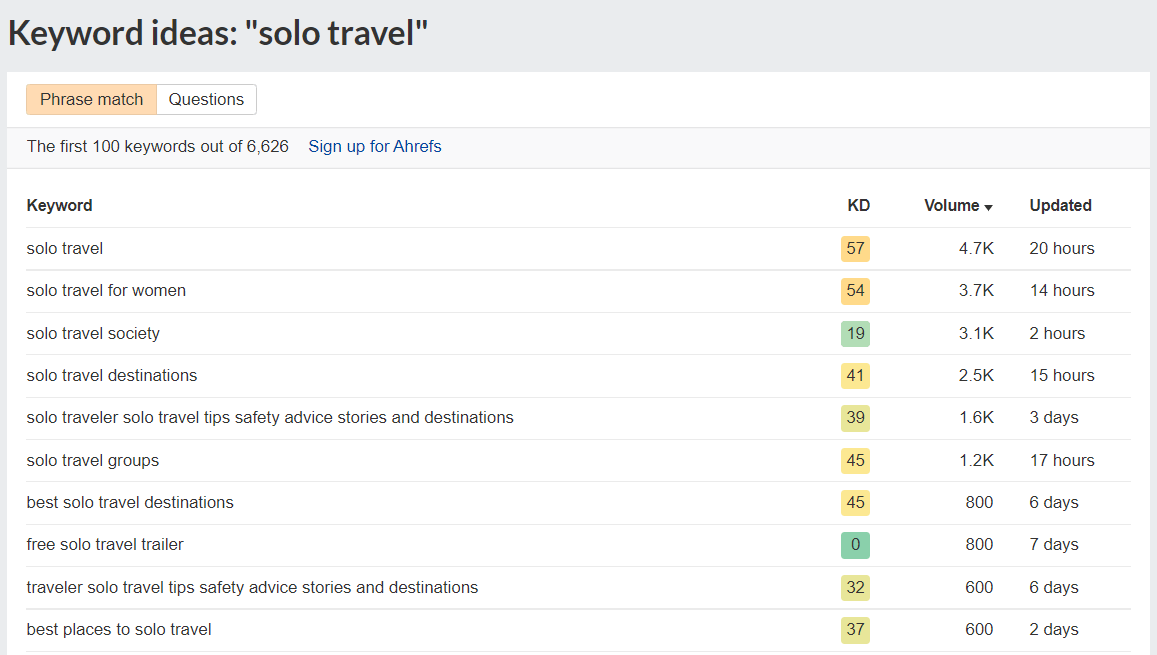 💡 Ahrefs is a paid tool. If you'd like to use a free alternative instead, consider going for Google Keyword Planner.
Most keyword generator tools show you the monthly volume of the keyword and its difficulty level. When you first learn how to write a travel blog, go for low-difficulty keywords.
To feed your keyword generator tool with the right seed keyword ideas, take a related step…
---
Decide what type of content to write
Here are a few tips on what to write about:
Personal reflections about destinations.
Your first holiday or travel adventure – the good, the bad, and the ugly.
Explore your next travel destination.
Lists about everything from destinations, food, what to carry when traveling, etc.
Showcase popular travel destinations in your niche.
Interview locals and share the fascinating bits of the interview on your blog.
Reveal uncommon travel destinations.
⚠ Remember to run your content idea through a keyword tool to confirm there's a significant number of people searching for the topic.
---
Step 6: Include all the vital elements of a travel blog post
Finally, we get to the writing itself.
For your content to hit the mark and appeal to your audience, focus on the following elements of a powerful travel blog article.
High-quality photos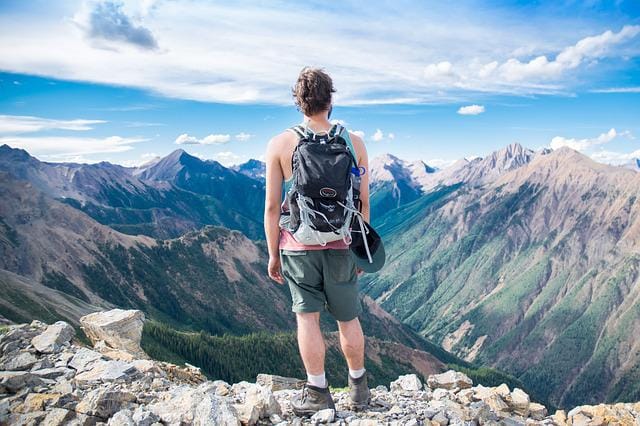 Your blog won't survive, let alone thrive without top-notch visuals. Readers want to see your travel adventures, not just read about them. So, include high-resolution images.
Accommodation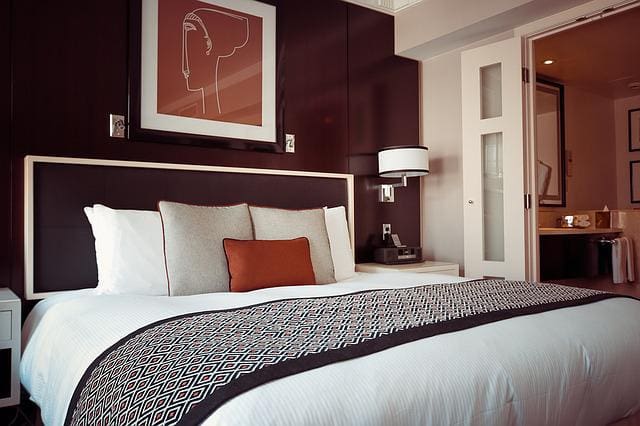 People are fussy about where they will stay when they are on vacation. Therefore, it's crucial to showcase the best lodgings. To suit everyone's pocket, cover both ends of the spectrum – the high-end and the budget options.
Food
What's a vacation without tasty finger-licking cuisine? So be sure to talk about the popular dishes and food people can feast on at the places you write about. Tell readers where they can get the best food. Include close-up images of the meals.
People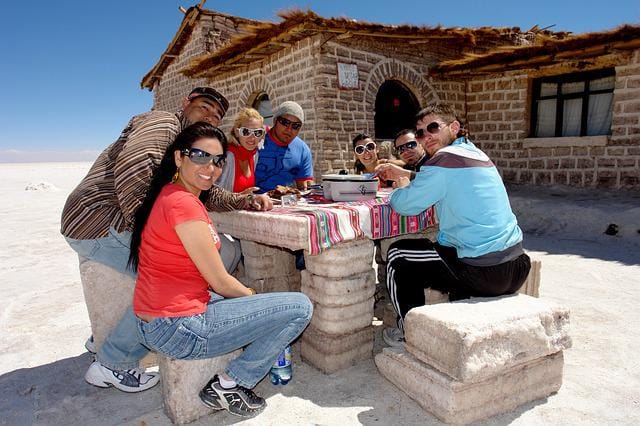 Experiencing a different culture makes tourism enriching. In your content, reveal the beautiful faces of the people you meet. Go a step further and share their views about life and the world.
Activities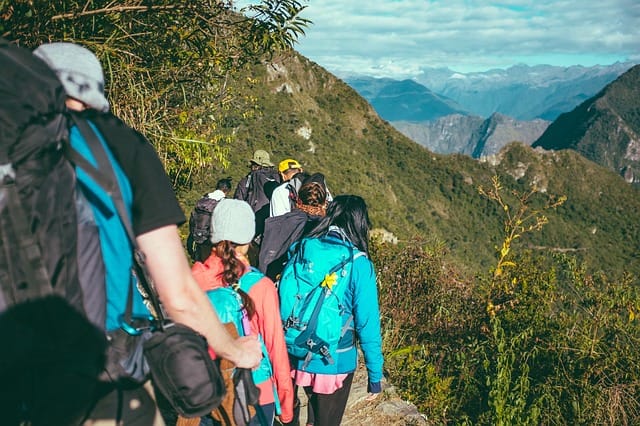 Tourism isn't just about going places for relaxation and inactivity. It also involves doing exciting, fun, and invigorating activities to recharge one's batteries. Share with readers the various entertainment activities they can do.
---
Step 7: Use writing tools to improve the quality of your blog articles
After writing your content, optimize and polish it until it sparkles.
Here's an overview of the best writing tools for bloggers who want to produce impactful content:
---
Step 8: Decide how to make money off your travel blog
Finally, establish how to make money 💰 through your blogging efforts.
Yes, blogging as a hobby is fulfilling. But making money off your hobby blog is sweeter. Travel blogging can be a lucrative side hustle.
Below is a quick list of successful travel bloggers and how they make their money.
Living The Dream made $10,350 in July 2022, mostly through Cost Per Mille (CPM) advertising [1]. In the CPM model, companies pay publishers for every 1,000 impressions an advert receives.
Two Wandering Soles generated $14,179 in 2019 [2]. The bulk of the earnings came from affiliate marketing programs like Thrifty Traveler, Amazon, Booking.com, and RentalCars.com.
Practical Wanderlust made $2,450.75 per year back in 2017 via courses and consulting [3].
Fun Life Crises generated $3,200 in March 2022 from sponsored posts [4]. As a travel blogger, you can make content partnership deals with hotels, tourism boards, clothing brands, and gear companies.
⌛ How much you make depends on your niche, monetization strategy, how long you've been blogging, and how much time you can devote to your blog.
---
Learn how to write a travel blog today
That's a wrap of how to write a travel blog that packs a punch.
Let's go over the eight steps:
🧳 Pick a travel blog niche to focus on.
🖥️ Choose a catchy domain name.
⛏️ Pick a hosting provider and install WordPress.
🎨 Choose a stylish travel blog theme.
🔎 Generate stellar content ideas through keyword research.
🗺️ Include all the vital elements of a travel blog post.
✍️ Use writing tools to improve the quality of your blog articles.
💸 Decide how to make money off your travel blog.