Media Company Name Generator
Free media company name generator, with the help of AI, for instant ideas.
So, you're starting a media business? That's great news. But, before you can begin this exciting journey, you need to give your new venture a name that will be memorable, iconic, and help you connect with your market. Easier said than done? We know. That's why we created this helpful guide on naming a media company.
Giving your company the right name is a process ⚙️ that involves market research, brainstorming, and thinking about your possible future plans. The good news is that you don't have to do it alone. Read on to learn everything you need to know about how to find good names for media companies:
Analyzing industry leaders
Naming a media company: step-by-step guide
Media company name ideas
Let's get started!
---
Analyzing industry leaders
There are thousands of media companies, but not all are successful.
For this article, we'll 🔎 look at a select few who've managed to build a great brand and become household names.
Are their company names complicated or easy to spell? What do their names mean, and are the meanings special? These are a few important questions to ask yourself as we look into the following industry giants:
One of the biggest streaming services, Netflix, began in 1997. To name it, the founders made use of two words; "Net," which is short for the "internet," and "flix," from the word "flicks" (aka movies).
This two-syllable word is relevant to what the company does and easy to remember, pronounce, and type into any search browser. These are all essential components for the right media company name.
---
Everyone knows about HBO, but we may not pay too much attention to its name. The founders of HBO (Home Box Office) decided on an acronym for their company, and they're not the only ones. Popular media companies like ABC, CNN, and BBC also went the acronym route.
Using an acronym can be perfect if you have multiple words you would like to include in your business' name. Just ensure that the combination of letters you choose is catchy and easy to remember.
---
This company was established in 1963 and was initially called American Cable Systems. It then rebranded in the late '60s and changed its name to what we know today — Comcast.
Similar to Netflix, this name combines two words; Communication and Broadcast.
---
Further research
You'll also want to research companies in your specific media niche. For example, if you're planning to rent video equipment, you'll want to look at companies that rent out cameras and lighting equipment for film. You may find some trends you can recreate to make your name feel like part of the industry, or find yourself inspired to do something completely new.
Before naming a media company, it's also essential to understand that the most generic names are probably already taken by now since there are so many media companies. But don't let that discourage you. Instead, think of this as an opportunity to be creative, think outside the box, and find a unique name.
To help you get started, here's our step-by-step guide. 👇
---
Naming a media company: step-by-step guide
Once you've developed an understanding of the business names that already exist in your niche, you're ready to start the process of choosing a name for your own company.
Step 1: Use a business name generator
Brainstorming names is the natural first step to finding the right one for your business. To help you get some inspiration, you can try a tool like DomainWheel's business name generator.
All you have to do is input some names or keywords you have in mind, click "Search Domain," and wait to see what suggestions the tool comes up with.
👉 Here's an example: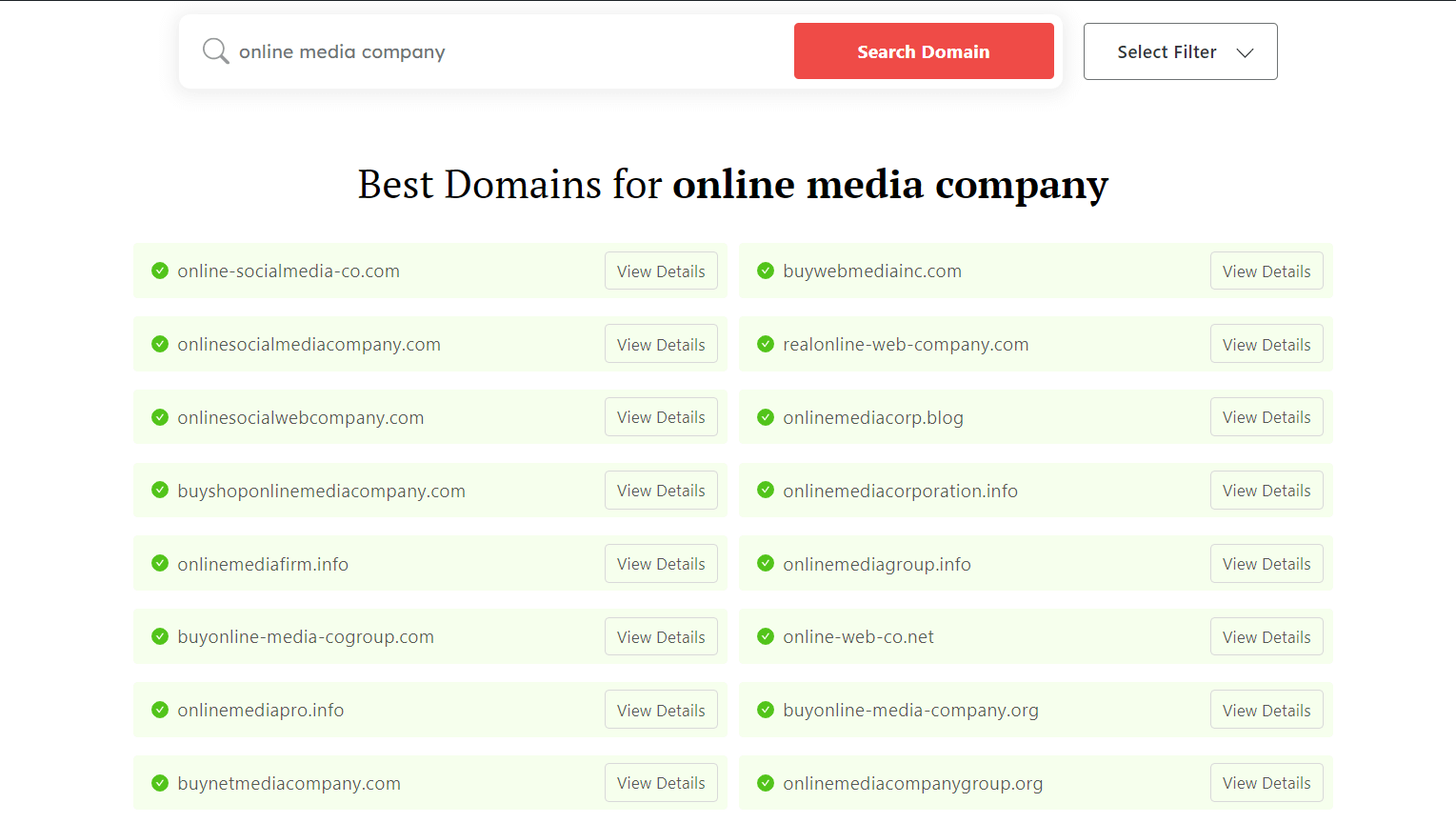 This tool is ideal to use right at the beginning to help you come up with different names. It also has a helpful "sounds like" and "rhymes with" feature for the words you searched for. In addition, it's free to use, so by all means, use it as much as you want.
---
Step 2: Focus on telling a story
When looking for digital media company name suggestions for your business, you can focus on finding a name with a story.
A great example of this is Buzzfeed. This name suggests that their content is about current events, news, and exciting topics.
Another example is Discovery. This name suggests their content is about uncovering interesting new things or educating people.
Think about what you aim to achieve with your company. What is your Unique Selling Point? What makes your content different? The answers to these questions will help you find a name that tells a story.
---
Step 3: Make it short and simple
One of the most important aspects of naming a media company is to ensure that the name is short, simple, and memorable.
Think about industry giants like Sony, Discovery, and Netflix. These companies have simple names that are concise and easy to remember.
This is doubly important because you'll probably be using your business name as your domain name and running a significant portion of your business through your website. So, you need your audience to be able to type your business name in and share it with their friends and family without being confused about how to spell it.
The previous two steps will give you a good bunch of names to work with. Now, sift through these names to see which ones are more practical. Everything that's simple and catchy, you can keep. Get rid of every word that's hard to understand, spell, or say.
Sometimes, we can get a little attached to names and struggle to shortlist. This is where friends, family, and colleagues can help. You tell the people you trust your name ideas and then ask them:
What do you think of the name?
Can you spell it?
What comes to mind when you hear this name?
---
Step 4: Consider future plans
If you're trying to start a media company, there's a good chance you're in this for the long haul. So, when naming your company, you want to consider your future aspirations and avoid names that limit you.
For example, if you're planning to start by selling media equipment (e.g., cameras, lights, etc.) but hope to one day become a streaming service, you'll need to stay away from names about selling equipment because that's not the end goal.
This step might need you to dig a little deeper and ask yourself a few questions like:
Where do I see my company in 10+ years?
What are the specific services I want to offer?
What brand identity do I want to build for my business?
---
Step 5: Check domain name availability
At this point, you should have a few names you think might work. However, before you commit to them, you'll need to check if they're available for you.
First, Google the name you want to see if someone already has a company profile or website under that name. You can also type the company name as a URL in the URL box of your browser to see if there's a website at that address. If someone has taken the domain name but there's no website, you may still be able to find out who owns the domain and purchase it.
You should also check your local trademark and patents office to make sure the name hasn't been registered before. Names of brands can be registered either by country or internationally using institutions like United States Patents & Trademark in the USA. Doing this, can help you avoid legal troubles and ensure the uniqueness of your brand.
If the name you prefer isn't already on a website or trademarked, congratulations! You can start using it for your business.
If the name is taken, consider alternative ways of phrasing it. For example, if "Online Media" is already taken, you can try "Web Media" or "Net Media" or any other variation that still retains the meaning of the name.
---
Media company name ideas
Here are a few digital media company name suggestions to consider:
Newstastic
Eye Opener
Anonymous
Voice Media
Let's Talk
Hashtag Laugh
Trending Today
Loud Channel
Vibez Network
Not Fake News
The Hype
On the Street
Open Circle
Digital Uprise
The Reach
Simply Social
Digital Edge
Social Target
Social Impact
Media Savvy
---
Final thoughts on naming a media company
Naming a media company can be challenging. But if you use the above guideline, you should be on the right track to finding a unique name that you can be proud of.
⌛ And if, at any point during your brainstorming sessions, you're a little stuck, you can always use our free 👉 business name generator to help spark some inspiration and make the process a little easier.