The first time I worked on interviewing for a blog I put up a strategy, defined the criteria for the people I talked with, and drafted a set of questions in advance. I had everything planned out. But I didn't know WHO were the people I should reach out to.
This time around, for DomainWheel, I wasn't even considering an interview section.
That's mainly because our readers are so different! They come from various industries and are looking for completely unrelated topics. I thought an interview initiative would be futile.
Nevertheless, here I am presenting our first blog interview with Ron Stefanski 👏
So how did this happen? And why is it relevant for you?
While using Semrush to check backlink opportunities I stumbled on OneHourProfessor.com. This guy, a previous college teacher, was a 9 to 5 online marketer who wanted more freedom.
In 2016 he left his job to work on his own digital project. It was a jobs site for ex-cons which he grew and eventually sold on Flippa for $500K.
Ron has now moved to Las Vegas, became a father, and is teaching people how to grow their blogs.
Soon after my second email (follow-ups can work) Ron got back to me.
And the rest is history.
---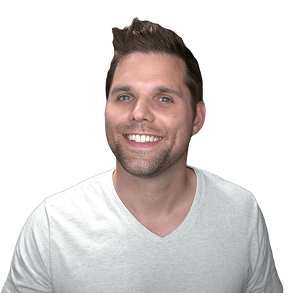 I hope you get inspired by Ron's answers. They talk about the early stages of launching a business and how it all starts with a name. We also touch on the challenges Ron is facing now and how AI will soon integrate into our daily work.
Enjoy the read!
How did you choose what type of business to tackle? What are the main things to consider when starting a business of your own?
I'd love to say that I had a lot of thought put into what business I wanted to start, but that's just not how it happened.
I always wanted to be an entrepreneur but needed something with a low startup cost as I didn't have the finances to support any large purchases.
I was also looking for something I could do with a full-time job because I am too risk-averse to go all-in on a business idea without any financial stability.
That said, I stumbled on building websites and decided to begin with a half-baked idea of selling courses to the public. Things have changed multiple times since then, and business models have evolved, but overall it worked out well.
How did you come up with the name for your business?
The name of my business came about in two ways. First, the original idea for my site was to create one-hour-long courses and sell them to the public. Second, I was (and still am) an adjunct college professor and thought that adding that to the end of the site name would build credibility.
What is the story of acquiring the OneHourProfessor.com domain? Were there other domains you had considered back in 2014?
It was as simple as going into a registrar and purchasing it. I really don't recall what other names I considered at the time, but this was the one I liked the most and it was available.
Did the purpose of your business change over the years? How did your business evolve and what were the most important milestones in hindsight?
Yes, the business has evolved many times. It started with me wanting to sell courses, then after creating courses, I realized that was very difficult to do with no credibility. So, I used the OneHourProfessor site to document my online business journey.
Then, I could make it a place where we discussed all types of digital marketing strategies, but it was too competitive so I went back to discuss my journey.
Finally, after building many successful websites, I decided to start to write about the different types of software I use and help others build and market online businesses of their own.
When was the moment you realized you need help with your blog and that you can do more if you start working with a team?
The first thing I ever outsourced on one of my sites was writing, and I realized that to scale any site I start, I have to always find qualified writers and get them to help produce content.
With OneHourProfessor I started outsourcing content production when it came to writing reviews of the different software/service platforms I wanted to highlight.
I hadn't done this previously as I didn't feel it was appropriate to outsource content on a personal blog like my own, but I realized that as long as I'm the editor and review the content and give my insights, it's nearly as personal as if I wrote it myself but takes much less time.
What are some challenges you are facing with your project today? Both on your side and on the industry side?
Competition is very difficult in the online business space, so that's been a challenge from the beginning. Beyond that, managing costs and the ROI of content production has been challenging mostly because it's hard to anticipate if/when content will rank on Google after it's written.
What are you planning to do to overcome those? In what part of your business will you invest more?
My focus will be a deep analysis of the ROI of any content we produce, and do my best to adhere to best practices for SEO of all of my content.
I can't do much about the competition, but if I continue to create quality content and adhere to best practices, I think my site will continue to grow.
In terms of greater investment, it'll be the content. At this point, my site is authoritative, and as long as the content I create is quality, I think the site will grow.
Is your blog a lifestyle business or do you plan on selling it? When will you know it's the right time?
It's a lifestyle business for now, but at the right price, I would sell any of my sites.
I don't really have an exit strategy or plan, but the right time would be if/when someone offers me a very high multiple for what I've created and I'm tired of working on the project and have another site in growth mode.
If you could go back, would you choose the same domain name or a different one?:
At this point, I'd probably still choose the same domain name.
Technically it doesn't make a whole lot of sense because my original intention was to create short one-hour-long courses, but I think it's a highly brandable/reputable name that's been established well over the years so it's hard to picture not using it.
How do you think the latest developments in AI will impact your business?
I think AI will drastically change my industry over the next 5 years.
While AI content production isn't where it needs to be yet, people underestimate that AI learns exponentially. That said, I feel that within a couple of years, most sites that rely on informational content only will lose a large portion of their market share. Of course, people will still value human beings and their opinions, so my hope is that those who have a personal brand like my own will continue to thrive.
I think the biggest question at this time is how Google will feel about AI content and what their policy will be for those who create it. I feel there will be a point where it may be undetectable, and I'm not sure if Google will simply have its own AI answering queries or if they'll allow or penalize site owners.
---
Thank you Ron for doing this interview and helping kick off this new series of talks with entrepreneurs, freelancers, marketers, and domain experts.
👉 If you happen to know someone who is doing great work, please send them my way. Until next time!