Stage Name Generator
Free stage name generator, with the help of AI, for instant ideas.
Are you an artist looking for a special name? If so, you can start by checking out Domain Wheel's stage name generator. It's free to use and can help you find many unique stage name ideas in just a few seconds. This guide will show you how to use it + how to come up with a good stage name.
A stage name can be anything you want, and there are no rules about what you can or can't name yourself. But that doesn't mean it's easy to create. In fact, it can be overwhelming to find a name that helps you stand out while expressing who you are and what your brand represents.
We know how important finding the perfect name is. So, we've prepared this helpful guide that will take you through the step-by-step process of creating a unique name. We also share stage name ideas that we hope can help inspire you.
Without further ado, let's get started!
---
What is a stage name generator?
Some artists may prefer to use their real names when performing, but others find that a stage name (aka pseudonym) can help them to better connect with their audience or create a more distinctive persona. This pseudonym can also help protect your privacy and separate your personal and professional lives.
Given how important this name is, sometimes you might feel stuck or find it challenging to create one.
That's where a stage name generator comes in! 😎
In a nutshell, it's a tool that helps performers find the perfect name. It can be used to create names for all types of entertainers, including musicians, actors, dancers, and comedians.
To get started with our name generator, all you need to do is think of a couple of words, phrases, or word combinations that you feel connect to the brand you're trying to build. Then, type those words into the search bar, click "Search Domain," and wait for a second or two to let the tool generate a list of options for you.
👉 Here's an example:
Our generator also offers names that "sound like" and "rhyme with" what you searched for. It also gives you "random suggestions." This can all help to add more creative ideas you might not have thought of.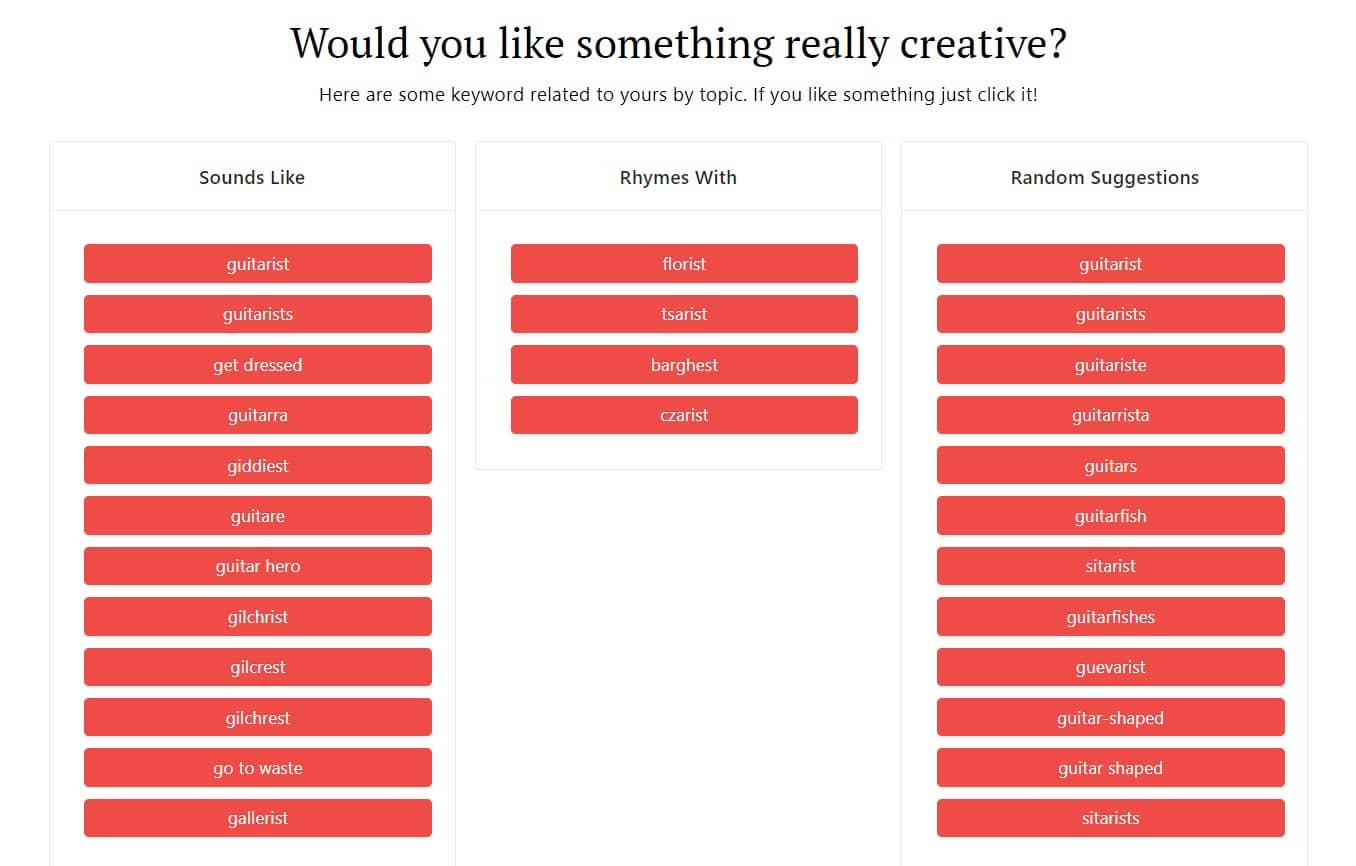 Last but certainly not least, the DomainWheel name generator can tell you if the domain name associated with a specific stage name is available. This can be helpful if you want to create a website or start a blog for your artistic endeavors.
---
Do I need one?
🙋 Yes. Most people need a stage name generator. Here's why:
When you grow up with a particular name, it's challenging to think of a new one that will represent who you are as a performer.
A stage name generator can make your life a little easier by cutting down the time it takes to create a creative and unique name.
It can also be a fun way to explore different personas and possible identities for you as an entertainer.
---
How do I make a stage name?
At this point, you're probably wondering: how do I choose a stage name?
Well, there are a few things you need to consider:
Consider your alter ego
Most people have some sort of an alter ego or another side to their personality that they only reveal in certain situations. This can be useful when it comes to creating a stage name. For example, if you are a rapper, you might choose a stage name that reflects your tough persona. Or, if you are a singer-songwriter, you might want a stage name that is more mellow and poetic.
By tapping into your alter ego, you can create a unique and exciting name that represents a part of who you are.
---
Think about your branding
A stage name is a crucial part of any performer's branding. It's the name that you'll be known by to your fans, and it can help to set you apart from other performers in your genre.
So, think about the specific brand you want to create and what phrases or terms can be associated with it.
---
Aim to stand out
When establishing yourself in the entertainment industry, finding a way to stand out from the crowd is important. After all, thousands of other aspiring actors, singers, and dancers compete for the same roles.
So, how do you choose a name that helps you stand out? 🤔
Make it easy to remember and pronounce. A stage name that is too long or confusing is likely to do more harm than good.
Consider what kind of image you want to project with your stage name. A stage name should reflect the kind of artist you are and the type of music you make.
Aim to choose names that are very different from other artists in your genre.
Ultimately, the best stage name is the one that feels right for you and helps you to achieve your goals as an artist.
Now that you understand the critical components of a stage name, let's get into our step-by-step guide.
---
How to come up with a good stage name
Step 1: Consider your nickname/s
The first step is brainstorming some possible names or phrases that might represent you well. And a great place to start might be with your nickname.
Many stage names are simply nicknames that have been adapted for the stage. If you have a nickname that you love and that people already know you by, this can be a great way to create your stage name.
But what if you don't have a nickname? Well, you can always create one.
Some artists use a combination of their first and last names, or they alter their last names slightly to create a stage name that is unique but still recognizable.
---
Step 2: Use a stage name generator
Earlier, we explained how our generator works. Now it's time to put it to good use.
You can input your real name, nickname, persona, style, genre, basically anything you're considering to see what creative names the tool comes up with for you.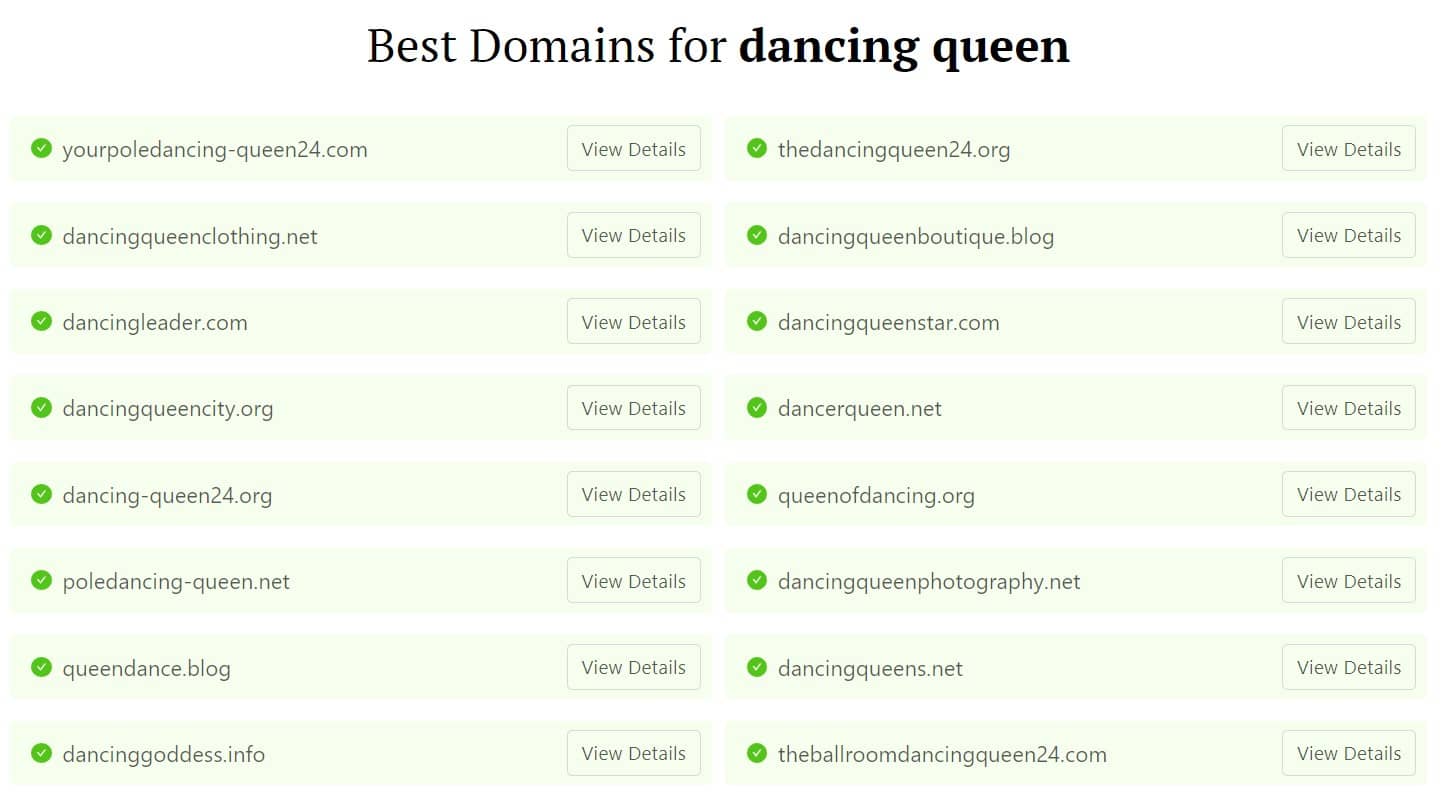 Remember that, at this point, you're looking for as many options as possible. And our tool is free, so you can use it as much as you want to.
---
Step 3: Create a shortlist
Once you have a list of possibilities, it's time to start whittling it down.
To narrow down your list, consider how each name sounds, what it means, and how your audience will receive it.
👉 You can also ask yourself some important questions:
Is it easy to pronounce?
Does it roll off the tongue?
Is it too similar to another stage name in your field?
Is it too similar to your real name?
---
Step 4: Ask for feedback
Once you've narrowed down your list to a few favorites, ask for feedback from friends and family members. See how they react to each name. Ultimately, the decision is yours, but getting a second opinion is always helpful.
If you have some names you're not sure about, you can always try them out for a while. See how they feel and how your audience responds to them.
---
Step 5: Check availability
Once you've found a stage name you like, the next step is checking if someone else isn't already using it.
The best way to do this is to search for the stage name on Google and popular social media platforms such as Instagram, Twitter, and Facebook. If there are no results, the stage name is most likely available.
When you have an available stage name, you can register and trademark it so no one else can use it. The United States Patent and Trademark Office is a great resource and provides guidelines to help you own your stage name.
---
10 Stage name ideas
[first name] + Rock. e.g., Helen Rock
Solo Melodies
Melody Dance
Dancer Bee
Dancer + [first name] e.g., Dancer Donna
Skye Sing
Master Notes
[first name] + Muso e.g., Joan Muso
[first name] + Lead e.g., Tony Lead
[first name] + Creativo e.g., Lance Creativo
---
The stage is yours!
Take your time choosing the perfect stage name – it should represent who you are as an artist and make you feel confident and powerful when performing.
💡 The best ways to create a pseudonym are to think about your nickname, alter ego, or anything else that may represent the brand you're trying to build. Remember to use our online name generator to help you create creative and catchy names.
With our guide, we hope you take center stage with the perfect name and be the star 🌟 you're meant to be.