Rapper Business Name Generator
Free rapper name generator, with the help of AI, for instant ideas.
Are you looking to make your mark in the rap game? Names play a huge role in establishing an artist's identity, and with our rapper name generator, finding the perfect stage name has never been easier.
No matter what kind of genre or vibe you're looking for, read on to learn how we can help you come up with unique and interesting names that will put your career on track for success!
---
Why you should use a rapper name generator
So, why is it so important to use a rapper name generator? Can't you just come up with a rapper name idea on your own?
Theoretically, yes. You can make up a business name all on your own. But there are a couple of major benefits to using a rapper name generator:
Dozens of instant ideas. You don't have to wait for the muse to strike. All you need to do is enter a word or phrase related to your business and you'll receive dozens of ideas in a matter of seconds.
Automatic domain availability checks. The best online name generators automatically check if the domains associated with their name ideas are available. This means you don't have to worry about coming up with a name only to find that you can't claim the domain for it.
The DomainWheel name generator also offers search filters that you can use to only view domains that use a certain domain extension or to restrict the character length of name suggestions.
Best of all, it's free! You can use it as many times as you want by following the steps in the next section.
---
How to use the rapper name generator
Finding the perfect business name is easy with our rapper name generator. All you need to do is type a keyword or combination of keywords into the bar and press Search Domain. The AI will instantly generate a variety of ideas: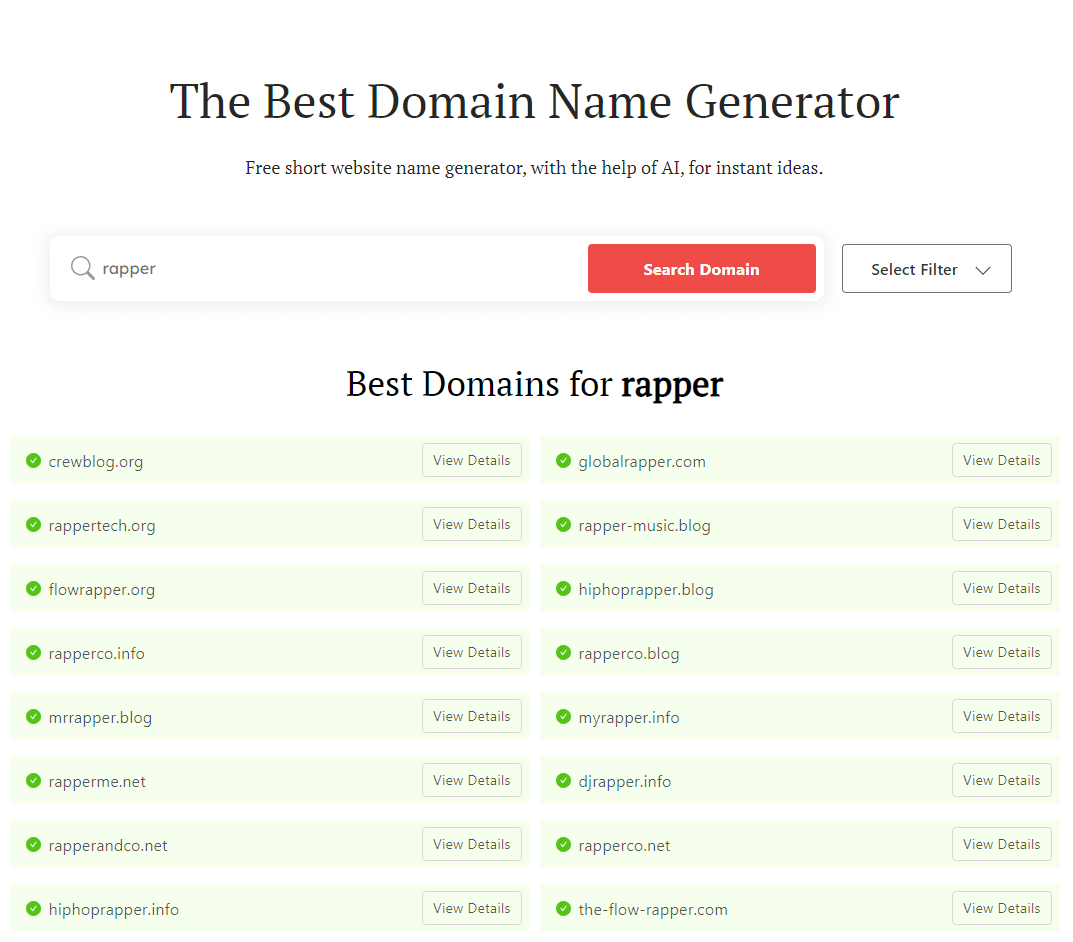 If you want to use a specific domain extension, you can click Select Filter and exclude some or all other domain extensions:
The DomainWheel domain name generator also automatically checks the availability of all domains, so you can register a domain you like right away. All you need to do is click View Details to see options for domain registration and web hosting: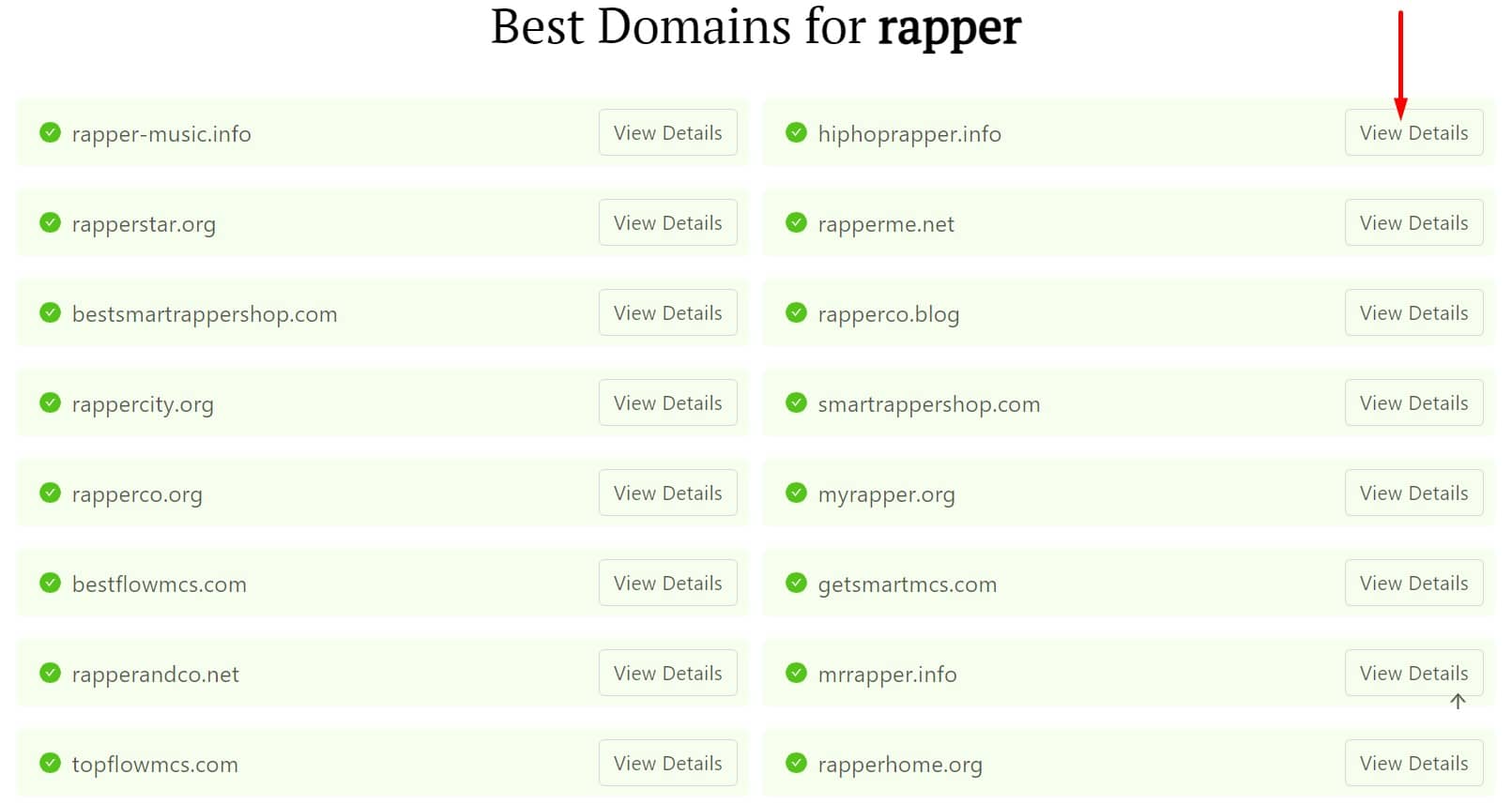 If you don't find anything you're satisfied with in these search results, don't despair! You can scroll down to find suggestions for words in three categories: Sounds Like, Rhymes With, and Random Suggestions. You can click on any of these words to start a whole new DomainWheel search.
Best of all, DomainWheel is free, so you can use it as many times as you want.
---
Best rapper names from real rappers
Keywords are essential to finding a rapper name, but they're not the only way you can find inspiration. You can also look at existing rappers to see what types of names they're using. This can help you choose something similar so that people immediately know what your business is about—or find a way to buck the trends and create a fully unique rapper name.
Check out these rappers for inspiration: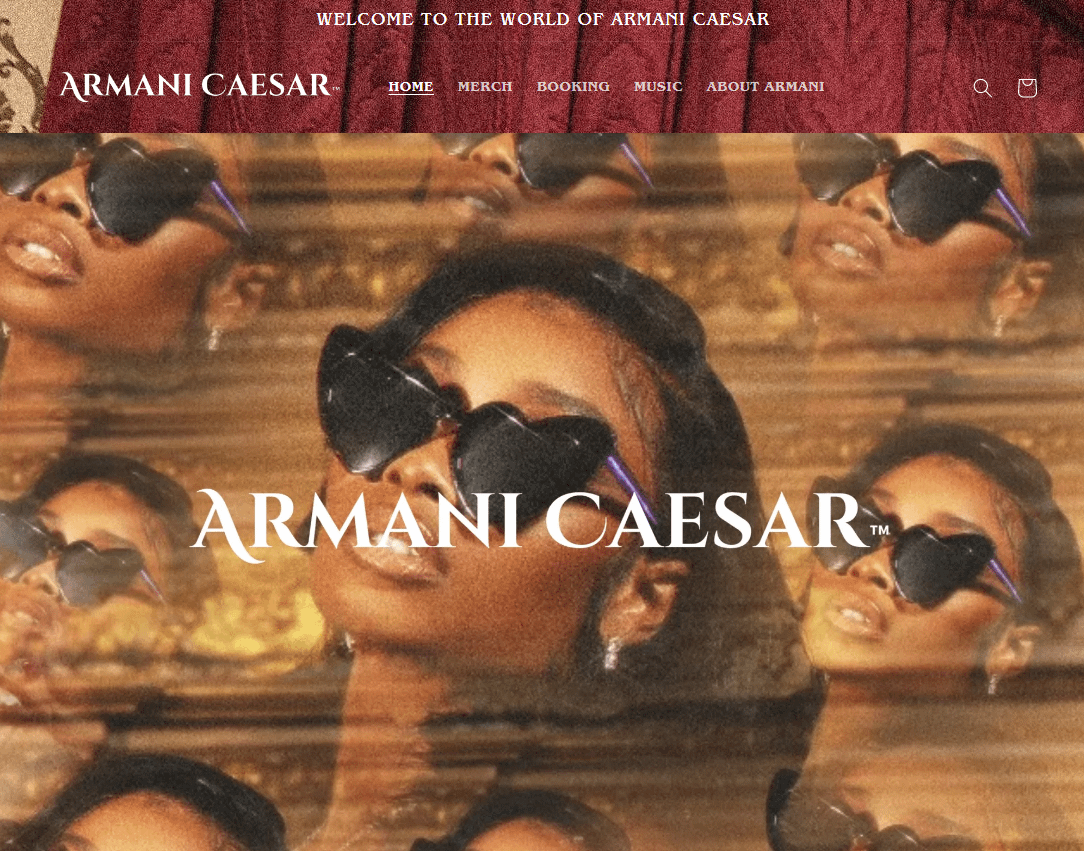 Armani Caesar is a great name for a rapper because it has an air of sophistication and style. The "Armani" part of the name brings to mind Giorgio Armani, the Italian designer who revolutionized fashion in the 1980s. It implies style, class, and success – all important qualities in hip-hop culture.
Plus, adding "Caesar" to the mix gives a regal edge; as though Armani Caesar is someone that needs to be taken seriously and respected. Any aspiring rapper would be proud to have such an impressive moniker!
---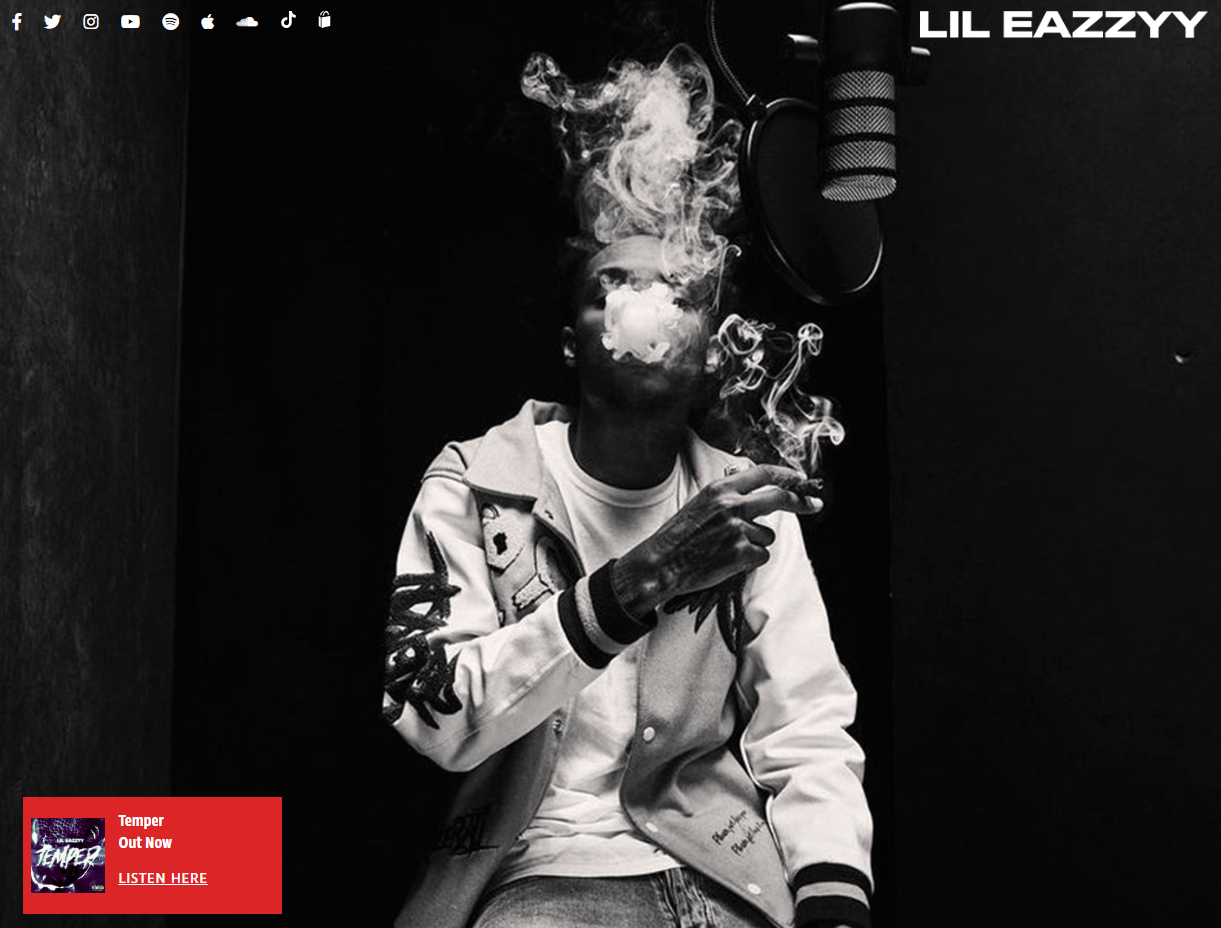 Lil Eazzyy is a great name for a rapper for a few reasons. The first reason is that it has an appealing sound, being short and snappy but also clever and memorable.
Another reason is the clever spelling: using two zs instead of one gives the effect of emphasizing "easy," making it clear that this artist tends to keep things lighthearted and entertaining. Finally, Lil Eazzyy suggests youthfulness, energy, and even playfulness – perfect qualities for any aspiring hip-hop artist!
---
How to choose a rapper name
Step 1: Consider Search Engine Optimization (SEO)
If you want to build an online presence in 2023, you need to make it easy for people to find you online. This means developing a comprehensive SEO strategy that begins with a search-friendly domain name.
A search-friendly domain name includes keywords related to your business. For example, "rapper name ideas."
You can find out what effective keywords for your rapper name are in three steps:
List as many relevant words as you can think of. Open a document or grab a notebook, set a timer for 3-5 minutes, and write down all the words and phrases related to your industry or business that come to mind. Remember that a "keyword" can actually be multiple words long.
Run them through a keyword planning tool. Keyword planning tools can tell you how much search traffic there is for a specific word or phrase.
Create a shortlist of the best keywords. Move any keywords that have good traffic (at least 1K/month) and low competition to a shortlist.
Once you've got a keyword shortlist, you can either run these keywords through a rapper name generator or continue to the next step.
---
Step 2: Consider your offerings
The next thing to consider in choosing a rapper name is what experience you plan to provide to listeners. There are a couple of questions to ask yourself here:
What mood do you want your rap to evoke? Do you want listeners to feel like you're helping them express their rage? Or do you want them to feel like you're pumping them up for a party? Use words associated with the emotions you want to create with your music to draw people in.
What makes your music or performance unique? This is what makes your music or performance more appealing than the competition. For example, if you create your own psychedelic visualizers to act as a backdrop at your shows, you might want to use a word like "Hypnotic" in your rapper name.
If you can find a way to express one or more of your answers through the keywords you listed in step one, you'll have an ideal business name.
---
Step 3: Consider your future plans
One of the most important things to consider when choosing a rapper name is how you want to grow your music career over the years. There are two questions to ask yourself here:
Do you eventually hope to expand the types of music you produce? If so, you'll want to avoid names that emphasize a specific subgenre of rap.
Do you want to gain mainstream popularity? If your hope is to go mainstream, you may want to avoid having profanity or other language that might be off-putting to mainstream outlets in your rapper name.
In short, you want to make sure that your rapper name doesn't limit your potential for future growth. It's much easier to build new branches of your business around your existing rapper name than it is to create a new stage identity and start over from scratch.
---
How to check domain availability
The final thing you need to figure out is if the name you want to use is actually available.
The good news is that if you're using the DomainWheel rapper name generator, you'll only see name suggestions that you can buy the domain for. However, a domain being available doesn't always mean that you can use it as your rapper name. You'll also want to check the USPTO Trademark Database to make sure your ideal rapper name isn't already registered.
---
Creative words that work best for rappers
Some creative words related to rap are:
beats
rhymes
hip-hop
rhythm
lil
tunes
spitting
---
Available domain extensions (TLD) for rapper
Along with the obvious .com and .net, there are several more unique TLDs that can tell users something about your business:
.rapper
.hiphoprapper
.rapartist
.music
---
15 Creative rapper name ideas
Feeling stuck? We've compiled a list of rapper name ideas to help you out!
All of these names were available at the time of writing this article, so you can use them as-is or create a wholly new name based on one of them. Just remember to Google your preferred name in case one of our readers has already snagged it!
Rapper name ideas
All Flow MCs
Top Flow Rapper
Flow Rapper Group
The Flow Rapper
Rapper Top
---
Good rap names
Flow MCs
Rapper Co.
Rapper Auto
Rapper Fit
Real Top Rap
---
Cool rap names
Okay Smack
Good Rap Club
Good Rap City
Fine Rap
Worthy Bang
---
Frequently Asked Questions (FAQ)
How does the rapper name generator work?

The DomainWheel name generator uses an AI to generate rapper name ideas based on your keyword suggestions. By default, the AI also automatically checks for domain availability and only displays domains that are currently unregistered. This makes it easy to find a business name that you can also use as your domain name.
What makes a good rapper name?

A good rapper name tells your audience what your brand is about. It should also be easy to pronounce and spell so that people can find your brand—and recommend it—more easily.
---
Register your rapper domain name
The best way to register your domain name is to sign up for a web hosting plan with Bluehost and claim the free domain name. Hosting plans start at just $2.75/month and you can sign up in a few minutes by following the instructions on the Bluehost website.
---
Conclusion ⌛
Choosing a rapper name is a big decision, but it doesn't have to be difficult. You can use a rapper name generator to create dozens of name ideas in seconds.
All name suggestions are not created equal, though. To get the best name possible, consider three factors:
SEO. Use relevant keywords to improve your chance of ranking well on search engines.
The musical experience you provide. Consider the emotions you want to evoke and what makes your rap unique.
Your future plans. Make sure your name leaves room for future growth.
👉 If this is your first time building an online presence as a rapper, you might also want to check out our guides on How to Make a Website and How to Start a Business Blog