Imagine waking up one day and finding your website no longer accessible. Imagine losing all the website traffic you've worked so hard to get, and if you run an online store, losing sales. Why? Because you missed renewing your domain registration. This is a situation no one should be in. That's why it's important to know how to check domain expiry date.
After purchasing our domains, most of us get on with the work of developing our websites and online presence. We invest a lot of time, energy, and money into these online brands. So, losing this investment shouldn't be an option. ⚙️
In this article, we'll discuss the importance of keeping track of your domain's expiry date and the potential consequences of neglecting it. We'll also share three different ways that you can easily check your domain's expiration date and ensure that you stay on top of this important aspect of your online presence.
Let's begin.
---
Why check domain expiry date?
👉 There are three main reasons why being aware of your domain's expiry date is so important:
Avoid losing your domain. If you don't renew your domain after a certain period (we'll discuss this in the following section), you might end up losing it altogether.
Protect your brand. If someone purchases your domain, they could start receiving your traffic. Using this traffic, they could also promote competing products, which can cause brand confusion and damage your online reputation.
Prevent emailing challenges. Most businesses use domain-based email addresses (e.g., info@yourdomain.com). If your domain expires, your email services might stop working, causing communication disruptions and making you look unprofessional.
---
How long does it take for a domain to expire?
So, we know what could happen if we allow our domains to expire. Now, let's focus on understanding the lifecycle of a domain.
At what point do our domains truly "expire?" 🤔
To answer this question, it's essential to know which phase your domain is currently in. The following stages can help bring clarity:
The active phase. When we buy domains, we pay to own them, but only for a certain period of time. Depending on the options available from your registrar, you can own a domain for anywhere from one to ten years.
Once you've registered your domain, it's considered active and fully functional. During this period, you have complete control over your domain, including the ability to manage its settings, create associated email addresses, and host a website.
The expiration phase. This stage begins when your domain reaches the end of its registration period. At this point, your domain enters a grace period, which typically lasts a few weeks. This is typically around 30 to 45 days, depending on your registrar. During the grace period, you can still renew your domain. If you renew it during this stage, there are often no additional fees.
The redemption phase. If you didn't manage to renew your domain during the expiration phase, then it will enter the redemption period. At this stage, you still have the opportunity to keep your domain by paying for the renewal. However, there will most likely be an additional redemption fee on top of that. This stage can last up to 30 days.
The deletion phase. This is the last phase. A phase that every domain owner should try to avoid. During this stage, your domain is removed from your control, your data gets deleted, and the domain becomes available for anyone to purchase it on a first-come, first-served basis.
It's important to note that different registrars may have variations in their domain renewal and expiration processes. It's advisable to familiarize yourself with the specific policies of your registrar so that you don't get any unwelcome surprises.
---
Can you recover an expired domain?
Ideally, our domains should never even reach the expiration phase. We encourage you to keep your domain in the active phase by promptly renewing it.
However, let's say, for whatever reason, you didn't manage to renew your domain, and it enters the expiration phase. From the stages we explained above, if your domain does expire, it's best to renew it while it's still in the expiration phase. That's because it's still in the grace period, where you can avoid any additional penalty fees.
The longer you wait, the more you may run into additional costs or even end up losing your domain completely.
---
What can help you remember your domain's expiration date?
Before we get into how to check domain expiry date, it's essential that we acknowledge how easy it is to forget about it. Even when we understand its importance, sometimes work and life happens, and before you know it, you're in the danger zone.
To avoid this, you can set up email reminders with your domain registrar. Depending on your registrar, you could receive periodic emails a few weeks or months before it's time to renew your domain. This can help ensure that you keep your domains active year after year.
This can also be a perfect solution if you're managing multiple domains with different expiration dates. Instead of trying to remember everything, you can simply set up reminders and stay on top of it.
---
How to check domain expiry date
There are three main ways to check when your domain is due to expire. You can visit your registrar's site, use the who.is website, or use an online domain checker.
🔎 Here are more details on each option:
---
Visit your registrar
When you purchase a domain, your registrar will have all the information you need about it, including when it is due to expire. So, it makes sense to head to your domain registrar's site to check domain expiry date.
The specific steps and layout may vary depending on the registrar you are using, but most registrars have a user-friendly interface designed to make it easy for domain owners to manage their domains and check their expiration dates.
👉 For most registrars, you may need to follow the following steps:
Visit the website of your domain registrar.
Once you're logged in, navigate to the domain management section. This might be called "my domains," "domain management," or something similar.
Look for the domain you want to enquire about from the list of domains you own, and then click on the domain name to access its details.
Within the domain details pages, you'll get renewal information and expiration date. This information is typically displayed prominently, as it's an essential piece of data for domain owners.
If you purchased your domain through GoDaddy, here's a closer look at how to check domain expiry date on the platform.
After logging into your account, navigate to > my products > domain > domain settings.
In the "Overview" section of your domain information page, you'll see important information regarding your domain, including when you will need to renew it and how much it will cost you.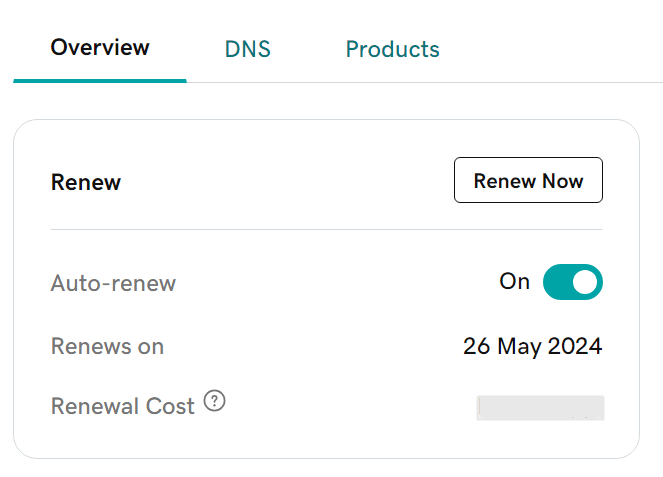 Notice that there's an "Auto-renew" option. If you leave this on, the registrar will automatically renew your domain when the time comes. This option is also available with most other popular registrars, and it can be a good option to consider, especially if you own multiple domains.
---
Use who.is
Who.is is an online platform that stores all domain registration information. Data on the platform is accessible to the public, which means anyone can use it to find information about a domain.
To get started, simply navigate to the who.is homepage.
From the homepage, enter your domain name and click on the search button. This will return results regarding your domain, including when it will expire.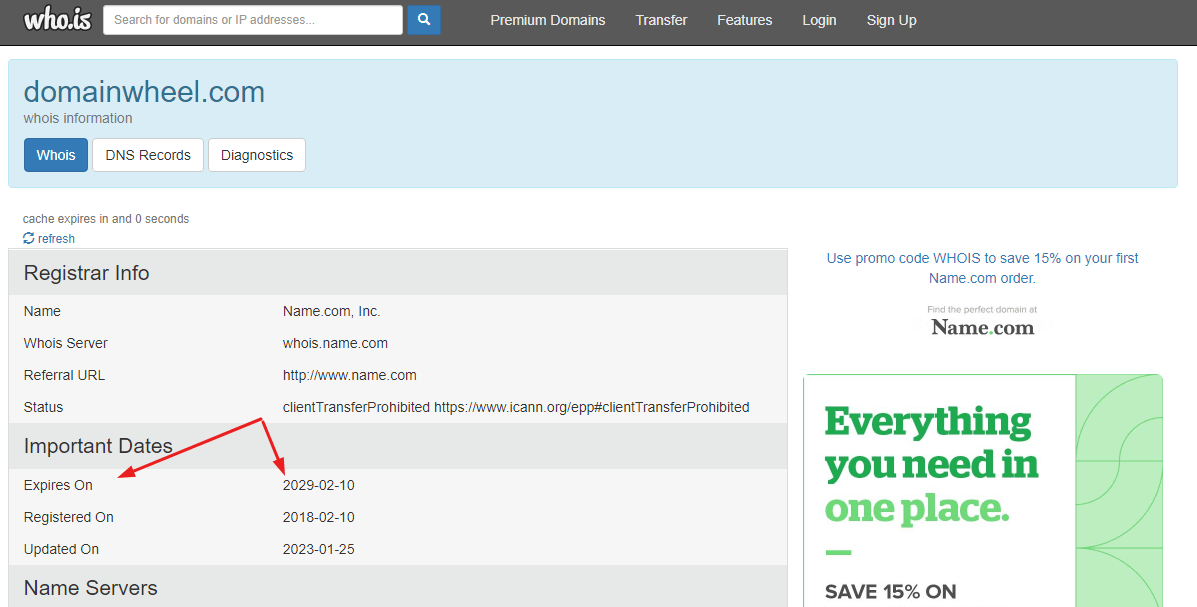 Since who.is is free and can be used to check any domain (whether or not you own it), this could also be a great opportunity to get more details on a domain you don't own.
If you tried to purchase a domain, but someone else owns it, with who.is, you can look up when that domain is due to expire. You may also be able to learn who owns the domain so you can reach out and find out if the owner may be interested in selling.
---
Use an online domain checker
Our final way of checking for your domain's expiry date is by using online domain checkers.
These are tools or services that allow you to gather information about existing domains. In addition to checking expiration dates, you can use these tools to find out about domain registration, domain registrars, and more.
👉 There are a couple of popular options, including:
If you own multiple domains, this can be a quick and easy way to keep track of all your domains' expiration dates.
---
Check domain expiry date: final thoughts 🏁
Your domain name is an essential part of your online brand. Protecting it and ensuring that no one else has the opportunity to purchase it isn't an option.
📌 As highlighted above, it's best to check domain expiry date regularly, and you can do so by:
Using your domain registrar
Using who.is
Using a credible online domain checker
If you have multiple domains, keeping track of every expiration date can be challenging. In this case, consider opting for an auto-renewal or email reminder from your domain registrar.
Renewing your domain well before its expiration ensures uninterrupted service and helps you maintain brand consistency and trust with your audience.
Remember, proactive domain management is key to a thriving online presence in the ever-evolving digital landscape. By staying vigilant and taking the necessary steps to renew your domain on time, you can ensure your website remains accessible, your brand remains intact, and your online business continues to thrive.
If you're currently looking to purchase an expired domain, you can check out our guide to buying expired domains with traffic, for more details.