If you are an internet marketer or you own a business, you might have to check the domain history of a web address at some point in your online entrepreneurial journey. 💼
Yes, you can glean a few basic facts about the history of a domain from a quick Google search. But a cursory look isn't enough to reveal all the vital info you need. You must use a proper domain history checker to dig deeper and get a wealth of information for better decision-making.
Thankfully, there are plenty of free and paid tools to help you check the background of a website address. This guide will show you how to check the history of a domain and why you should.
Let's kick 🥋 things off by answering an essential question:
---
What is domain history?
Domain history, also known as WHOIS history or domain ownership history, is a complete record of a domain name from registration to date.
The records include information such as:
Date of registration 📅
Domain owner's address and contact info 📟
Previous owners and their addresses 🧑
Past domain registrars 🧍🧍
Domain Name System (DNS) server history 🖥️
---
4 Reasons you should check domain history
Now that you know what domain history is, let's move on to a related question: why should you bother to check the history of a domain in the first place?
Here are four reasons why examining domain ownership history matters and when you should do it.
---
1. You want to buy an expired domain 💰👵🏼💻
When someone drops a domain, you want to know why. Was it because the site site owners just forgot? Or perhaps Google penalized their site, and they didn't find it worthwhile to rebuild it back to its previous stature?
---
2. You want to buy an existing website 💰👨🏽‍🦱💻
Buying an existing website is expensive. Therefore, it's wise to dig into its history before committing precious financial resources to the purchase. Running headlong into buying a website can land you in trouble when you later discover, for example, that the site is full of spammy content.
---
3. You want to protect your brand reputation 🛡️
Building a positive brand reputation takes years and lots of hard work. The last thing you want to do as a company is to buy and use a domain with a soiled reputation. As an illustration, avoid sites with adult content or have ties with gambling (unless that's the type of site you want to make). Shaking off such a dirty reputation would be an uphill task. So checking domain history before you buy a domain safeguards your hard-earned reputation.
---
4. You want to examine the domain's SEO foundation 📈
Assessing the SEO value of a web address is vital. Before you build your company's online presence, you want to know if its SEO roots are solid. For instance, if you create a website using a domain with thousands of toxic links, you will find it hard to clean it up and get the site higher in the SERPs.
---
How to check the history of a domain: 5 best tools
Now that you know why it's crucial to WhOIS domain history, it's time to look at how you can do it using five different tools. We will also show you what information you can get from each one.
---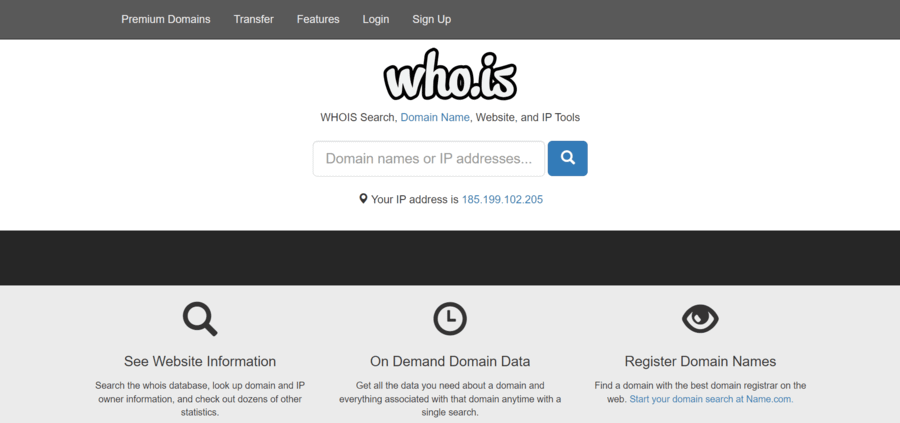 Who.is is the number one tool for checking domain ownership history for free.
Founded in 2005, Who.is allows you to quickly find administrative and technical contact information about the owner of any domain name. To check domain history for free, simply type the domain into the search bar and hit the search icon.
👉 Within a few seconds, you will get detailed WHOIS domain history results, including:
Name of the domain registrar
Owner's contact information
Date of registration and expiry
P and IP location information
Web server information
Related domain availability
That's a lot of useful, rich info you get without paying a dime. Not only does Who.is give you on-demand domain data with a single click, the tool also allows you to identify and register expiring domains.
---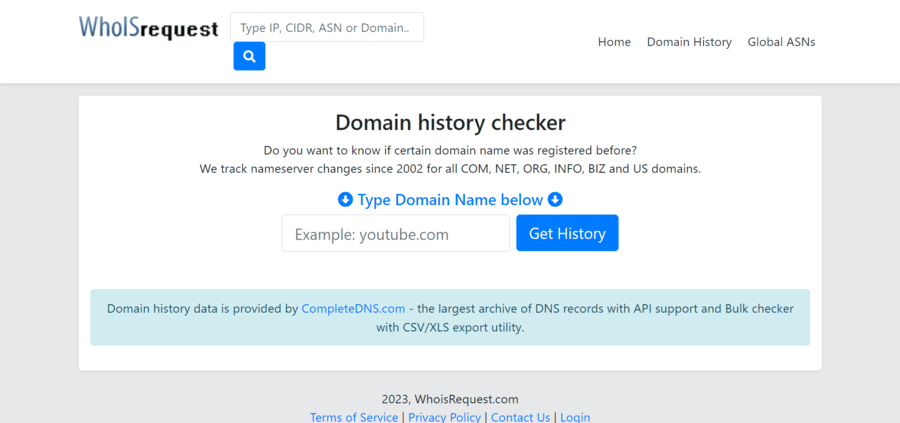 Whois Request is another free tool you can use to discover the history of a domain name.
The software monitors name server changes for all top-level domains (TLDs) like .com, .net, org, .info, and .biz. Checking domain history for free using Whois Request is a breeze. All you do is type your target domain name into the search bar and click Get History.
👉 Within seconds, the platform spits out valuable domain info such as:
Date when name servers were added
DNS details
A timeline of name server changes
Below is an example of a partial result, as seen in the Whois Request dashboard.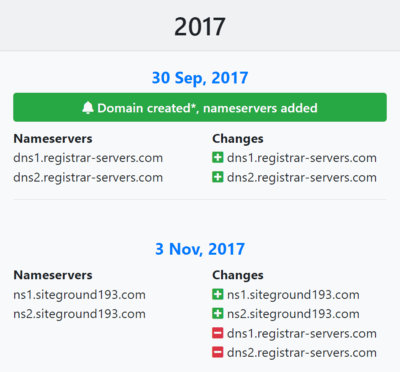 But Whois Request has a big downside. You can only look up five domains a day. You must sign up for a paid plan on their partner site Complete DNS to go beyond that limit.
---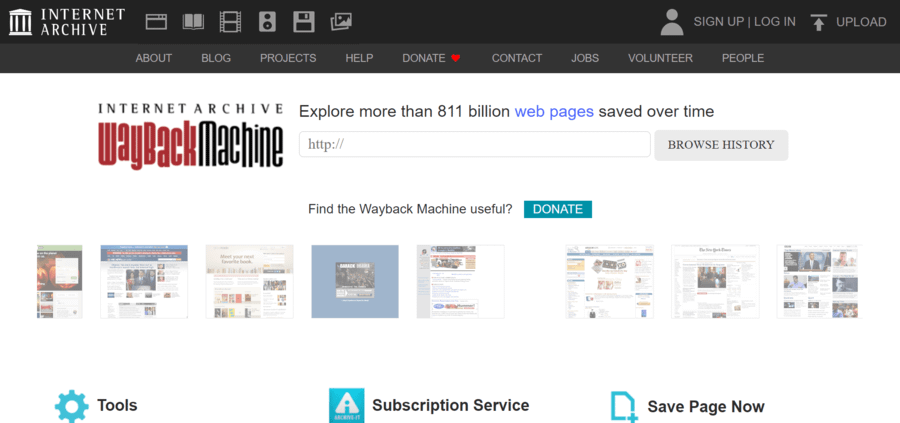 Next, we will explore Wayback Machine.
The Wayback Machine isn't a Whois records checker.
It's an archive of websites that can help you glean valuable info about a website's history. The software sifts through over 811 billion archived web pages to locate the domain you want and generate its background information. Wayback Machine travels back in time and analyzes selected archived pages of a website from the moment it went live.
You can get a screenshot of a website's appearance at the time if you click on a specific date in the search results. For instance, here's how Ahrefs, one of the most popular SEO tools on the market, looked way back in February 2013.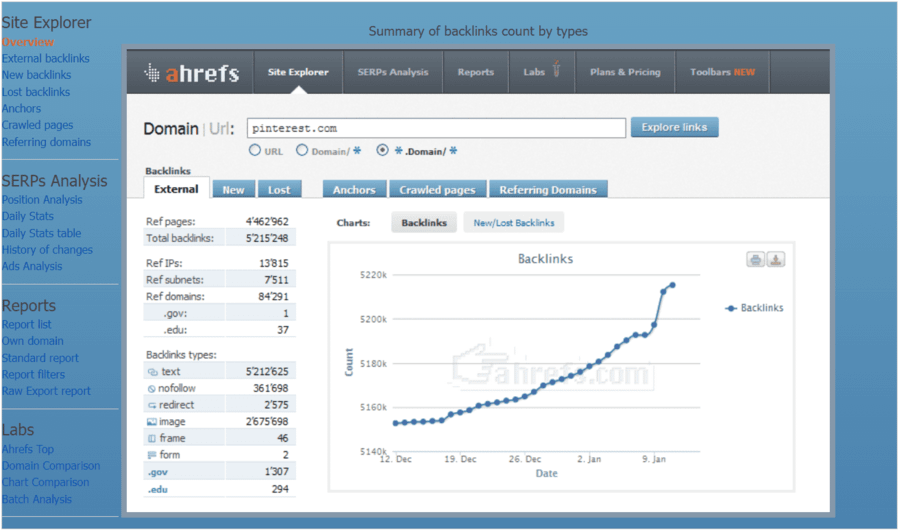 Well, let's just say Ahrefs has come a long way. 😏
These screenshots help you see how a website was used previously. You can then determine if its previous usage doesn't clash with your intended goal for the website.
---
Domain Tools is an excellent option if you are looking for a premium tool to check domain history.
It's the most popular domain history checker after Who.is.
Domain Tools has been providing historical Whois records services to users since 1995. The database tracks and keeps records of millions of domains for its paid members.
Enter the target domain name in the search bar and click Lookup to discover the domain ownership history.
👉 Domain Tools gives you these domain details:
Domain ownership changes over time
Domain registration date
Historical IP addresses
Name servers
Name of registrar
Date of registration and expiry
View Whois record changes side by side or inline
Download records as a PDF file
See a screenshot of the domain homepage
You can filter the search results by a person or organization name, phone number, or street address.
Another cool feature of Domain Tools is the Reverse Whois. You can search for Whois records using terms associated with the owner, such as company name or email address. In addition to Whois lookup, this platform offers services like threat intelligence, phishing prevention, and brand protection.
Domain Tools costs $99 per month. They don't have a free plan, nor do they offer a free trial.
---
Next, let's look at DomainIQ, another renowned paid domain history checker.
DomainIQ is a comprehensive domain intelligence tool for checking everything from the current owner, ownership history, and the server hosting the domain. The platform presents domain data as beautiful all-inclusive reports. Its easy-to-grasp visualization tools are one of the best in the market.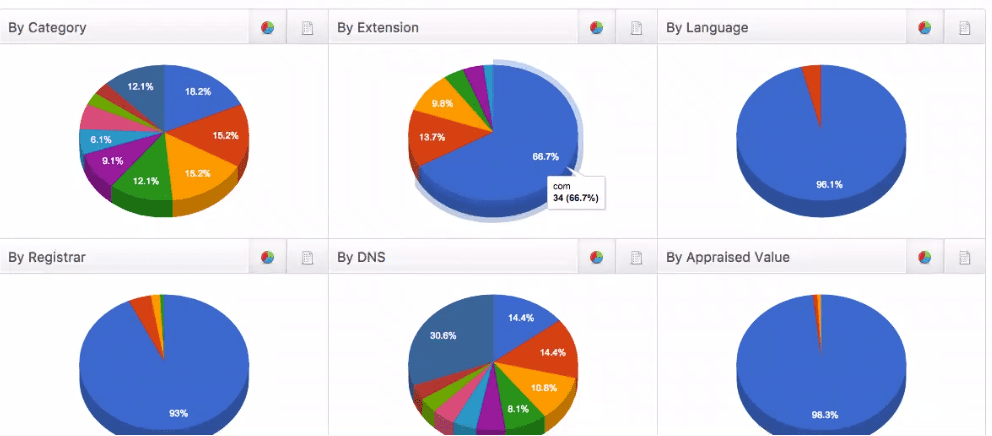 Like all other elite domain history checkers, checking domain records is simple. Just pop a domain or IP into the search bar and hit research.
👉 Here are some top features of DomainIQ:
Search by domain name or IP address
See the registrar
View past ownership records
Monitor a domain or its owner
View other domains owned by a specific person
Get the domain owner's contact details
Reverse Whois lookup
In addition to providing live and historical domain ownership records for all registered domain names, DomainIQ also generates website snapshots, cybercrime investigations, geographical registration trends, ISP and hosting research, domain due diligence, and more.
To enjoy DomainIQ's premium features, you'll need to fork out $24.95 monthly.
---
Domain history checkers roundup
That's our quick roundup of five domain history checkers and how to use them to check a domain's background.
🎁 For your convenience, below is the roster of the top five WHOIS domain history checkers we covered in this article.
Looking for a domain name for your business? 👔 Domain history isn't the only thing to consider.
💡 Check out our guide on how to choose a domain name to learn more about the factors that make a successful domain.