Learning how to choose a web host seems trivial, but it's crucial to building a solid foundation for your website's online presence.
Web hosting providers give your website a home by making it visible to people online. They also keep all your website content files in secure servers, storing all your users' sensitive information securely. The best web hosts also offer a guaranteed 99.9% uptime, ensuring that your website is constantly accessible to people all over the world.
Not only does superb web hosting ensure your site is visible and accessible to visitors, but it also impacts user experience significantly.
I will show you five steps to choosing a web host in this article.
---
How to choose a web host in 5 simple steps
After weighing many factors, we've boiled down the steps on how to choose a web host into these five crucial steps:
---
1. Determine your website's needs
Choosing a web host starts with evaluating your website's needs. Different websites have different focuses and goals. Similarly, different web hosts provide different tools and services to help you achieve those goals.
Are you launching an image-heavy photography website? Then you need generous storage space for your images and a superfast hosting company that offers a CDN to ensure that visitors all over the world can access your site quickly.
If you're looking to launch an ecommerce site, you'll want to choose a host that gives you access to easy-to-use ecommerce tools like shopping carts, pricing plugins, and payment gateways. Note that some web hosts like Squarespace offer built-in tools for these things, while others require you to set up ecommerce through a solution like WordPress + WooCommerce.
Speaking of WordPress, if you want to use the most popular Content Management System (CMS) in the world, you may want to consider managed WordPress hosting options. These hosting plans offer automated WordPress installation and management so you won't have to worry about the technical aspects of site maintenance. WordPress officially endorses web hosts like Siteground and Bluehost.
---
2. Research web hosting companies
Have you identified your website's needs?
Next, research the best hosting companies to see which can best meet those needs. An excellent place to start is to glance at the company's features page to check if the host has the high-priority features you need. Reliable servers with a 99.9% uptime and fast loading speeds (under two seconds) should be top on your list.
Another method for researching a hosting company is scouring third-party review sites like G2 and TrustPilot.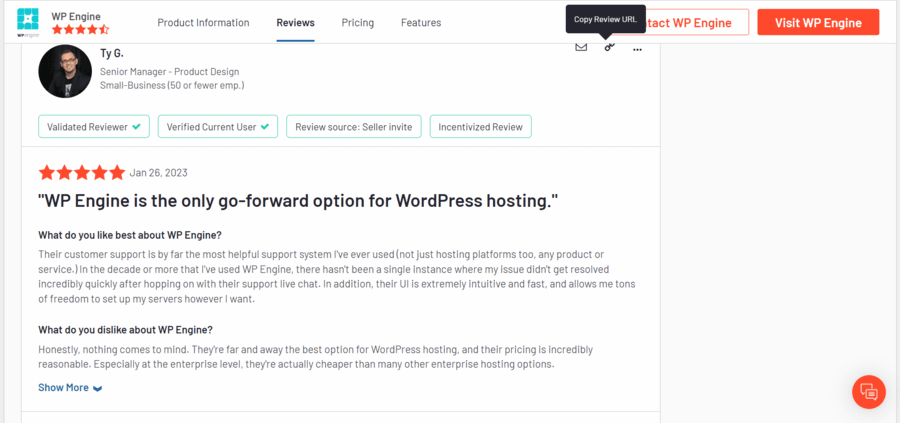 First, look at the high 4 to 5-star reviews to pick the company's star quality most customers compliment. Ideally, you want the top features you seek to be prominent in the top reviews.
Secondly, check comments on the 2 to 3-star reviews. These lowish reviews come from users with genuine concerns and tell you a company's weak points without completely bashing the service. Also, keep your ear to the ground on niche forums whenever there's a chat around hosting providers to see which companies get the nod from most community members.
You can also look at 🔎 reviews from top blogs in the website development and design niches. Our sister 👩 site CodeinWP, for example, has an detailed comparison of SiteGround vs Bluehost vs HostGator vs InMotion vs GoDaddy.
---
3. Assess disk space and bandwidth
Next, consider the hosting provider's disk space and bandwidth when deciding how to choose a web host.
Disk space 💿 is the total amount of storage space a hosting service provider assigns to a website and all associated files on a server. It's like disk space on your computer's hard drive. Essentially, your website comprises a series of files that take up space.
Web hosts allocate specific storage space for each of their plans. Typically, the higher the plan, the more storage space you get. Sites with lots of videos and images need more space to run efficiently.
A related but slightly different term for disk space is bandwidth. 🛣️ While disk space is the amount of server space for your files, bandwidth is the amount of data transfer between your website and the server.
Many web companies simplify bandwidth by stating how many monthly visitors each hosting plan can handle. You'll also often see "unmetered" bandwidth, which means that it isn't measured. This means you won't be forced to upgrade plans due to a spike in traffic.
Here are the two metrics shown alongside each other on Siteground:
Always pick a plan with more storage and bandwidth than what you think you'll need. This will protect your site from going down if you have a sudden surge in growth.
---
4. Research customer support ratings
Fourthly, evaluate the web host's customer support ratings on third-party platforms like G2.
Glitches go with the territory when running a website. That's why friendly and efficient customer support is vital when assessing an ideal web hosting provider.
Evaluate the hosting provider's support team in three crucial areas:
Number of support channels
Choose a host that offers multiple help channels, so you reach out however you want. Leading hosting companies offer live support, self-help portals, phone support, helpdesk tickets, and a knowledge base.
Knowledgeability
The best support teams have well-informed staff that knows the product inside out. Therefore, they grasp your issues fast. Notably, a knowledgeable support staff ensures they resolve most issues at first contact without unending back-and-forths.
Speed and efficiency
Fast response times are critical for a business's online presence. You lose customers every second your website is offline or has unresolved issues. A-list web hosts provide prompt help and answer tickets in minutes.
Above all, top hosting companies provide support around the clock. ⏰
---
5. Consider pricing and scalability

Another decisive factor when determining how to choose a web host is scalability.
Websites and businesses are living entities. They aren't static, so they develop. Get a company with plans that have room for growth. Depending on your goals and needs, scalability might mean picking hosting plans with the following:
Unlimited website hosting so you can host as many sites as you like
Unmetered traffic, so you don't pay extra when website traffic balloons
Ample storage space which can accommodate future growth
Once you've found a stellar company with feature-rich plans that suit you perfectly, it's time to consider the matter of pricing. A web hosting company may have impressive plans with all the bells and whistles, but it's only valid if they are within your budget.
In particular, look at the renewal rates. Hosting companies attract you with dirt-cheap initial rates but make a killing by significantly raising rates upon renewal.
---
Final thoughts on how to choose a web host
Essentially, picking a hosting company is two-pronged.
First, you assess your website's needs. To determine your needs, answer these vital questions:
What's your website type, e.g., photography or affiliate site?
How much disk space and bandwidth does your site need?
How many websites do you want to host?
How much traffic does your existing site generate?
Once you've determined your website's needs, compare them to the plans you are considering. Pick the plan (or company) that best fits both those needs and your budget.
That's it. 🤩
Now that you know how to choose a web host, 💻 read our data-driven guide to the best web hosting services for WordPress, to make the final decision. You may also want to check out our guide on how to choose a domain name.