Have you always wanted to start an online business but held off due to limited financial resources? Well, we've got great news: you can learn how to start a dropshipping business with no money right here in this guide.
Dropshipping is a low-investment business model that allows you to run a successful business without keeping and managing inventory. All you do is market and sell the products while the supplier handles shipping and fulfillment.
This allows you to make money from home without breaking a sweat. This tutorial teaches you how to launch a dropshipping business with limited capital.
---
How to start a dropshipping business with no money
Table of contents 📚
---
1. Choose a lucrative niche 🙋
A successful dropshipping business starts with identifying a profitable niche. By picking a popular market subset, you will likely get more customers and be able to set reasonable, attractive prices for more customers and higher earnings.
👉 Here are examples of top dropshipping niches in 2023:
Home Decor
Fitness and Sports
Clothing
Jewelry
Mobile Phone Accessories
Office Equipment
Car Accessories
Beauty Products
Baby Products
Kitchen and Grocery
Pet Supplies
Health and Personal Care
Gaming Accessories
An excellent niche has a high demand for your proposed products and hungry customers who buy repeatedly. Such markets help you create a sustainable business.
---
2. Pick a unique business name ☀️
After you've chosen a lucrative niche, the next step in how to start a dropshipping business with no money is creating a unique business name that suits your niche.
Your business name is the foundation of your branding. It forms the core of your identity, sets you apart from competitors, and establishes an instant connection with potential customers. A distinctive business name is:
Simple and short. Your brand name should be short and straightforward, not lengthy and complex. This is because simple and short names are easy to say, spell, and remember, so they make it easy for people to find and recommend your business.
Memorable. The business name you pick should be unforgettable. With thousands of businesses selling products similar to yours, a unique name will help you stand out.
Relevant. Your business name should be relevant and descriptive. It should tell prospects which niche you operate in and what exactly you sell.
Keyword-rich. Include niche keywords in your company name to make it easier for search engines and people to find your dropshipping store.
Using a business name generator can help you generate loads of name ideas at the click of a button. To get name ideas, simply type your keyword and click Search Domain.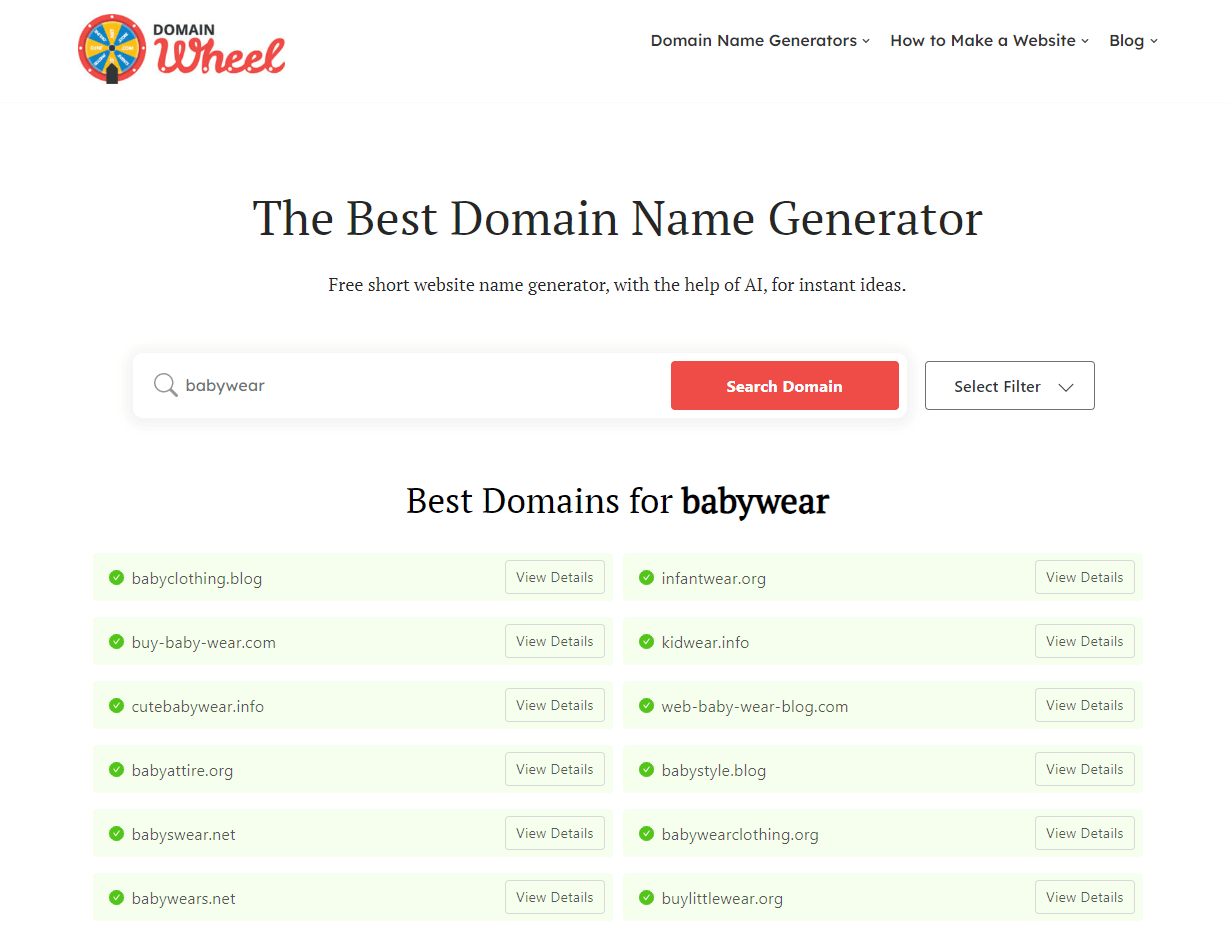 Our tool also lets you filter the results by character count and domain extension type. And it's free, so you can use it as many times as you want!
---
3. Set up your dropshipping store 🛒
Now that your domain name is ready, you can move on to the next step: building an online store.
You must get a web hosting service provider for your dropshipping store to become visible to shoppers online. The best web hosting companies like SiteGround, WP Engine, and Bluehost have secure, reliable servers, ample disk space, and fast loading speeds. This will cost you some money, but many web hosts have introductory pricing that allows you to buy your first term of hosting for under $200. Just be sure to note the renewal price, as this will increase your needed budget later on.
Once you have bought a hosting service, load WordPress on your ecommerce website. Many hosting companies make it easy to install WordPress in a few clicks. For detailed guidance on installing WordPress, read our tutorials on how to install WordPress on SiteGround or how to install WordPress on Bluehost.
Next, install an ecommerce theme such as Neve. It's a fast, lightweight theme with a simple user interface. Neve is compatible with WooCommerce, the leading ecommerce plugin for WordPress.
👉 WooCommerce has a wide range of ecommerce features, including:
Conversion-boosting catalog layouts to display your products
Quick view feature that allows customers to view product details
Flexible payment options like PayPal and Stripe
Sticky cart for adding cart buttons on product pages
Product ratings and reviews for social proof
You can install WooCommerce right inside your WordPress dashboard.
Go to Plugins > Add New, then type WooCommerce in the search bar and click Install Now.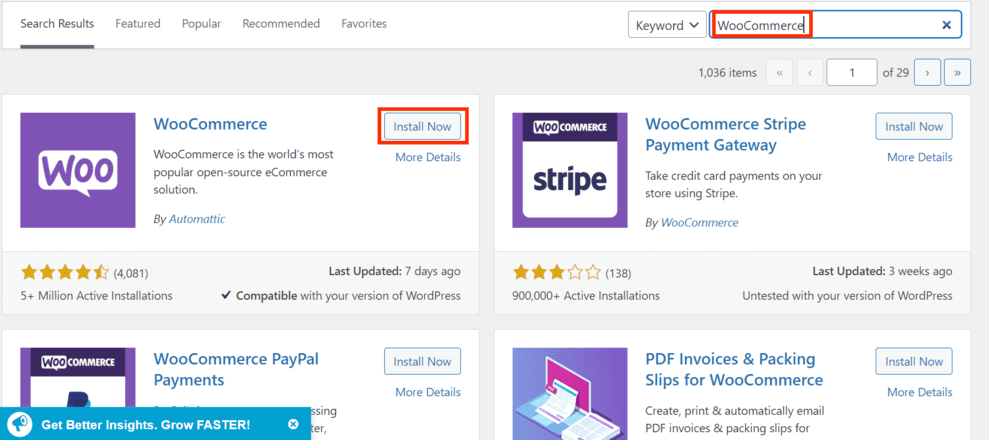 Once you've set up your basic WooCommerce, you'll want to get the WooCommerce Dropshipping extension. This extension offers options for inventory management per supplier, custom packing slips, and integration with AliExpress and Amazon Affiliates. This will cost you $79 per year – and that's the last fee you'll pay for the initial setup of your dropshipping business!
---
4. Find reliable product suppliers 🚚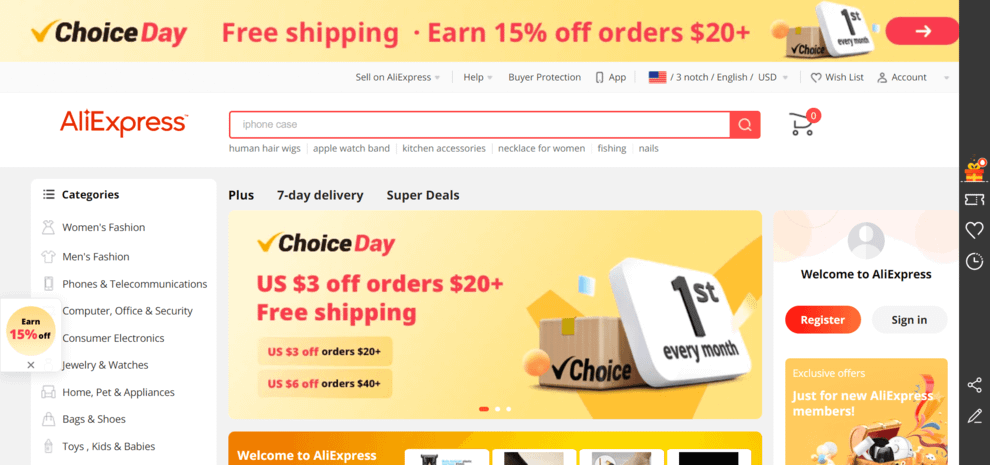 Afterward, source products for your dropshipping business.
Finding ideal product suppliers is at the heart of how to start a dropshipping business with no money entrepreneurial adventure. With suitable dropshipping suppliers that are a perfect fit for your target customers, you can charge competitive prices and add high markups.
👉 Here's a list of some of the best dropshipping suppliers:
---
5. Upload products and write descriptions ✍️
The next step in how to start a dropshipping business with no money is to create your product pages with high-quality images and descriptions.
Product images are a crucial part of the conversion matrix in online marketing. Images give potential customers an idea of what your product looks like. Display images of your products from different angles so shoppers appreciate their brilliance.
To get high-quality product images, reach out to your suppliers. They will gladly share them with you.
But stellar product images alone aren't enough.
You must also write charming product descriptions. In your descriptions, focus on how the products will benefit buyers. Also, use emotional, metaphorical language that appeals to the five senses.
---
6. Promote your store 📢
Finally, advertise your dropshipping store.
Your sleek store with an impressive storefront, stunning photos, and sizzling product descriptions won't make a dime if nobody knows about it. Get the word out to your target audience so they know your business exists.
A simple but powerful way to promote your store is through social media.
We recommend Revive Old Posts, a robust plugin that allows you to automate social media marketing.
The plugin lets you share your store's product pages on all major social networks like Facebook, Twitter, LinkedIn, Tumblr, and Google My Business.
In addition, you can drive traffic to your store with paid advertising and use Search Engine Optimization (SEO) to help your site rank higher on search engines.
---
How to start a dropshipping business with no money: wrap up 🧐
To sum up, the dropshipping business model is perfect for launching an online business on a shoestring budget.
The process is straightforward. Plus, you can use plenty of free or dirt-cheap tools to build an ecommerce website and make big bucks from the comfort of your home.
🏁 Here's a summary of all the steps on how to start a dropshipping business with no money:
Choose a lucrative niche
Pick a unique business name
Set up your dropshipping store
Find reliable product suppliers
Upload products and write descriptions
Promote your store
Ready to create a dropshipping ecommerce website? Check out our guide, how to make a website. Plus, learn how to market your dropshipping business with a blog from our guide on how to start a business blog.