Learning how to start a life coaching business can produce double delight.
Life coaching allows you to do satisfying, worthwhile work and earn a great income while you're doing it.
New research figures from Salary.com show life coaches earn a cool $64,013 annually on average-coaches on the higher end net over $100,000 [1]. So if you've ever considered launching a career as a life coach, the opportunity is there.
In this article we're going to guide you through the exact steps you need to follow to make your life coaching dream a reality.
Let's get started!
---
Seven steps to launching a life coaching business
---
1. Choose a life coaching niche
The first step to starting a successful life coaching business is choosing a niche. Life coaching is broad and covers anything from honing parenting skills to teaching people how to become more confident. For the best results, narrow your focus and serve a specific market corner.
Choose a niche that fits your background, skills, qualifications, and passions perfectly. Also, pick a subset of the market with people who can and will pay to solve their problems. You want to make sure you'll be able to charge enough to make a decent income.
👉 Here are some examples of popular life coaching niches:
Career coaching
Love and relationships coaching
Mindset coaching
Wellness and fitness coaching
Sexuality coaching
Leadership coaching
After you've found the perfect niche, move to the next step.
---
2. Come up with a business name
Next, name your coaching business.
Creating a name for your business becomes easier once you've picked a suitable niche.
That's because you know your coaching focus and who you are targeting. After all, naming your business isn't just for company registration purposes. It's a branding opportunity. Use your name to tell your audience what you do and who you do it for. You can also use your business name to share the desired outcome people aspire to.
👉 Below are examples of excellent coaching business names:
Dream Marriage
No Limits Mindset
Leadership Progression
Fitness Adonis
True Love Genesis
Another common way of naming a coaching business is using your name, like Tony Robbins. If you choose this naming tactic, add what you do to your name. That's because when you start, nobody knows you, so your name alone won't attract people to your services.
So "Alice Woods Confidence Coach" is better than "Alice Woods."
---
3. Get a domain name
The next step in how to start a life coaching business is getting a domain name.
A domain name is your business address on the internet. It's a vital cog in ensuring you have a solid online presence so people find you easily when searching for services related to your business. Base your domain name on your business name for brand consistency.
👉 Here are a few tips on how to create a perfect domain name:
Avoid hyphens because people forget to put them when typing since they are used to non-hyphenated domain names
Keep your domain name simple and short, not complex and lengthy because people struggle to remember long, complicated names
Descriptive and relevant to your coaching business, so people get what you do immediately
Add keywords related to your services to boost SEO for people to find you organically when they browse online
Using our AI-driven domain name generator will give you a plethora of instant name ideas without breaking a sweat.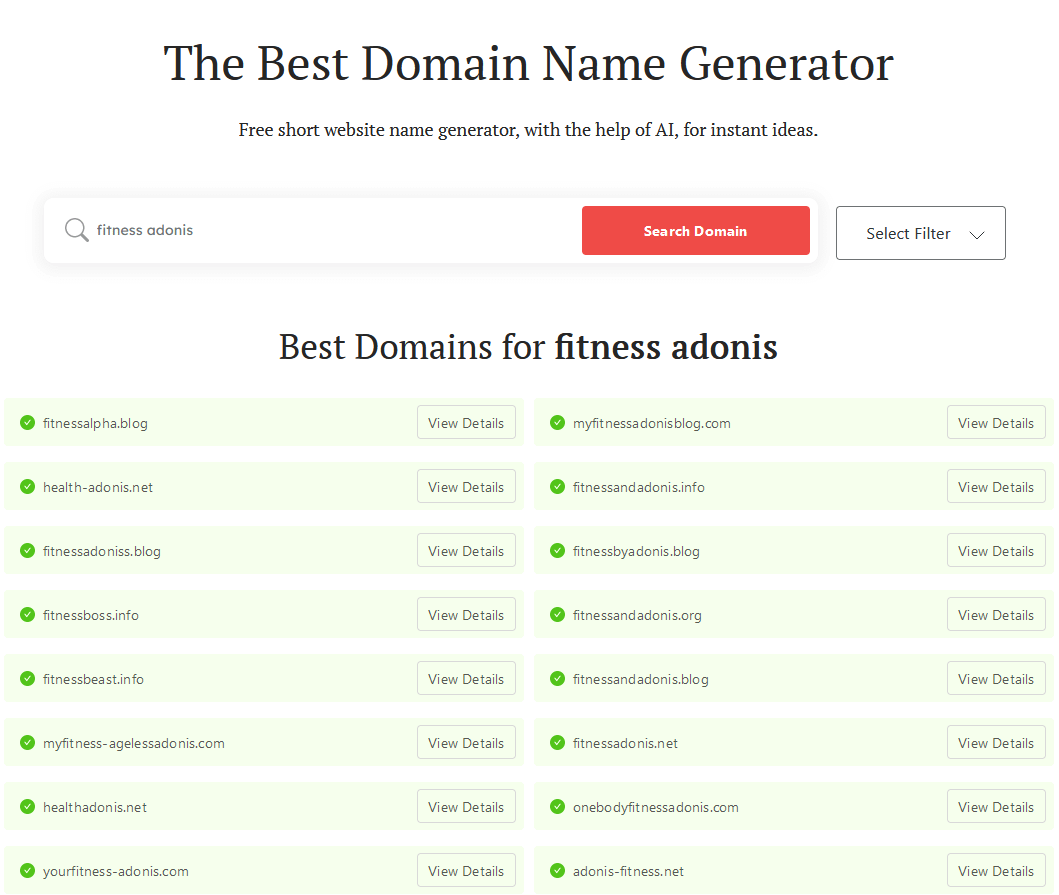 ---
4. Buy web hosting for your coaching website
Afterward, hunt for a web hosting provider.
A web hosting company keeps your website content in secure servers and makes your website visible to people online.
👉 Consider the following factors when picking a hosting company:
Disk space: Choose a web host with ample disk space for your website content files. Your site needs at least 10GB of disk space to run smoothly.
Uptime: Pick a company with a 99.9% uptime rating, so people can access your life coaching site when they want to.
Speed: Google prioritizes speed as a crucial aspect of user experience. Therefore your hosting service provider must be super fast. In fact, it's recommended that your website take no more than 2-3 seconds to load [2].
Affordability: Go for a company whose plans suit your budget. Please pay attention to the renewal rates because they are often significantly higher than the initial promotional rates.
---
5. Install WordPress and pick a website theme
The next step in how to start a life coaching business is to install WordPress and pick a website theme.
Why choose WordPress?
WordPress is easy to use and has countless plugins to enhance your coaching website's functionality. Many of these plugins are free, too, allowing you to build a high-quality life coaching business on a small budget.
Thankfully, installing WordPress is simple. The best web hosting companies allow you to do it with a few clicks.
👉 Here are two guides to help you with WordPress installation on Siteground and Bluehost, two of the most popular web hosts today:
Once you've set up WordPress, pick a theme for your coaching website to determine its layout, appearance, and feel. We recommend Hestia, a stylish, lightning-fast, and customizable modern theme.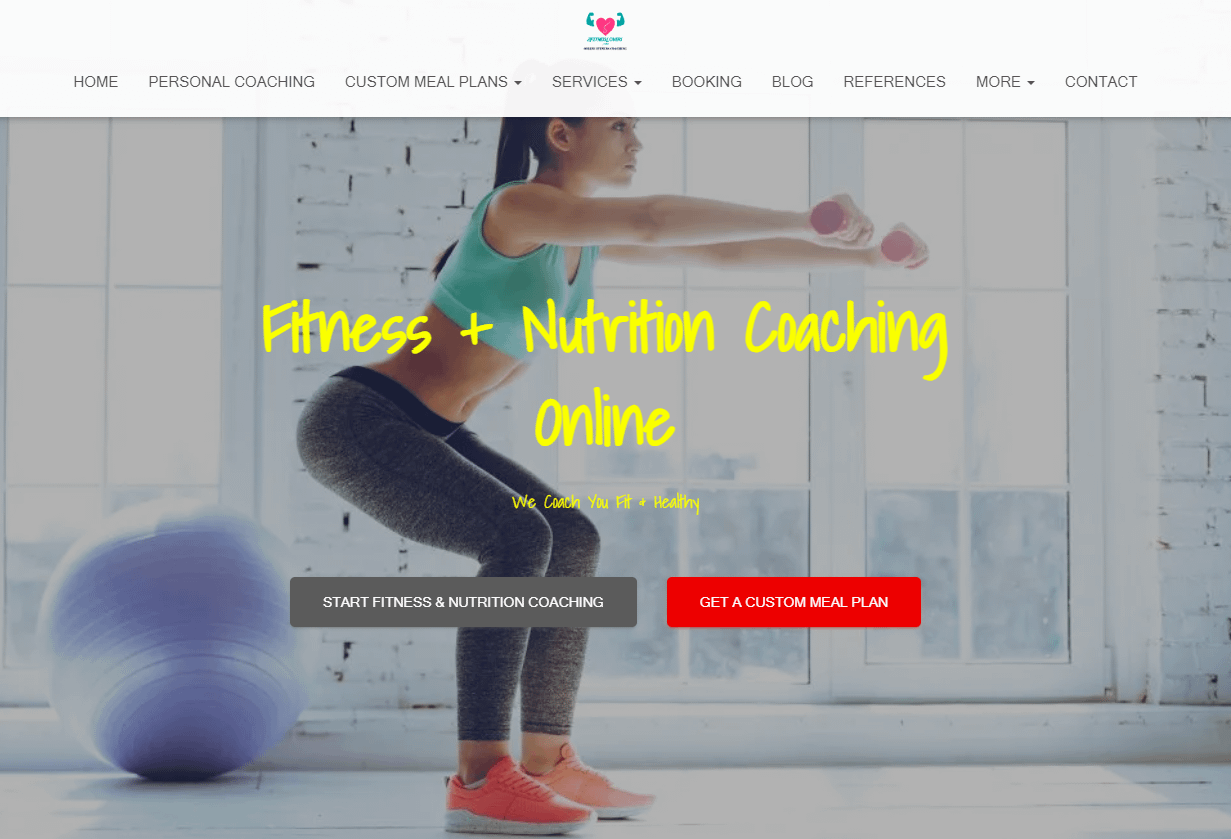 ---
6. Write your core pages
Have you got your life coaching website up and running?
Hooray, but that's not the final step in how to start a life coaching business. Following WordPress and theme installation, write your coaching website's core pages: the homepage, the about us page, and the services page.
Possibly the most important page is your services page, as this is where you'll convince people to work with you and share how they can do so.
👉 A persuasive services page that gets people to buy does three things:
Shows the before and after so people see the impact of your coaching program
Paints an inspiring picture of the transformation people are looking for
Includes glowing testimonials of clients who have benefited from your coaching program
---
7. Market your coaching business
Finally, promote your life coaching business.
You might have a great program that can transform troubled lives and provide good value for money, but you will only get clients if people know about it.
👉 Here are some tips for marketing your life coaching business:
Tell friends, family, and workmates that you now offer coaching services so they refer people to you
Include a link to your coaching website on social media profiles like Facebook, Twitter, and LinkedIn
Share fascinating client testimonials on your social media channels
Write an SEO-optimized ultimate guide on a hot topic to get organic visitors from search engines
---
How to start a coaching business 🏁
To wrap up, learning how to start a coaching business can be rewarding.
There's nothing more fulfilling than seeing your work transform lives right before your eyes.
Moreover, you can get paid handsomely for doing what you love. Many highly successful life coaches get a six-figure salary annually.
🏃‍ Thinking about running your life coaching business from home? Check out our guide on running a business from home for additional advice.