Makeup and Beauty Business Name Generator
Free makeup and beauty business name generator, with the help of AI, for instant ideas.
So, you know that you need a great name for your new business venture. One that will help you outrun your competitors and attract clients. You don't have to figure it all out by yourself, though. We'll give you tips on finding the perfect name for your company and how to use a makeup and beauty business name generator to help with the process.
While trying to find the perfect name, we'd like to encourage you to not give up. Remember that the beauty industry can be very lucrative. Research from Statista highlights that in 2021, the global cosmetics market reached 80.74 billion USD in revenue [1]. And that number is expected to increase to 131 billion USD by 2026.
With these numbers in mind, it's clear there's never been a better time to get a piece of that makeup and beauty pie.
👉 In this guide, we'll walk you through the process of coming up with your own business name. We'll also discuss what makes some business names special. Finally, we'll share business name ideas with you to help spark some inspiration. Let's begin.
---
Makeup and beauty business name generator: 7 tips
1. Capitalize on your location
Adding the name of your state, city, or town into your business name is the perfect way to let your community know about you.
If you decide to use this tip, don't be limited to the actual name of your location. Instead, consider nicknames, acronyms, famous monuments, or anything else that relates to it.
Here are a few unique makeup artist business names examples that use location:
South Beach Cosmetics
LA Lips
Chi Makeup
LA Glam
Big Apple Blush
---
2. Use your unique selling point (USP)
The best way to find a name that stands out is to point out your USP. The unique selling point is what differentiates your business or products from the rest.
For example, if you only use organic ingredients for your makeup brand, you can think of adding words like pure, clean, or natural in your name.
Or, if you're a makeup artist who wants to specialize in special occasions (e.g., weddings), including words like glam, special, or luxe in your business name would be great.
Including these simple yet powerful words will let your market get a sense of what your business is about.
---
3. The shorter, the better
Later in this article, we'll look at the names of a few makeup and beauty industry giants. While doing so, you'll notice that they share one common thing — all their names are short.
The reason for this is simple — shorter names are easier to remember and search for online, making it simpler for your brand to be recognized. They're also easy to place on packaging.
Sometimes business owners find it difficult to cut their names down to one to three words.
The best way to go about this is to think of the synonyms and adjectives that best describe your products or services. And if your name is too long, consider using an acronym. For example, instead of naming their cosmetics business "Makeup Art Cosmetics," the founders decided on a simple, one-syllable name — MAC.
---
4. Use emotive language
We're well into the digital age, and it's a busy marketing world. Today's consumers are constantly flooded with ads on social media, emails, and direct text messages. But just because they are exposed to this advertising doesn't mean it all clicks. Research shows that 64% of consumers want brands to connect with them [2].
So, how can you help your business stand out from the crowd and connect with your market?
You can tap into your audience's emotions.
To use emotive language, think about what would inspire your market. How do you want them to feel when they use your products or services? What do you want them to associate your brand with?
Here are a few names for skincare and makeup business examples that uses emotive language:
Be That Girl
Glam Up
Bali Glow
Pretty Pout
Pretty & Proud
---
5. Let a beauty business name ideas generator help you
If you're reading an article about how to come up with a business name, there's a good chance you're struggling to find a name that works. So, when you're a little stuck and need some inspiration, you can always use our free Business Name Generator.
To get started, just type in a word you'd like to include in your business name, click on "Search Domain," and see what inspiring names the tool generates.
For example, if you want good business names for makeup artist, you might search "makeup", as shown below: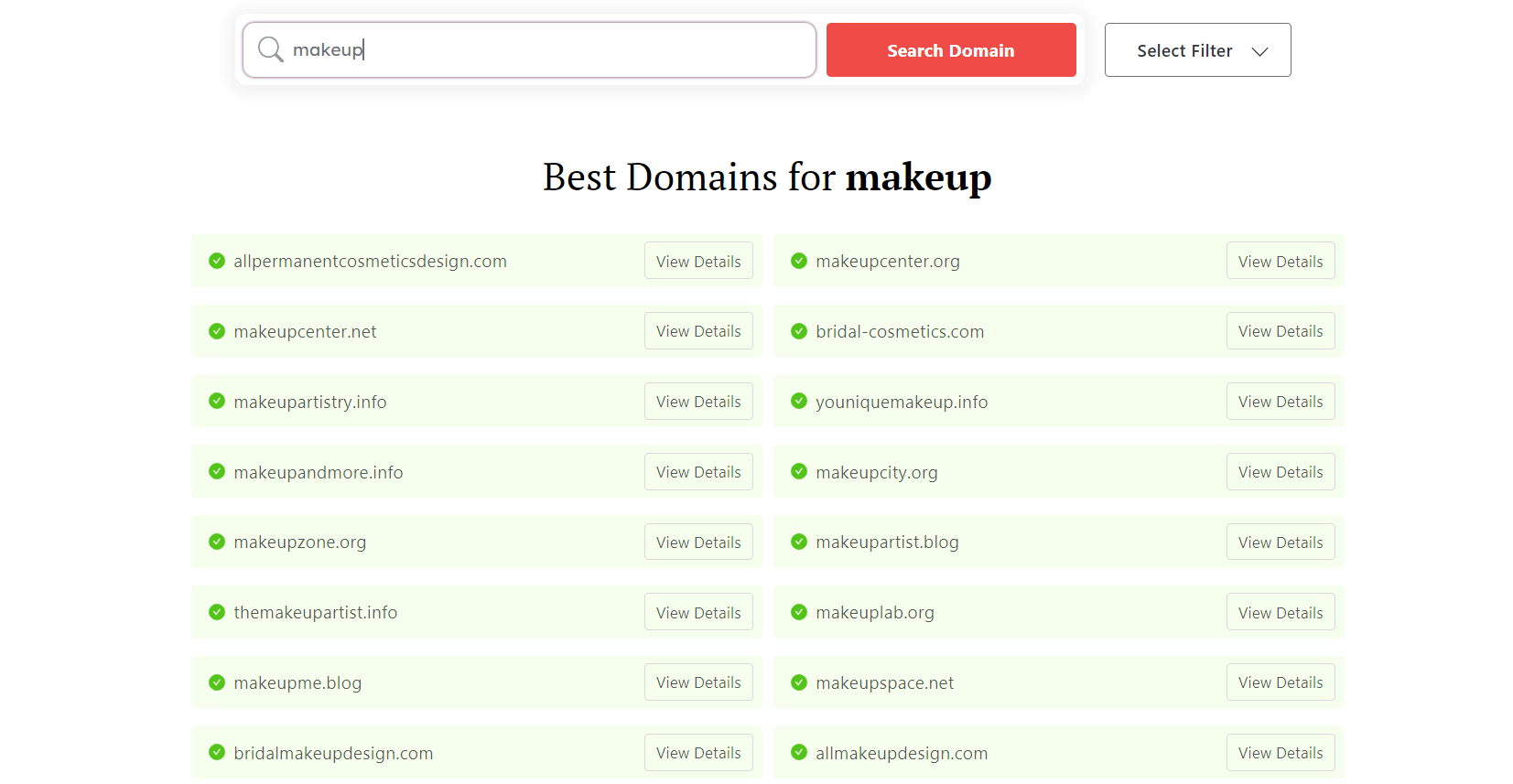 The DomainWheel AI also suggests names that "sound like" and "rhyme with" what you typed in, which can be very useful in the creative process. You can also use it as often as you wish because it's free.
---
6. Check brand availability
By now, you should have a good pool of names that you're considering for your business. However, before settling on one, it's essential to ensure that it's available.
There are three basic ways to do this: perform a Google search, check website URLs, and research trademarks.
For Google, type in the business name you're considering to see if any results come back. You can also use your browser to check if a website with that name already exists. For example, type in www.businessnameidea.com.
Another good thing to do is to check if the name has been trademarked through the United States Patents & Trademark database. However, many businesses don't bother to trademark their name, so it's important to go through all of the steps in this process.
If you find out that a name you want isn't available, you can consider adding your own spin to it. For example, if "Timeless Beauty" is already taken, consider "Forever Beautiful" or something similar.
---
7. Register the domain name
If you follow the above tips, there's a good chance you will find a good name for your business. In that case, it's essential to register your domain name as soon as possible before someone else does.
There are two easy ways to get this done.
The first option is to buy your domain name by using a domain registrar like Domain.com. They provide all domain extensions you might be interested in (e.g., com, .org, .net, etc.). You can use this option if you want to register your domain right away but you're not ready to start building your website yet.
Your second option is to buy your domain name through a web hosting service. You can check Bluehost which is one of the leading web hosts in the WordPress space, that includes the domain name for free.
Now that you're clear 🌻 on the steps it takes to come up with a great makeup and beauty business name, let's check out some examples using real-life companies.
---
Beauty business name ideas: real-life examples
Sephora is one of the leading companies for cosmetic products globally. This French brand's name is unique as it combines two ancient words: Sephos and Zipporah.
Sephos is the Greek word for pretty. And Zipporah is a name from the book of Exodus. She was the wife of Moses and was considered to be very beautiful.
The blend of these words created a unique name that has an excellent sound to the ear. The meaning of the words also helps to re-emphasize what the brand is actually selling — beauty.
---
Benefit is one of the leading makeup brands. As the name suggests, the founders want their market to "benefit" from using their products.
This name is a great example of using emotive language, as we spoke about above. It's also simple to spell and remember, and these are all key components of an effective business name.
---
Dove is a skincare brand that has been around since the '50s. It also has one of the industry's most simple, yet effective names.
Why is it so effective? Because of all the positive connotations attached to the dove bird. Doves are often associated with "peace" and "pureness," which directly reflects the brand's identity.
From the examples above, we hope that you found some inspiration for your makeup and beauty business name.
---
20 Names for skincare and makeup business
Below are a few names 👇 we hope will inspire you. We used our beauty business name ideas generator to help.
Beauty by [Your name]
Beauty in [Your city's name]
Perfection
Polished
The Glamor Bar
Pretty
Salon Glow
Cherry Lips
Bella Beauty
Glam Up
Skinsentials
Sultry Skin
Radiance
More Glow
Just Beauty
Pure Skin
Rose Lips
Pretty n Perfect
Bare Beauty
Instant Glam
---
It's time to name your biz!
We hope we've made the process of finding a name for your business a little easier. Just remember to lean towards simplicity and don't be afraid to experiment by blending different words to form a new one (like Sephora did).
No matter the name you choose, we wish you all the best 😎 in your new venture. And if you want to brainstorm, don't forget to use our 👉 business name generator tool to help you develop more creative ideas.