Metal Band Name Generator
Free metal band name generator, with the help of AI, for instant ideas.
Are you looking for ideas for a great metal band name? If so, then look no further! We've created an awesome metal band name generator that will give you unique and original suggestions to help spark your creative juices.
Just enter some of your favorite words or topics into the generator, hit 🔎 Search Domain, and bam – instant results!
After scanning through the list of possibilities, we're sure you'll find something perfect for your band. So, keep on reading to learn more about our amazing tool!
---
Why you should use a metal band name generator
So, why is it so important to use a metal band name generator? Can't you just come up with a metal band name idea on your own?
Theoretically, yes. You can make up a band name all on your own. But there are a couple of major benefits to using a metal band name generator:
Dozens of instant ideas. You don't have to wait for the muse to strike. All you need to do is enter a word or phrase related to your band and you'll receive dozens of ideas in a matter of seconds.
Automatic domain availability checks. The best online name generators automatically check if the domains associated with their name ideas are available. This means you don't have to worry about coming up with a name only to find that you can't claim the domain for it.
The DomainWheel name generator also offers search filters that you can use to only view domains that use a certain domain extension or to restrict the character length of name suggestions.
Best of all, it's free! You can use it as many times as you want by following the steps in the next section:
---
How to use the metal band name generator
Finding the perfect band name is easy with our metal band name generator. All you need to do is type a keyword or combination of keywords into the bar and press Search Domain. The AI will instantly generate a variety of ideas: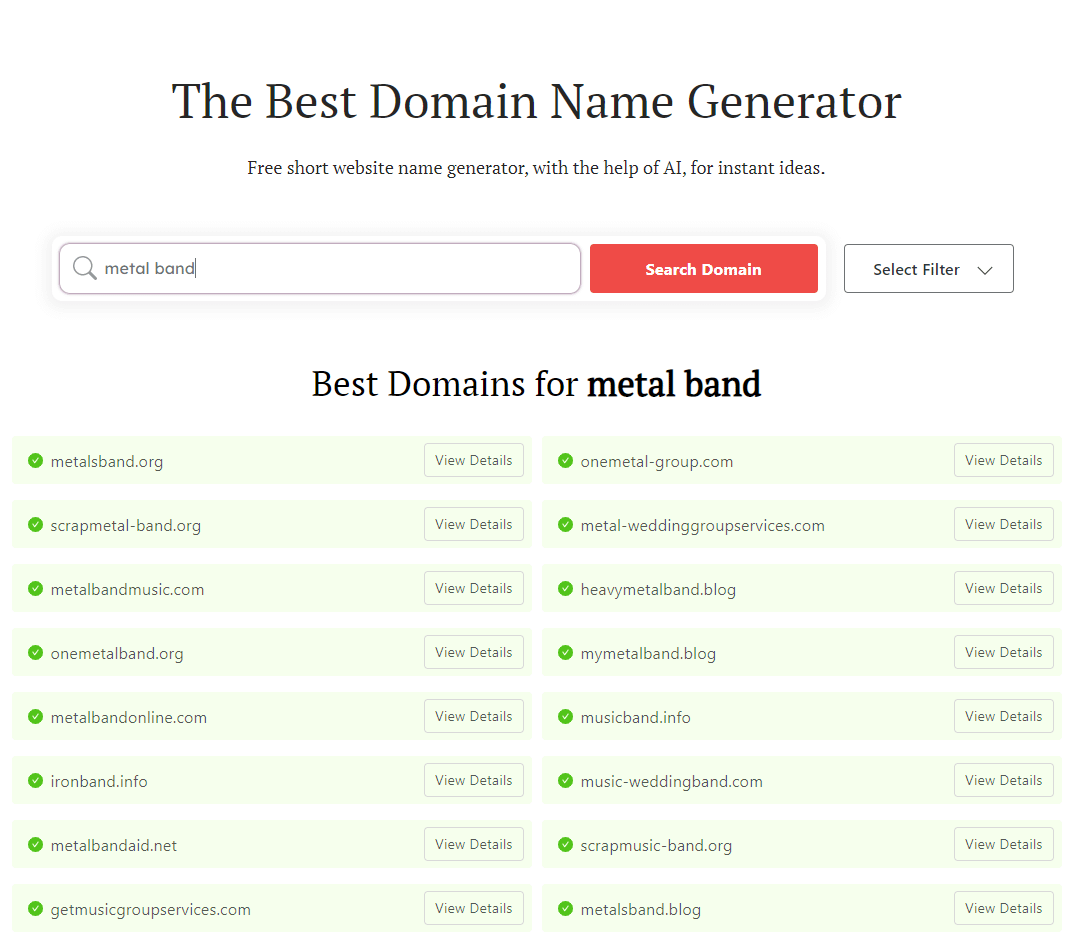 If you want to use a specific domain extension, you can click Select Filter and exclude some or all other domain extensions: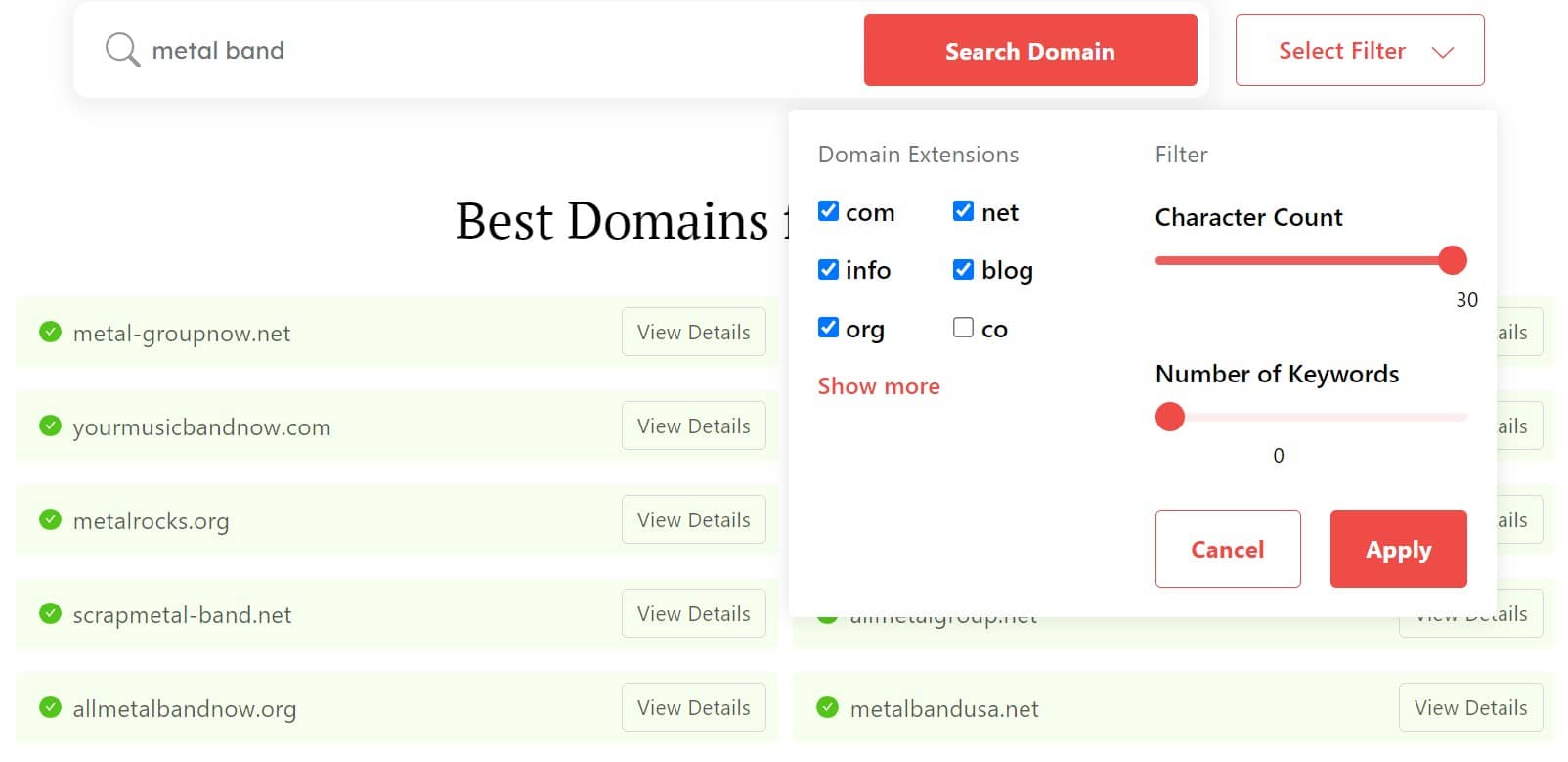 The DomainWheel domain name generator also automatically checks the availability of all domains, so you can register a domain you like right away. All you need to do is click View Details to see options for domain registration and web hosting: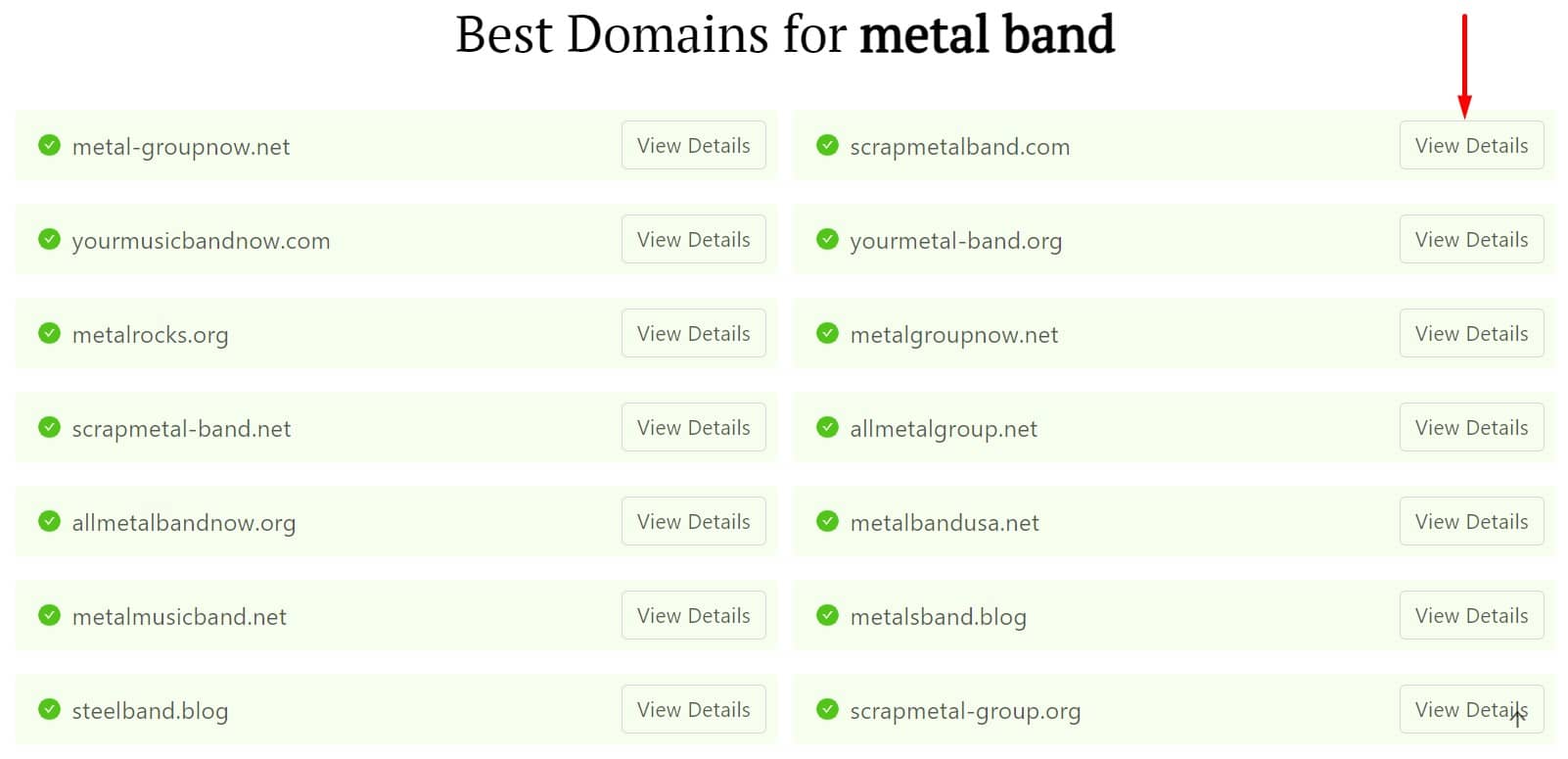 If you don't find anything you're satisfied with in these search results, don't despair! You can scroll down to find suggestions for words in three categories: Sounds Like, Rhymes With, and Random Suggestions. You can click on any of these words to start a whole new DomainWheel search.
Best of all, DomainWheel is free, so you can use it as many times as you want. 😎
---
Best metal band names from real bands
Keywords are essential to finding a metal band name, but they're not the only way you can find inspiration. You can also look at existing metal bands to see what types of names they're using. This can help you choose something similar so that people immediately know what your band is about—or find a way to buck the trends and create a fully unique band name.
Check out these metal bands for inspiration: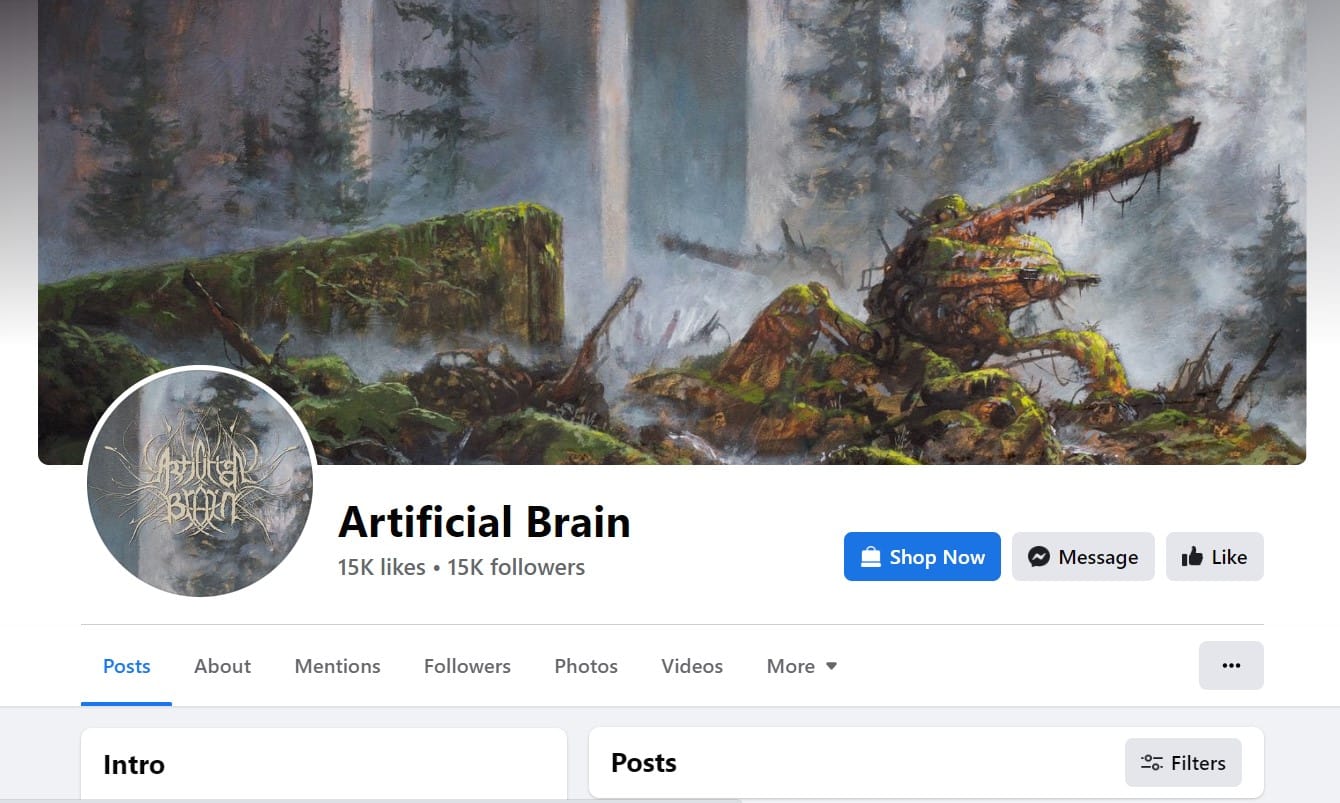 Artificial Brain is an excellent name for a metal band because it immediately suggests something dark, strong, and futuristic. It brings to mind powerful images of technology combined with pounding drums and crashing guitars that embody the intensity of metal music.
---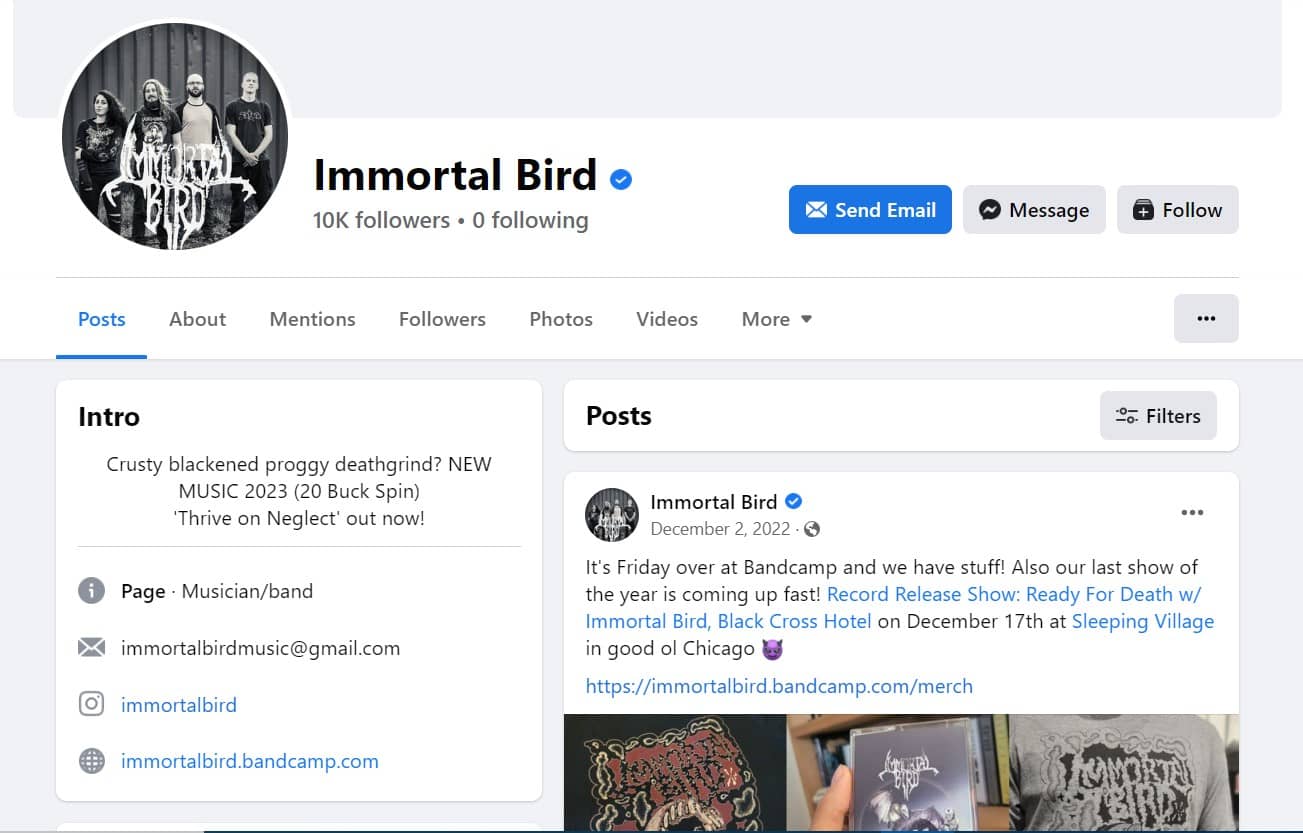 Immortal Bird is an undeniably great name for a metal band! The use of the word 'immortal' conveys strength, power, and timelessness – all attributes that any metal fan will want in their favorite group.
And the addition of "bird" pairs that powerful characteristic with something fiercer and wilder; as if it captures the feeling you get when you hear soaring electric guitar or screaming vocals. Combined, these two words make Immortal Bird an eye-catching title that effectively captures the spirit of metal music.
---
How to choose a metal band name
Step 1: Consider Search Engine Optimization (SEO)
If you want to build a successful business in 2023, you need to make it easy for people to find you online. This means developing a comprehensive SEO strategy that begins with a search-friendly domain name.
A search-friendly domain name includes keywords related to your business. For example, "metal" or "heavy".
You can find out what effective keywords for your business are in three steps:
List as many relevant words as you can think of. Open a document or grab a notebook, set a timer for 3-5 minutes, and write down all the words and phrases related to your industry or business that come to mind. Remember that a "keyword" can actually be multiple words long.
Run them through a keyword planning tool. Keyword planning tools can tell you how much search traffic there is for a specific word or phrase.
Create a shortlist of the best keywords. Move any keywords that have good traffic (at least 1K/month) and low competition to a shortlist.
Once you've got a keyword shortlist, you can either run these keywords through a metal band name generator or continue to the next step.
---
Step 2: Consider the experience you provide
The next thing to consider in choosing a metal band name is what experience you plan to provide to listeners. There are a couple of questions to ask yourself here:
What mood do you want your music to evoke? Do you want listeners to feel like you're helping them express their rage? Pumping them up for a party? Telling them an epic story? Use words associated with the emotions you want to create with your music to draw people in.
What makes your music or performance unique? This is what makes your music or performance more appealing than the competition. For example, if you create your own psychedelic visualizers to act as a backdrop at your shows, you might want to use a word like "Hypnotic" in your metal band name.
If you can find a way to express one or more of your answers through the keywords you listed in step one, you'll have an ideal metal band name.
---
Step 3: Consider your future plans
One of the most important things to consider when choosing a metal band name is how you want to grow your business over the years. There are three questions to ask yourself here:
Do you eventually hope to expand into new subgenres? If so, you'll want to avoid names that reference a specific subgenre.
Do you eventually hope to expand the types of music you produce? If so, you'll want to avoid names that emphasize a specific subgenre of rap.
Do you want to gain mainstream popularity? If your hope is to go mainstream, you may want to avoid having profanity or other language that might be off-putting to mainstream outlets in your rapper name.
In short, you want to make sure that your band name doesn't limit your potential for future growth. It's much easier to branch off with an existing band than it is to start a new one from scratch.
---
How to check domain availability
The final thing you need to figure out is if the name you want to use is actually available.
The good news is that if you're using the DomainWheel metal band name generator, you'll only see name suggestions that you can buy the domain for. However, a domain being available doesn't always mean that you can use the business name. You'll also want to check the USPTO Trademark Database to make sure your ideal metal band name isn't already registered.
---
Creative words that work best for metal band
According to Ahrefs, the top keywords for metal band are:
metal band saw
apple watch metal band
metal band logos
metal band watch
death (metal band)
metal band
london (heavy metal band)
4 time grammy nominated metal band
metal band shirts
ozzy osbourne was the lead singer of what heavy metal band?
---
Available domain extensions (TLD) for metal band
Along with the obvious .com and .net, there are several more unique TLDs that can tell users something about your business:
.metalband
.band
.rock
.music
.heavymetal
---
15 Creative metal band name ideas
Feeling stuck? We've compiled a list of metal band name ideas to help you out!
All of these names were available at the time of writing this article, so you can use them as-is or create a wholly new name based on one of them. Just remember to Google your preferred name in case one of our readers has already snagged it!
Band name ideas
Stone Band Club
Shale Gang
Shale Crew
My Stone Band
Shalering
---
Rock band name ideas
Rock Band Box
Rock Band Era
Your Rock Band
Rock Band Solutions
Rock Band Space
---
Cool band name ideas
Cool Band Era
Cool Band Club
Calm Gang
Serene Band
Cool Band City
---
Frequently Asked Questions (FAQ)
How does the metal band name generator work?

The DomainWheel name generator uses an AI to generate metal band name ideas based on your keyword suggestions. By default, the AI also automatically checks for domain availability and only displays domains that are currently unregistered. This makes it easy to find a business name that you can also use as your domain name.
Is the metal band name generator free?

DomainWheel is 100% free, so you can use it as many times as you want.
---
Register your metal band domain name
The best way to register your domain name is to sign up for a web hosting plan with Bluehost and claim the free domain name. Hosting plans start at just $2.75/month and you can sign up in a few minutes by following the instructions on the Bluehost website.
---
Conclusion 🧐
Choosing a metal band name is a big decision, but it doesn't have to be difficult. You can use a metal band name generator to create dozens of name ideas in seconds.
All name suggestions are not created equal, though. To get the best name possible, consider three factors:
SEO. Use relevant keywords to improve your chance of ranking well on search engines.
The experience your music provides. Evoke an emotion similar to the one you want to bring out with your music or use your name to tell people something about your performance.
Your future plans. Make sure your name leaves room for future growth.
If this is your first time building a metal band business, 🤘 you might also want to check out our guides 📚 to How to Make a Website and How to Start a Blog.