Movie Name Generator
Free movie name generator, with the help of AI, for instant ideas.
Looking for movie ideas that are fresh and original? Or a title that is just right for your next movie project? A movie name generator is all you need.
If you're stuck in thinking of a good title or just browsing for inspiration, this guide comes in handy. In this article, you'll learn how an online movie title generator can help you pick a movie or film business name that's both creative and memorable.
📚 Keep reading to discover:
How to come up with a good movie name
How to use a movie name generator using keywords
Four easy tips for picking a killer name for your movie
You'll also find examples of movie titles so you can get some ideas from them.
Let's dig into it!
---
How do you come up with a good movie name?
Finding an original name for your movie can be like looking for a needle in a haystack. It's a challenging journey that will put your nerves to the test!
To make your naming process as easy as possible, you must create a plan and stick to it. Consider following these steps to get started:
Brainstorm ideas: sit down and write out as many ideas as possible. Try to capture the essence of your film in a few words. Get creative, and include alliteration and rhyme in your naming process to create unique names.
Pick and discard: choose two or three ideas and discard the rest. Pick the ones that you consider may catch people's attention the most. It's crucial to make potential viewers curious about the movie.
Ask for feedback: collect feedback from family and friends. Ask them for an honest opinion on your movie name. You can even run a survey on social media to see what your target audience thinks about your movie title.
Use a movie title generator: to finalize your movie name, introduce keywords into a name generator and check its availability. This can also give you new movie name ideas that incorporate your chosen keywords!
A movie title generator is one of the best online tools to get instant ideas to name a company or a website. Read on to see how it works!
---
How to use a movie title generator using keywords
A movie name generator is an AI-powered tool that can help you find memorable names for your new film production or business.
There are great generators out there you can use to get inspired, but most of them only allow you to search for a title, not a name that will position your brand online.
What if you want to build a website for your movie? For this purpose, you need a business name generator.
👉 With DomainWheel, you have the chance to create an original company domain name for your movie in a matter of seconds:
Introduce a keyword in the search bar and press Search Domain.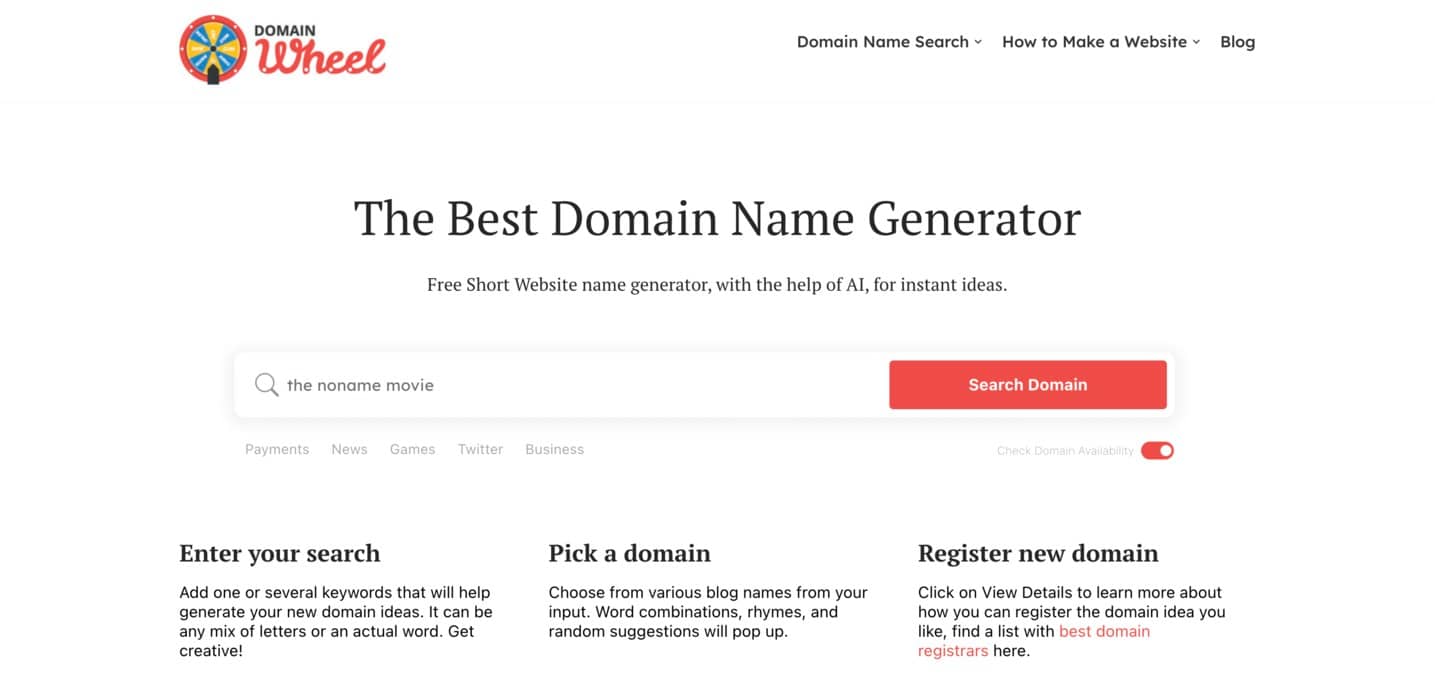 See the results of available domain names.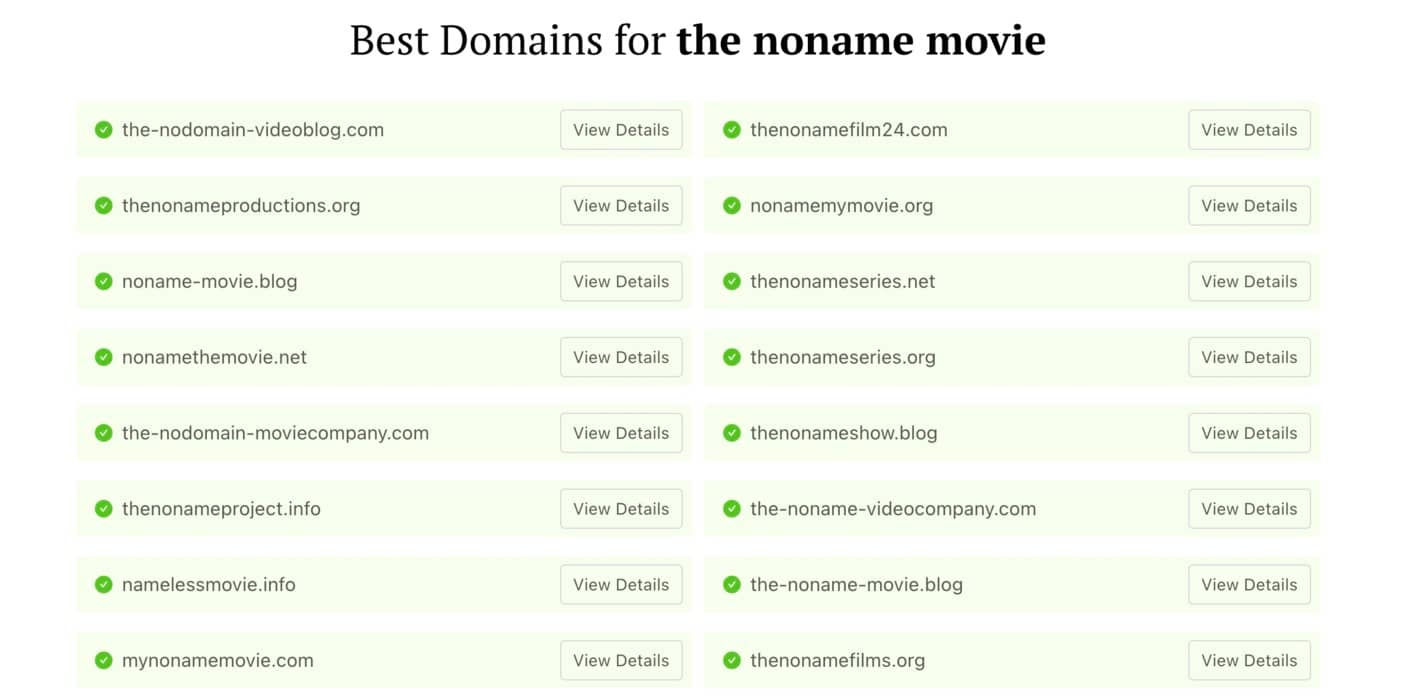 Use filters to narrow your search by character count, the number of keywords, and domain extensions.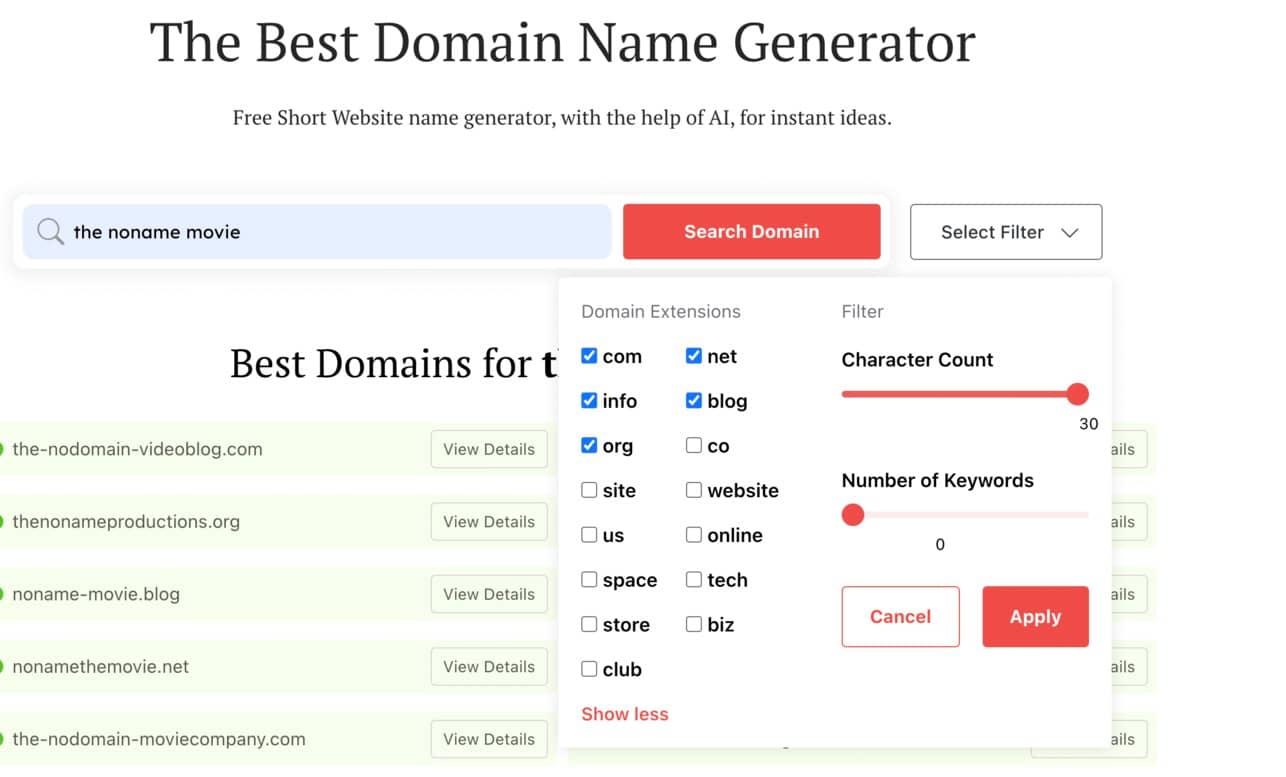 If you want more creative results, scroll down the screen and search for more names related to your keyword topic. You can click on any of the suggestions here to open a whole new search.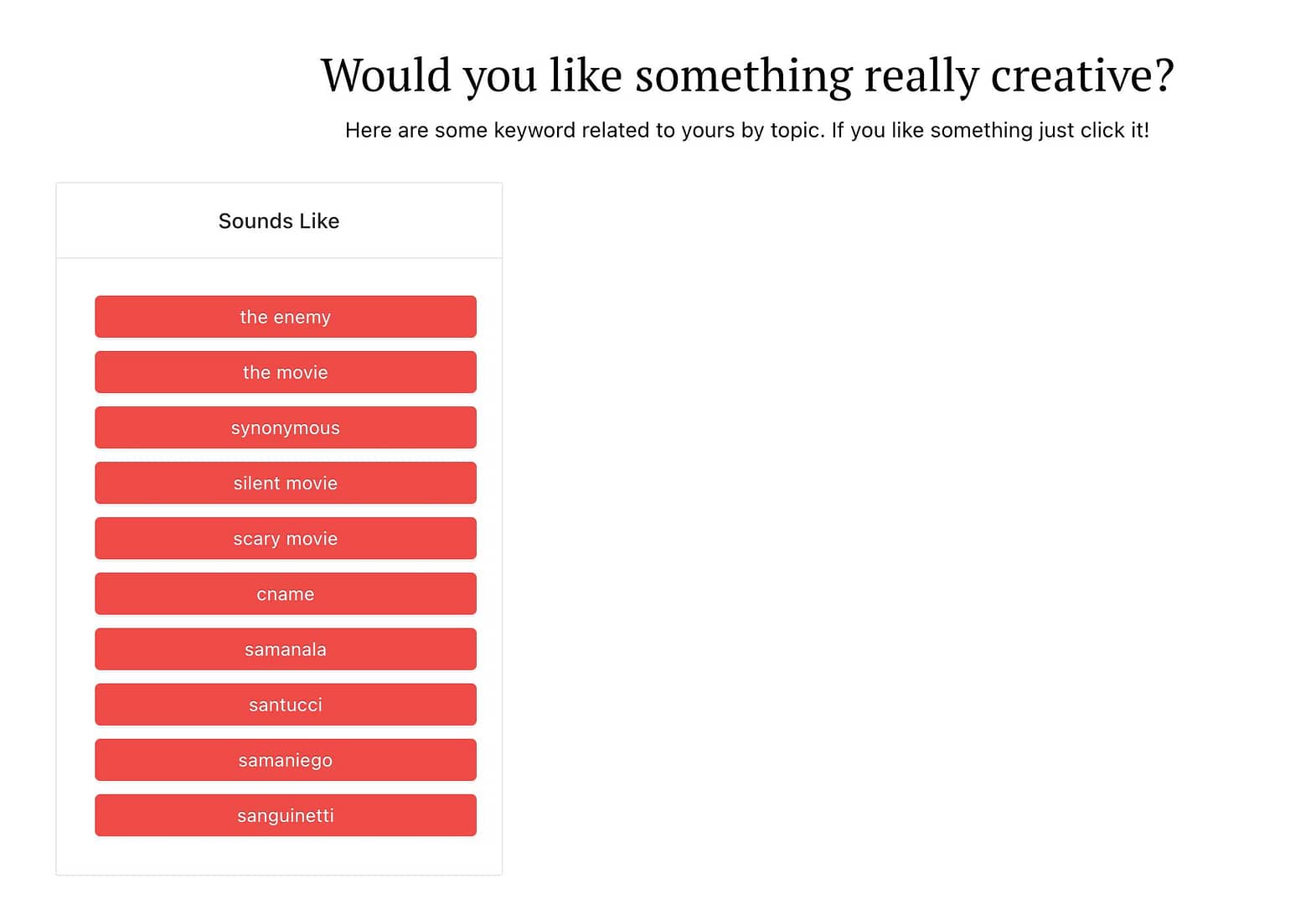 Once you pick a name, click View Details. Register or buy the domain before anyone else does!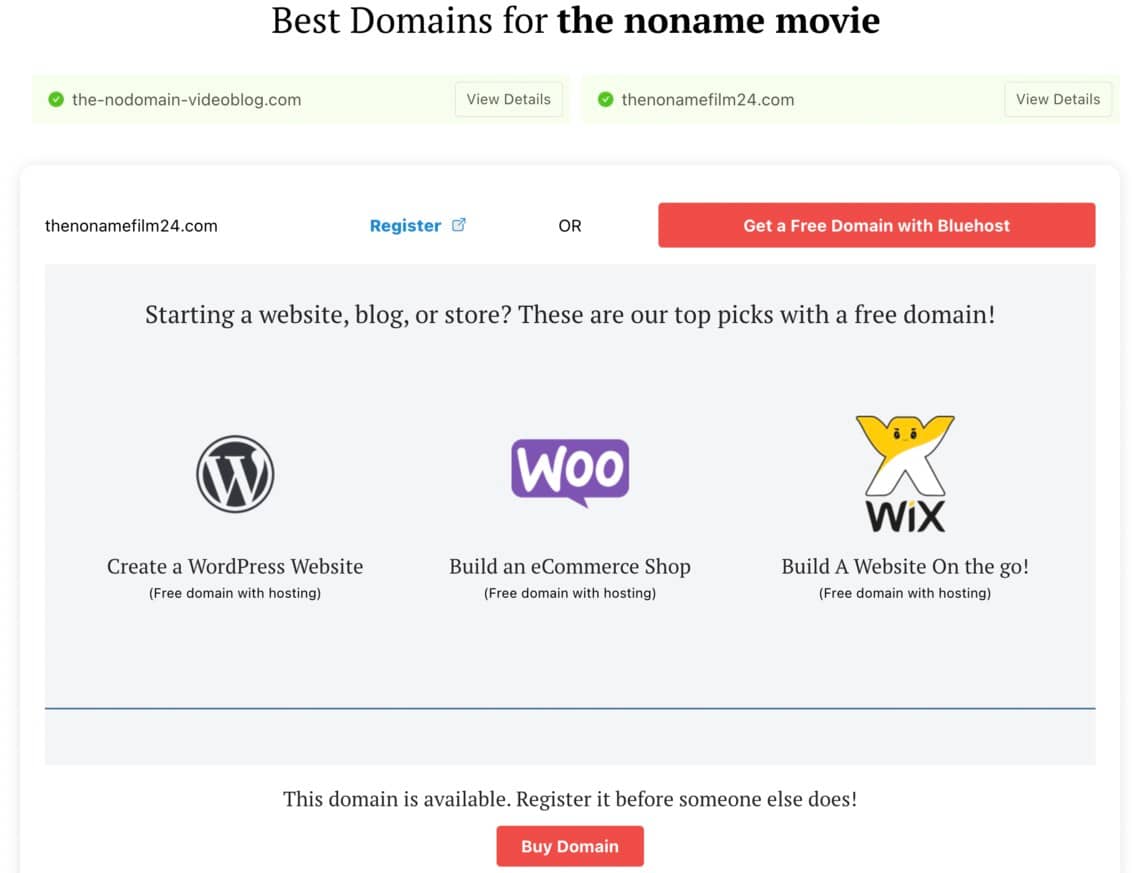 💡 Pro tip: to speed up registering your business domain name, keep the Check Domain Availability feature on. It will automatically open a new tab where you can access a special offer to get a free domain with hosting with BlueHost.

DomainWheel can work with any keywords you enter, making it ideal as an action movie name generator, a Western movie name generator, and a random movie name generator. You can even use it as a movie character name generator!
---
4 tips for picking a catchy movie name
You might find yourself stumped when creating the perfect title for your movie. After all, there are so many different factors that you should take into account.
You don't want something so obscure that no one understands what it means, but at the same time, you don't like something so generic that it doesn't stand out from the crowd.
These are the top tips to consider when creating a great movie name:
Keep it short and easy
Movies like Jaws, Goodfellas, and Jumanji were popular even before they hit theaters. These films are instant classics, not only because of the quality of their productions but also because of their memorable and easy-to-spell names.
If you reduce the name of your movie to one word, people will feel intrigued to know more about the story behind the title. A short name is an excellent hook to catch viewers' attention.
---
Create a marketable name
A good brand is an essential part of a successful movie. Film titles are crucial to that branding and significantly affect how people perceive your movie.
Your movie name can be a marketing tool that gets people talking about it for weeks. It can go viral on social media and online review sites. It may even encourage viewers to sign up for your mailing list or buy tickets to your premiere.
If you want to make it big, design a name that's:
Unique: e.g., Descendant of Fortune or Duke of Hope.
Simple: e.g., Dog or Tech.
Timeless: e.g., Amused by Dreams or Key of Darkness.
Easy to pronounce: e.g., Body of the Sea or Hope of Time.
Web-friendly: e.g., Dogs of Sorrow or Boys and Foes. A web-friendly movie name must be easy to remember and type.
SEO-friendly: e.g., The Horror Diaries or Land of Fantasy. An SEO-friendly movie name must have keywords related to the movie genre or other key aspects of the film. This will make it effective as an SEO domain.
See how big companies like Warner Bros or Walt Disney Pictures promote new releases: the movie's name is always at the center of the marketing campaign.
---
Consider the movie genre, characters, and location
One of the most important things to consider when planning out a movie name is what kind of story you want to tell.
Before deciding on a final name for your project, ask yourself these questions:
What type of movie genre is the one you want to write?
Is it science fiction, comedy, horror, romance, or drama?
What about the characters: good guys, bad guys, or even a mix?
Do you want your story to take place on Earth or in space?
Are you interested in describing a specific location?
A descriptive movie title tells people what to expect and anticipates the plot without spoilers. If you create your movie name based on its genre or location, you'll be closer to building a solid audience and fanbase around your product.
---
Find inspiration in real-world movies and productions
Real-world movies are a great source of inspiration. They capture the experience of living in a particular place and time and can help you to imagine your film's setting and movie title.
There are many ways to get inspired by real-world movies: by looking for visual cues, noticing how certain films use particular locations or objects, or studying how characters behave toward each other.
See Spotlight.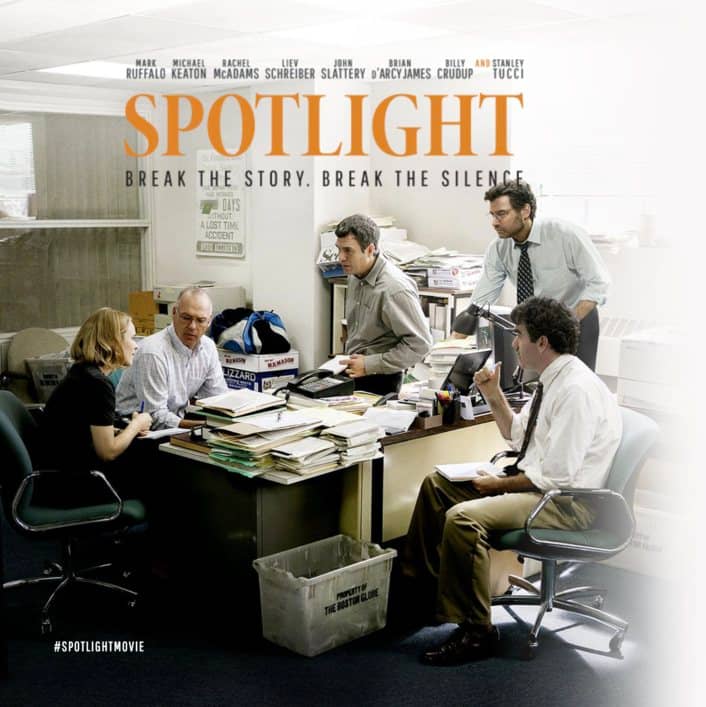 This 2015 film follows the story of a group of journalists who undercover a conspiracy around church child abuse. The plot is based on a true story, and the movie's name comes from the investigative journalist unit: 'Spotlight.'
The movie's title fits the script, the narrative, and the images viewers see on the big screen. Spotlight is set to direct attention and bring to light an unforgettable and unforgivable scandal.
---
20 movie name generator ideas
🎥 Check out this list of 20 movie names for inspiration! You can use them as-is or create a new name based on one of them. Just be sure to Google the name you want first to make sure one of our other readers hasn't already taken it!
Action movie name ideas
Final Killer
Mission Team
Extermination Battles
Battle of Destruction
War For Revenge
---
Western movie name ideas
Wild Red Hat
Guns of the West
The Westfall
The Local Horse Rider
The Oklahoma Desert
---
Random movie name ideas
Wrong Woman Out of Love
Reason to Watch
Beyond the Night in Tears
The Joan Brock Story
Pleasant Truths
---
Movie character name ideas
Amanda Griffins
Cheerful Meyer
Margaret the Loner
Chance Arnold
Lost Thompson
---
Final thoughts 🧐
If you want to win the hearts of millions of movie fans, you must come up with a captivating title; and to get an original name for your movie, you need a movie name generator like DomainWheel.
The best movie title generators help you find memorable, creative names that fit your brand perfectly. They're also available to help you with other business and website names.
🎬 But what makes a good movie name? There are a few things to consider when picking a good title:
Make it short and easy
Make it marketable
Consider the movie genre, characters, and location
Find inspiration in real-world movies
By thinking ahead and taking these steps now, you'll be much more likely to succeed!
📌 Ready to start working on a website for your movie? Check out our guide to 👉 how to make a website!