Are you spinning your creative wheels, stuck in your futile search for 📷 photography blog ideas?
Digging up alluring blog article ideas to feed the insatiable content beast can be laborious. You can quickly become frazzled by the constant search. But there's no way around it. That's because it's the only way to feed content-hungry readers and grow your blog.
We've got good news for you.
We've done all the hard work so you don't have to.
👉 Here are over 15 photography blog ideas for your online photography business.
---
1. Photography blog name ideas
Many aspiring bloggers struggle to come up with a magnetic name for their blog.
Help them get their creative juices flowing by covering topics like:
You can go a step further and do all the hard work 🏗️ for your audience. Give them a curated list of…
---
Blog name ideas for photography
Photography Now
Perfect Pixel
Behind the Lens
Crystal Wedding Pics
This works for different audiences. So you can have name ideas 💡 for various photography niches: wedding, outdoor, indoor, real estate, fashion, etc.
---
2. Personal photography stories and lessons
Your personal experiences in your photography journey can be a rich source of content. Personal stories, whether good or bad, make your blog authentic. That's why readers love them.
Some ideas of topics you could tackle:
My Secret To Taking Stunning Photos Without a Tripod
5 Lessons Learned After 5 Years In Photography
How I Messed Up a Wedding Shoot and How You Can Avoid It
My Photography Workspace and What I Love About It
What's superb about content about personal lessons you've learned is that it's unique and engaging so readers love it.
---
3. FAQ content ideas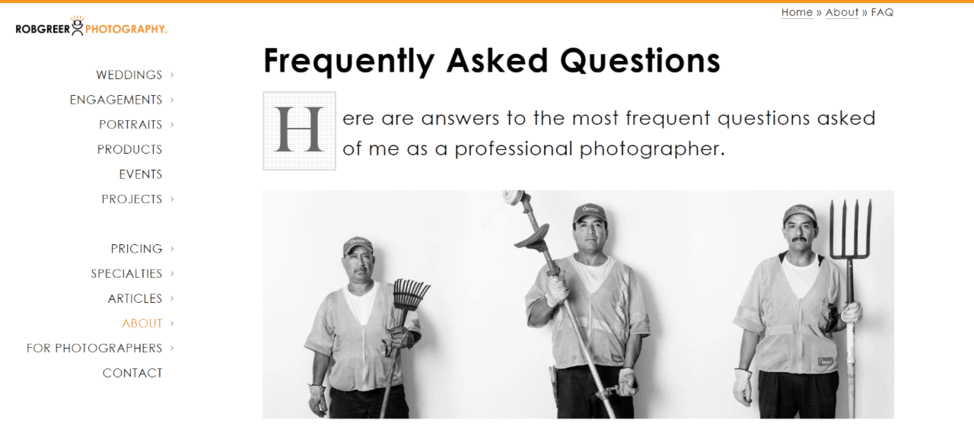 Questions. We all have them, don't we? That's why FAQ articles are such a powerful content framework. Keep your ears open in niche forums and social media platforms to hear the pressing questions people have about your blog topic.
Package the questions into engaging content such as:
10 Most Asked Wildlife Photography Questions
I Asked 7 Photography Experts About X: Here Are Their Answers
The Number 1 Question People Ask About Indoor Shots (the Answer Will Surprise You!)
You can survey your readers to find out their top questions.
---
4. Nature and outdoor photography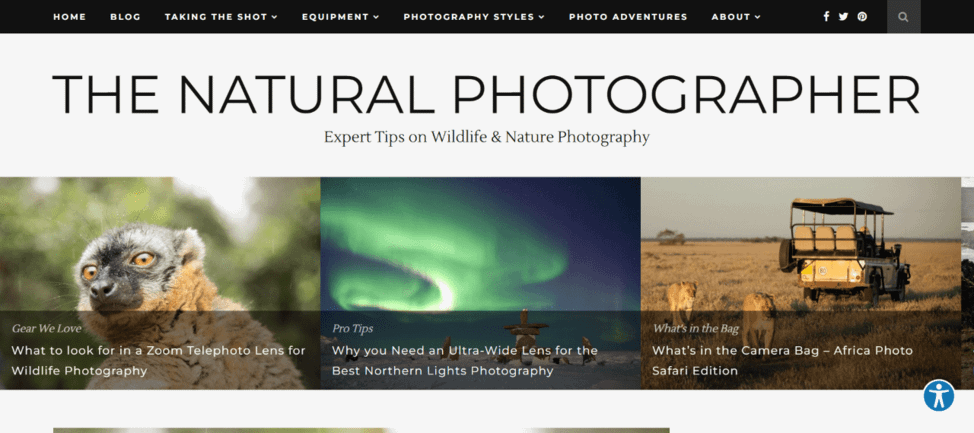 The outdoor nature photography genre is in demand. Here are some powerful outdoor photography blog article ideas:
Best Printing Mediums for Landscape Photos
Practical Tips and Secrets to Taking Splendid Outdoor Photos
How To Choose the Best Frame, Size, and Color for Outdoor Photos (you can even split this into three posts!)
---
5. Indoor photography
Taking photos indoors can be tricky. Your readers need all the help they can get to nail their indoor pics. 🖼️
You can write about:
The Best Camera Settings for Indoor Photos
9 Tricks to Improving Your Indoor Shots
5 Fatal Indoor Shooting Mistakes To Avoid
---
6. Photography equipment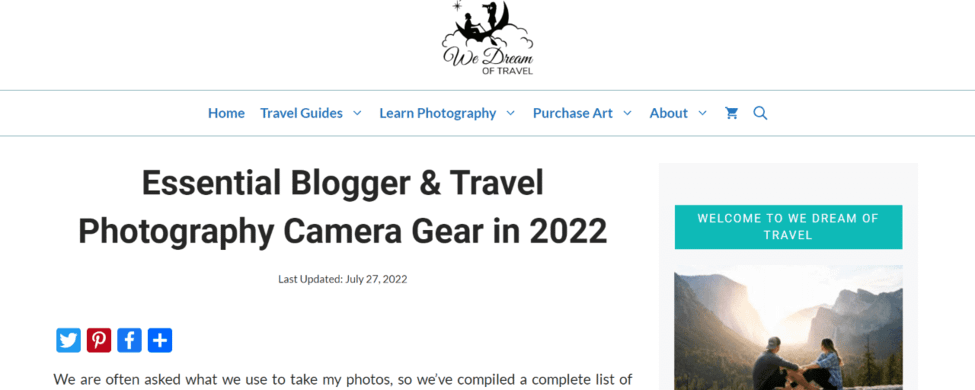 What gear are you using to kill your photo shoots? Which latest equipment would you recommend in different photography scenarios?
In your gear-related content you can:
List the best cameras for [niche] photographers e.g. newborn, wedding, wildlife, travel, portrait, pet, family, fashion, or sports
Review a popular or newly launched camera complete with features, pros, and cons
Write detailed step-by-step guides on how to use a specific camera or an accessory, like a reflector, tripod, or lens
Recommend shops where readers can buy the camera photography gear you mention on your blog
The best part? You can make a decent affiliate income with this type of content.
---
7. Photo editing software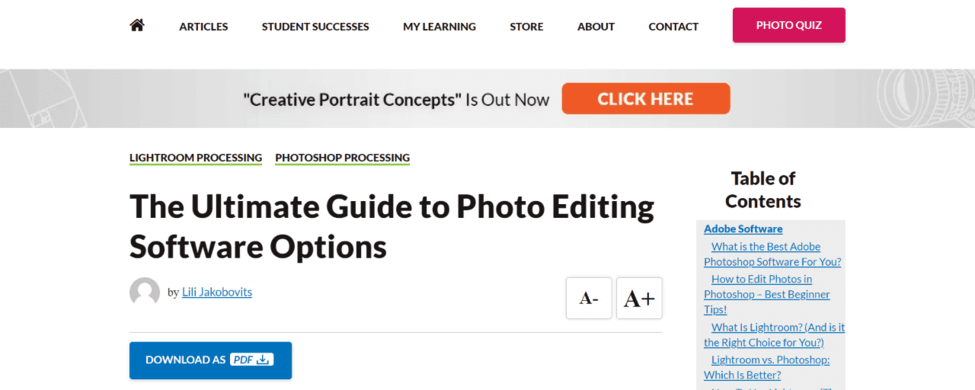 Taking a photo is just the beginning. Polishing it up with photo editing software until it sparkles is where the best professional photographers stand out. Tell your audience which software is ideal and how to get the best out of it.
A cursory mention of the software won't do your audience any good. Go deep.
Share comprehensive step-by-step guides on how to use the software
Do a feature-by-feature comparison of popular editing software, e.g. Adobe Photoshop vs Affinity Photo
Provide a list of software recommendations for a specific group, e.g. beginners or advanced photographers
---
8. Photography tips for [niche] photographer
Each photography niche has its own rules of engagement. Help your audience to master the subtle demands of their niche so they improve their craft.
Some examples of niche-specific blog articles are:
9 Photography Tips for Headshots
5 Essential Tips for Real Estate Photographers
How To Become an In-demand Fashion Photographer
---
9. Best photography spots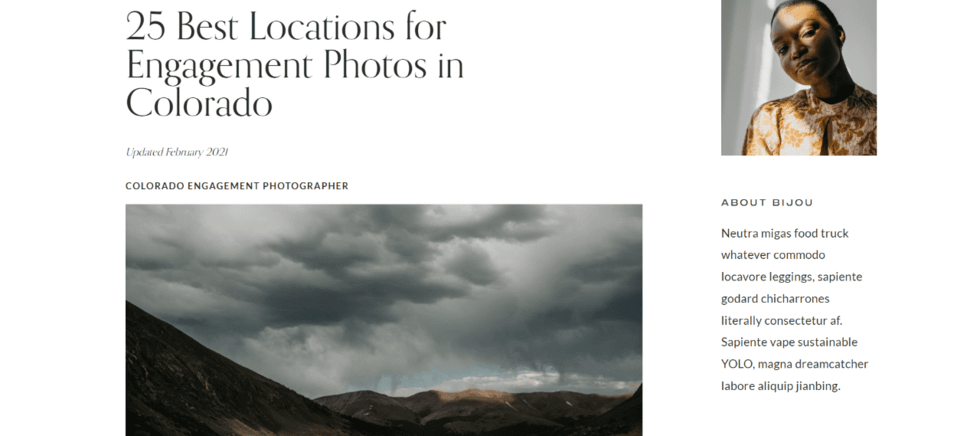 Some places have that wow factor that turns simple photos into breathtaking spectacles. Reveal the best photography spots in your city/state:
17 Terrific Places To Take Photos In [City]
7 Little-Known Photography Spots In [Place]
Photo Paradise: 14 Best Places for Wedding Photos In [Beach]
Another cool tip that can help you drive organic traffic to your blog is featuring tourist attractions in your area of operation.
---
10. Roundups of your best shoots
If you are a professional photographer, the ultimate goal of your blogging efforts is to get clients. One of the best ways to do that is to showcase your talent by doing roundup posts of your best shoots in the week/month.
While it's great 😎 to let your photos do the talking, you must do more. Instead of just posting a series of pics, give context to your work. State the occasion, explain what makes the photos special, and expand on how you captured the special moments.
Then your brilliance and expertise will shine through.
---
11. Photography blogs for beginners
Beginners form a significant chunk of any audience you are targeting. Recommend beginner-friendly blogs people can follow so emerging photographers can hone their craft. Better still, to give 📚 readers better value, make your recommendations niche-specific, not generic.
Here are a few examples:
20 Best Blogs for Upcoming Fashion Photographers
12 Awesome Food Blogs Every Newbie Food Blogger Must Follow
Are You an Emerging Wildlife Photographer? Then You'll Love These 23 Blogs
---
12. Share about new photography trends
Like every industry, photography isn't static.
New tools, tips, and tricks keep emerging. If you churn out stale approaches, you will lose readers to blogs that move with the times. Latch on to the latest trends in your industry and unpack them for your readers.
Cover topics like:
Introducing 360-Degree Photography…
The Cry for Authenticity: Unedited Images Are Back With a Bang!
How AI is Transforming The World of Photography
5 Hot Photography Trends to Watch Out for in 2023
The sooner you discuss the emerging trend, the better for you. You will drive more traffic to your blog as inquisitive people search for the latest photography fad.
---
13. Posing tips and ideas
Posing is at the heart of excellent photography. Dish out posing tips to fellow photographers or your specific target audience. You will have your audience eating out of the palm of your hand. 📌 There are posing tips for virtually everyone in every photography context:
Couples
Children
Group photos
Groom/Bride
Portraits
Home photoshoot
Family photos
Males/Female
Beach photoshoot
Indoor/Outdoor photoshoot
---
14. What to wear during a photoshoot
Even if you are a natural camera-friendly person who looks stunning in photos, you can look even better with thoughtful dressing. Proper dressing fits a person's body type and accentuates their best features.
Give your audience tips on what to wear 👗 when taking photos.
Cover topics such as:
How To Advise Clients on What To Wear During a Photoshoot
15 Awesome Style Tips for Poolside Photos
How To Dress Up for a Portrait Photoshoot
What Not To Wear to a Photo Session: 10 Mistakes To Avoid
---
15. Photo framing ideas and tips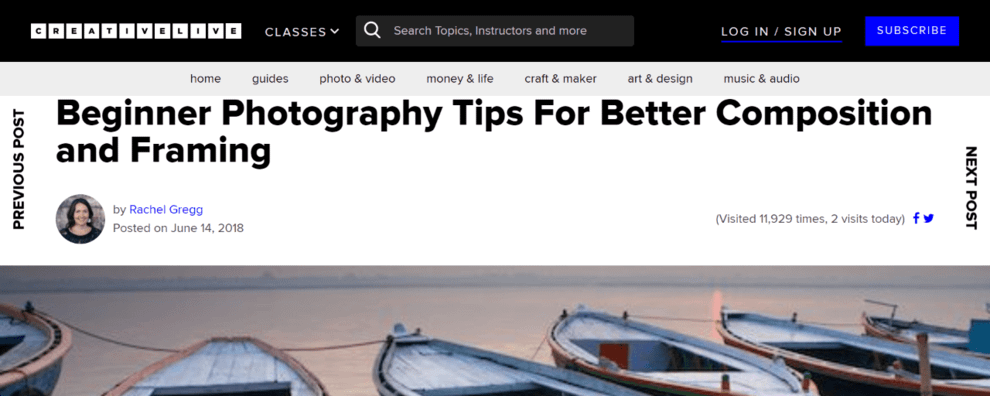 No matter how fancy your DSLR camera or phone camera is, if you don't know how to compose a photograph, you will produce sub-par pics. That's why your audience would appreciate your best advice on how to frame a subject when shooting photos.
Your photo framing content can include:
Device-specific framing compositional techniques for mobile photography, e.g. iPhone or Android
A list of photo framing apps for Android and iOS and how to use them
Top 10 Picture-Framing Mistakes and How To Fix Them
---
Grow your blog with captivating photography blog ideas
Photography blog ideas are the backbone of your photography website. With superior ideas on hand, you can create your own blog and start writing daily photography articles.
👉 The more engaging your content, the faster your photography blog grows. It all comes down to these three essentials:
Know exactly who you are targeting and what their needs and tastes are 🤷
Come up with ideas that suit your audience's needs and preferences ⌛
Use proven content frameworks to develop the ideas 🎨
Propel your photography blog to the front of the blogging race with these proven ideas.