Launching a travel blog is no small feat, but the decisive factor in its success or failure is the quality of travel blog ideas you generate.
A blog is only as good (or bad) as the caliber of its content. The standard of your blog post ideas determines the grade of your content. And with research showing 59% of travel bloggers run more than one blog, you need gobs of ideas to feed the insatiable content beast and go toe to toe with the pacesetters [1].
But where do you get these high-quality travel content ideas? 🤔 I'm glad you asked.
👉 In this guide, you will get 12+ proven travel blog ideas to crank up your content production.
---
1. Personal experiences & recommendations
If you examine your travel-related personal experiences, you will discover plenty of travel blog ideas to tap from.
You could write about your:
Favorite restaurant in your city
Top picks of travel destinations you've been to
Best backpack recommendations
Best travel footwear choice
Best airline you've traveled with
Best hotel or flight booking site you've used.
Favorite hotels you've stayed in during your travels
The best part? These types of posts are easy to monetize so you can make good money while you are at it.
---
2. Travel destination bucket list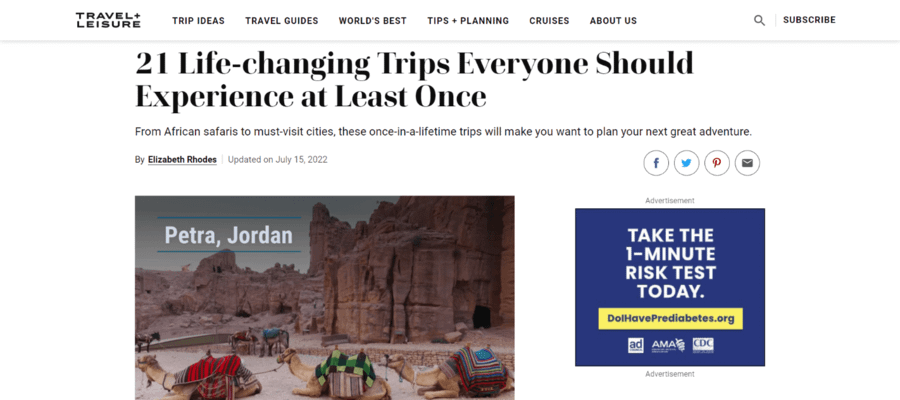 Not only can you talk of places you've already been to, but you can also blog about the dream places you want to go to. Provoke your audience's wanderlust by writing about places they can visit locally, nationally, regionally, and globally.
Here are a few topic suggestions to get you started:
21 Amazing Global Bucket List Destinations
The Top 10 Places To Visit In New Orleans
USA Travel Bucket List: 52 Incredible Places to Visit
Travel Bucket List For Families: 101 Must-see Places
23 Asian Cities to Visit Before You Kick the Bucket
The travel bucket list concept applies to many demographics and travel situations depending on who you are writing for: couples, families, 20s, seniors, budget travelers, campers, solo travelers, road trips, rail trails, business retreats, hikers and backpackers, etc.
---
3. Packing hacks for travel
Packing light is an art form. It helps travel enthusiasts carry just enough luggage for their trip without leaving the essentials. There are even whole communities built around this topic, such as the "onebag" community.
To connect with this universal travel needs, you can discuss packing tips and tricks for all scenarios:
Flying
Cruise
Camping
Car travel
College
Local trips
International travel
Moving out of state
European travel
Carry on only travel
No baggage travel (yes – some people travel with just the stuff in their pockets!)
Lightweight product alternatives (e.g. "The Lightest Chargers for Your Tech Products)
This post type is lucrative because you can recommend specific bags/products and make money for each sale that comes through your website.
---
4. Transportation options for travelers
Traveling isn't just about getting to your destination. You can enjoy the journey as much as the destination itself.
Blog content around the travel options people have at their disposal can engage your audience:
Boats
Subways
Aerial Tramways
Cruises
Planes
Trains
Cars
Buses
Caravans
Motorhomes
Funiculars
Bicycles
Motorbikes
Address the pros and cons of each mode of transport. To make the content engrossing for your readers, wrap powerful anecdotes around these modes of transport instead of giving them a dry list.
You can also write posts on how to get to certain destinations. For example, "How to Get to Koh Lanta, Thailand".
---
5. Tips for booking cheap flights
While there are many travel modes, it's undeniable that flying is the backbone of modern travel. Whether it's for a short local flight or a long-haul trip overseas, your readers need help with how to land the cheapest flight.
Share simple tips and secrets to landing cheap flights, among them:
How far in advance to book flight tickets to get the best prices
Starting your search on the airline's website
Getting into frequent flyer programs
Flying with budget airlines
Changing routes
Searching incognito
Booking with the best booking sites
Bundle your trip to save on flights
Advanced tactics for reducing costs (e.g. skip lagging)
---
6. Where to stay when you are traveling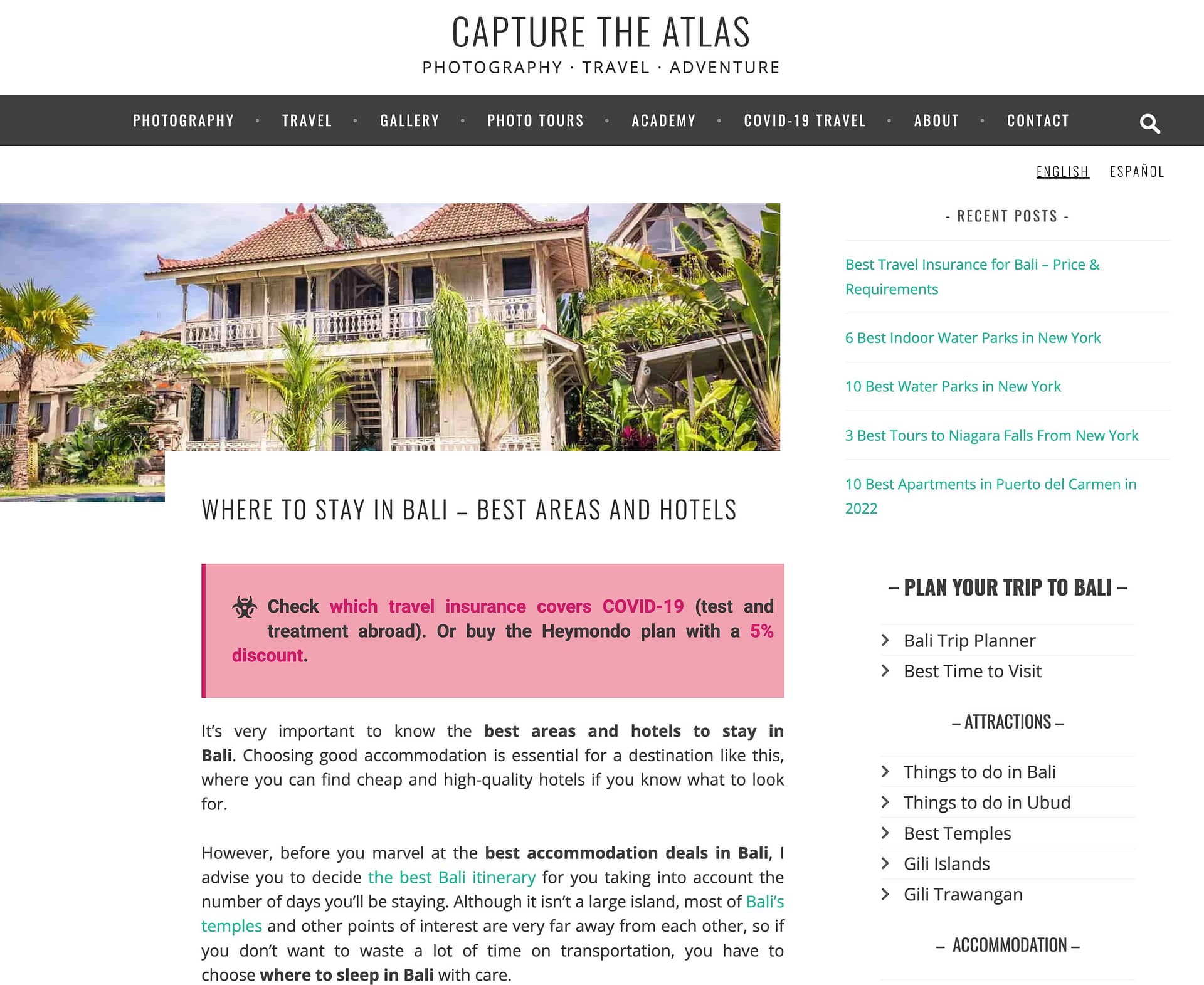 Accommodation is an integral part of a pleasurable travel experience, so your readers would appreciate any help they can get about the subject.
Include all kinds of living quarters for different audience needs, depending on who you are targeting: hotels, motels, lodges, hostels, guest houses, homestays, apartments, holiday parks, campgrounds, bed and breakfasts, chalets, boats, log cabins, caravans, motorhomes, villas, condotels, bungalows, holiday homes, Airbnbs, chalets, and Inns.
---
7. Eating tips while traveling
Feasting, whether en route or in the comfort of your travel destination, is a vital aspect of touring. Give readers tips on how to cut down their food bills and eat healthily:
Research your eating options before you leave
Pack food to eat on the way to your destination
Pick accommodation that includes meals.
Do self-catering if possible
Target hotels with free breakfast
Maximize happy hour specials.
Carry healthy non-perishable snacks like dried fruit, frozen veggies, whole-grain pretzels, snack bars, trail mixes, and nut butter.
Suggest the best dishes your readers can try. Also, recommend the best restaurants, cafes, and eating spots where they can find those mouthwatering dishes.
---
8. Fun activities to do in…
Excursions are all about having fun. Provide readers with a handy list of fascinating activities they can do to rejuvenate themselves.
Create engaging content about different activities:
Indoors: indoor camping, darts, video games, word games like crosswords, hangman, and Scrabble, listening to music, relaxing on a hammock, and reading a soft or hard copy book.
Outdoors: bungee jumping, mountain climbing, hiking, biking, fishing, horseback riding, bird watching, skiing, zipline, touring historical sites, treasure hunting (geocaching), and game drives.
Water-based amusement: water slide, scuba diving, snorkeling, canoeing, surfing, rafting, boat cruise, kayaking, sailing, whale watching, water parks, and beach visits.
Focus on activities that appeal to your target audience.
You can also go more niche to stand out from the crowd. For example, "X Things to Do In Ho Chi Minh City When It's Raining". While plenty of other travel bloggers will have covered general "things to do" lists, adding the "raining" qualifier helps you stand out.
---
9. Souvenirs to bring home from [destination]
Globetrotters treasure keepsakes because they evoke happy memories of the places they've visited. Not only that. You can gift souvenirs to friends and loved ones. They are unique, stunning, and precious gifts. But people struggle with what to buy. That's where you, travel blogger extraordinaire, come in.
Propose creative souvenir ideas for your readers from the endless options:
Jewelry
Dolls
Coins
Art
Crafts
Pottery
Liquor, beer, or wine
Masks
Postcards
Books
Bedding
Caps and hats
Food
Cosmetics
Miniature toys
Cups and shot glasses
Handbags
Necklaces
Tote bags
---
10. Security and safety tips while traveling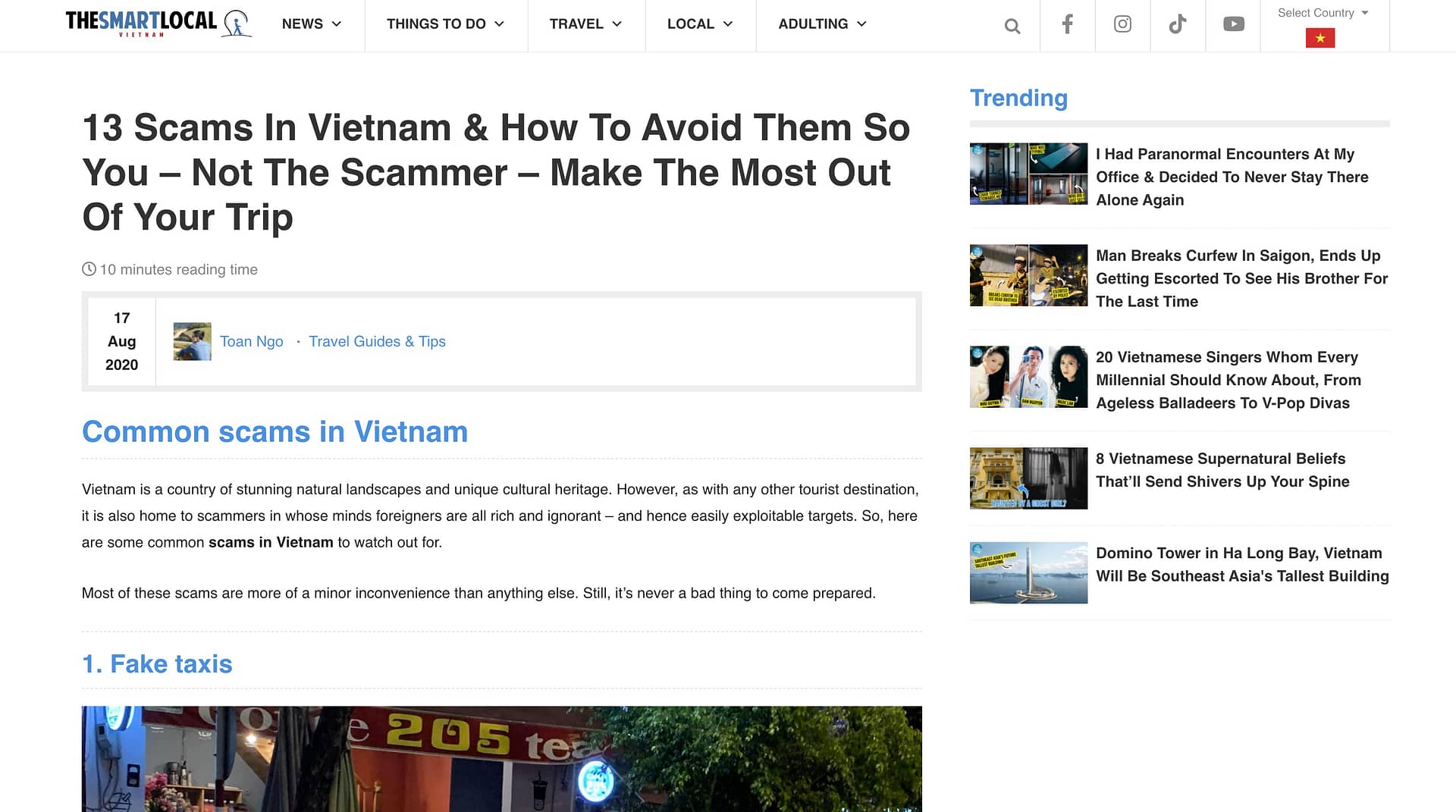 People care deeply about their safety while traveling. Allay your audiences' fears and protect them from harm by giving them simple common sense travel safety tips like the ones below:
Don't draw attention to yourself by flashing money around
Research the common scams in the places you plan to visit.
Always be alert to what's happening around you
Have soft copies of important documents like your passport and ID
Don't keep all your money in one place
Don't overshare online, otherwise, thieves can use that info against you
Note and write down local emergency numbers
Protect your hotel room
Invest in anti-theft bags like cross-body slings.
Safety tips appeal to all audience types: solo travelers, hikers, campers, the elderly, families, etc.
---
11. How to [activity] while traveling
Travelling doesn't mean you should abandon your regular activities or your life has to stop.
Create content about how wanderers can do the following activities while they travel: exercise, meditate, read, work, eat healthily, save money, journal, stay safe, go sightseeing, play games, start a conversation, stay in touch with loved ones, etc.
For example, avid weightlifters might be interested in a topic such as "How to Keep Your Gains While Traveling Southeast Asia".
---
12. Best travel apps
We are a connected generation. Win your readers' attention by revealing various apps they can use to enrich their travel experiences. From organizing your itinerary to navigation tools, there's a handy app for virtually anything you can think of.
Here are some examples of apps you can discuss:
Highlight the key features of each tool and give your overall impression of it. Say what you like about the app and what needs improvement.
---
Travel blog ideas: the key to travel blogging success
That's that. 😺
Our curated list of 12+ tried-and-tested travel blog ideas and post topics. With these, you have enough ideas in your content calendar to keep going for months to come.
But remember, having great ideas isn't enough. You must develop them expertly into irresistible content pieces your audience can't get enough of.
Has this article inspired you to 🎬 start a travel blog? Then read 👉 our step-by-step guide on how to launch a travel blog readers love.
Cheers to great travel 🗺️ blogging content!