A business plan acts as a roadmap to success for your business, outlining the financial, marketing, and operational processes you'll use to make money. This business plan checklist will show you what to include in this essential document.
👉 We'll discuss the following business plan setup essentials:
There's a lot to get through, so let's get started!
---
Business plan checklist
Executive summary
An executive summary provides a detailed overview of the problem your business aims to solve and how you solve it. This should include the following information:
The purpose of your business
Notable competitors
Target audience
Financial highlights
Important members of your team
Your business goals
Note that this section may be easier to fill in after you've completed the rest of your business plan. The reason it comes first is that the executive summary should go in the front of your business plan document.
---
Company overview
This is a brief overview of important facts about your business. You'll need to include the following information in this part of the business plan checklist:
Company history
Profiles of founding members
Milestones you have achieved
The legal status of your business
You can think of this part of your business plan as being similar to the "About" section of your website.
---
Industry analysis
This section will summarize the overall state of the industry your business is part of. You'll want to include some key details:
The current size of the industry
Whether the industry is currently growing, stable, or in decline
Who the biggest players are
Influences on the industry such as changing tech, legal, or environmental factors
Sites like Statista collect general statistics about a wide range of industries. For more detailed information, you can check out MarketResearch or simply Google "[your niche] industry analysis".
---
Customer analysis
Next in our business plan checklist is the customer analysis section, where you'll detail who your target audience is. You want to include the following:
Demographic profile for your core target audience
Demographic profiles for your secondary audiences (people who aren't the most likely to buy your products/services but may still have an interest in them)
Customer segments dividing your target and secondary audiences into more specific groups
You can learn more about customer analysis from our guide, What is a Target Audience?
---
Competitive analysis

In the industry analysis, you looked at the whole of your target industry. The competitive analysis looks more closely at your direct competitors. For example, if you're starting a fitness blog to market your personal training programs your industry analysis will look at fitness blogs and your competitive analysis will specifically look at blogs by personal trainers.
Your competitive analysis should include two types of competitors:
Direct competitors, who sell similar products/services to your target audience.
Indirect competitors, who sell different product/services but are in a similar category (for example, personal trainers and group fitness classes).
For each competitor, answer the following questions:
What products/services do they offer?
What are the notable features of their products/services?
What is their pricing model?
Who are their customers?
What does this company do well?
What does this company do poorly?
You may also want to include overall audience statistics, such as the number of followers they have on various social media platforms and how much traffic their websites get.
The other thing you need to do in your competitive analysis is describe how your business is positioned to compete against these companies. To do this, answer the following questions:
Will you offer better or different products/services?
Will your products/services have better or different features?
Will you offer more affordable pricing?
Will you offer better customer service?
Answer these questions in as much detail as possible to develop a clear understanding of how your business stands out from its competitors.
Feeling overwhelmed by everything in this section? You can get free competitive analysis templates from HubSpot.
---
Marketing plan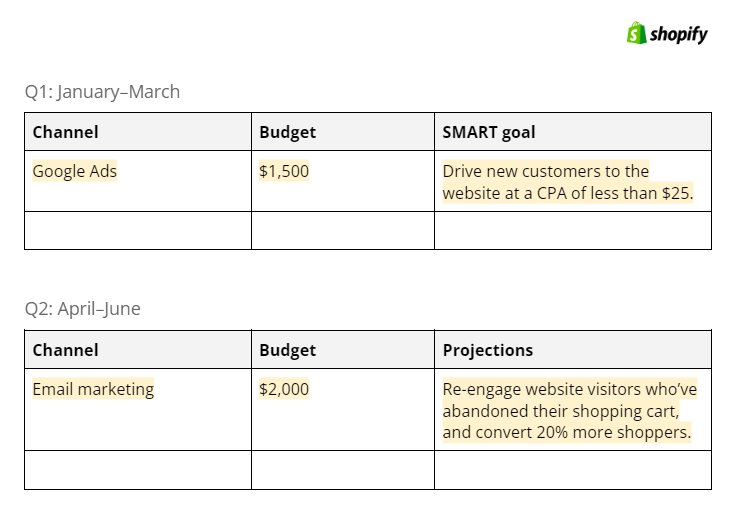 Next in our business plan checklist is the marketing plan, which details how you'll promote your business. This should focus on the four P's:
Product. A detailed explanation of your business's product/services.
Price. An outline of the pricing for your products/services, including all pricing tiers.
Place. Where people will find and buy your products/services. This can include both physical and online locations.
Promotion. How you'll spread the word about your business. This should include content marketing, advertising, and any other forms of marketing you plan to use.
You can get a high-quality marketing plan template from Shopify.
---
Operations plan
This is where you'll explain how your company will reach the goals you've set. You'll want to divide this into two sections:
Short-term processes that occur every day. For example, if you're starting an online thrift store, daily processes might include finding items to thrift and processing/shipping orders.
Long-term goals such as a goal to hit a certain amount of revenue or a certain number of employees by a specific date.
Once you've completed this, you can move on to the final part of our business plan checklist:
---
Financial plan
If you're learning how to write a business plan, you'll need to understand how to create a financial plan for your business.
Your financial plan will share monetary projections for your first five years of business, with the first year broken down into quarterly or monthly projections and annual projections for the following years. These projections should establish how much money you'll need to operate, how much you expect to make, and when you expect your business to be profitable.
This part of your business plan should include the following documents:
Profit & Loss Statement
Cash flow statement
Balance sheet
Sales forecast
Personnel plan to establish when you'll hire more people and what positions you'll hire for
Break-even analysis
You may want to hire an accountant to help you develop these documents.
---
Business plan checklist: final advice 🏁
A business plan is an essential document that helps you understand the best path to success for your business. A well-written business plan can also help you secure grants, business loans, and investors to get your business off the ground.
📝 Keep this business plan checklist handy to make sure you're not leaving anything out.
When you're done, be sure to check out our guides on 👉 how to start an online business with no money and how to make a website.