Etsy Shop Name Generator
Free etsy shop name generator, with the help of AI, for instant ideas.
If you are passionate about exceptional, handcrafted, and unique items, you probably already know what Etsy is.
Whether you're looking to sell such items or buy them, this is the marketplace to be.
In 2021, Etsy had approximately 96.3 million active buyers [1]. However, in order to attract some of those buyers, you first need a good name for your shop—and this is where we can help you.
Below, you'll find some tips that can help your Etsy shop stand out from the crowd and attract buyers in no time.
---
What is an Etsy shop name generator?
Having to come up with a shop name from scratch can often be challenging, especially if you don't have that creative spark. Plus, even if you come up with a perfect name, there's always a chance of it already being taken.
Fortunately, you can get dozens of instant name ideas by using an AI name generator like DomainWheel.
All you need to do is type keywords that match your products, category, or profession, click on Search Domain, and you'll get original shop name ideas.
Here's an example of what you'll get if you search for "earrings":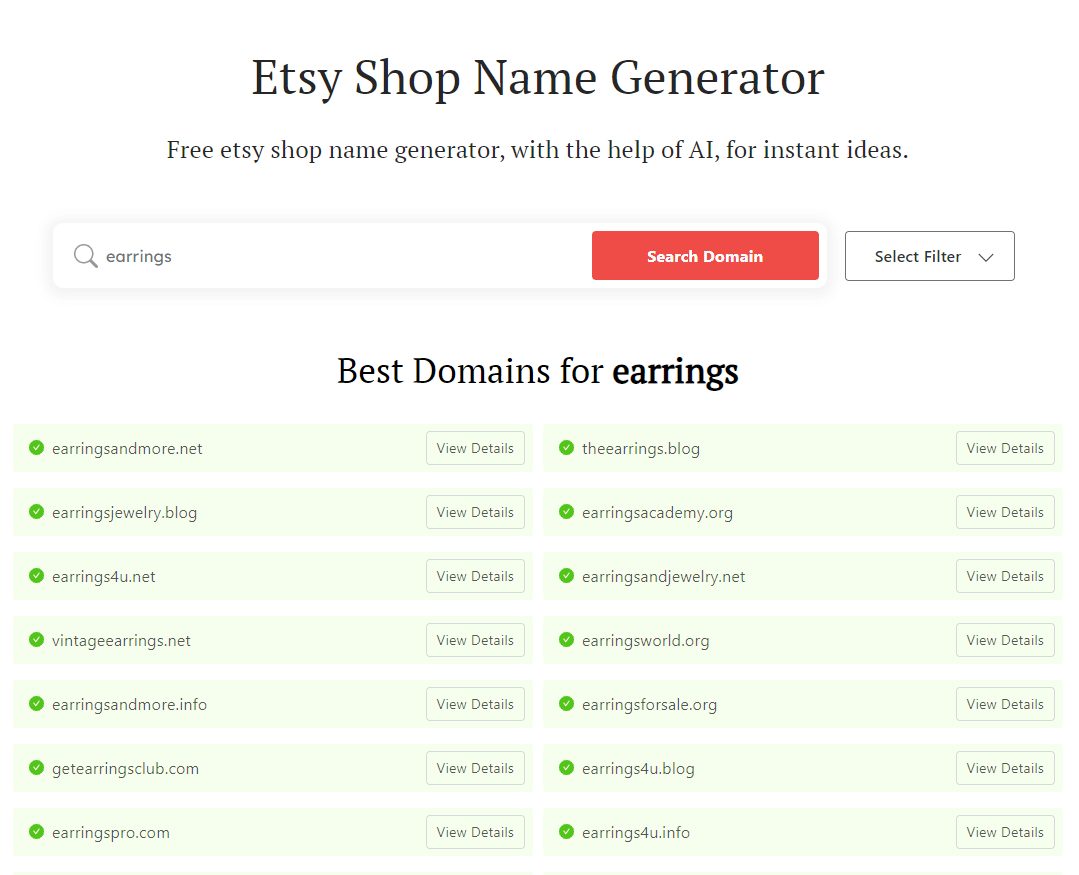 Don't like any of the suggestions in the first area? Scroll down to see Sounds Like, Rhymes With and Random Suggestions:
---
Why is a good shop name important?
Your shop name is the first thing your potential buyers will encounter, which is why you want it to be intriguing, memorable, and meaningful.
Plus, it should be something you are comfortable with since it will stay with you as your reputation grows. Changing it later can be harmful to your established market reach — if buyers who are familiar with your previous name can no longer find it, they are more likely to assume you've closed the shop than to try finding out your new name.
So, you want to get it right from the start.
Finally, one of the simplest reasons for having a good Etsy shop name is that it can increase your sales. If it's something simple and unusual, people are more likely to remember it even if it's mentioned in passing, Google it later, find it, and potentially purchase something from you.
---
Making a perfect Etsy shop name — 4 tips
There are a few different paths you can take when coming up with your store name. You can:
1. Use your products as inspiration 🛒
One of the most straightforward strategies is to use your products as inspiration. For example, if you are making handmade soaps, typing those keywords in the name generator could give you some available names.
Some examples of product-based names include: The Handmade Soaps, Organic Soaps Shop, Artisan Soaps, and similar.
The greatest advantage of this strategy is that it tells potential shoppers what they can find in your shop right away. However, if you choose to expand, your name may no longer fit that well.
With that in mind, unless you are very specific about what you want to sell, try to be suggestive and descriptive but not too precise.
---
2. Check out the most popular keywords ⌨️
Speaking of keywords, it's always a good idea to see what is popular today [2]. Of course, not all of them will be related to what you sell, but if even one or two are, you can use them to your advantage.
In general, popular keywords show you what people are looking for the most. So, if you can provide that—and make it very clear that you do by including them in your name or your shop description—you are on the right path.
Some good examples of this direction include common life events, like Birthday or Anniversary Gifts, simply because it's something most people will look for at some point. Vintage and personalized are also very popular searches, so including those phrases could benefit you.
Want to learn more about keywords? Check out our guide to choosing an SEO domain name!
---
3. Use your own name 🧑
This is also an option, though it comes with both pros and cons. While it gives you more flexibility to grow in different directions, it doesn't tell people what you're selling. Thus, people are unlikely to find you by googling your products.
A good middle ground is to merge your name with a more suggestive phrase, like the above-mentioned keywords.
---
4. Choose something abstract 👨‍🚀
If you are a creative type, you can express that creativity by coming up with a completely unique name. Just like using your own name, this gives you plenty of room for flexibility. Plus, such names are usually quite memorable, making it easier for your future customers to spread the word and help you grow.
Just think Google, Nike, Adidas, or Amazon—all quite abstract and very famous.
The one thing to keep in mind, though, is that the name should be easy to spell and read. Write down your ideas, and ask your friends to read them out loud — if they don't pronounce a name correctly right away, it's probably not the best choice.
---
Things to keep in mind
Regardless of which strategy you choose to follow, there are a few more things you should consider when choosing your name.
1. Make sure your name is available
Even if you come up with a unique and abstract name, make sure it's not already taken—you might be surprised. This is especially important for more suggestive names, as you could find many similarly named shops.
You can check if your ideal shop name is available by searching for it on Etsy. You'll also want to run a Google search to make sure you can claim the associated domain and check the USPTO Trademark Database to see if the name is trademarked.
If the name isn't available in one or more of these places, you can run it through our Etsy shop name generator to get similar suggestions.
---
2. Know your audience
You're more likely to attract an audience if you actually know and understand whom you're selling to. We're not talking about simply stating that your product is ideal for "stay-at-home moms" or "crafty young women."
There is no way to appeal to everyone, so try to narrow down your niche as much as you can while leaving enough room for natural growth. Age, gender, location, spending power, and interests are all factors you should consider.
---
3. Match your products to your audience
Related to the above, if you do have a general idea of the type of person you'd like to attract, ask yourself: would this type of person like my shop? Would they be able to find it easily on their favorite social platforms? Can my product solve their problems?
For example, if you're targeting Gen-Z, you should make your products eco-friendly and not too expensive, as this generation is known for being eco-conscious. For Millennials, you should try to make your product as customizable as possible, and add plenty of details in your product descriptions.
Both generations are tech-savvy, meaning that your website (if you have it) should be mobile-friendly.
---
4. Make your shop name SEO-friendly
If you plan to expand in the future, your shop name should be SEO-friendly. Creativity and uniqueness is not important just for the sake of memorability — it's key to making yourself easy to find online.
For example, if you are a fashion designer, an artist with an online portfolio, or a photographer who advertises on social media, you want potential customers to find you easily even outside of Etsy.
For that, you need a name that would pop up on the first page of Google when typed in.
---
Etsy shop name examples
Finally, to actually help spark your imagination, here are some existing shop names and what makes them intriguing:
Home Decor

PersonalizationMall — as mentioned, personalized items are always a plus, so adding it in your shop name next to something that is easy to remember (Mall) makes it a great name.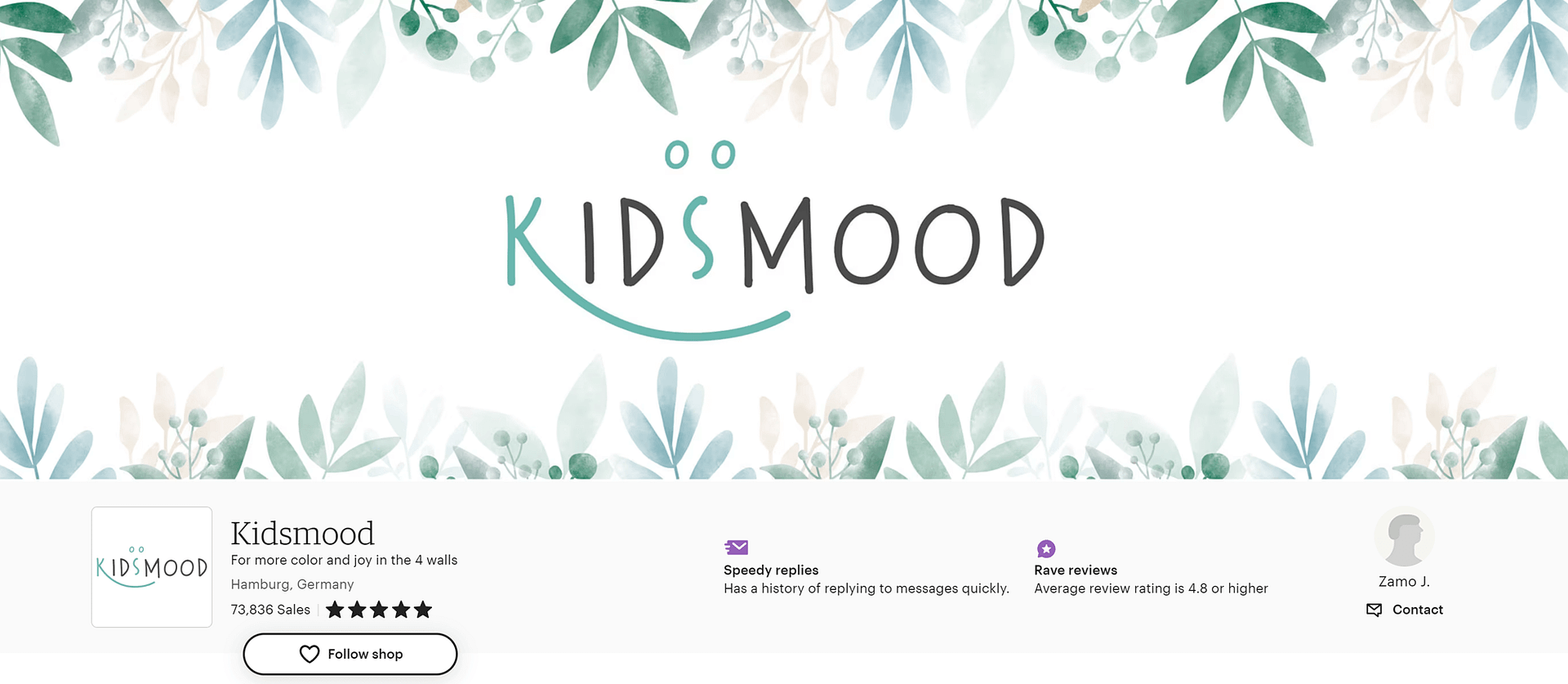 Kidsmood — here, you can tell the target audience is probably parents with young kids. So, it's suggestive enough while also being abstract.
---
Clothes

Crochet By Rosie — this name is great because it references a specific way of making clothes, crochet, so you'll know exactly what you're getting.

SoftSoulBabyShoes — we love this brand name because it creates a warm, inviting feel and also tells you exactly what the company sells: soft, comfortable baby shoes.
---
Jewelry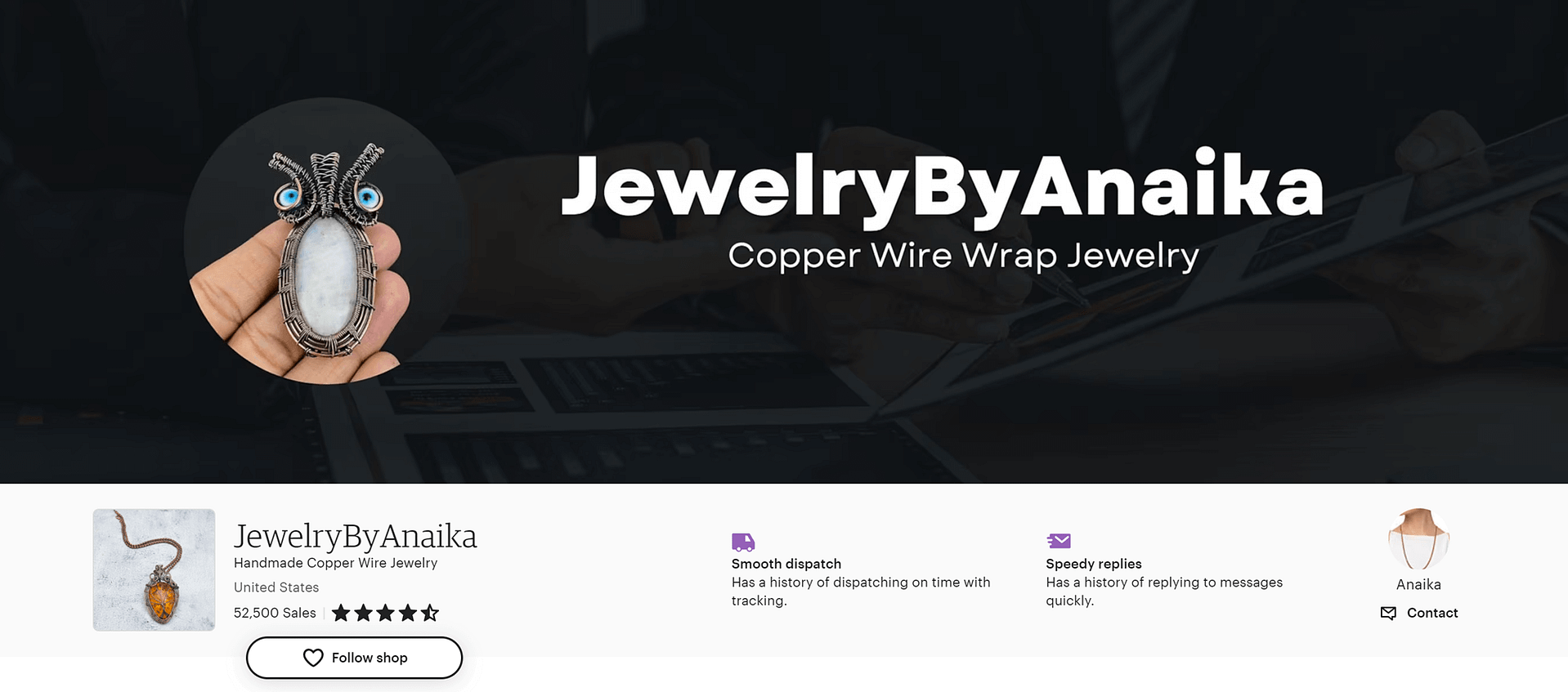 JewelryByAnaika — a good example of how you can include your name while keeping it simple.
---
Art and Collectibles

Doodle Letters Store — simple and straightforward, so you know exactly what you can find here.
---
Toys

LastPieceOfThePuzzle — as you can probably guess, the shop's main selling items are puzzles.
---
Frequently Asked Questions (FAQ)
How does the Etsy shop name generator work?

The DomainWheel name generator uses an AI to generate Etsy shop name ideas based on your keyword suggestions. By default, the AI also automatically checks for domain availability and only displays domains that are currently unregistered. This makes it easy to find a business name that you can also use as your domain name.
Is the Etsy shop name generator free?

DomainWheel is 100% free, so you can use it as many times as you want.
What makes a good Etsy shop name?

A good Etsy shop name tells your audience what your brand is about. It should also be easy to pronounce and spell so that people can find your brand—and recommend it—more easily.
---
Let your creativity shine through your Etsy shop name! 🌞
A good name is like a book cover — people will say that you're not supposed to judge by it, but many people still do.
With that in mind, consider our tips, check out the names of the Etsy shops that are already popular, use the Etsy shop name generator, and let your creativity soar!
If this is your first time building 🔧 an online business, you might also want to check out our guides to 🖱️ How to Start an Online Business With No Money and How to Create an Online Store.