Funny Gym Names Generator
Free funny gym names generator, with the help of AI, for instant ideas.
Have you ever asked yourself: What should I name my gym? If you're looking for a way to give your gym some personality, we have some funny gym names that can help! We'll also show you how to find your own funny gym name ideas with a gym name generator.
Funny names are a great way to help you stand out from the competition and make people remember you. They can also help you create a lighthearted and entertaining atmosphere for your members. And who knows, it may inspire them to work out a little bit harder.
So, continue reading 📚 if you're in the mood to find the funniest and best gym names.
---
Why are funny gym names special?
If you're not sure whether or not you need a funny name for your gym, here are three solid reasons:
Reason 1: They help you connect with your market
When it comes to fitness, people often take themselves very seriously. But that doesn't mean your gym has to be all business. In fact, one of the best ways to stand out in the competitive fitness market is to have a funny gym name.
A funny name will help you connect with your target market. Plus, it will make your customers smile whenever they see your sign or your ads online.
So, if you want to set your gym apart from the rest, don't be afraid to get creative with your name. After all, laughter is the best medicine, even when trying to get in shape!
---
Reason 2: They're memorable
A funny gym name immediately sets your business apart from the competition. If potential customers are looking for a new gym, they're more likely to remember a business with a funny name than one with a generic or boring name.
Additionally, a funny name can help potential customers feel more comfortable about trying out your gym. If your gym has a sense of humor, it shows that you're not taking yourself too seriously and that you're approachable.
---
Reason 3: They help you stand out
Research shows that there are currently over 32 000 health clubs and fitness centers in the U.S [1]. If you're in the fitness industry, then you know that there are already plenty of companies vying for attention. So how can you ensure that your gym stands out from the rest?
One way is to choose a funny gym name.
A clever or humorous name can help endear potential customers to your brand and be a powerful marketing tool. In a sea of serious and earnest fitness companies, a funny gym name can be the thing that makes you stand out from the rest.
Now that you know what value a funny gym name can bring, let's get into the simple four steps to help you create one.
---
How to develop funny gym names
Step 1: Brainstorm some ideas
A good place to start brainstorming is by thinking of puns or jokes related to fitness and exercise. For example, you could name your gym "The Sweat Shop" or "The Pilates Palace."
You could also try coming up with names that are focused on people's individual fitness goals. For example, "The Biggest Loser Gym" or "The No Pain, No Gain Gym."
It's good to also think of some of your favorite funny movies, TV shows, or comedians for your brainstorming session. What are some of the funny things they say or do? Use these as inspiration for your gym's name.
Being funny doesn't come naturally to most people. So, don't be afraid to ask for some help here. Brainstorm with a friend or family member. Two heads are better than one! Having someone else to bounce ideas off can help you create the perfect funny gym name.
---
Step 2: Use our business name generator
Our business name generator can be an excellent tool for finding the perfect name for your new gym business. Just enter some of the name ideas you had during your brainstorming session in the search bar, click Search Domain, and the generator will produce a list of potential names.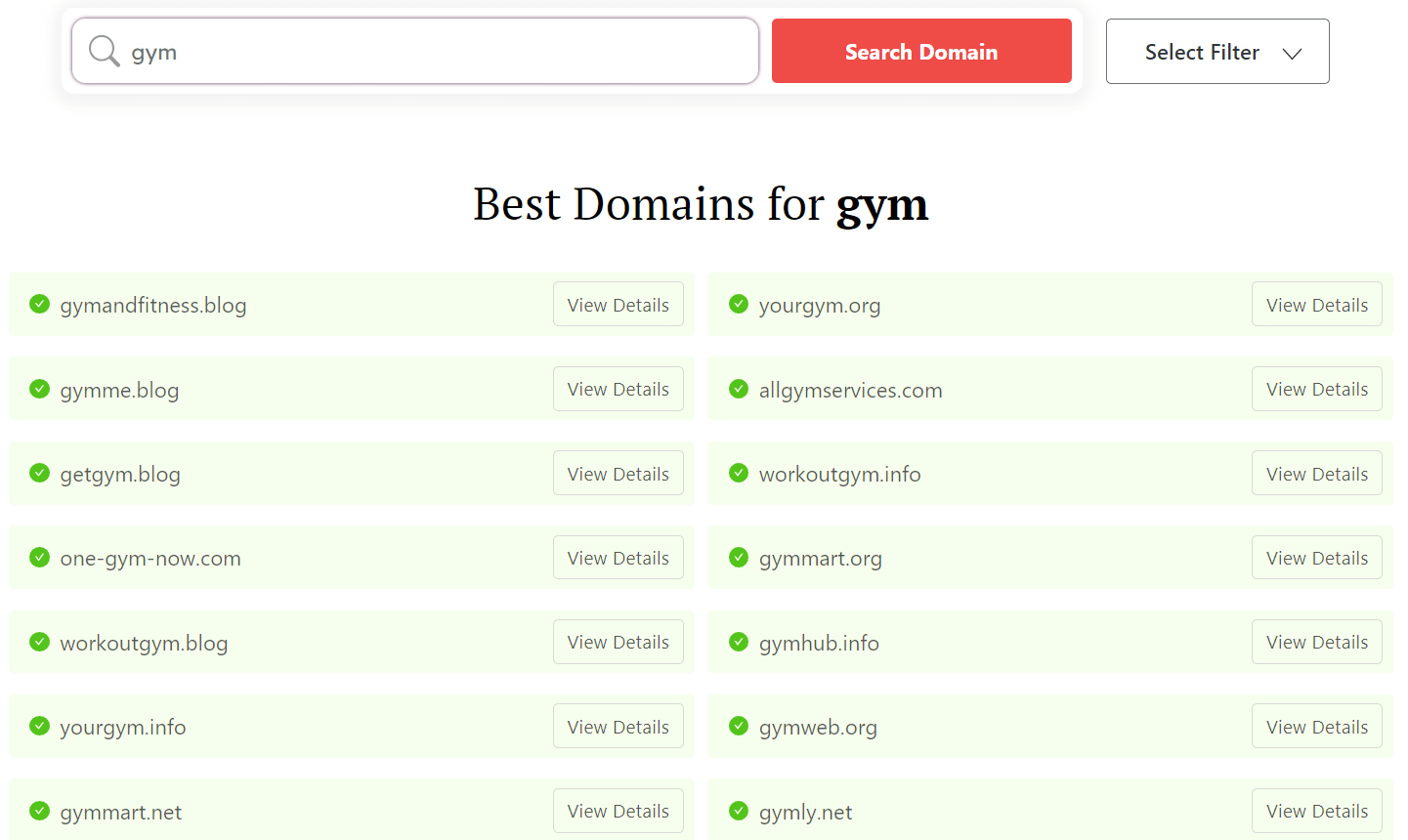 Our AI tool can be great at helping you develop funny gym names because of the Sounds Like, Rhymes With, and Random Suggestions columns you'll find as you scroll down your search results.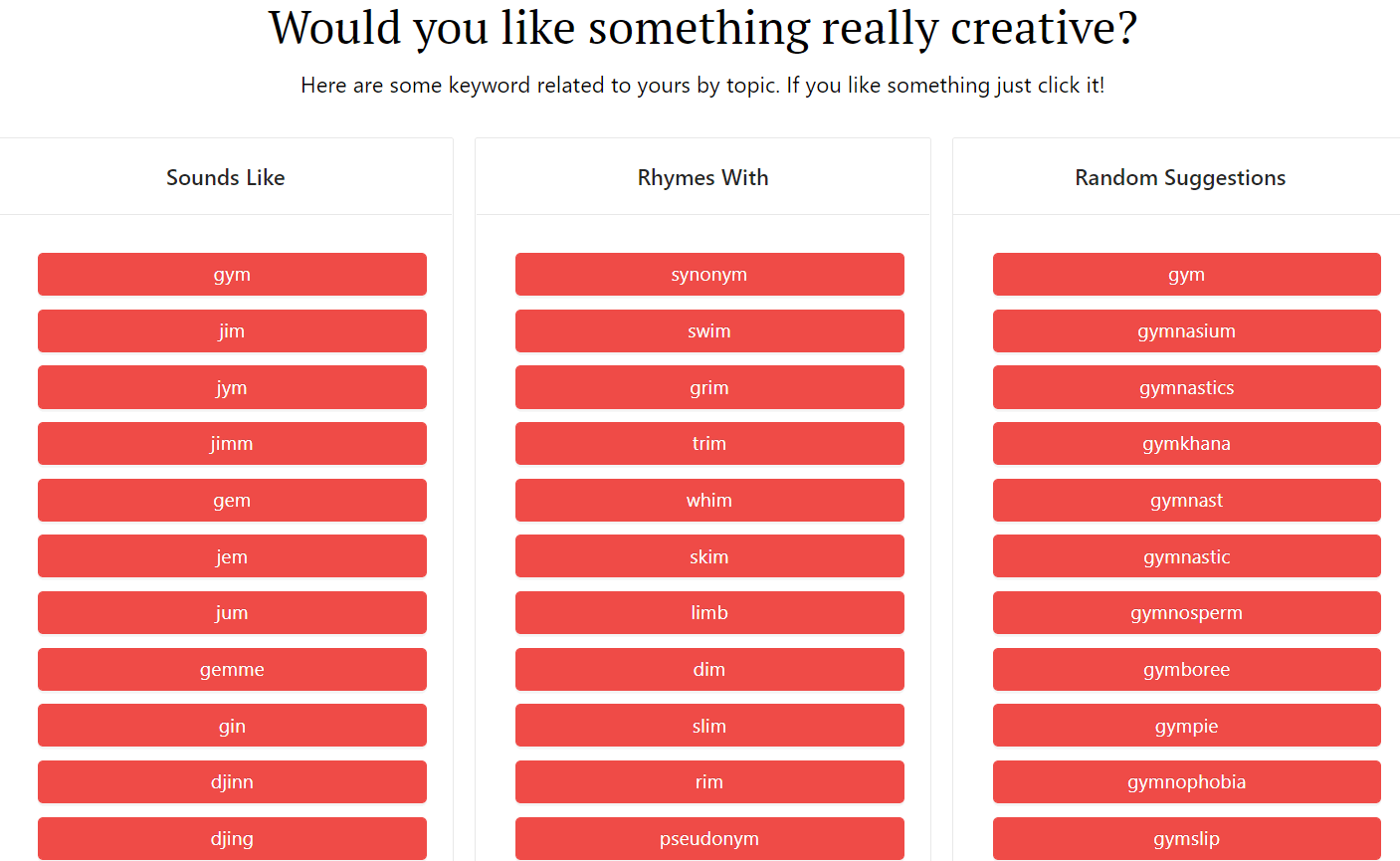 These columns can help you get creative with your spelling. For example, you could spell "gym" as "jim" or "gim." This can make your gym's name more eye-catching and memorable.
---
Step 3: Shortlist the leading candidates
At this point, you should have a good bunch of names to choose from. So, now it's time to narrow down your list.
First, think about what kind of humor you want to convey. Is it self-deprecating? Slapstick? Dark? Once you have a general idea of the tone you want to set, you can start narrowing down your options.
When you're looking for a funny name for your gym, there are a few things to remember. First, you want to make sure that the name is actually amusing. A lot of the time, people try to be funny and end up sounding forced or unnatural.
If you're unsure whether a name is funny, try saying it out loud to see if it makes you smile. If it doesn't, it's probably not going to be funny to anyone else.
Secondly, you want to avoid anything that could be considered offensive. This means steering clear of anything that could be interpreted as racist, sexist, or objectionable.
And finally, you want to ensure that the name is appropriate for your audience. For example, if you're naming a gym for kids, you'll want to avoid anything crude or vulgar.
---
Step 4: Check availability
Once you have a few names that might work, it's time to check if they're available.
First, do a quick search on the internet. If there's already a website or social media account with the business name you want, it's probably not available. If you don't find anything, that doesn't necessarily mean the name is free, but it's a good starting point.
Next, check to see if the name is trademarked or registered. You can do this by searching online databases like the USPTO website. If someone has already trademarked or registered the name, then it's not available for you to use.
Finally, try contacting the local Chamber of Commerce. They may be able to tell you if there's already a business operating under the name you want in your area.
---
Tips on creating funny gym names
Play with words
When it comes to developing funny gym names, there are a few different approaches you can take. One option is to play with the sound of words.
For example, you could name your gym "The Spinning Wheel" or "The Wobble Board."
Or, you could go for a more literal approach and call your gym "The Muscle Factory" or "The Pain Cave."
---
Focus on evoking emotions
A name that evokes emotion can help people remember your brand.
For example, "The Transformation Gym" suggests that your business can help people change their lives for the better. Or you could go for something aspirational, like "The Elite Fitness Club." Ultimately, the best name is whatever speaks to your target audience and helps you achieve your business goals.
---
Reference a book or movie
One of the most effective ways to develop funny gym names is to look to pop culture for inspiration.
For example, if you're a fan of the movie Bring It On, you could name your gym "Cheer World." If you're a fan of the book The Hunger Games, you could go with "District 13."
Whatever your taste, there's sure to be a book or movie out there that can help you find the perfect funny gym name.
---
Get feedback
When you're trying to come up with the perfect name for your gym, it's important to get feedback from people you trust. After all, they know you best and will be able to tell you whether or not a funny gym name is right for you.
Feedback can also help you narrow down your options and make sure you're choosing a name that everyone will love. So next time you're stuck, don't be afraid to ask your friends and family for their opinion.
---
Funny gym name ideas
Funny home gym names
Sore Losers Gym
Jokes On You Gym
Lift Weights, Not Egos
The Pumping Station
The Powerhouse
The Lifting Academy
Muscle Beach Gym
Spin City
Cycle Mania
Muscle Mania
Average Joe's
---
Female gym names
Fit Female
Femme Gym
Girly Gym Club
Female Gym Rat
Female Monarch
Fearless Female
Lady Gym Club
Your Woman Gim
Welcome Woman (WW)
Fun Girl Gym
---
Badass gym names
Fitness365
LA Baddie Club
Firm and Fit Gym
The Building Blocks
Sweaty Pit
Muscle Factory
Time To Lift
We Love Pain
We Build Muscles
Summer Fitness, All Year
---
What's in a name?
The right name can evoke a sense of community, inspire some laughter, and attract new members.
While it can be tricky to come up with the perfect name for your gym, luckily the above tips can set you on the right path.
Our business name generator is also here to help ⛑️ make the process a little easier, so give it a try at any stage of the process. You can also check out our guides to fitness brand name ideas and personal trainer business name ideas.
With these tips in mind, you'll be well on your way to finding the perfect name for your new business venture!