It's not difficult to get a domain and subdomain for free, but it requires some care. Like many free things, you may find that the companies make money selling your user data, or you might not even own the subdomain or domain name at all. In this guide, we show you options for how to get a domain and subdomain for free, while also detailing the stipulations that may come with them.
⚠️ Warning: Just about every free domain method has a "catch," whether you have to pay for hosting, or the domain name isn't truly owned by you. Unless the domain/subdomain is included as a bonus to something you're actually paying for, we only recommend free domains and subdomains for personal or hobby use (not for business).
---
Methods to get a domain and subdomain for free
Before going on the hunt for free domains and subdomains, it's important to learn the differences between the two.
👉 Domains: Internet addresses for users to find things online, like your website
👉 Subdomains: Subsets of domain names that are primarily used for separating distinct areas of a website so that all aspects of your business are covered under one domain name
Domain names look like this: www.example.com.
Subdomains are an extension of a domain name, like this: support.example.com.
The following methods provide ways to obtain a free domain name and/or subdomain. Note that once you have a domain name, you can easily create subdomains attached to it.
---
Method 1: Use a free domain name registrar
The vast majority of domain name registrars sell domain names to customers like you. However, some sites give them away for free (and make money through other methods like ads or data sales).
To begin, go to one of the more reputable free domain name registrar websites:
For Getfreedomain.name, use the homepage to browse through domain extensions currently available for free.
Each table outlines the currently free domain names available across the internet. Click on any that look interesting.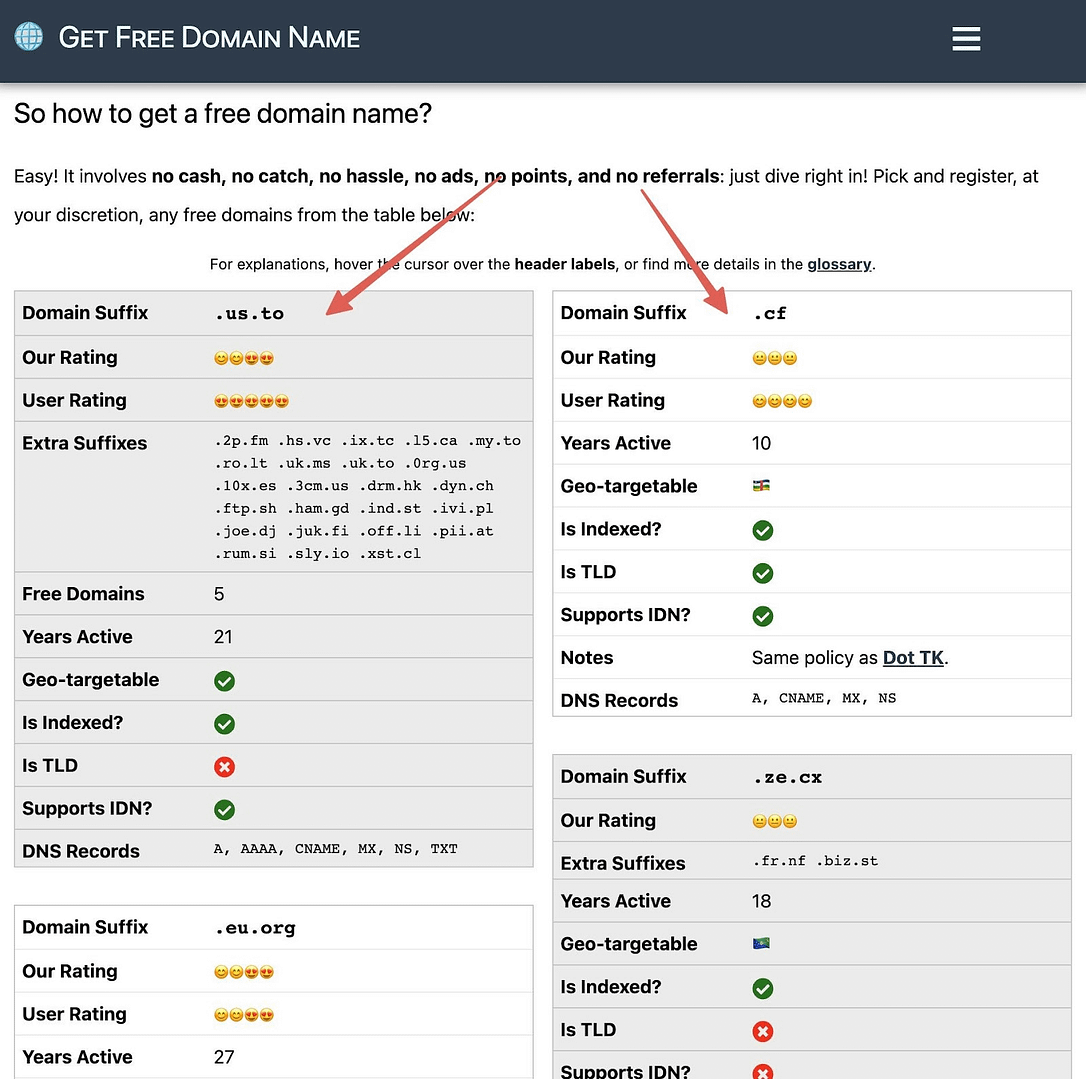 The website serves as a directory, so any domain name or extension you click on will send you to another website.
For example, this particular option is provided through EU.org: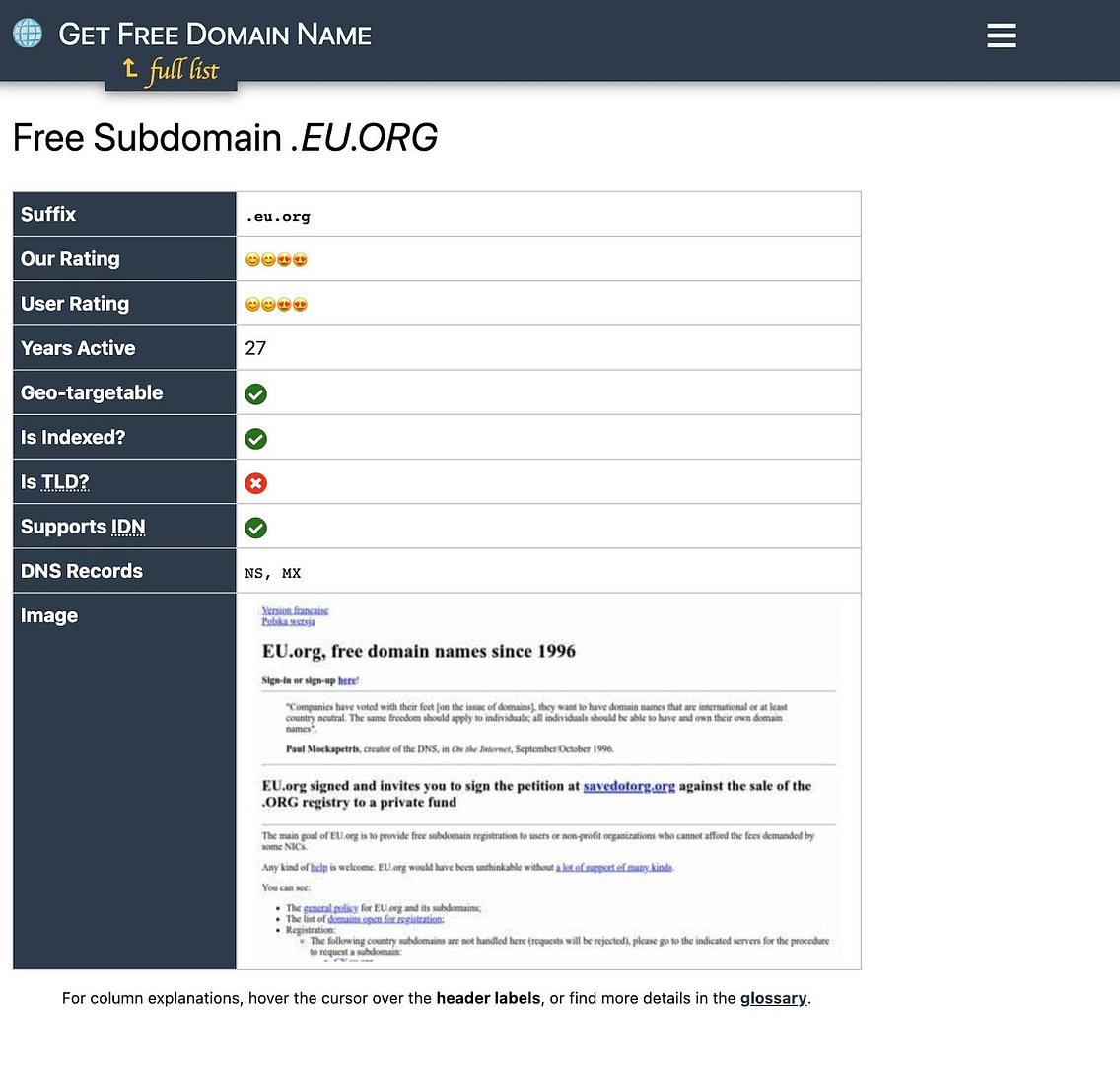 To access the free domains and subdomains, scroll to the bottom of the page and click the Get Subdomain Here button. That leads you to the right website to acquire that particular subdomain or domain.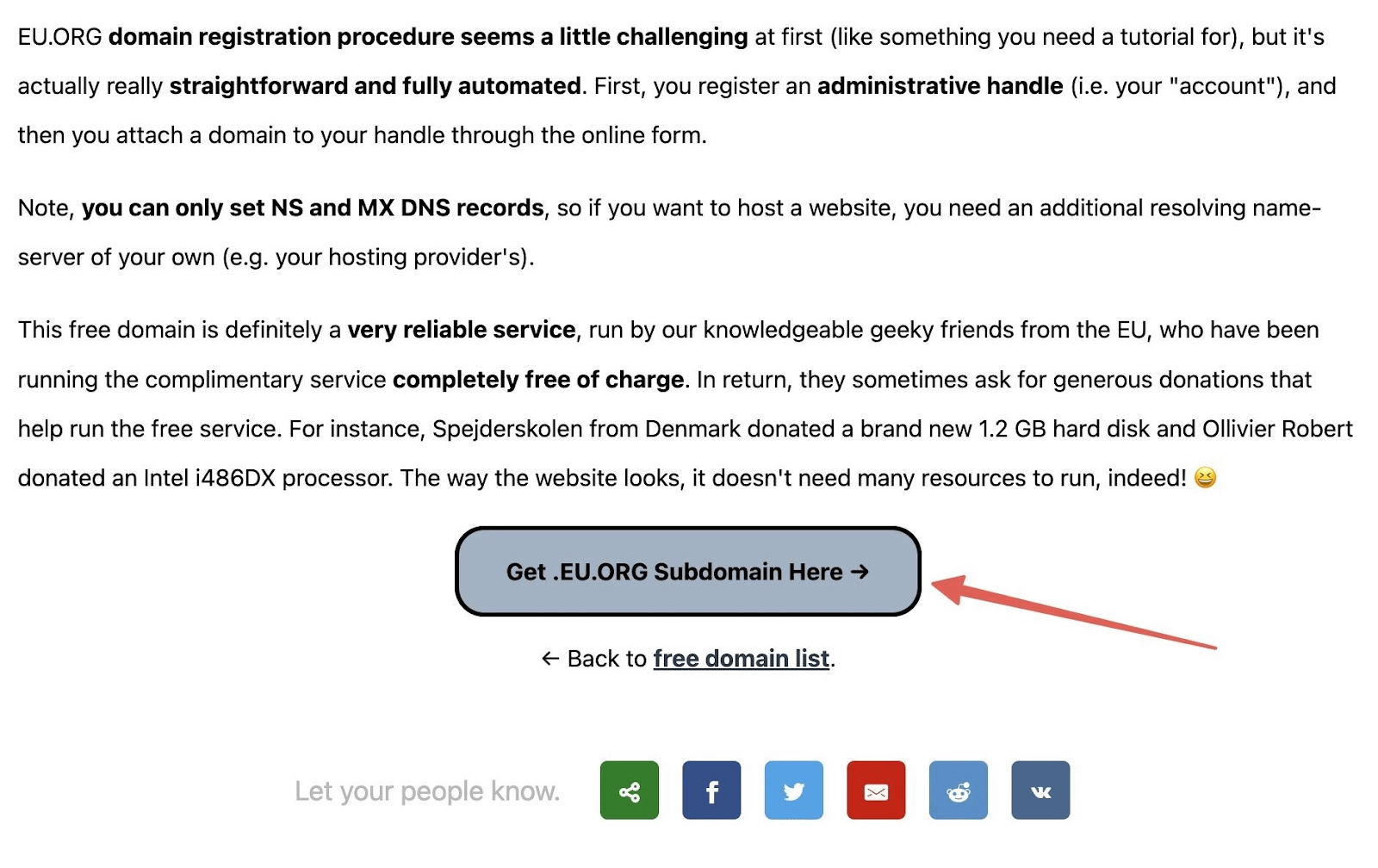 Another option is FreeDNS.afraid.org. To get free domains from there, click on the Subdomains tab in the menu, then click Sign Up Free.
After making an account, click the link from the activation email in your inbox. This logs you into your account.
To make a free subdomain, click Subdomains > Add A Subdomain, then create one using the list of publicly available domains.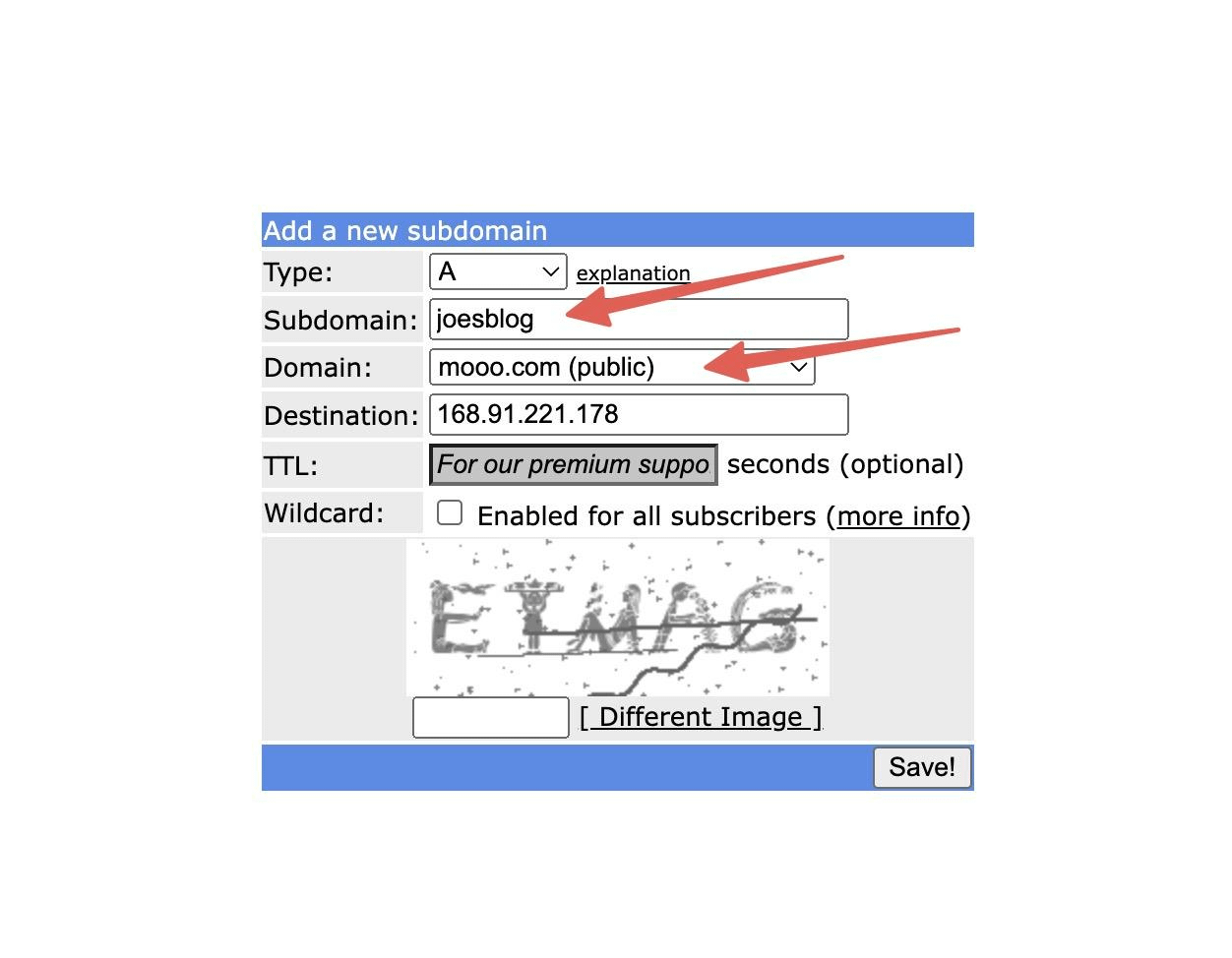 The Domains page of FreeDNS offers a way to register domain names, but not for free.
What's the catch? 🧐
It depends on the domain registrar:
Getfreedomain.name is a directory, so you're not buying directly through them. Some sellers the site connects you to are questionable, while others are fine. You also may not actually own the domains you get through here. Be sure to read the terms and conditions associated with the site where you plan to register your domain to understand how ownership works.
FreeDNS only has free subdomains (they still sell regular domains), and the subdomains must be linked to publicly available domains (there are thousands to choose from). Finally, you're only a "user" of the subdomain, not the owner of the entire domain.
---
Method 2: Get a free subdomain through a website builder
Since many people also need a website to go with their domain name or subdomain, why not purchase a website builder that comes with a free domain?
What's interesting about website builders is that many of them provide completely free subdomains with free plans as well. So, you could run a blog or personal website using something like the Wix subdomain (example.wix.com).
Another route to take involves signing up to use a website builder and getting a free domain or subdomain as a promotion.
Here are some website builders that offer free domains and subdomains to new customers:
What's the catch? 🧐
You have to pay for the website builder to obtain a free domain. In addition, most of these are just promotions, where the free domain renews at its normal price after a year or so.
---
Method 3: Get a free subdomain or domain with a hosting plan
Perhaps the cheapest way to get a domain or subdomain for free is with your web hosting. These hosting companies offer similar promotions to website builders, where you sign up for a plan and receive a domain for free.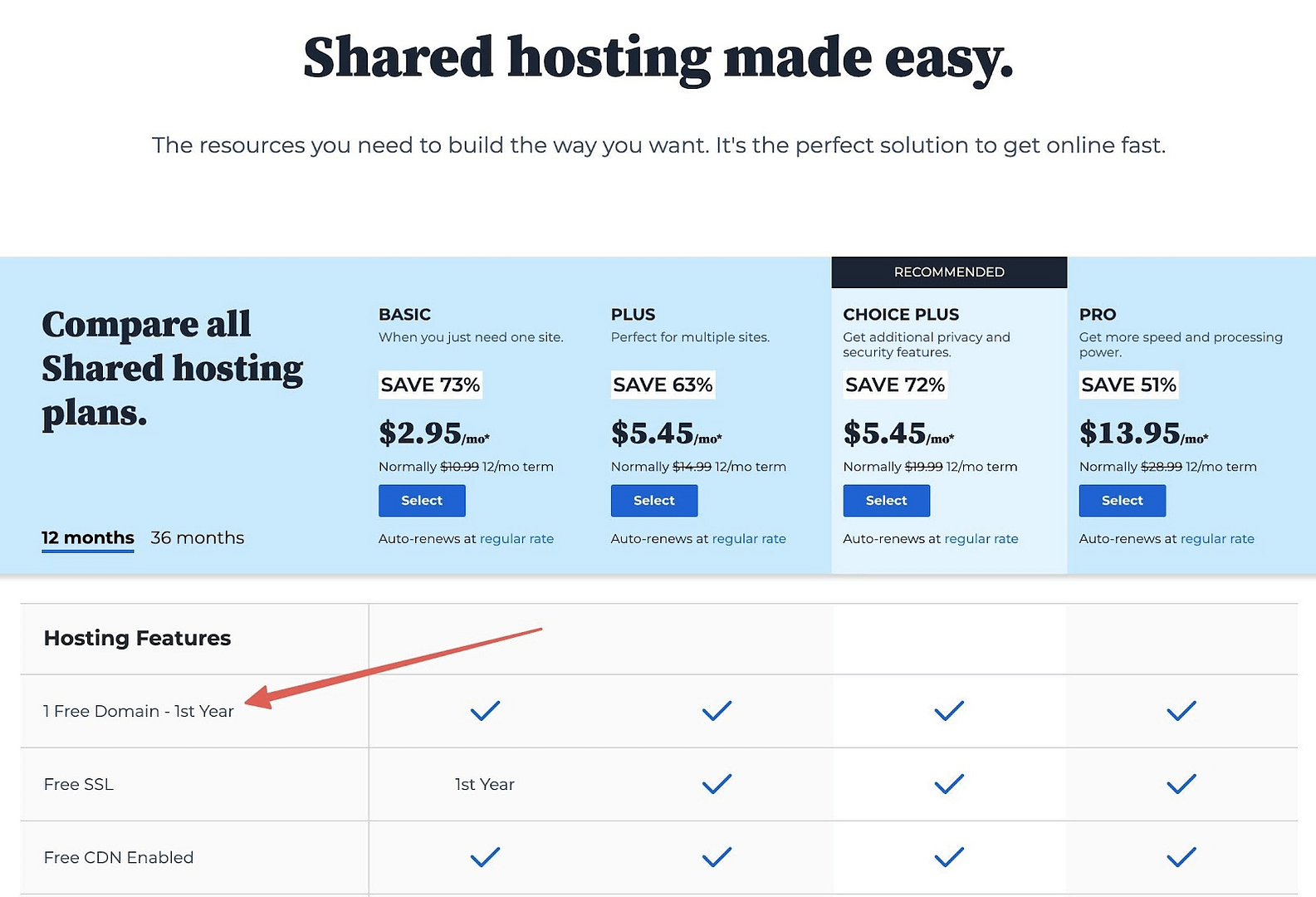 Here are some hosting companies with free domain names for new customers:
If you're interested in using this option, check out our guide on how to choose a web host.
What's the catch? 🧐
It's required to pay for hosting to get a free domain/subdomain. In addition, the domains typically renew at normal pricing after a certain period.
---
Method 4: Get a free domain or subdomain through an email host
Some email hosting companies offer free domain names to use with your website or email address.
IONOS is a notable option since its free domains come with enhanced security and support for email usage.
Simply go to the IONOS Free Domain Name page and walk through the steps.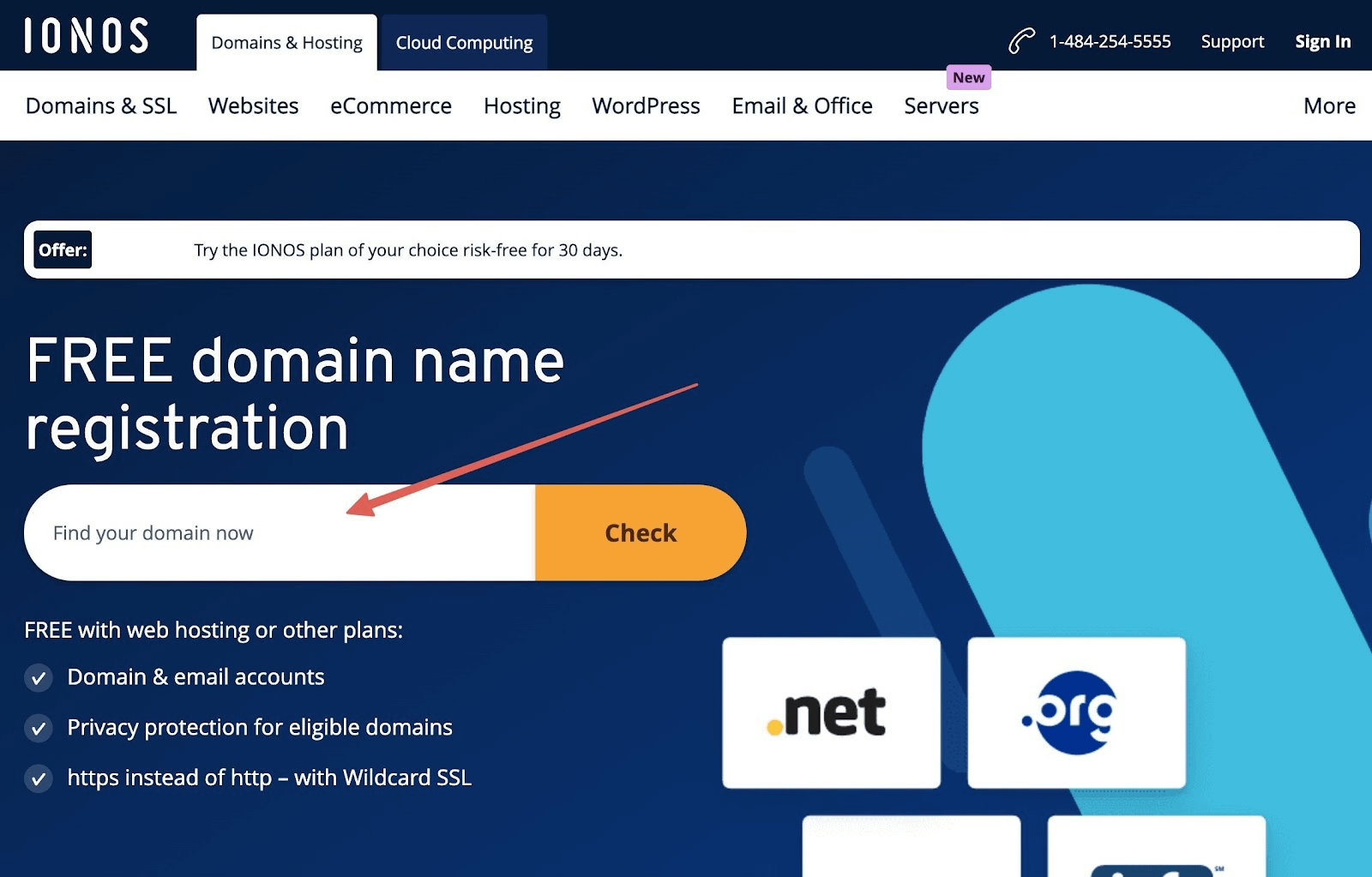 What's the catch? 🧐
You get a domain and subdomain for free after signing up for email hosting or standard web hosting.
---
Find the perfect domain, then get it for free 🎯
Your best course of action for finding a domain or subdomain for free is to only use a free registrar for personal sites (not when starting a business).
For business websites, we recommend thinking of the ideal domain and subdomain with our domain name generator. After that, stick to more legitimate ways to get a free domain, like a promotion through a website builder or hosting company.