What is a .tech domain?
That's the question I'm going to answer definitively today. 😎
According to W3 Techs, 0.1% of websites on the internet use the .tech domain [1]. This number seems negligible, but it's significant considering it's a niche top-level domain (TLD). The figure is also likely to grow because the .tech domain is a hit in the tech community.
In this post, I will explain the meaning of the .tech domain and help you decide if you should use it. 👨‍🎓
Let's get straight to it.
---
What is a .tech domain?
Let's start with the basics: what is a .tech domain?
A .tech domain extension is a generic top-level domain (TLD) for technology companies. Tech comes from the first four letters of technology.
The .tech domain was launched in 2015.
It's associated with cutting-edge tech brands that deal with all things technical. Besides .tech, there are two other well-known domain extensions in tech circles, .io and .ai.
The .ai domain is self-explanatory. It focuses on the fascinating world of artificial intelligence.
On the other hand, .io is ambiguous. Originally, .io was a country-specific TLD for the British Indian Ocean Territory. But over the years, many tech companies have also used it. Some people claim io is also an abbreviation for Input/Output in computer terminology, but this connection is ambiguous, especially to users who work outside of tech.
Meanwhile, .tech is a simple and extensive domain with a clear connection to all tech brands.
No matter which sector of the technology market you serve, choosing the .tech domain is the way to go. From Machine Learning (ML) to apps, data storage, robotics, virtual reality, fintech, computers, mobile phones, video games, and more, .tech fits perfectly. Even if you switch sectors in the tech industry as your business grows, .tech stays relevant.
Now that you understand the .tech domain meaning let's move right along. 🧑‍💻
---
What is a .tech domain used for?
Next, let's answer another key question: what is a .tech domain used for?
The .tech domain has a broad appeal across the technology space, such as:
Startups
Aurora Innovation https://aurora.tech/ a self-driving vehicle technology company.
Bond https://www.bond.tech/ is an all-in-one embedded finance platform.
---
Established tech companies
Intel has an Internet of Things (IoT) website Insight https://www.insight.tech/.
Cisco has a Paris Innovation & Research Lab (PIRL) website https://pirl.tech/.
---
Events and communities
Consumer Electronics Show https://www.ces.tech/ is the most popular tech event in the world.
---
Vloggers and influencers
Engineer and YouTuber James Hobson, who has a massive 13.9 million followers, uses a tech domain https://www.hacksmith.tech/.
YouTuber Austin Evans, who boasts 5.39 million followers, owns a .tech domain http://www.austinevans.tech/.
---
Registrar
Guess which domain GetTech, a dedicated registrar for .tech domains, uses? You guessed right – the company uses a .tech extension https://get.tech/.
---
Should you get a .tech domain?
So, should you get a .tech domain?
The short answer: yes, if you're running a technology site.
---
Six reasons you should consider getting a .tech domain
1. Relevant
What is a .tech domain, again? The .tech extension caters to all brands in the technology industry. The fact that "tech" is short for technology tells users straightaway that the extension is for tech brands. Its relevance to technology means pretty much any tech business can use it.
2. Short
While .tech isn't as short as .ai, .co, .com, or .net, it's only four letters long. But four letters are still shorter than longer domain extensions like .online or .store. Shorter TLDs are easy to spell, remember, and share. The .tech domain ticks all the boxes.
3. Simple
Simplicity is crucial for domains. You don't want a complex domain that's hard to decipher or pronounce otherwise you will lose potential website visitors. The .tech domain is easy to say and spell. These traits help people find you easily online or refer you by word of mouth.
4. Memorable
Combining simplicity and brevity gives you another desirable element for a domain extension-branding prowess. The .tech domain extension is unforgettable. It sounds cool, catchy, and has a modern feel. Therefore, if you use .tech for your domain name, people will remember it easily and see you as an innovative brand that moves with the times.
5. Accessible
Getting the sought-after .com domain takes a lot of hard work. The competition is fierce. Most brilliant .com domain names are challenging to get. Thankfully, like .net and .org, .tech is an excellent alternative. The best part? It's much easier to get than the in-demand .com domain. If your preferred technology domain name isn't available in the .com extension, there's a high chance the .tech version is available.
6. SEO-friendly
The .tech domain also has search engine optimization (SEO) benefits. That's what we will discuss next. 🦜
---
Is a .tech domain good for SEO?
It's important to note from the onset that SEO isn't one-dimensional. You must get many factors right to make your site more visible in search engines. SEO is like a giant puzzle with many pieces, such as:
Relevant keywords
Domain age
Fresh, helpful content
High-quality backlinks
Fast-loading pages
Mobile friendliness
User experience
As you can see, that's a lot of moving pieces. Realize your domain extension is a piece of the puzzle, not the only component. While it doesn't form the entire picture, it's still vital.
That said, you can derive some SEO value from using the .tech domain.
First, the .tech domain is keyword-rich. A domain name that includes a keyword has an advantage over one that doesn't. When someone types a query that includes your keyword, your website should appear higher on the search engine results pages SERPS.
While Google says including keywords in domains doesn't give an advantage in search, there's no doubt there is some value you gain indirectly [2].
Think about it for a second. Let's say you Google something related to technology. Two websites pop up in the SERPS, one with a .tech extension and another one with a different extension.
Which one will you choose? Naturally, you will probably click on the website with the .tech extension because you know it deals with your technology topic. 🦾
---
When to use a .tech domain
Here are four solid reasons to consider picking the .tech TLD for your next tech website.
1. Brand Positioning
Did you know that people globally launch 305 million startups every year [3]? Most of these new businesses are jostling for customers online. That's why brand positioning is crucial. Using a .tech domain reveals your industry to users immediately and establishes a powerful brand positioning. Your brand stands out from the rest as a forward-thinking technology company.
2. Versatility
Another advantage of the .tech domain is its versatility. Not only is it simple, relevant, and memorable, it suits any tech-related online project. Whether you want to launch a tech startup, build a vibrant online community of technology enthusiasts, host a tech event, or start a tech blog, .tech fits the bill. It has a broad global appeal across all technology sectors.
3. Traffic generation
Getting visitors to your website as a fledgling startup is tough. It involves promoting your brand aggressively both online and offline. You need every bit of help you can get to gain some traction. If everything else runs correctly, you can get discovered online using a .tech domain when people Google information related to your industry. Getting a handful of organic visitors might be nothing to an established company, but it's everything to a startup looking for its first customers.
---
How much does a .tech domain cost?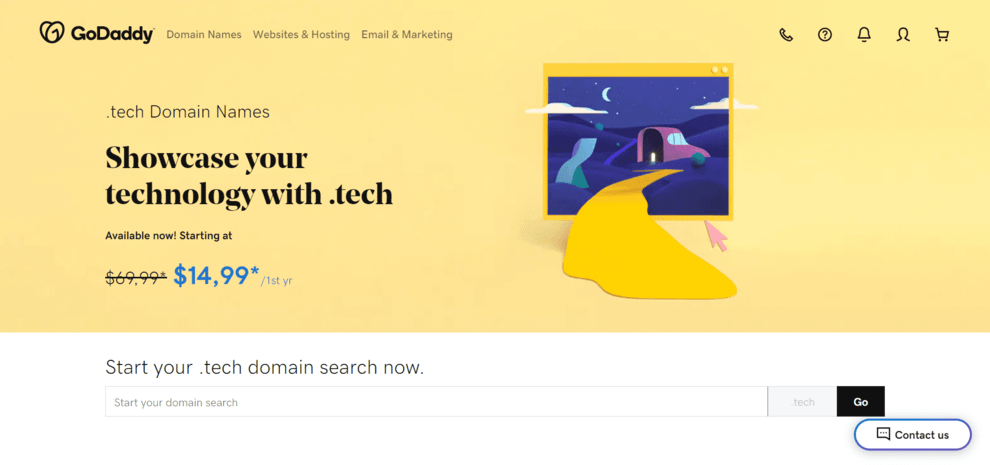 Next, what is a .tech domain worth in the marketplace?
Here is the cost of a .tech domain from some leading domain registrars:
Based on the above figures, on average, the .tech domain costs $8.38 for annual registration and $62.59 to renew. The price is affordable if you ask me. 💳
---
Caveats of using a .tech domain
While the .tech domain is perfect for startups, it has some limitations. Here are three caveats of using a .tech domain:
1. Rigidity
First, using a .tech domain can be limiting. Using .tech as your domain extension may cause problems if you switch industries in the future because .tech is an industry-specific extension.
2. Memorability
Also, for memorability, .tech lags far behind .com, the most memorable domain extension of them all. In fact, .tech doesn't even feature in the top eight most memorable TLD extensions study by GrowthBadger [4]. All things being equal, most people remember a .com site over a .tech one.
3. Trustworthiness
Trustworthiness is critical for attracting attention online. With around 40 million adults scammed in the first quarter of 2023 alone, users are wary of scams [5]. Unfortunately, some people think a site with a niche domain extension like .tech is more likely to be a scam than a site with a more familiar TLD like .com. 🖱️
---
What is a .tech domain? Final thoughts 🏁
In closing, what is a .tech domain?
It's a modern domain extension for technology brands. Essentially, the .tech domain has three primary attributes that make it attractive to tech brands: it's meaningful, brandable, and versatile.
Tech is recognized worldwide as an acronym for technology. As a result, people will immediately know that you are a technology brand. And, because .tech is a meaningful extension, you can join it with descriptive terms to form a persuasive domain name that tells people exactly what you do.
🎯 Finally, because .tech covers all things tech, you can use it for any technology website.
Get a .tech domain today for your next technology internet site.
Want more advice on how to find the right domain name? Check out our in-depth, step-by-step guide on 👉 how to choose a domain name.