According to Internet Live Stats, there are currently over 1.5 billion websites worldwide. To stand out, online businesses and brands get creative – they focus on branding, use social media, and choose uncommon domain extensions like ".online." But what is .online domain used for? And is it a reliable choice for your website?
📚 Read on as we explore the pros and cons of this choice, as well as its uses.
Whether you're an entrepreneur looking to establish your online presence, or a seasoned website owner considering a switch, this guide will help you decide if the .online route is the right one for you.
---
Is .online a good domain?
Before we answer what is .online domain used for, it's essential that we start by covering the basics.
Firstly, let's talk about domains and extensions.
The website address we type into our browsers to access a specific site is called a domain name. For example, if you want to visit our website, you might type "domainwheel.com."
One of the most important parts of this domain name is the top-level domain (TLD), which is also known as a domain extension. This is the suffix that follows the name of a website. For example, ours is ".com."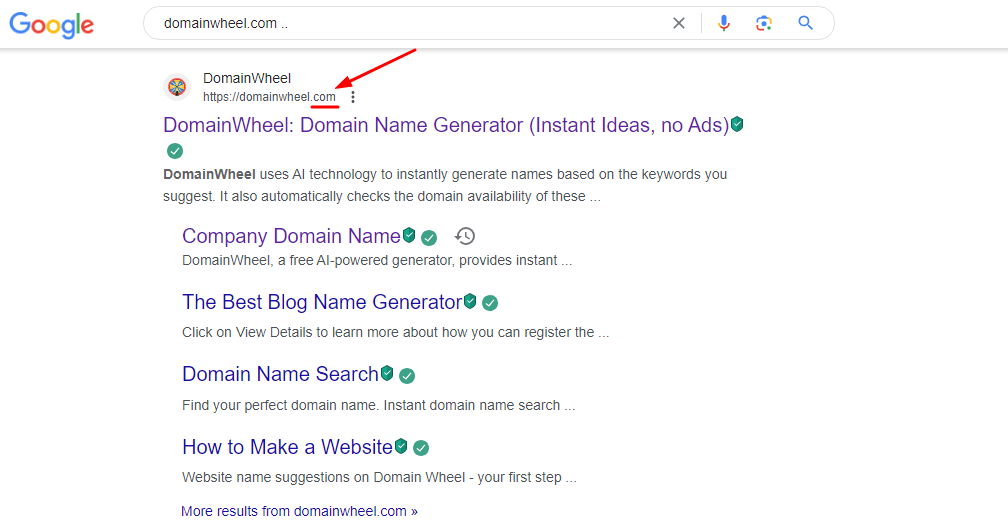 👉 There are many popular TLDs. These include:
The .com TLD has become the most popular of the bunch, and it's also one of the oldest, as it was introduced back in 1985.
The internet has grown significantly since the '80s, and more and more TLDs have been introduced to the market. Now there are over 500 TLDs. Some can be location-specific (e.g., .amsterdam), while others are industry or niche specific (e.g., .tech, .blog, .ai).
Among the newer TLDs is .online.
So, what is .online domain used for?
Well, it has many benefits and can be a good choice for individuals and businesses wanting to make a strong online presence. Let's take a closer look at some of these advantages.
---
.online domain benefits
1. SEO 🚩
According to Google, your choice of domain extension doesn't directly affect your SEO [1]. This is because Google's algorithms look at other important factors like website loading speed, quality of content, keywords, backlinks, and more to determine search rankings.
So, choosing a .online extension instead of popular options like .com, .co, or .net won't put you at a disadvantage.
However, there are a few potentially positive advantages of choosing a .online domain extension.
For example, your website can be more memorable. Since .online is uncommon, it can potentially stick out and remain in your target market's minds.
In addition, if your website will focus on online activities or services, having a .online domain can help to attract the right audience and traffic.
For example, if someone searches for "online tutor," you might have a slight advantage if your domain is www.tutor.online versus www.tutor.com.
2. Availability 🖱️
We can't create an article on what is .online domain used for without talking about one of its biggest advantages – availability.
At the beginning of this article, we highlighted how TLDs like .com are very popular. This can make it challenging to find a domain name you want.
However, if you simply go with less common extensions like .online, you may find many domain names that are relevant to your niche, market, and brand, that are available.
3. Branding 💼
Branding is one of the most important components of standing out online. With a strong brand, your market remembers you, and they may even develop a strong connection.
But branding isn't easy. It takes a lot of time and effort to create a unique and memorable brand.
Choosing the .online domain extension can help you differentiate yourself from your peers, you may be more memorable because your extension is different, and (connected to the previous point), you may even be in a better position to find a name that resonates well with your market and what your business offers.
All these are great ways that can help you develop a solid brand.
4. Online-only brands 📱🛍️
We're well into the digital age, and it's very common for people to create exclusively online companies. If this is your desire, having a .online domain makes sense.
👉 It can help you:
Immediately convey that your brand operates online
Position your brand as a modern, tech-savvy, digitally-focused brand
Better target your audience
---
.online domain drawbacks
1. Potential confusion 😳
Before we speak on what is .online domain used for, it's important that we also talk about a couple of the drawbacks that may come with choosing it.
Firstly, when users try to access your website, they may manually type in a .com instead of .online, out of habit. This might lead them to error pages or another website, which can confuse or frustrate some users.
2. People's perceptions 🧑‍🤝‍🧑⚠️
The .com extension has been the most popular and widely recognized for decades. Online users have grown accustomed to seeing websites with a .com address. Introducing something less familiar, like .online, may make some users question the website's credibility.
It's important to note that the potential confusion or negative perception related to a .online domain mostly depends on user familiarity. As time goes on and more extensions get introduced, these issues will diminish as online users get comfortable with websites with different extensions.
---
What is .online domain used for?
One of the key things to understand about domain extensions is that they can be used to help differentiate your website from others.
So, what type of website works well with the .online domain?
---
Ecommerce businesses 🛒
If you'll be creating an ecommerce website, choosing a .online domain can work in your favor.
For example, let's say you want to sell clothing and decide to choose a website address like clothing.online, anyone who wants to purchase clothes will immediately recognize that they can accomplish this by using your website.
And, it can also help your search rankings when potential buyers type in keywords like "clothes online" or "buy clothing online."
---
Online communities and forums 📢
If you plan to create an online presence by establishing communities or forums (e.g., reddit, quora, etc.), then you definitely need to think about choosing a domain extension that will help communicate the type of website you're running.
Something as simple as adding a .online can make a huge difference in how your website is perceived.
For example, between www.letstalk.com and www.letstalk.online, which one makes it clear that this might be an online community or forum?
Or, if you want to start an online life coaching business, simply adding the .online can help tell people who are seeking this offer, to get interested.
---
Educational sites 👨‍🎓
When launching an educational website, choosing the .online domain extension over other popular options like .com, can come with many advantages.
For example, it helps website visitors understand the website's purpose, right from the domain itself.
It will help them know that you only offer an online service, and in addition, it can add a modern touch to your website's address, which aligns perfectly with the progressive nature of online education.
---
Personal and portfolio sites 🧑‍💻
One of the best things about a .online domain name is its versatility. You can use it for all different types of websites, even personal and professional ones.
This is an important note because not all TLDs work for every type of online site. For example, .blog only works for blogs, .org is best for organizations, and .gov is specifically for government-related websites.
On the other hand, with .online, you can have a personal website in any niche or create a portfolio website that you can easily share with potential clients.
---
Non-profits 💸
If you're planning on starting a non-profit, then you probably want potential partners and investors to be able to easily find you online and read more about the work you do.
You also want a domain extension with a global reach that won't limit you to your location or region. A .online domain can help you achieve this.
---
Last word on .online domains
When you're dealing with a new domain extension like .online, you need to ask yourself a few important questions:
What is .online domain used for?
Is .online a good domain?
What are some .online domain benefits?
From everything we discussed above, we hope we've helped you answer all these questions.
The .online domain is valuable for anyone who wants to have a strong online presence.
It clearly indicates the online nature of your business, and you're in a better position to secure a domain name you really want, which can help you stand out and target the audience you want.
Ultimately, choosing a .online domain depends on your needs and goals. It can be an excellent choice for ecommerce stores, online businesses, and other online-focused brands.
So, if you want a domain name that aligns with the digital era, the .online domain can be a great asset.
If you're looking to start a new website, you need to know a lot more about the process than just domains. To help you get started, check out our beginner's guide to how to launch a website and the core pages that most websites should have.