Ever wondered how to launch a new website? 🎬
Whether you're a blogger, freelancer, or online entrepreneur, you know that taking care of your digital presence is one of the most important things to do.
But creating a brand new website can be time-consuming. It requires a lot of research, and there are many potential challenges along the way.
While that may be true, with careful planning and dedication to every step of the process, you can ensure that you get off on the right foot.
In this blog post, we'll provide tips for launching your site successfully with minimal headaches. So, get excited. Your new website is just around the corner!
---
Before the launch
Before you launch a new website, it's essential to understand a few important factors:
You need to understand your goals
What do you want to achieve? Will this website be a side hustle, or are you looking to replace your full-time income with it?
Set clear goals so you can measure the success of your site and make adjustments accordingly.
---
You need to know your competitors
Knowing who else is in your market is also essential so that you can create a website that stands out from the crowd. There are a few ways you can do competitor analysis:
Google your industry or niche (and your location if you're a local business) and take notes about the content and design of their websites
Research statistics related to your niche to discover top companies, then study their websites
Check popular websites' traffic to understand how well various sites are performing + better understand the potential of your niche
You can then use this information to either create a website that feels like it belongs within your industry or create something completely different.
---
You need to do your keyword research
Keyword research is one of the most essential elements of setting up a new website. This will allow you to create content that drives website traffic.
You can use a free tool like Ahrefs to find keyword ideas. Simply type in a word or phrase related to your niche to get important metrics like keyword difficulty as well as additional keyword suggestions.
---
How to launch a new website
---
Step 1: Choose a domain name 💡
Choosing the right domain name for your website is important in creating a solid identity that represents your brand well.
When considering what domain name to choose, it's important to pick something easy to spell and remember, as this will make it easier for your customers and visitors to find you on the web.
In addition, try to select something appropriate and relevant to your business. You want a name that will help customers immediately understand and connect with what your brand is about.
For name ideas, you can use our domain name generator. All you need to do is enter some keywords, click Search Domain, and you will get dozens of suggestions.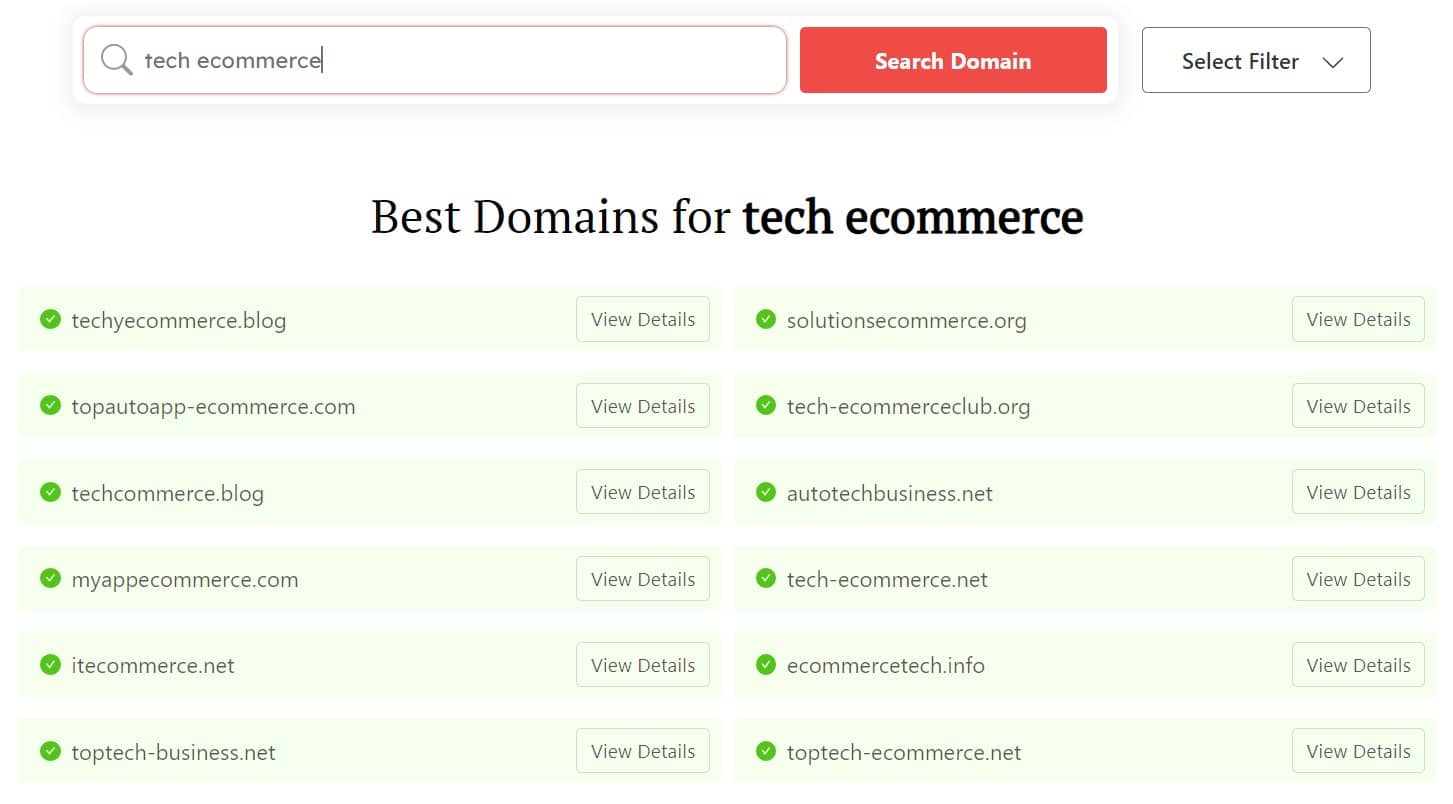 Our generator also gives you name suggestions that Sound Like or Rhyme With your keyword. In addition, it provides Random Suggestions. These can all help add to the creative process.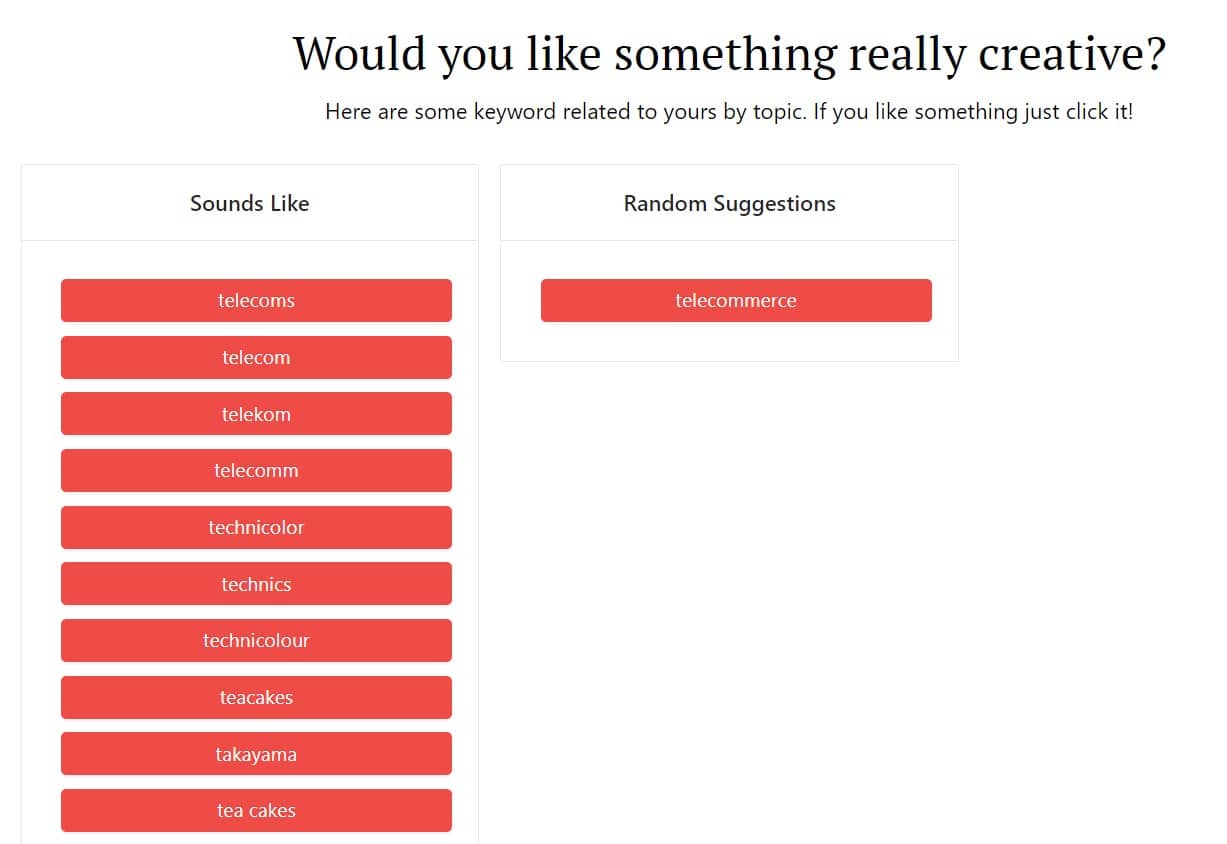 ---
Step 2: Select a web host and CMS 💻
A web host helps to maintain your website and makes it accessible on the internet. When you're just starting out, you can choose the simplest or most affordable plan and upgrade later when you have more traffic.
While there are many web hosting services in the market, we recommend choosing a provider that integrates seamlessly with WordPress, like Bluehost.
With Bluehost, all you need are a few clicks to install WordPress. It's also very affordable, with excellent customer support and security.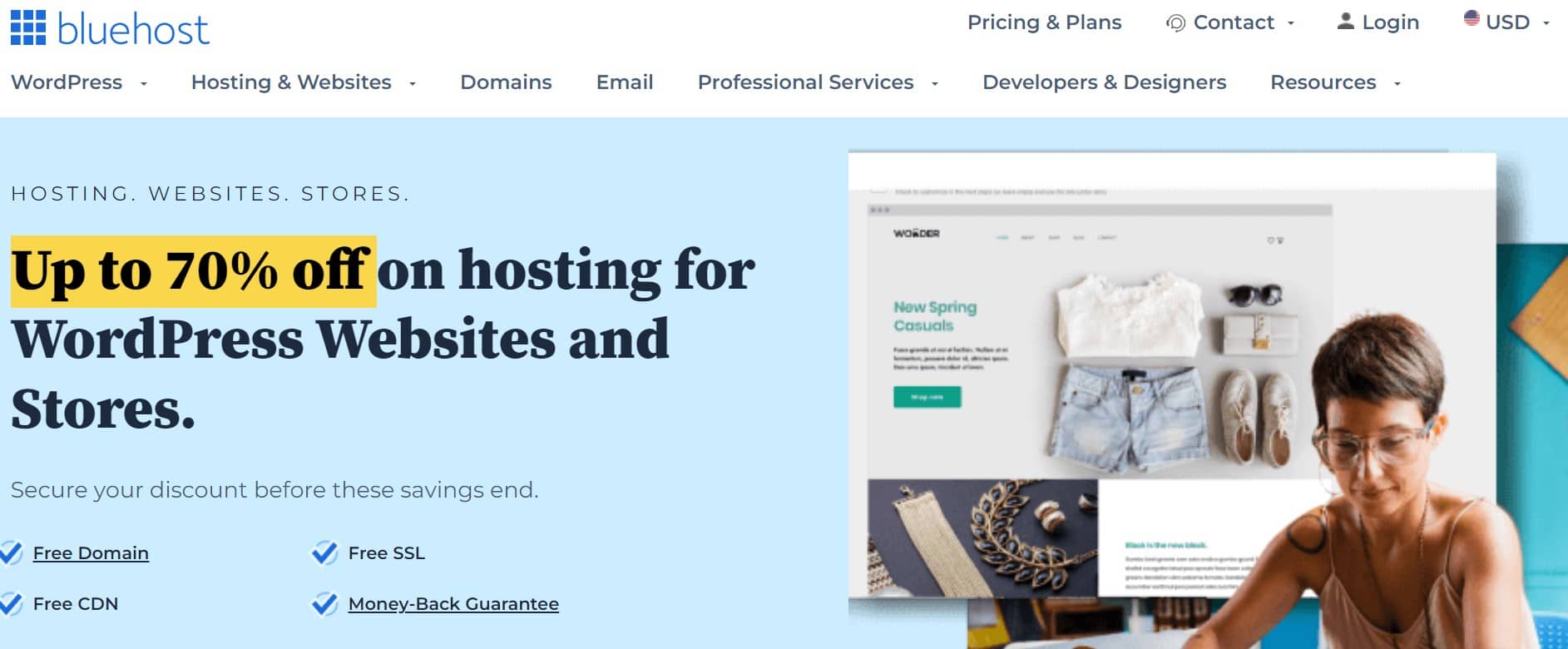 For a content management system (CMS), we recommend WordPress. It's user-friendly and has many themes, plugins, and widgets to help customize your website. It's also free to use through Bluehost, so it's a great choice.
---
Step 3: Select a theme 🎨
The next step in how to launch a new website is to select a theme, which will dictate the overall design of your site.
When choosing a theme for your website, keep mobile-friendliness top of mind.
More than half of web traffic comes from mobile devices, so you'll want to ensure that whatever theme you choose works well for both desktop and mobile users [1].
To determine if it's mobile-friendly, look at how the design responds when viewed on different screen sizes and check out user reviews.
For beautiful, flexible, and responsive themes, you can check out ThemeIsle's WordPress Themes.
---
Step 4: Create your website pages 👨‍💻
When learning how to launch a new website, you want to make sure you include the right types of pages.
To start, you need a home page where visitors can get an overview of what your site is all about.
From there, consider creating pages that focus specifically for things like your products and services, contact information, and other resources.
Once you have the basics down, brainstorm what additional content could be helpful. For example, consider creating dedicated pages that provide solutions such as tutorials or FAQs. It may also be beneficial to add pages highlighting special offers or seasonal promotions.
These pages should make it easy for people to learn about what you provide, buy your products/services, and find out how to get in touch with you.
---
Step 5: Focus on SEO 🔎
A strong Search Engine Optimization (SEO) strategy is essential to ensuring your website's online visibility.
SEO-optimized content, as well as setting up correct titles, descriptions, keywords, and meta tags for each page on your website, are key for improving your rankings in search engine results.
---
Step 6: Connect an analytics tool 🔧
A website analytics tool, like Google Search Console, is invaluable because it helps you determine how your website is performing and what can be improved.
With a website analytics tool, you can identify areas of success, like the biggest sources of traffic to your site or the most popular content. This can help you prioritize the changes and improvements you need to make to your website or inform you about where you should focus your blogging or advertising efforts.
You can also measure performance over time, which makes it easy to track progress from initial campaigns or content releases.
---
Step 7: Integrate social media 📱
Whether you're looking to build a community or generate clicks, social media is essential in drawing attention to your website and engaging potential visitors.
Using social media to drive website traffic is all about creating engaging and shareable content.
After integrating your website with your social channels, you can promote it on Facebook, Twitter, LinkedIn, Instagram, and more. Use relevant hashtags and incorporate links to your website in your posts to drive traffic.
Another effective strategy is creating visually appealing graphics and videos that are attention-grabbing, shareable, and direct users to your website. By consistently sharing fresh and exciting content on social media, you can increase your website traffic and drive more leads to your business.
---
Final thoughts on how to launch a new website 🧐
If you want to successfully launch a new website, you'll need to choose the right domain name, web host, and CMS.
You also need strong SEO, a social media strategy, the right pages, and an analytics tool to ensure your launch is a success.
Interested in starting an ecommerce business? Read how to create an online store (the easy way) to learn everything you need to know about the process.