Crafting an engaging description can be arduous. You must find an excellent angle, include keywords, drive action, and appeal to readers. And you need to do all this with limited characters. Luckily, a meta description generator can take the pain out of writing engaging meta descriptions for your articles.
---
What does a meta description do?
A meta description is the text users see under a link in search engine results. This gives them the information they need to choose the right page to click on.
An effective meta description:
Leads with the keyword so browsers and search engines know straight away what the focus of the page you are promoting is.
Sums up page content for searchers to understand what to expect if they click through to the page.
Matches the keyword with the title tag and page content to show readers and search engines that your page answers the search query.
Entices users to click through to the page content by using active language that drives action.
⌛ Most importantly, a good meta description does this all within 160 characters.
---
Meta description example
Here is an example of an effective meta description that includes all the above attributes.

Now that you know what an effective meta description is, let's go over seven meta description generators, shall we?
---
Best meta description generator tools
---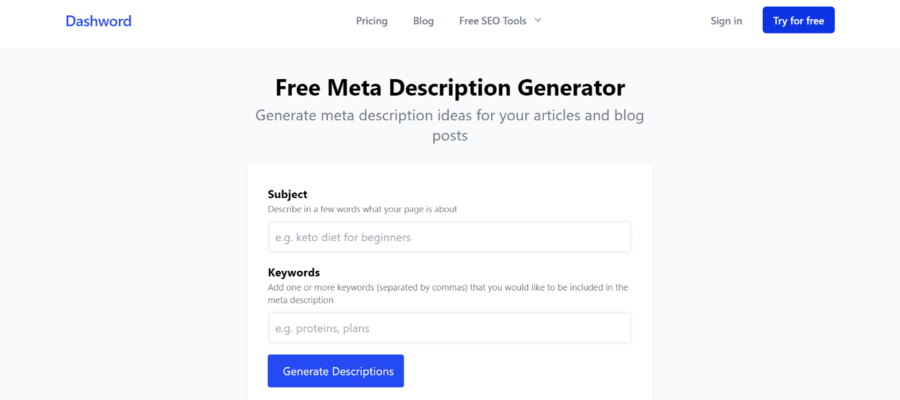 First, we will look at Dashword, a respected meta description software based on Generative Pre-trained Transformer (GPT-3) technology. It produces human-sounding description ideas for your articles.
The tool is also perfect for long-form content such as listicles, guides, and how-to articles.
👍 Pros
There is a free version for you to try out first to see if it's right for you
Dashword has a simple user interface even complete tech newbies can handle
The software comes with a content optimization checker to gauge the quality of your descriptions
It includes a "People Also Search For" feature that helps you nail search intent
👎 Cons
Some descriptions don't include your keywords
It often generates generic descriptions that aren't persuasive enough
The software only gives you three descriptions at a time
💳 Dashword pricing
Dashword has a free version. Paid plans start at $39 per month and include features like content briefs and content monitoring.
---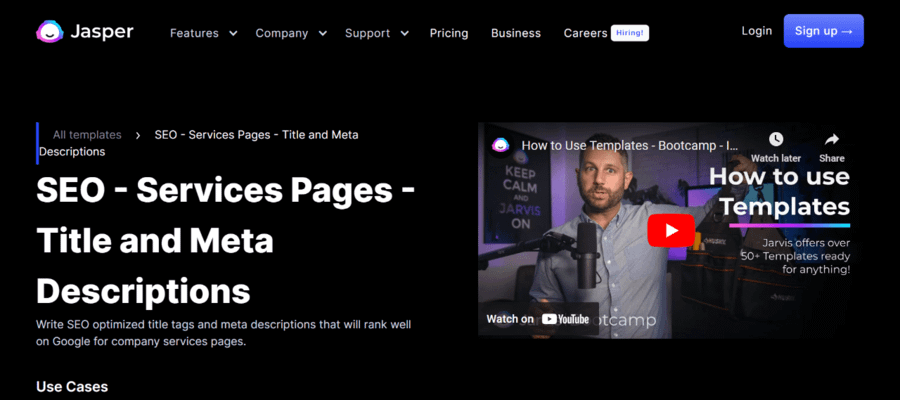 Whenever people discuss AI writing tools, Jasper is always in the mix.
Jasper is a fan favorite with many templates for typical online writing scenarios, including meta description copywriting. With Jasper, you can create descriptions in over 25 languages. No matter where your target audience lives, you can write in their language.
👍 Pros
The Surfer SEO integration allows you to create keyword-optimized descriptions
Use 50+ AI templates to write virtually any type of online content, not just meta descriptions
Free Grammarly integration for flawless descriptions with no grammar and spelling mistakes
Choose distinct tones and styles for your copy
👎 Cons
It's expensive if you create descriptions at scale
There is no plagiarism checker
The free trial lasts for only five days
💳 Jasper pricing
Jasper starts at $24/month for 20,000 generated words.
---
Next, is Frase an SEO-focused AI writing software that has a free meta description generator in its suite of tools.
Content creators use Frase to research, write and optimize online content for SEO. You can use it to write meta descriptions, pillar pages, sales pages, product reviews, value propositions, slogans, email subject lines, and more.
👍 Pros
Content scoring feature to ensure you are on target with your keywords
Supports multiple languages like English, French, Spanish, German, Italian, and more
Fase has solutions for your entire content workflow, not just meta descriptions
The software has a simple beginner-friendly user interface
👎 Cons
Frase doesn't have a plagiarism checker, so you must pay for the feature elsewhere
The tool can be sluggish at times
The platform's keyword suggestions can be off the mark
💳 Frase pricing
You can use the Frase Meta Description Generator to generate three meta descriptions at a time for free. If you want to generate other types of AI content you can invest in a paid plan, starting with the Solo plan at $14.99/month.
---
Next up on our best meta description list is Copy.ai.
Founded in 2020, Copy.ai is an up-and-coming GPT-3-driven writing software. Copy.ai allows you to write descriptions in 25+ languages so you are covered.
Apart from meta descriptions, Copy.AI provides 90+ copywriting templates for all kinds of online copy.
👍 Pros
Choose a tone for your description: witty, bold, persuasive, professional, or relaxed
You can polish up the description until it's on-brand using the editing notepad
The More Like This feature helps you create descriptions similar to your best ones
It allows you to copy your descriptions and paste them outside Copy.ai
👎 Cons
The free plan allows you to create a mere 2,000 words, hardly enough capacity if you produce content at scale
You can only write descriptions in English on the free plan
The multiple steps to creating a description can be a bit much for some users
💳 Copy.ai pricing
Copy.ai offers a free plan for generating 2,000 words per month. The paid plan is $49 per month for up to 40,000 words per month.
---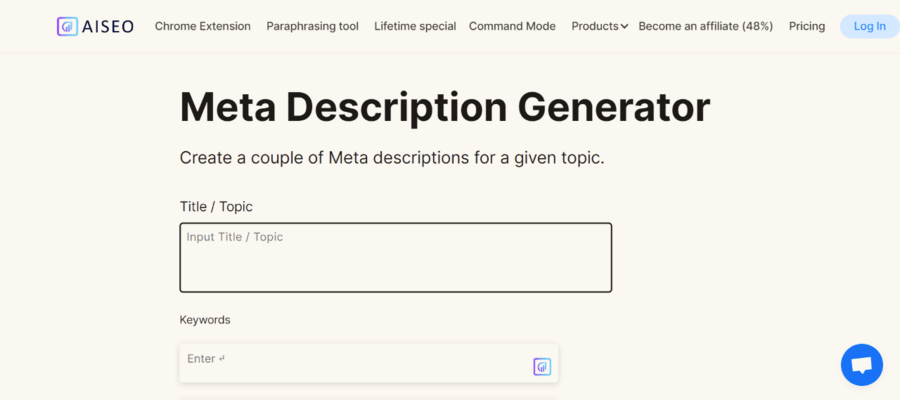 Another top meta description tool worth considering is AISEO.
This AI writing assistant helps you write SEO-optimized content. Among its features is a handy meta description generator for creating and editing unique descriptions that improve clicks. Its user-friendly interface deserves special mention.
👍 Pros
AISEO supports 25 languages including French, Spanish, German, Chinese, Russian, and more
The tool has a simple easy-to-use interface anyone can grasp easily
It improves the readability of your descriptions via the readability improver feature
You can paraphrase any meta description you like and turn it into a unique copy
👎 Cons
The software generates only two variants of meta descriptions
If you are using a grammar extension, it interferes with the editor
The speed isn't always great
💳 AISEO Pricing
You can use a limited version of the AISEO meta description generator for free. AISEO gives users a 7-day free trial for the full suite of tools. The lowest plan starts at $19/month ($15/month if purchased annually).
---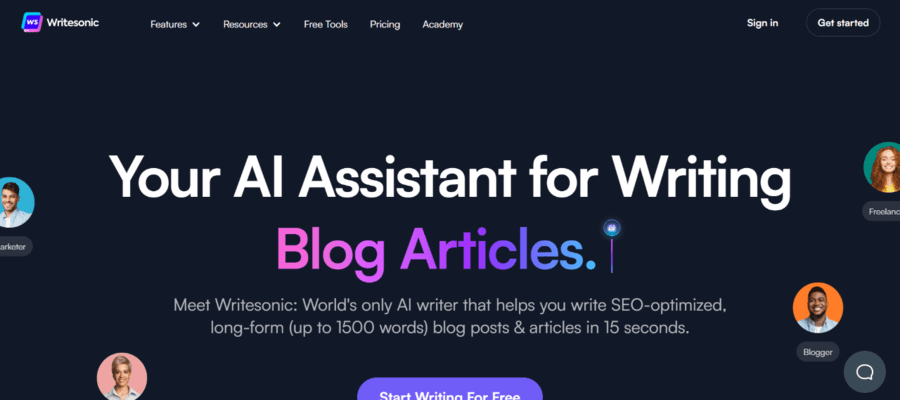 Writesonic is a sought-after AI-driven writing assistant with over 1k five-star reviews on G2. The software has a decent free meta description feature for blog posts, home pages, and product pages.
👍 Pros
Writesonic supports 24 languages so you can write descriptions for a global audience
The tool is fast and accurate, so your descriptions won't need a lot of editing
There's a grammar check option to spot errors like spelling and punctuation
It's affordable compared to competitors, with the base plan starting at just $10 monthly
👎 Cons
The user interface is confusing for beginners
Writesonic doesn't have a plagiarism checker
💳 Writesonic pricing
Writesonic gives users 6,250 words to use for free every month. The cheapest paid plan starts at $10/month for up to 30,000 generated words.
---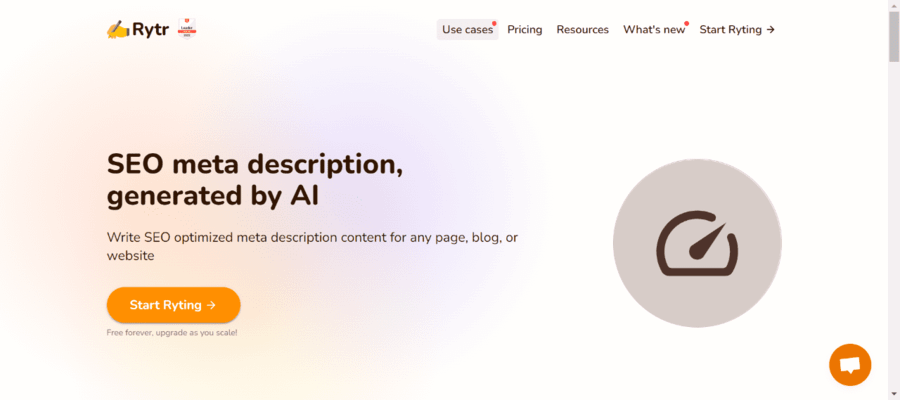 Our last pick on the best meta description generator list is Rytr.
Rytr boasts an impressive 4.7-star rating on G2 and Trust Pilot, so they are doing something right. As many as 2,500,000+ copywriters and entrepreneurs use the software to write high-quality content fast.
Rytr includes over 40 use cases to help you generate different types of text, including meta descriptions.
👍 Pros
There's a built-in plagiarism checker to ensure your descriptions are unique
Writesonic allows you to write descriptions in 30+ languages on the free plan
You can pick the ideal tone of voice for your descriptions from 20+ tone style options
It's backed by a supportive community where you can get help whenever you are stuck
👎 Cons
Rytr doesn't have a long-form content feature
It produces inaccurate outputs, so you must create many variations to generate a decent description
💳 Rytr pricing
Rytr has a forever free version that lets you generate 10,000 characters. Paid plans start at only $9 monthly.
---
What makes a good meta description?
AI writing tools 🔧 don't produce perfect meta descriptions. For the best results, you must edit the outputs. Consider the following key factors when editing auto-generated meta descriptions.
Keyword stuffing: machine-generated descriptions can be over-optimized with keywords on every turn. Therefore, the copy doesn't sound natural. Trim the number of keywords so the copy flows naturally.
Simplicity: sometimes AI tools produce long, complex sentences. Break down lengthy sentences. Turn them into short, reader-friendly sentences.
Uniqueness: AI tools tend to produce generic copy. Tweak the copy so it's distinctive and tantalizes browsers to stop scrolling and click through to your content.
Human appeal: robots often produce dry, rigid descriptions that don't appeal to humans. Spice up the copy with a dollop of emotion. That's what charms browsers, so they pay attention and click through to your content.
Active language: the goal of meta descriptions is to get users to click the link on the SERPs and go to your website. Adding verbs like grab, see, read, or get encourages action.
---
Get more clicks faster with meta description generators 🏎️
That's our list of the best meta description generators available on the market today.
With the help of AI writers, writing meta descriptions becomes:
Faster
Fun
Efficient
Scalable
Test all of the tools on this list to determine which tool matches your writing needs and budget. Once you find it, generate fantastic descriptions that'll boost your click-through rates.
Want more help with your SEO? Check out our guides for choosing an SEO domain name, writing a tagline, and how to find out your competitors' web traffic numbers. Plus, check out our guides to finding blog ideas for finance blogs, photography blogs, and lifestyle blogs.