Using a blog title generator is essential to the modern business blog writing workflow.
A fascinating headline drives browsers to click your blog title and check out your content. But getting it right is challenging. Blog title writing can be arduous. So you need all the help you can get. That's where article title generators come in handy.
To help you develop creative blogging titles fast, below, I summarize the seven best blog title generator tools worth considering in 2023.
---
What is a blog title generator?
A blog title generator is an AI-powered online tool that suggests tons of catchy, SEO-friendly blog post title ideas instantly. You can use these tools to generate blog post titles for articles you've already written or use them to generate ideas for new blog posts.
---
Why use a blog title generator?
Using a blog title generator has many benefits, including:
SEO optimization. Blog title generators automatically include your primary keyword in blog titles, a vital part of on-page SEO optimization.
Speed improvement. Brainstorming blog article headline ideas manually is time-consuming. Article title generators speed up your blog title creation workflow.
Abundant ideas. Blog title generators produce tons of blog headline ideas at once. You get way more ideas than you can create manually.
Spark creativity. Often, when you brainstorm title ideas manually, it's easy to get into a rut. Blog topic generators inspire your imagination. They provide unusual word combinations you might not have thought of.
---
The best article title generator tools
Here are the seven leading blog title generators in 2023.
---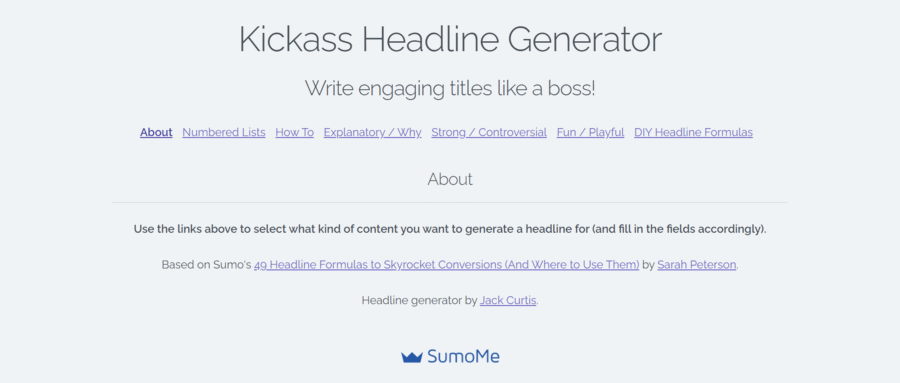 First up on our best blog title generator tools list is SumoMe's Kickass Headline Generator.
SumoMe is well known for its conversion-focused suite of marketing and ecommerce tools to help web admins get maximum conversions from their traffic. Their headline generator is no exception. Its focus is producing engaging titles that convert.
They based the Kickass Headline Generator on proven headline formulas such as numbered lists, how-tos, controversial, fun, and DIY headlines.
---
🎯 Key Features
Based on 49 conversion-friendly headline formulas
Create titles from six headline categories
Minimalistic but powerful design
Include the desired outcome, biggest frustration, and power word
---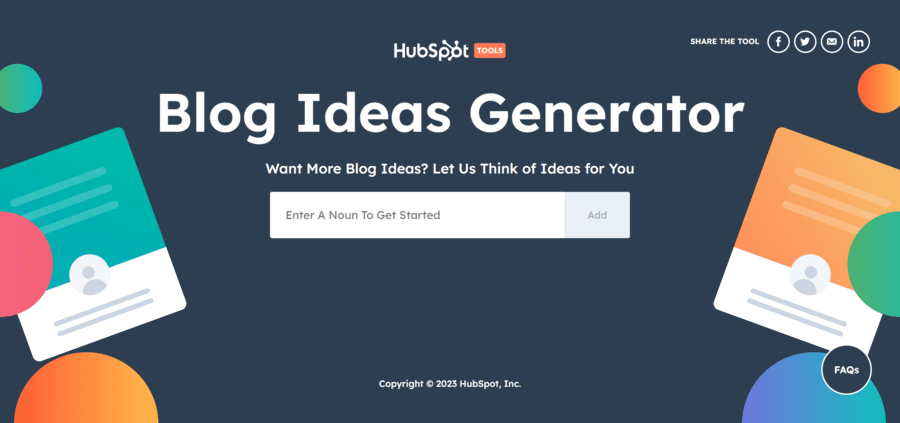 HubSpot, a renowned marketing and sales platform, also has a decent blog title generator in its free tools suite. The HubSpot Blog Ideas Generator gives you five fantastic blog topic ideas to get your creative juices flowing.
To get started, input five unique nouns related to your target keyword. Then the software spits out blog title ideas to inspire your creativity. It generates short, relevant, and practical titles to hook your readers.
You must sign up if you want enough blog ideas to fill your content calendar for a year.
---
🎯 Key Features
Presents titles as a visually attractive graphic
Unlock a year's worth of blog topic ideas if you register
Get blog SEO strategy tips alongside your title ideas
Ad-free generator, so you work unhindered
---
Another top blog title generator is SEOPressor. SEOPressor generates appealing titles for your content. Whether you need an engaging title for your blog post, ebook, magazine article, or story, SEOPressor has got you covered.
The AI-driven platform prides itself in generating titles that suit readers' needs and inspire them to click your headlines. Get more accurate suggestions by stating if your keyword phrase is a skill, product, person's name, industry-related, brand, location, or generic term.
---
🎯 Key Features
Generate over 1,000 title ideas per keyword
Produces contextualized blog titles, not generic ones
A straightforward, intuitive user interface
Pairs title generation with keyword research in the paid version
---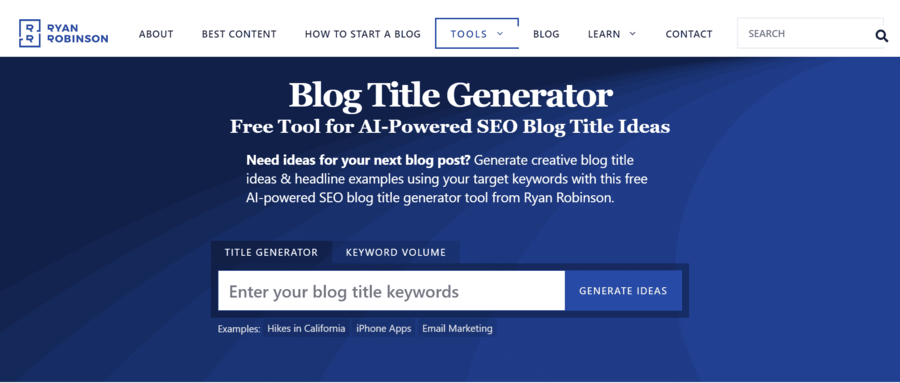 Prolific blogger and Head Of Content at Close, Ryan Robinson, has built a handy AI-powered blog title generator tool.
A standout feature of this tool is that it allows you to see the traffic volume of your keyword. Checking keyword volume shows you if the keyword is worth pursuing, considering its potential traffic.
The software produces a balanced mix of headline types, such as ultimate guides, how-tos, lists, and more.
---
🎯 Key Features
Shows the keyword volume of your title
Download your titles as a CSV file
Generates excellent, relevant topics
View results in manageable batches of ten
---
One more free SEO article generator is Frase.
Frase helps you create blog titles and generate unforgettable headlines for other content types like ebooks, magazines, articles, webinars, email newsletters, case studies, and social media posts.
A noteworthy feature of the Frase title generator is that you can generate a blog outline based on your chosen title.
---
🎯 Key Features
Copy and paste your titles into your document
Preview the generated title before publishing
Generate a blog outline from your titles
Frontloads your title with the target keyword
---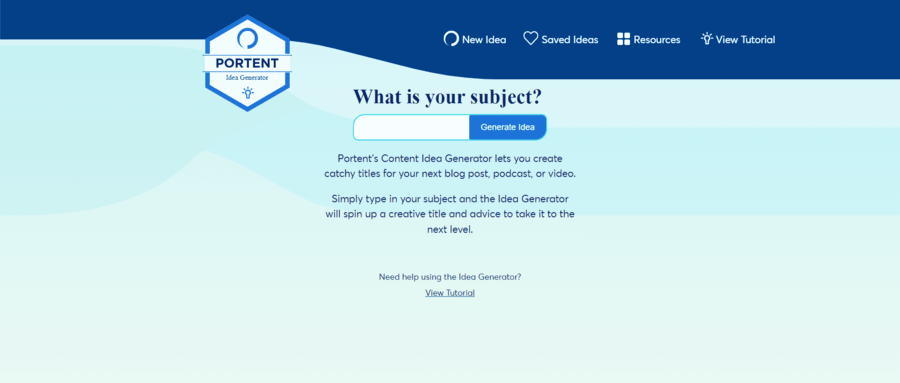 Portent Idea Generator lets you generate creative headlines for your blog post, video, or podcast in seconds.
The platform designs each title for maximum engagement so it promptly captures your audience's attention. It also allows you to revise your headline for grammar accuracy.
A cool feature is that when you tap each phrase in your headline idea output, the tool explains what makes it captivating. These clarifications take your blog title writing skills to the next level.
---
🎯 Key Features
Save your favorite titles with one click
Share your headline ideas instantly on Twitter
Tweak the initial title idea for fresher outputs
Easy to use interface even for technophobes
---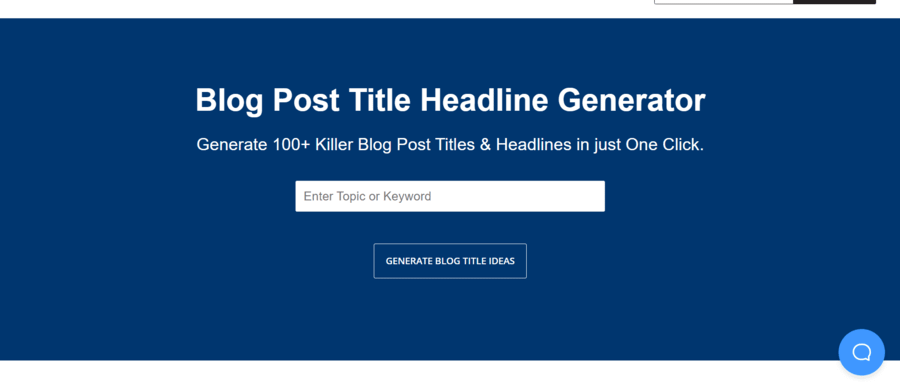 One more supreme blog title generator tool is the FatJoe Blog Post Title Headline Generator.
It's a super-fast generator.
You can create over 100 smashing blog post titles and headlines with a single click. The best part? Instead of parroting similar headlines, the software generates a good mix of headline types, e.g list posts, how-tos, mistakes, and questions.
By default, the tool generates ten headline suggestions. If you want more, you must sign up for their newsletter.
---
🎯 Key Features
Generates 100+ blog title suggestions
A simple one-click user interface
Produces tantatalizing, unique article titles
Get solid headline writing tips on top
---
SEO title generator review wrap up
In summary, using a blog title generator helps you work smarter and faster.
Some even make the dreary blog headline writing task fun.
However, while the title generators complement blog topic generation superbly, their output isn't always perfect. Finetune the suggested titles so they are usable and fit into what works best for your audience. That said, there's no doubt that blog title generators improve your title writing workflow significantly.
Blog title generators aren't the only way AI can help you with blogging either. You can use a blog name generator to instantly name your next blog and a meta description generator to help you create effective SEO descriptions for your articles.
💡 Looking for more help with blog topic ideas? Check out our roundup of finance blog topics for personal finance writers, our collection of lifestyle blogging topics, or our review of food blog ideas.