When starting a new venture, entrepreneurs often ask themselves: is my business name taken?
If you're looking for an answer to this question, you're in the right place. In this article, we'll explore why checking your business name is essential and provide actionable steps to determine if your desired name is available.
We'll also give you tips on what to do if your company name is already taken and suggest creative ways to find a unique one.
Let's get started!
---
Why should I check if my business name is available?
You should check if your business name is legally available for the following reasons:
To establish an authentic brand identity
To avoid lawsuits or trademark infringements
To avoid delays in the registration process
Potential customers may confuse your brand with one of your competitors if your business name is already taken or sounds similar to another company. The result? Lost clients and damage to your business reputation.
Additionally, if the name is trademarked or already in use, you could face costly legal action.
To avoid this mess, check if your business name is available before launching a business with it. Starting over due to a taken name is expensive and time-consuming.
---
Is my business name taken? How to find out
There are several methods you can use to answer the question that's going around your head: is my business name taken?
These are the best ways to check if your company name is available:
---
Use a domain name generator 🎡
A domain name generator is an AI-based tool to create catchy and memorable names for your business. But how can you use it to check if your desired business name is available?
Follow these steps to check domain availability with the DomainWheel brand name generator:
1. Type a keyword in the search bar. Consider writing the exact phrases or expressions you want to use to name your company.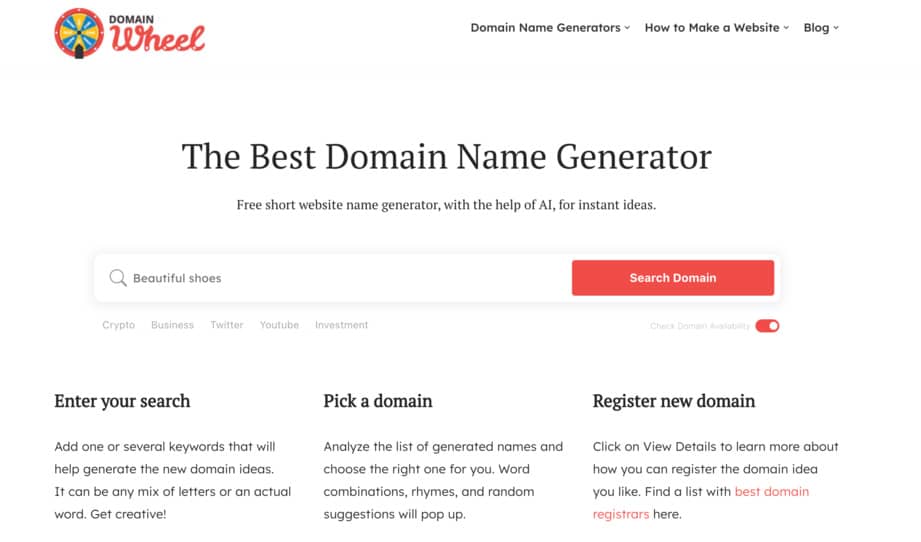 2. Press Search Domain and see the name results.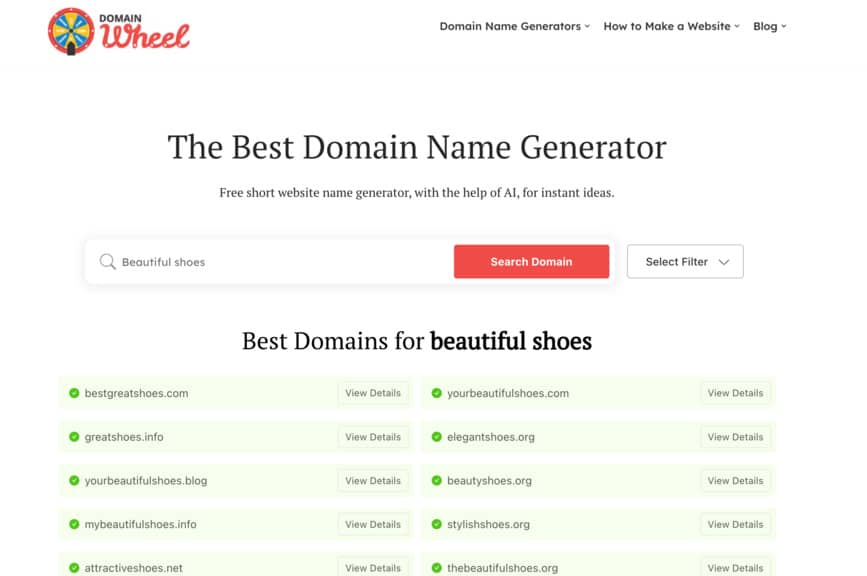 3. All the names on your screen are free and available for you to use! To avoid competitors taking your business name, click View Details, buy it, and register it by clicking Buy Domain.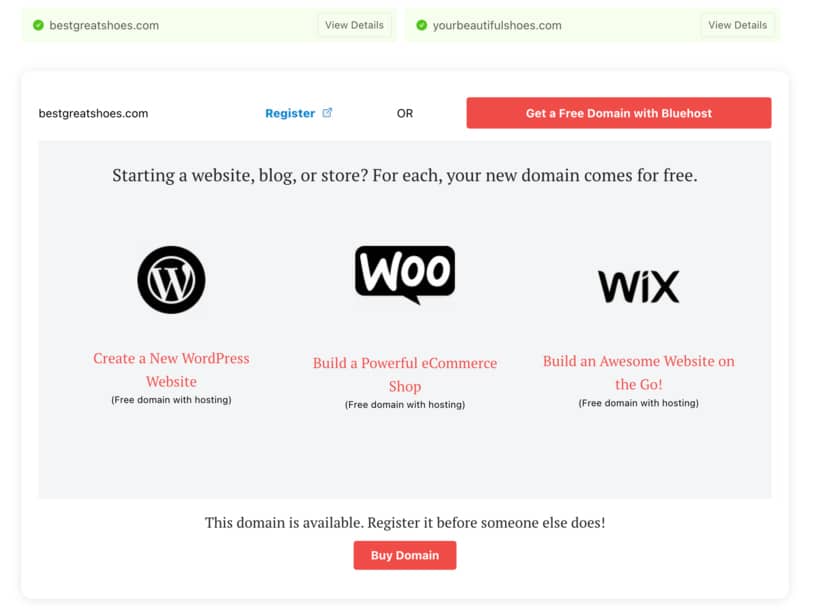 Using a domain name generator like DomainWheel helps you check if your business name is available and allows you to register and buy a domain name before anyone else.
---
Do a quick Google search 🔎
A quick Google search can be an excellent way to determine if your business name is already in use. It may sound obvious, but it works.
Just enter your business name into the search bar and see if any businesses or organizations appear on Google's search engine results page. If the name is already taken, you'll likely see other companies or organizations with the same or similar names.
Let's say you want to open an online jewelry business in California called "California Diamonds." To see if the name is available, search for it on Google.

Unfortunately, there's already a company registered under that name that supplies diamonds worldwide. Time to go back to brainstorming and think about other original names!
💡 Pro tip: searching for a business name on Google can also help you determine if any negative associations with the name could harm your brand's reputation. You may discover that the name is associated with controversial or unfavorable topics which may not align with your brand values or mission.
---
Search on social media 📱
Is TikTok the new Google? It's a bit too soon to know, but what's clear is that social media platforms are evolving from just channels to share content to refined search engines.
To see if your business name is available, type it in the platform's search bar and see if it shows any results. You can also search for hashtags by adding a hash (#) before the name.
The best thing about searching in social media is that, unlike Google, you can analyze users' interactions with brands and find unlimited inspiration for building your company name from competitors or businesses with similar names.
---
Search for trademarked business names ™️
Sometimes a company will trademark a name before they start using it. This makes checking the trademark database an essential step in answering the question "is my business name taken".
The United States Patent and Trademark Office (USPTO) provides a free database of registered trademarks that you can search through. If your business name is already trademarked, it's time to get creative and find a unique alternative to avoid legal complications.
Remember that this step can save you a lot of trouble down the road and ensure your brand is legally protected.
---
Check DBA registrations ⚒️
You should also check DBA registrations to make sure your business name is available.
DBA stands for "Doing Business As" and is a smart way for businesses to operate under a name different from their legal one. Depending on the jurisdiction, a DBA is also called an assumed business name, trade name, or fictitious name.
Checking DBA registrations is straightforward but may vary from one state to another. See the Los Angeles County example below.

The county allows people to search for business names with a Fictitious Business Name Search tool. In this case, you just need to enter your desired business name in the search bar and press Search.
---
What if my company name is already taken?
If someone owns a company name you'd like to use, you have two options: find out who owns the domain/business name and attempt to buy it, or get creative and come up with something completely unique.
To create a unique business name, start with the following tips:
Open a blank page document and start brainstorming. Write down any keyword ideas that come to mind related to the type of business you want to open. For example., if you're going to start a photography company, expressions like "shutter," "snap," or "vision" are a good fit for your business.
Filter your ideas and keep the names that align with your business mission and values. For example, if your photography business is an eco-friendly and zero carbon emission company, consider names like "CarbonFree Clicks" or "GreenShot Studios."
Use a business name generator to get original ideas at the click of a button. These tools display only available names and are a great source of inspiration for finding a perfect name for your company.
---
Final thoughts on "is my business name taken?"
In this article, we've given you strategies to answer one of the most common questions business owners have when starting a new company: is my business name taken?
To recap, you can use several methods to check if your desired name is available:
Using a domain name generator
Doing a quick Google search
Searching in social media
Checking trademarked business names
Checking DBA registrations
Feel free to use the tips compiled in this guide, and good luck finding a great name for your business!
👉 If you need more help opening an online business, read our guide on how to start an online business!