Selling clothes on the internet has become a popular side gig for making extra cash while pushing the 9 to 5 grind. Before you get started, though, it's worth considering the top tips for selling clothes online.
👉 In this guide, I'll give you seven practical tips on how to sell clothes online:
Let's jump right in.
---
Tips for selling clothes online
1. Identify a lucrative niche 🧑‍🤝‍🧑
First up in our tips for selling clothes online is choosing a profitable niche market.
Your niche is a small, specialized corner of a bigger, broad market. To choose the best niche, ask yourself the following questions:
Which fashion styles are trending today?
Does my preferred niche have a large market?
Is my potential niche profitable?
If your answer to these questions is "yes," you've found a lucrative niche.
Here are some examples of niches to consider for your online clothing store:
Clothes for toddlers
Sportswear
Hats
Embroidered apparel
Plus sizes for men
T-shirts
Crop tops for women
---
2. Pick a business name 💼
Next, choose a business name for your online clothing store.
A great business name is:
Simple. Your brand name should be easy to spell (and say) so people type it correctly when searching for you online.
Memorable. Your clothing business name should be easy to remember for people to easily recommend you to their friends.
Descriptive. Your business name should show your niche and tell potential customers what types of clothes you sell.
Struggling to come up with business name ideas? Use our free nifty business name generator tool to generate tons of instant ideas. Simply type your clothing niche or another relevant phrase into the search bar and hit Search Domain.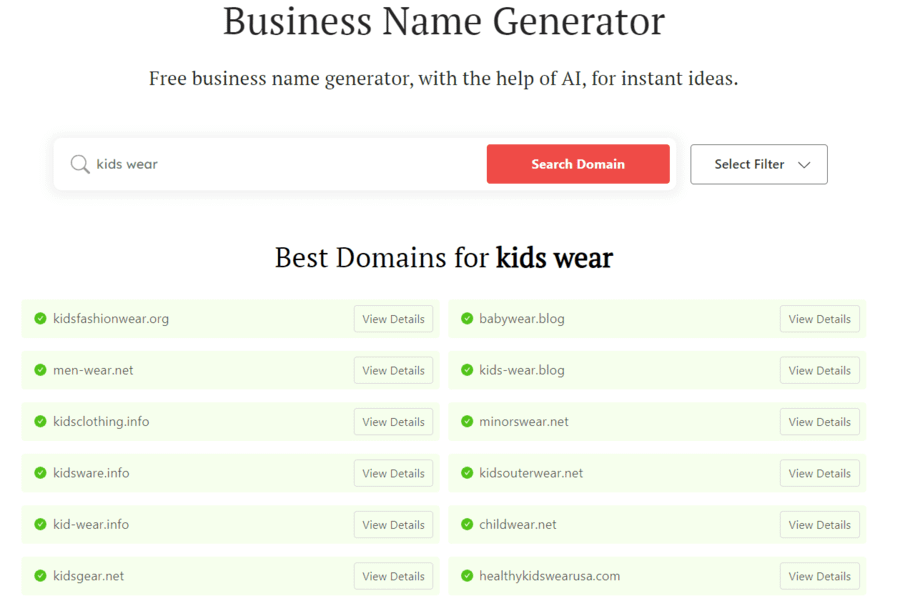 DomainWheel automatically checks domain availability, guaranteeing that you'll be able to use your favorite name idea as your website name.
---
3. Set up an online store 🛒
After you've selected a business name and bought a domain name, it's time to set up your ecommerce website.
This step includes several mini-steps.
First, choose a web host. A web host is a company that keeps your clothing store website files and makes your ecommerce website visible to people on the internet. Choose a hosting company with fast server speeds, rock-solid security, and ample storage and bandwidth.
Second, install WordPress, the most popular software for building websites. The good news here is that companies like Bluehost and SiteGround offer one-click install options and even have some plans with preinstalled WordPress.
With WordPress installed, choose a theme for your online clothing store. A theme determines your ecommerce website's looks. We recommend Neve, a fast, lightweight theme that's highly customizable. Neve also offers advanced integration with WooCommerce, the number one WordPress ecommerce plugin.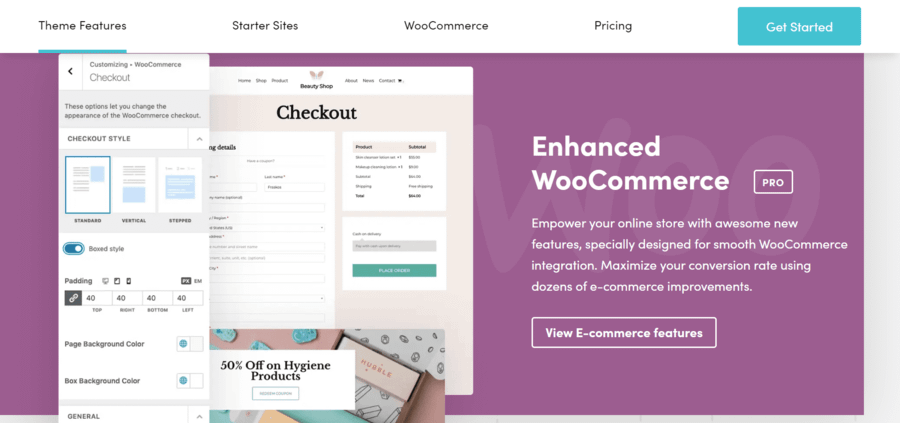 Once you've added a theme, add the WooCommerce plugin to turn your website into an ecommerce powerhouse. The plugin allows you to design your storefront, display products, accept secure payments with Stripe, give shoppers shipping options, and more.
To add WooCommerce, go to Plugins > Add new and search for WooCommerce. Click on Install Now.
---
4. Source clothes 👗
Next in our tips for selling clothes online is sourcing.
In business, sourcing is finding the best suppliers for your products-clothing in this case. Ideal places offer superior quality at a reasonable price giving you wiggle room to add a significant markup.
Potential places to get clothes to resell online include:
Thrift stores
Second-hand shops like Crossroads and Buffalo Exchange.
Yard Sales
Discount retail stores, e.g. Nordstrom, Rack, and TJ Maxx
Flea markets
Consignment shops
Facebook Marketplace
Estate sales
Craigslist
Garage sales
Clothing liquidation stores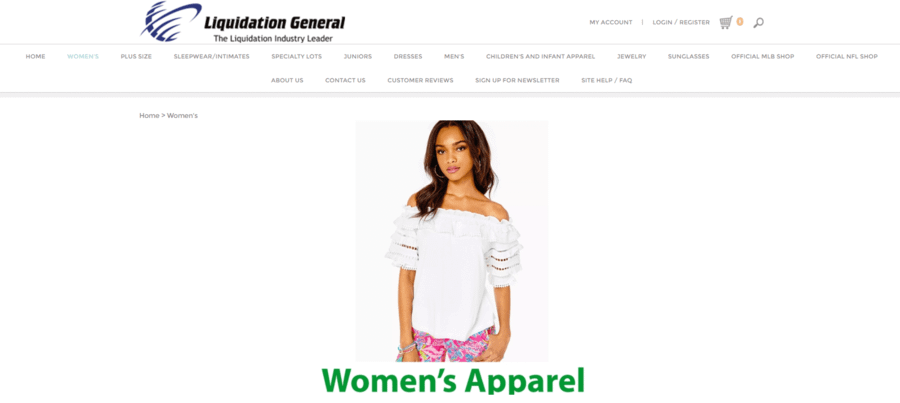 You can also get clothing merchandise from your wardrobe and friends and family. The best part? With friends and family, you can get clothes for free as they do their part to support your hustle.
---
5. Upload stunning product photos 📷
No list of tips for selling clothes online is complete without mentioning product photos.
Having the best merchandise won't help if you don't know how to showcase it. That's where product photos come in. Dazzling photos help potential customers envision your garment and be more likely to buy it.
Make sure your product photos:
Show multiple angles, such as front, back, and sideways
Use a plain background so they pop and stand out
Show people wearing your clothing items
Use natural lighting to produce shots with sharp colors
---
6. Write captivating descriptions ✍️
Have you uploaded your stunning clothing photos?
Great.
The next step is writing tantalizing descriptions to entice customers to buy. Persuasive descriptions complement product photos by adding relevant details about your clothes.
Compelling descriptions:
Include pertinent details, such as colors and sizes
Use descriptive sensory words to help customers visualize the product
Incorporate primary and secondary keywords to boost SEO rankings
Use social proof to drive more sales, e.g., reviews, testimonials, and social media shoutouts
---
7. Market on social media 📢
Now that you've got a sleek ecommerce website with splendid photos and an impressive storefront, it's time to fold your hands and watch the sales roll in, right?
Not so fast my friend. One more thing.
You'll need to market your clothing store to drive traffic to it. Marketing on social media platforms like Facebook and Instagram is one of the most effective ways to spread the word about your digital clothing store.
Here's how:
Optimize your profiles. Include a link to your store on all your social media profiles.
Share product photos. Share photos of your latest arrivals with your followers.
Use social proof. Post testimonials of delighted customers on your feed.
Contests and giveaways. Generate buzz around your brand by running contests and giveaways.
Pay to play. Invest in cheap paid advertising on Facebook, Twitter, and Pinterest.
---
Tips for selling clothes online: the last word
That's a wrap of our tips for selling clothes online guide.
This guide covered selling clothes on your website.
But it's not the only way.
You can also sell your clothing merchandise on third-party platforms like eBay, Etsy, and Depop. These platforms' major drawback is higher fees ranging from 7% to 15%. If you want to keep the vast majority of money made from your sales, sticking with your own ecommerce site is your best bet.
Another disadvantage of setting up shop on third-party platforms is that you don't have full control of your listings. Running your own online store gives you complete control of your listings, pricing, and display, which is why we recommend it as your main strategy for selling clothes.
Is this your first time starting a business? Check out our top 👉 tips for starting your own business and our guide on how to start an online business with no money.