Running your own photography business can be a highly rewarding experience. However, if your company isn't online, you might have trouble marketing your work, finding new clients, and scheduling appointments. So, you may be wondering how to create a photographer website.
Fortunately, designing your own website from scratch is much easier than it used to be. As long as you choose the right domain name, web host, and a few essential tools, the rest should be a breeze.
👉 In this article, we'll go over the five easy steps required to create a photographer site.
Let's begin!
---
How to create a photographer website
Table of contents 📚
---
Step 1: Pick a name for your photography website 🤳
When it comes to building a photography website, the first and most important step is picking a name. This is a huge decision, so it's wise to take some time to explore your options.
Ideally, your website name should match up with your domain name. That's because this supports a cohesive business brand and can help evoke a certain level of professionalism.
For this reason, you might want to use a domain name generator. DomainWheel offers a Photography Name Generator specifically for this purpose:
You can use this tool to help you think of photographer website name ideas while simultaneously checking to see if the equivalent domains are available.
Now, let's check out an example.
Imagine you're a photographer who specializes in pet portraits.
Simply enter a few keywords that reflect your niche, and hit Search Domain. DomainWheel will then provide a few options that have been generated using AI:
As you can see, by simply entering "pet portraits" you get tons of unique results, like "mypetportrait.info" and "petportraitdesigns.blog".
If you hit Load More, you'll find additional options. One of the best things about DomainWheel's name generator is that its results include a variety of domain extensions, including .com and .org, but also more unique choices like .info.
You can keep hitting Load More until you find a domain name you like. Or, change your search terms and try again.
Remember, your site's name will represent your business, so you'll want to choose something that aligns with your brand. The more specific you can be, the better. With this in mind, you might want to add a regional indicator, like in the search for "pet portraits Colorado" pictured below:
When you input a keyword related to geography, DomainWheel can give you even more ideas.
---
Step 2: Select a web hosting provider 💻️
In the next section of this tutorial, we'll introduce you to WordPress, the free Content Management System (CMS) we recommend you use to create your photographer website. However, in order to explore that step, you'll first need to get web hosting services.
Simply put, a web host provides you with the server resources to put your site online. Additionally, some hosting providers allow you to register a domain name.
This way, you don't have to deal with multiple companies to create a photographer website. If you're not sure how to choose a web host, we recommend Bluehost:
With Bluehost, you'll get a free domain for a year, essential security features, a Content Delivery Network (CDN) for faster site performance, and more.
---
Step 3: Install WordPress and choose a photography theme 🎨
Once you've signed up for a web host and registered your domain name, you'll need to get set up with WordPress. If you've chosen a quality WordPress hosting provider like Bluehost, you can typically install the CMS in just a few clicks.
However, the installation process will vary by provider, so be sure to consult the appropriate documentation on how to do it.
After that, you're ready to choose a WordPress theme, which is the first step in designing your site.
From your WordPress dashboard, you can go to Appearance in your left-hand menu. Then, navigate to Themes: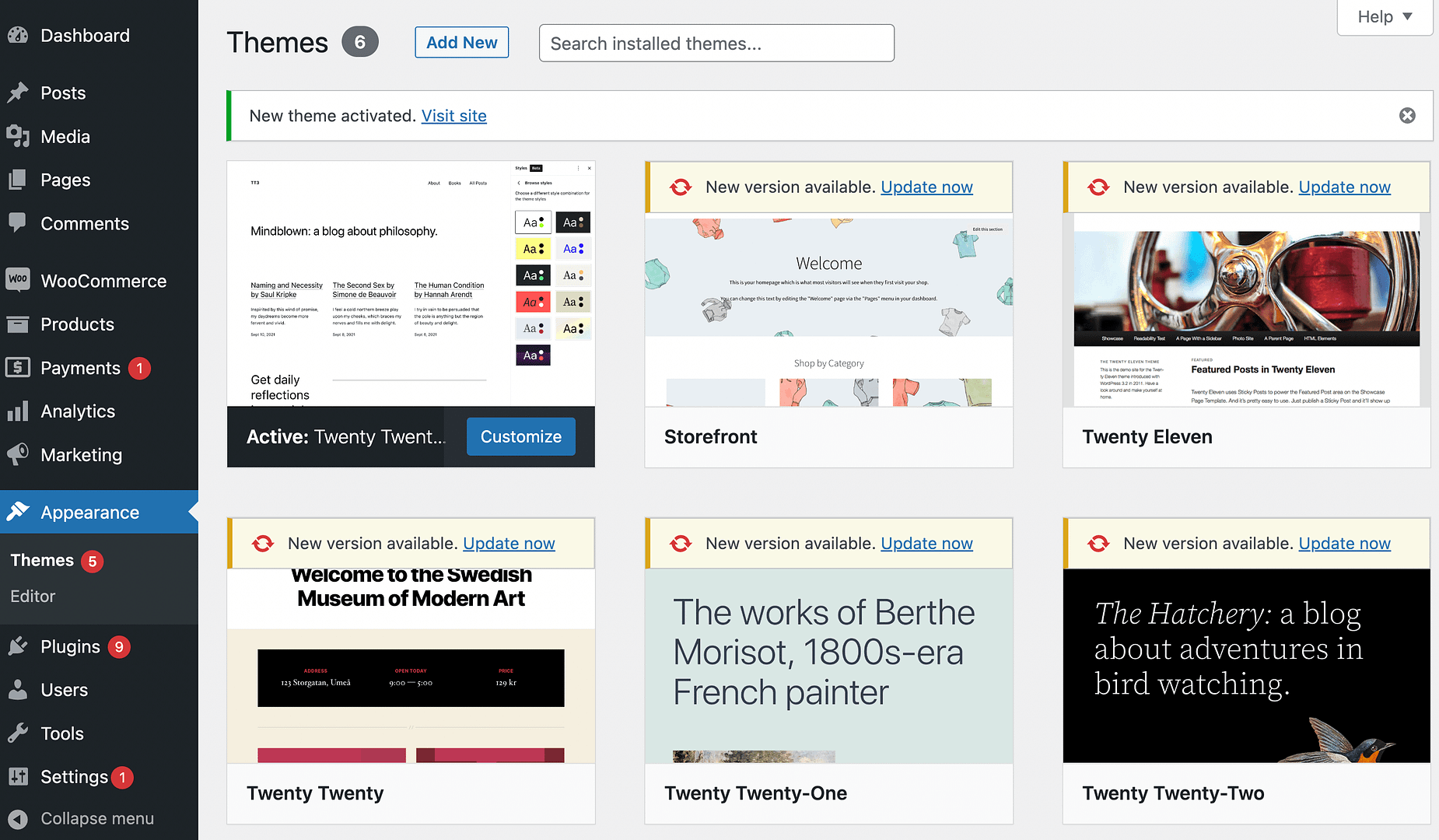 Next, click on Add New Theme: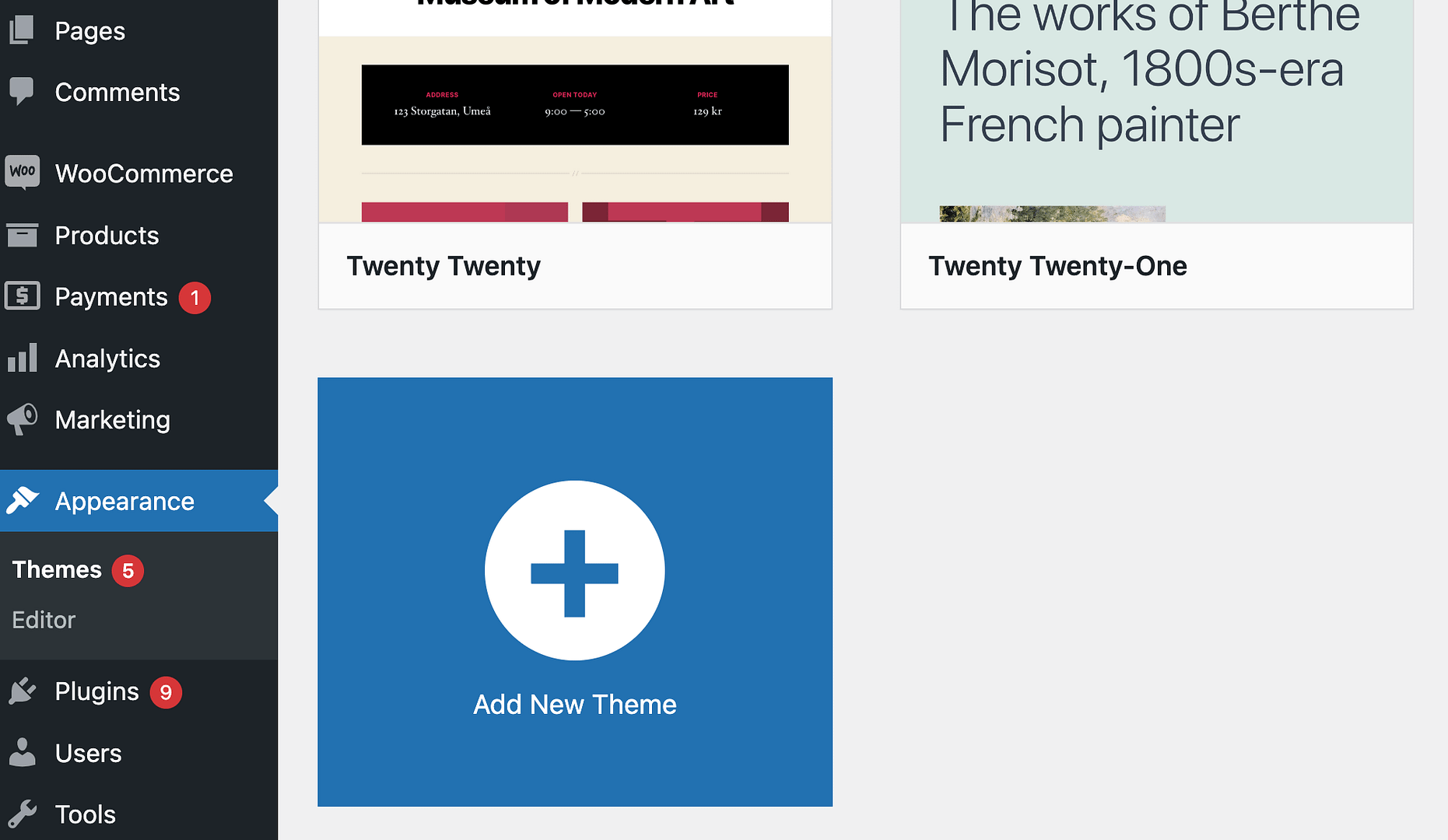 Here, you can use the Feature Filter and search by Photography: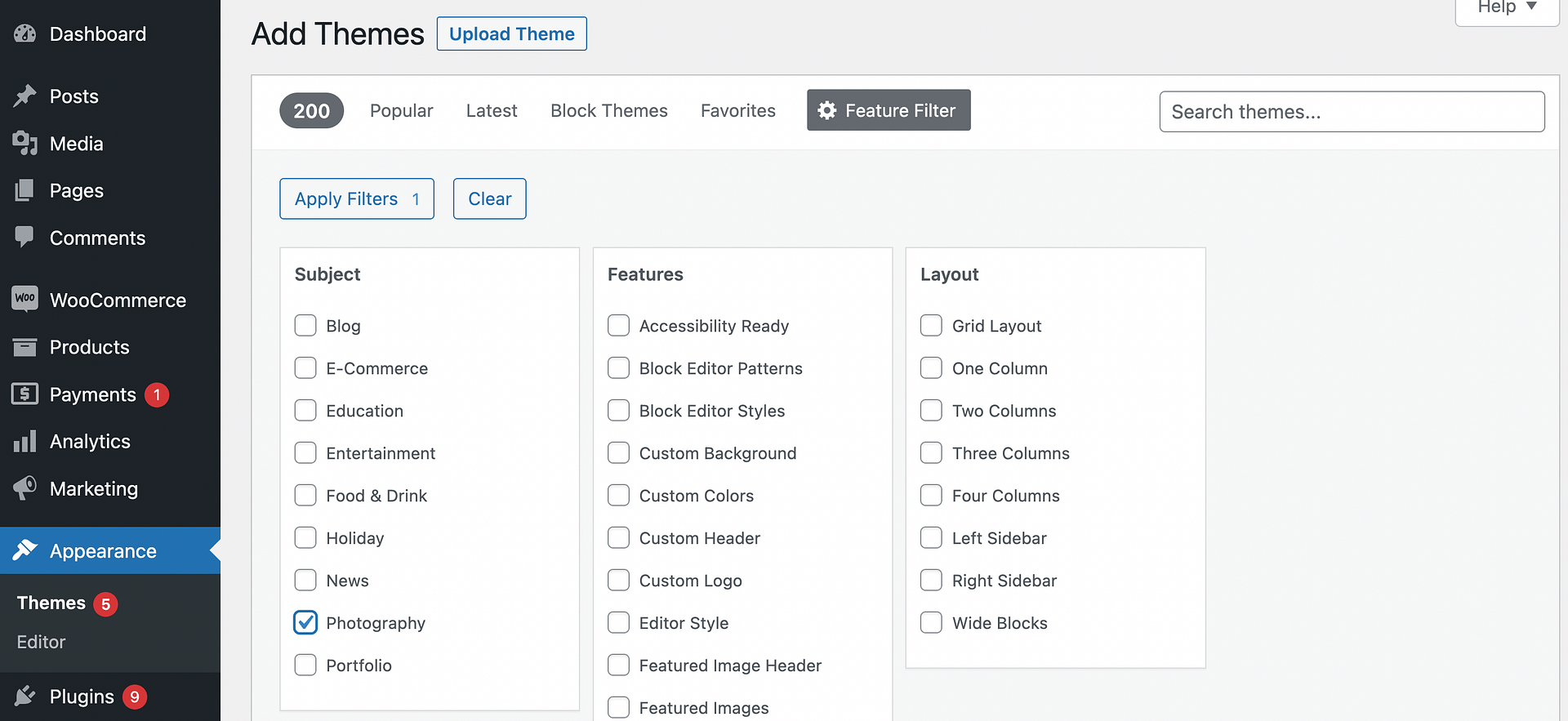 However, this may return results that are too broad. Instead, you might try searching the key term "photographer website":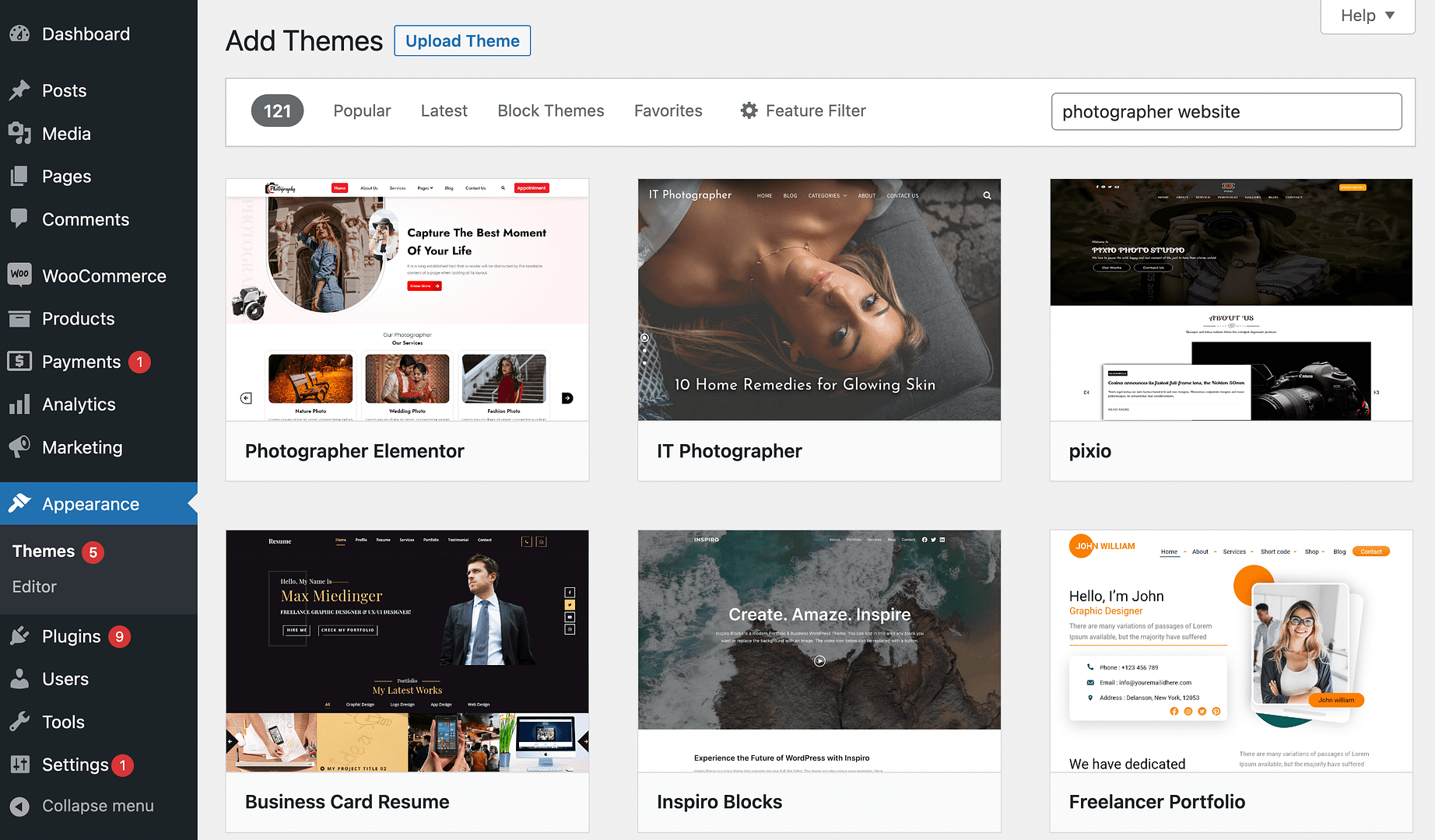 Once you've found a photography theme that you like, click on Install followed by Activate:

We recommend the Photology theme.
---
Step 4: Download essential WordPress plugins 🔌
Soon, we'll show you how to really dive into the web design process by creating your core pages. But first, let's go over some essential plugins you might want to consider downloading.
WordPress plugins are "extensions" that give your site added functionality or design features. There are over 60,000 free plugins available.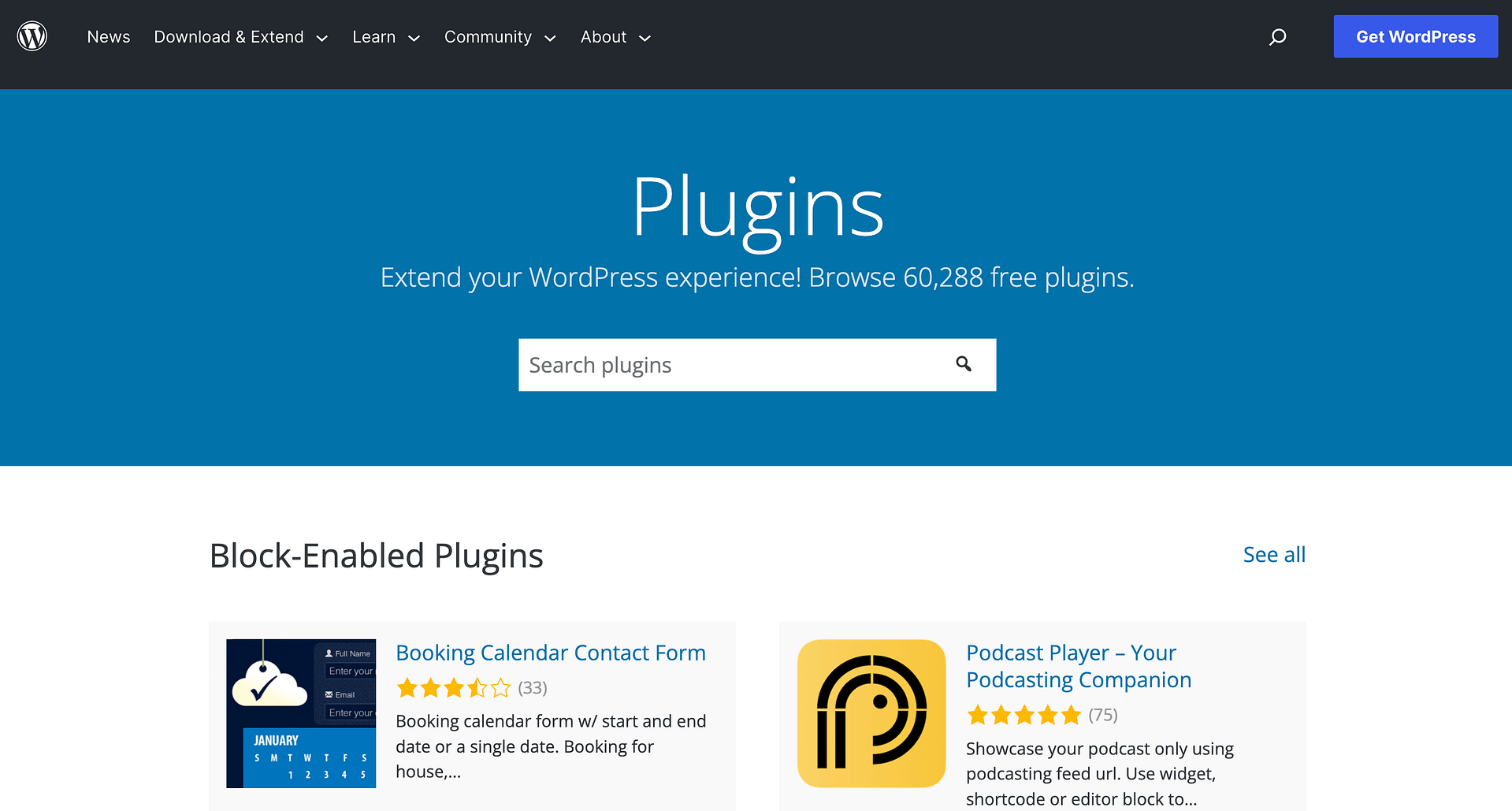 Since there are so many to choose from, it can be hard to find the plugins you truly need. To create a photographer website, we recommend the following:
To install any of these plugins, simply go to Plugins > Add New in your WordPress dashboard. Then, use the search tool to locate them.
---
Step 5: Create your core pages ⌛
Now that all of your tools are ready, you can start building your core web pages! If you want to create a photographer website that's successful, you'll likely want to include the following pages:
About. You can use this page to tell potential clients about yourself. Be sure to use this space to share your expertise and qualifications.
Portfolio: Before hiring a photographer, most people expect to be able to check out their work. You'll want to design a portfolio page for this reason. If you've installed the Envira Gallery plugin, use it here.
Contact. Use WP Forms to build a contact form so clients can get in touch with you. It's best to keep it simple so users aren't overwhelmed.
You might also want to add a page for your photography blog. This can be a good way to share photos from your most recent sessions.
💡 Finally, if you have a booking system, make sure to create a page for this too!
---
Final advice on how to start a photographer website 🏁
There are many benefits to creating a website for your photography business. You can use it as a hub where you can share your portfolio, invite people to get in touch, and even schedule sessions.
Therefore, you'll probably want to launch your own photography website as soon as possible.
👉 To recap, here's how you can create a photographer website in five simple steps:
Pick a name for your photography website
Select a web hosting provider
Install WordPress and choose a photography theme
Download essential WordPress plugins
Create your core pages
If you want to sell your photography online, you may also want to check out our guide on how to start an online store (the easy way).