If you ask any internet user what they want, most would include faster speeds, tight security, and privacy on their priority list. The DNS server you use can help you achieve this. But which are the best free DNS servers?
In this article, we've researched and handpicked eight free DNS servers that can offer you a great internet browsing experience without having to spend anything.
Whether you're a speed enthusiast, privacy-focused, or just a tech-savvy user trying to save some money, read on to find out the best options on the market right now.
---
Free DNS Servers: How do they work?
Before we bring you our list of free DNS servers, it's important that we're all on the same page about what DNS servers are and how they work.
DNS (Domain Name System) servers work very similarly to a phonebook. When you type a website's address into your web browser (e.g., domainwheel.com), your computer's job is to find this web address and help you connect to it.
But computers can't understand website addresses like we do. They prefer a more numerical and computer-friendly IP address (e.g., 192.168.01.02).
This is where DNS servers come in. In a nutshell, they help translate the website address you typed into your browser to its corresponding IP address.
Most people don't have to worry about all these technical details because that's part of what an Internet Service Provider (ISP) helps with. When you go online, your ISP will automatically allow you access to a DNS server so that you can reach the website you want.
But if you're having issues with the DNS servers your ISP is using, are after faster speeds, or simply want a more private browsing experience, the servers below can help you.
---
Criteria for selection
When we created this article, we wanted to ensure we give you the best free DNS server list. To do this, we had to take a few things into consideration.
Here are the key factors that influenced our selection:
Speed and performance 🎿
A fast DNS server can help to enhance your browsing experience. We looked at DNS servers that didn't take long to translate website addresses into IP addresses.
---
Reliability 📈
During our research, we focused on servers that have a good track record so that we only provide a list of reliable servers that will give you uninterrupted access to websites.
---
Security and privacy 🛡️
We don't have to say too much to convince you about the importance of protecting your online privacy. We're living in a time when our personal data can be easily compromised, and any new technology we use has to adhere to certain security and privacy standards.
So, we looked for servers that offer strong security features like protection against malware, phishing attacks, and DNS hijacking.
Regarding privacy, we looked for servers that implement data protection measures like not storing or using browser data to enhance your online anonymity.
---
Additional features and customization options ⚙️🎨
There are many DNS servers to choose from. To stand out, some offer special features like content filtering, parental controls, and customizable options to meet user needs. We gave extra points to servers that have additional features that can help enhance your experience.
With the above criteria in hand, we went ahead and created an incredible list of the best free DNS servers you can find on the market right now. Now, let's explore each of them.
---
8 Best & free DNS servers for 2023
---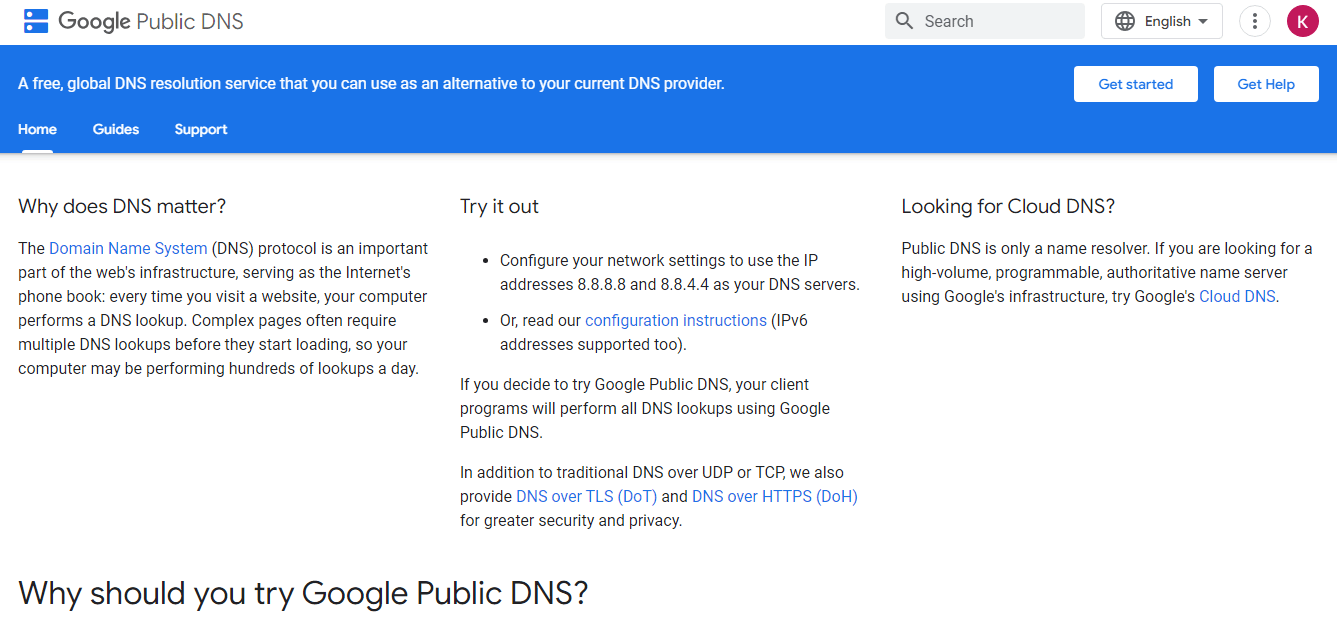 Google Public DNS is a free and popular DNS server.
To try it out, you can read the Google DNS 👉 setup page to learn how to configure your network settings. You'll need to configure them to the IP addresses listed below.
IPv4 addresses:
8.8.8.8
8.8.4.4
IPv6 addresses:
2001:4860:4860::8888
2001:4860:4860::8844
💡 Learn more about IPv4 and IPv6 and how they differ from each other.
❤️ Why we love it:
It has fast and secure servers.
You don't need to register an account with the provider to use it.
It doesn't have request limits. This means that you can use it as many times as you wish to.
It offers enhanced security measures to protect users against phishing attacks and malware. It does this by automatically blocking access to potentially harmful websites.
It uses Google's vast infrastructure to help it quickly respond to DNS queries and reduces the time it takes to load websites.
All of these features and the 100% free pricing put Google Public DNS at the top of our list of free DNS servers.
---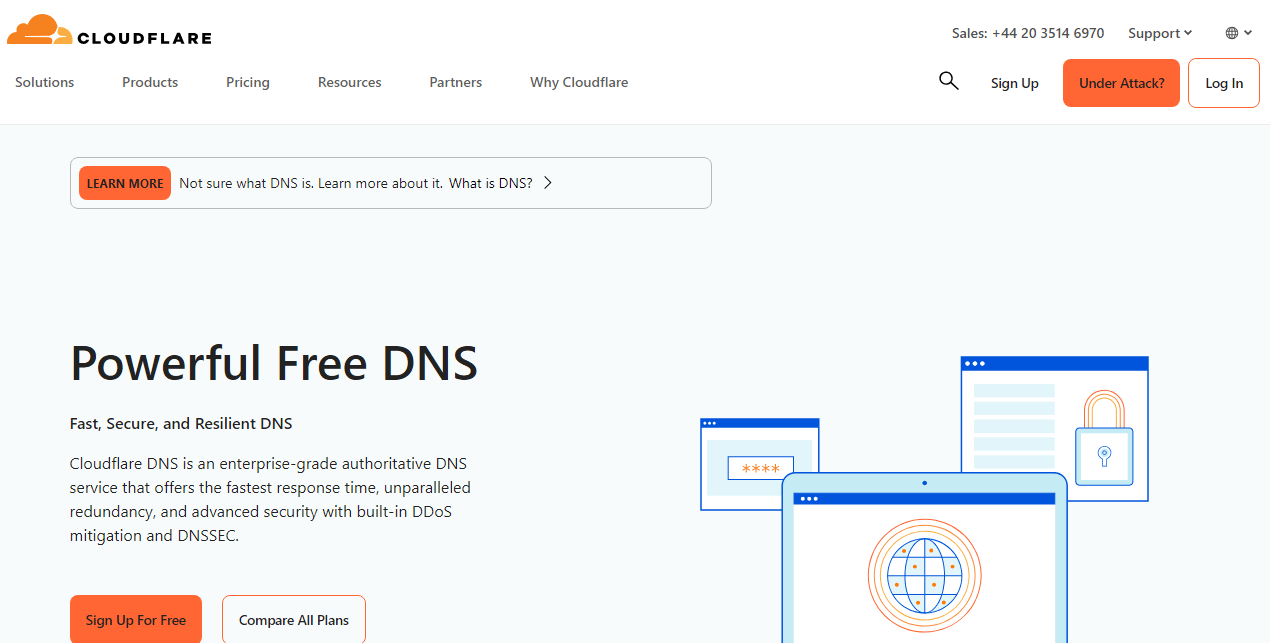 Cloudflare DNS is well-known for being a fast and reliable DNS service.
You can read the Cloudflare DNS 👉 setup guide to find out more about how to configure your network settings.
IPv4 addresses:
1.1.1.1
1.0.0.1
IPv6 addresses:
2606:4700:4700::1111
2606:4700:4700::1001
❤️ Why we love it:
Cloudflare DNS has servers in 300 cities spread out across more than 100 countries. This vast number of servers helps make it one of the fastest DNS server providers.
It offers DDoS Protection, which blocks harmful requests while still allowing legitimate users access to websites and servers.
It has a Load Balancing feature, which helps to steer website traffic to healthy servers. This can help a website run smoothly, even when many people are trying to access it at the same time.
Overall, Cloudflare DNS is a great service that's fast and protects users from cyber threats, making it an excellent choice for safe and reliable browsing.
---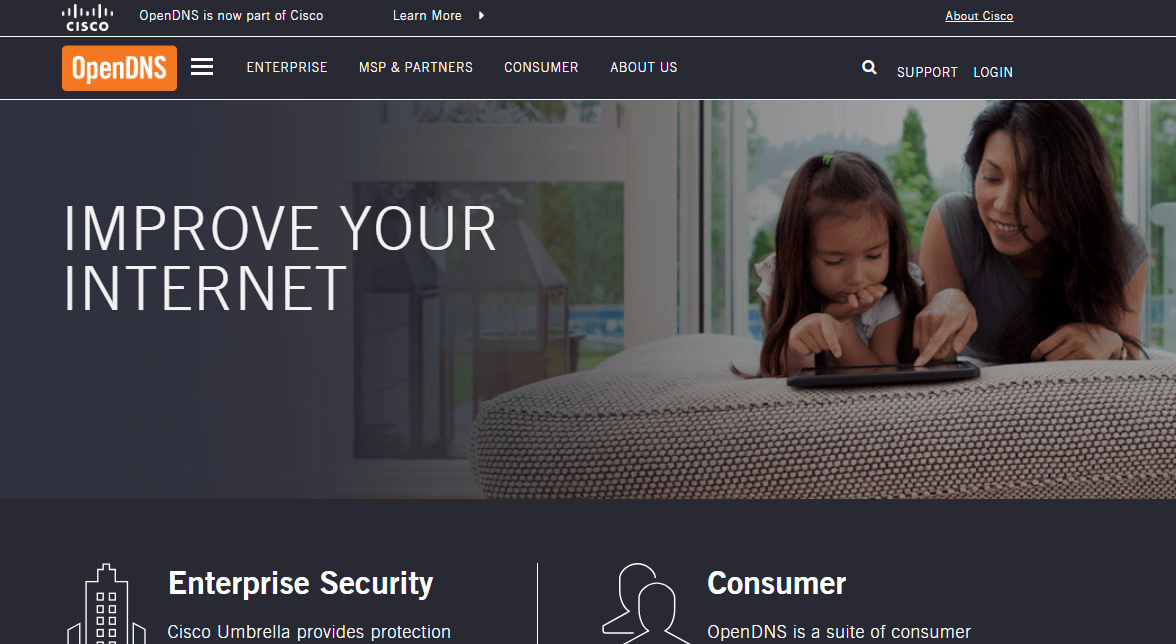 OpenDNS is owned by Cisco, one of the world leaders in tech.
This provider has "Family Shield" and "Home" product tiers that are both free. You can 👉 read more about them on the OpenDNS Packages page.
IPv4 addresses for Family Shield servers:
208.67.222.222
208.67.220.220
❤️ Why we love it:
This DNS service focuses on security and provides additional features to protect users from various online threats.
For example, OpenDNS provides a web filtering option that allows you to block adult content or websites. This makes it an excellent choice for families with young children as you can easily filter and control what they can access over the internet.
In addition, it has worldwide data centers, which helps to reduce the distance between networks and its data centers. This translates to faster internet speeds.
Like most free plans, the free versions have basic protection. For more features, there are two more options, starting at $19.95 per year.
---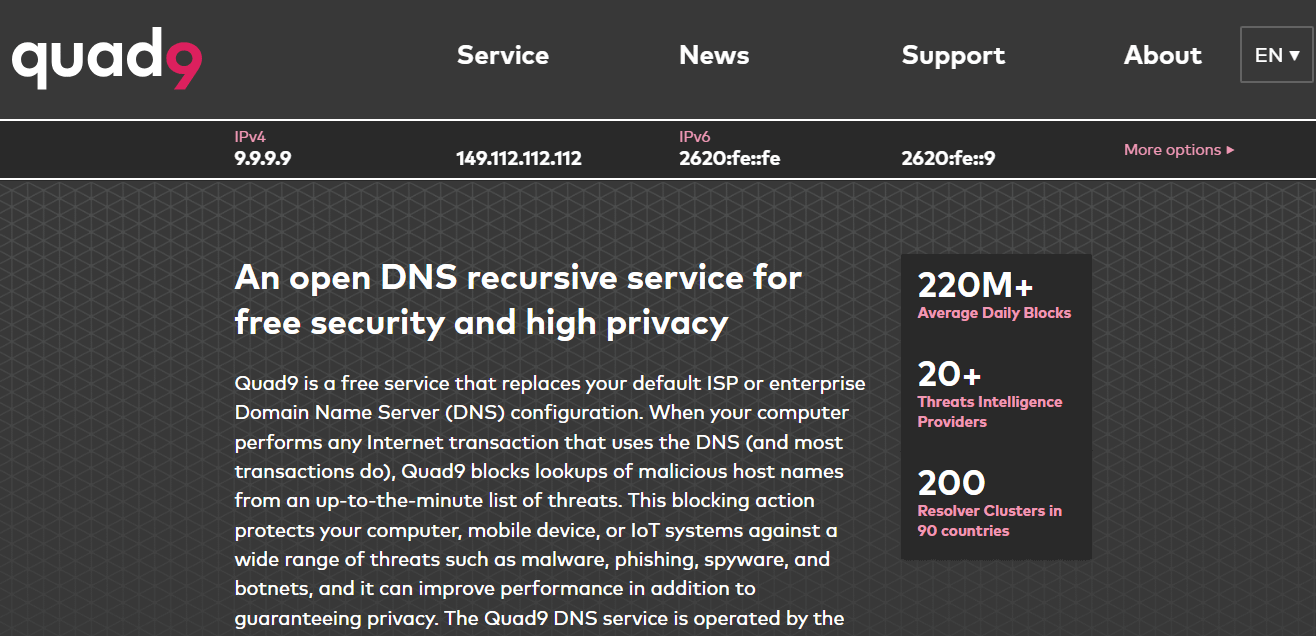 Quad9 is a free DNS service that doesn't compromise your privacy or security.
For more on configuring your network settings, check out the Quad9 👉 Service Addresses and Features page.
IPv4 addresses:
9.9.9.9
149.112.112.112
IPv6 addresses:
2620:fe::fe
2620:fe::9
❤️ Why we love it:
One of the highlights of Quad9 is how seriously it takes user privacy protection. In fact, the provider highlights that "no data containing your IP address is ever logged in any Quad9 system." This is a huge plus, especially if you prefer to keep all your online activities private.
Quad9 has a "threat blocking" feature that automatically blocks potentially harmful sites. However, it doesn't block sites based on content. It also doesn't block ads or web trackers.
Quad9 has servers in more than 200 locations in 90 countries, which helps with improved speeds.
Quad9 also offers an app for Android users, making it a great choice for users who want to be protected across devices.
---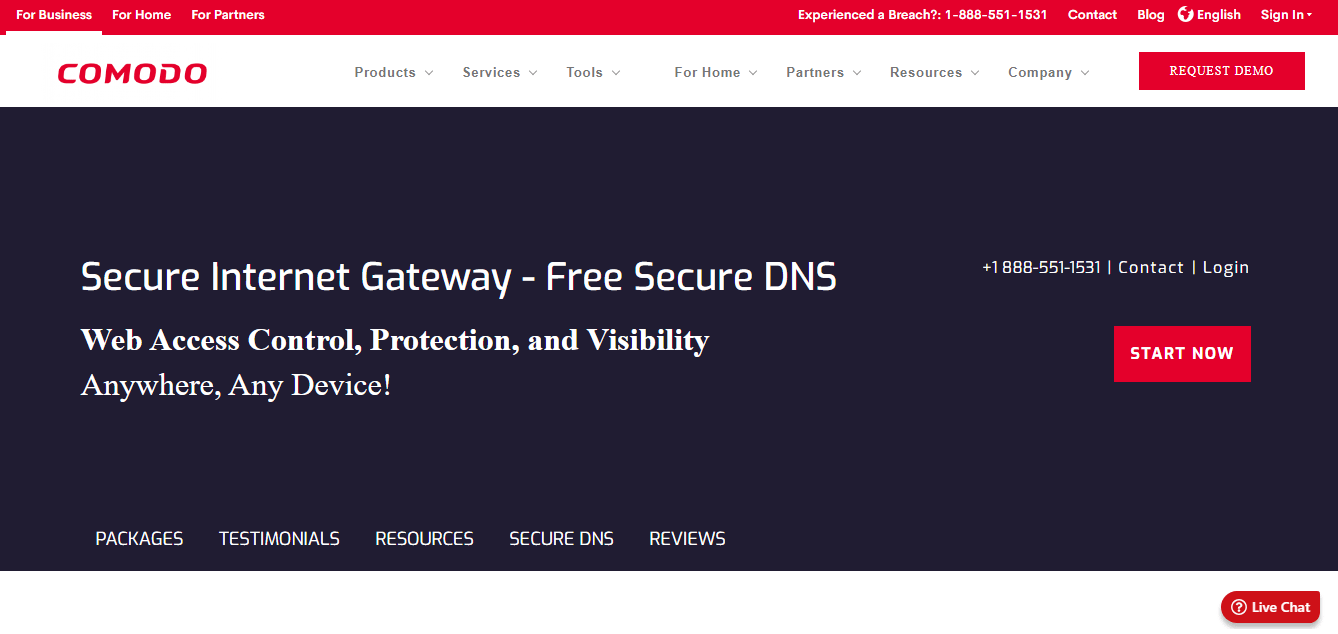 Comodo is one of the leaders in the DNS space and provides solutions for home and business.
The "Secure Internet Gateway Gold" plan is free to use, and you can 👉 read more about how to use this service from the Comodo Secure DNS page.
IPv4 addresses:
8.26.56.26
8.20.247.20
8.26.56.10
8.20.247.10
❤️ Why we love it:
Comodo Secure DNS was founded by Comodo, a company that's well-known for providing cybersecurity solutions. So, understandably, this server has tight security and privacy features to ensure that you surf the internet without putting a threat to your personal data.
The free plan allows you 300,000 DNS server requests per month.
The free plan includes protection from phishing and malware, as well as the Comodo Web Filtering feature, which is a fully automated website and domain analysis engine that helps to improve your online security.
All in all, Comodo is a great DNS server choice for both home use and business use.
---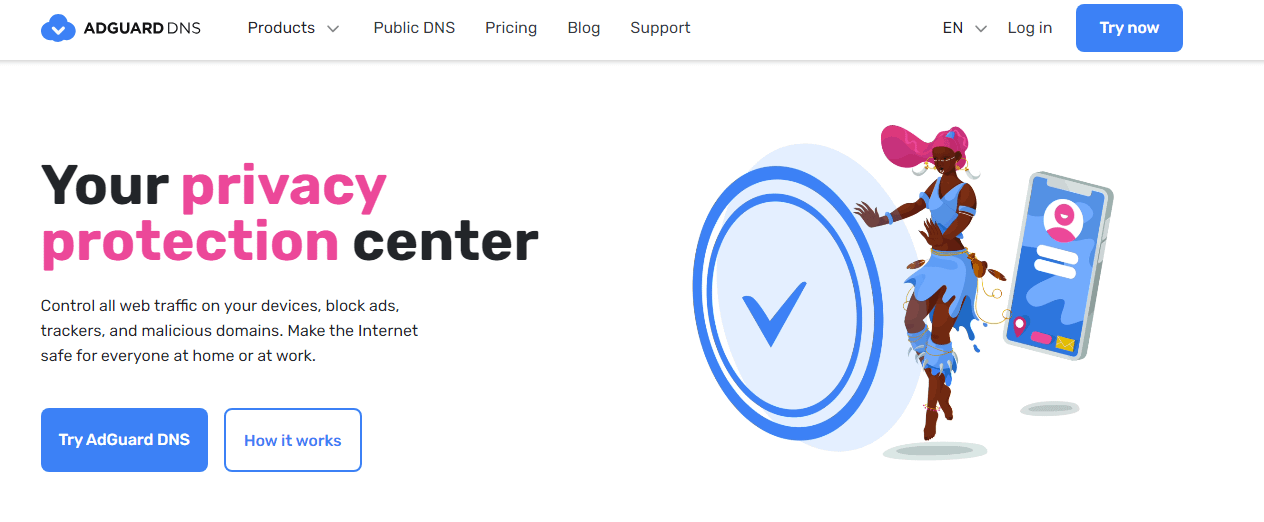 AdGuard DNS is a free, ad-blocking DNS server.
There are multiple servers to choose from, which you can 👉 get more information about on this page about moving servers.
IPv4 "default" addresses:
94.140.14.14
94.140.15.15
IPv6 "default" addresses:
2a10:50c0::ad1:ff
2a10:50c0::ad2:ff
❤️ Why we love it:
With a name like "AdGuard," it's no surprise that the primary focus for this DNS server is advertisements. More specifically, AdGuard blocks ads, trackers, and malicious domains.
This service can block ads, pop-ups, and banners across websites, which can help ensure a more enjoyable experience.
It also enhances privacy by blocking tracking scripts and preventing advertisers from collecting your data.
If your top concern is privacy, this is the best DNS server option for you.
---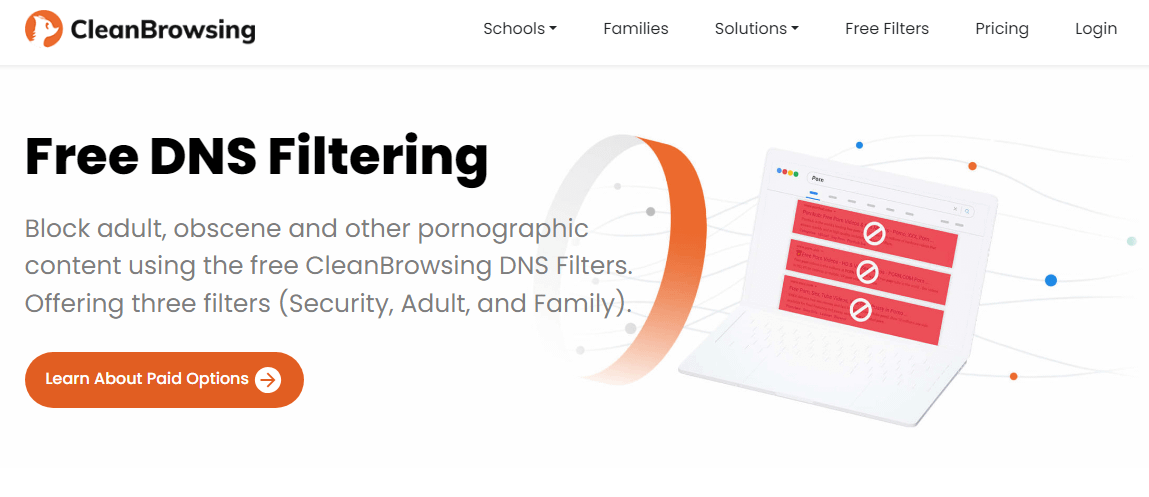 CleanBrowsing is a DNS service that focuses on providing family-friendly internet browsing.
You can 👉 read this page about DNS filtering for more on the service's different free DNS filters.
IPv4 addresses for "Family Filter:"
185.228.168.168
185.228.169.168
IPv6 addresses for "Family Filter:"
2a0d:2a00:1::
2a0d:2a00:2::
👍 Why we like it:
CleanBrowsing has a "Family Filter" that blocks access to all adult content sites. It also blocks proxy and VPN domains that can bypass these sites.
The service also has an "Adult Filter" and "Security Filter" which can block phishing, spam, malware, and other cyber threats.
The paid options have more features and can be ideal for businesses, schools, and other organizations.
If your main concern is avoiding adult content or protecting your kids from it, CleanBrowsing is the best DNS server for you.
---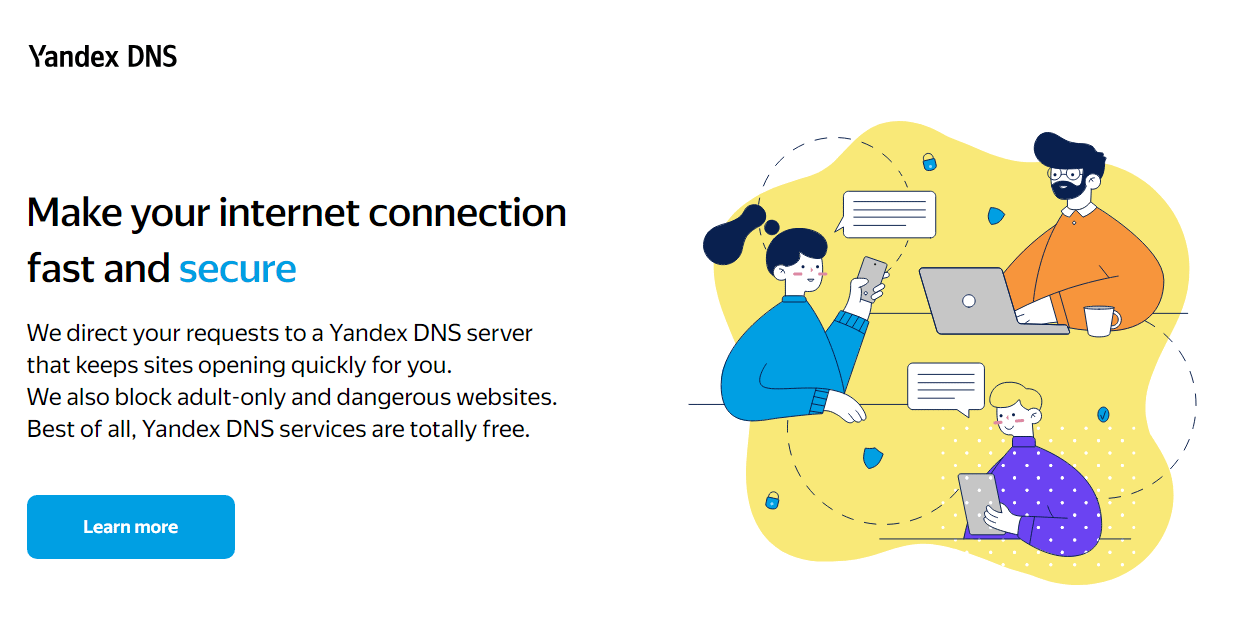 Yandex DNS is a free DNS service provider by the online company, Yandex.
The service offers different levels of protection, which you can 👉 learn more about through this page on how to enable Yandex DNS.
IPv4 addresses for "Basic mode:"
Primary address: 77.88.8.8
Secondary address: 77.88.8.1
IPv6 addresses for "Basic mode:"
2a02:6b8::feed:0ff
2a02:6b8:0:1::feed:0ff
👍 Why we like it:
"Basic mode" has fast and reliable servers that block suspicious sites.
"Safe mode" has Basic mode's features, including protection from botnets (which can steal your data or mine cryptocurrency).
"Family mode" has all of the features from the plans listed above, plus the ability to block adult websites and advertising.
Compared to many of the providers we mentioned above, Yandex is a little less known in some regions. However, it is still a great choice for users who are looking for a free and efficient DNS service.
---
You're spoilt for choice 😎
Choosing the right free DNS server can significantly impact your internet experience.
The benefits range from enhancing website loading times to better security and privacy.
While the DNS servers provided by your ISP are usually sufficient, exploring alternative options like the ones mentioned above can potentially offer improved performance and safety while you browse the web.
Now that you're done reading about free DNS servers, you should check out our article on DNS load balancing to learn how you can use it to optimize your website.