Since its June 2023 announcement, the acquisition of Google Domains continues to raise concerns – some of which are understandably driving site owners to seek the best Google Domains alternative registrars.
Behind this arrangement is Squarespace, a leading website building platform that has decided to expand its offerings by integrating Google Domains. They're fusing the service with Squarespace Domains, an independent domain registrar that operates separately from the Squarespace website builder.
While that might be comforting to Google Domains users who hope to maintain their original website builders, it turns out that Squarespace isn't as flexible on domain pricing. The company has pledged to retain the renewal prices for existing Google Domains customers, but only for a year following the acquisition.
If you're wondering what happens after this grace period, your guess is as good as mine. Squarespace has yet to reveal any details.
Thankfully, you don't need to wait in limbo. Consider exploring alternative Google Domains registrars that offer transparent long-term pricing and services.
---
How to choose the best Google Domains alternative for your site
Choosing the best Google Domains alternative for your site is not a one-size-fits-all decision. Rather, you need to weigh your specific needs against the unique offerings from each registrar.
Here are the core factors to consider during and after the Google Domains acquisition:
💻️ Ability to point your domain at any web host: This allows you to have your website hosted by any company and to switch web hosts at any time without having to re-register your domain elsewhere. This feature is shared by all of the Google Domains alternatives on this list.
⚙️ Domain management features: These include DNS management, domain forwarding, domain locking, and WHOIS privacy protection.
🔒️ Security: Look for a registrar that offers advanced security features, such as two-factor authentication and domain transfer lock.
🖱️ Customer support: Seek a registrar that offers 24/7 support through multiple channels, including live chat, phone, and email.
🧑‍💻 Additional services: Supplementary provisions – such as web hosting, email services, and SSL certificates – might add value to your domain registration and simplify the management of your online presence.
💳 Pricing: Consider the cost of domain registration, renewal, and transfer. Some registrars even offer discounts for long-term registration or bulk purchases.
---
4 Best Google Domains alternative registrars
---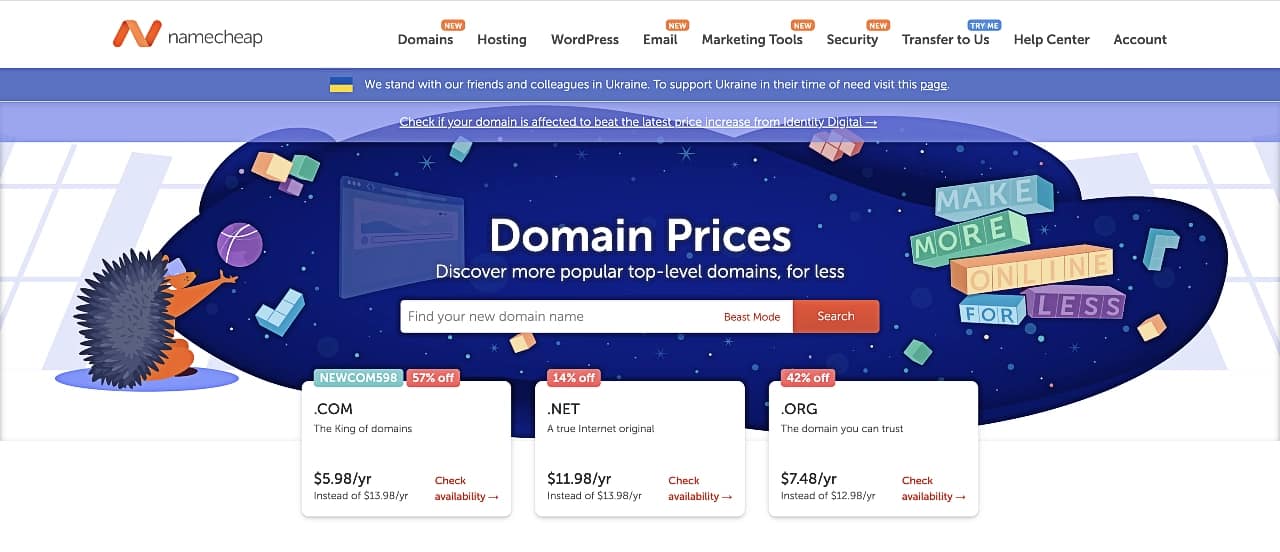 Namecheap, a veteran in the domain registration industry, has built a reputation for offering affordable domain names without compromising on quality or service. Although the company has expanded over the years into a multifaceted web hosting powerhouse, it remains faithful to its primary service – domain registration.
Users nowadays are especially attracted by its flexible pricing model. Unlike Google Domains which runs on a flat-rate pricing structure, Namecheap offers both long-term and short-term discounts. This flexible pricing strategy makes Namecheap an attractive Google Domains alternative for those seeking cost-effective domain registration.
But affordability isn't the only thing Namecheap has going for it. The company also boasts an impressive selection of domain extensions. With 536 TLDs available, Namecheap gives you more flexibility to choose the perfect domain name for your brand.
The domain registration process itself is pretty straightforward. After selecting your domain and finalizing payment, the domain becomes yours. You should then be able to manage your domain settings from Namecheap's user-friendly dashboard.
Why Namecheap is a better Google Domains alternative than Squarespace 🤔
While both Namecheap and Squarespace offer distinct advantages in domain registration and management, Namecheap's robust suite of features positions it as a more compelling Google Domains alternative.
When it comes to domain management, for instance, Namecheap comes with multiple advanced DNS options – such as DNSSEC – for enhanced security. Squarespace, on the other hand, offers basic DNS management tools, which may not meet the needs of demanding users.
Namecheap also stands out with its commitment to privacy. It offers free domain privacy protection for all eligible domains, a feature that Google Domains customers will appreciate. Squarespace also offers domain privacy, but its service does not cover all TLDs.
Another significant advantage of Namecheap over Squarespace is its 24/7 live chat support, a convenience you won't get on Squarespace. Namecheap further tops it off with more exclusive offerings – such as premium DNS, personal email, and a marketplace for buying and selling domain names.
Namecheap's domain registration features ⚙️
Advanced DNS options
Free domain privacy management
Domain transfer support
Domain parking
WHOIS lookup
Bulk domain registration
Domain expiration protection
Namecheap's domain registration pricing 💸
Domain registration starts at $1.88 for the first year.
---

GoDaddy, a longstanding titan in domain registration and web hosting, currently oversees more than 80 million domains for over 20 million customers across the globe.
The platform provides granular control over domains, a feature that can be particularly useful for multi-domain businesses. You can intricately configure your DNS records, set up mailboxes, renew domains, integrate Google services, and more.
You won't, however, need any technical skills to get started. GoDaddy will guide you through the entire registration process. And if your desired domain is already taken, you could take advantage of their supplementary brokerage services to see if it can be purchased from the original registrant.
Another reason to leverage GoDaddy as a Google Domains alternative is its competitive discounts for new users. Whereas its domain name renewal costs may be higher than Google Domains', the initial savings can be substantial.
Why GoDaddy is a better Google Domains alternative than Squarespace 🤔
If you're the type that prioritizes experience and reliability, then you'll appreciate GoDaddy as a much better alternative to Google Domains than Squarespace. It's backed by a proven decades-long track record of providing high-quality domain registration services.
GoDaddy also outshines Squarespace in terms of supplementary domain-related services. You could, for instance, use its domain auctions and back-ordering to capture unavailable domains. GoDaddy also provides extensive options for web hosting.
You'll further notice that whereas Squarespace's pricing is the same regardless of how long you sign up for, GoDaddy often provides more generous discounts for users who sign up for multiple years. That makes it a more cost-effective choice in the long run.
GoDaddy's domain registration features ⚙️
WHOIS privacy protection
DNS management tools
Domain forwarding
Domain transfer
Domain locking
Domain auctions
Domain back-ordering
Domain brokerage service
GoDaddy's domain registration pricing 💸
Thanks to its generous discounts, the annual domain pricing on GoDaddy may occasionally drop to as low as $0.01.
---
Established in 2000, Domain.com is a renowned web services platform, offering a simple and affordable solution for buying domain names and building an online presence. This is yet another Google Domains alternative that goes beyond domain registration to provide web hosting, email services, website design, and online marketing tools.
A distinguishing feature of Domain.com is its intuitive DNS management system. This is what you use to manage your DNS records, and you'll find it much simpler to operate than DNS management systems from other Google Domains alternatives.
Domain.com also allows you to redirect traffic through URL forwarding. As such, you should be able to consolidate multiple domains and centralize your web presence.
The benefits extend even to security – as the company offers free SSL certificates, along with domain privacy and transfer lock services. The former protects your personal information from being searchable in the WHOIS domain registry, while the latter prevents the hijacking of domains.
Why Domain.com is a better Google Domains alternative than Squarespace 🤔
Domain.com, true to its name, specializes in domain registration and related services. They have engineered their platform and services to cater specifically to domain-specific tasks.
Squarespace, on the other hand, primarily identifies as a website builder. Although it does provide domain services, they are nestled within its core website-building framework. This architecture suits anyone looking for an all-in-one solution, but the extras may overwhelm users who are solely focused on domain management.
Domain.com's expertise has also seen them build resources and technical support teams that exclusively handle domain-specific queries. Plus, the platform tends to be more versatile in integrating third-party hosting platforms, email services, and tools
Domain.com's domain registration features ⚙️
Premium domains
Domain brokerage service
Domain expiration protection
DNS management
URL forwarding
WHOIS privacy protection
Free SSL certificates
Bulk domain registration
Domain.com's domain registration pricing 💸
You can set up a domain for as little as $1.99 a year.
---
If you're particularly concerned about user-friendliness, Dynadot would easily qualify as one of the best Google Domains alternatives.
The platform itself has all the essentials covered – from domain registration and renewal to domain transfer and privacy protection. Each of these functionalities is designed with simplicity in mind, making it easy for even novice users to manage their domains.
That said, one of the things that sets Dynadot apart from Google Domains is its brokerage service. You can have Dynadot's brokers negotiate the purchase of any taken domains on your behalf.
Dynadot further complements its search function with a domain suggestion tool – which generates relevant domain name suggestions from user-provided keywords. You can compare that to our very own domain name generator, which uses AI to generate contextual domain name ideas.
Another standout feature is Dynadot's grace deletion service. With this, users get a five-day post-registration grace period, within which they could delete their domain name and then receive a credit of the registration fee.
Why Dynadot is a better Google Domains alternative than Squarespace 🤔
Whereas the two platforms are both dependable alternatives to Google Domains, Dynadot edges out Squarespace when it comes to value for money.
The platform comes with an all-inclusive suite of domain management tools. That means you get to control, among other things, your domain forwarding, email forwarding, domain locking, DNS settings, and WHOIS privacy protection.
Dynadot further also uses advanced security measures – such as two-factor authentication and domain locking – to shield your domains from unauthorized alterations or transfers. Otherwise, if you ever need to transfer domains, you'll notice that the process is much more streamlined and flexible than Squarespace's.
Dynadot's domain registration features ⚙️
Domain transfer
Domain privacy protection
Grace domain deletion
Domain suggestion tool
Domain backorder service
Domain parking
Domain locking
Domain marketplace
Bulk domain registration and management
Dynadot's domain registration pricing 💸
Dynadot's domain name registration starts from $1.99 per year.
---
Final Thoughts 🧐
When choosing between these four best Google Domains options, keep in mind that:
Namecheap offers a flexible pricing model and a wide selection of domain extensions, along with advanced DNS options and privacy-centric tools.
GoDaddy offers generous discounts for long-term users and a range of supplementary domain-related services.
Domain.com provides an intuitive DNS management system, free SSL certificates, and domain privacy and transfer lock services.
Dynadot stands out for its user-friendliness, brokerage service, and grace deletion capabilities.
Want to move an already registered domain to one of these Google Domains alternatives? Check out our guide on how to transfer a domain.