How much does a domain name cost?
Well, the short answer is, a domain name can be free or it can stretch into the region of a hundred million dollars.
So far, $90 million is the highest domain name cost that has ever been recorded [1]. The deal went down in May 2005, and the domain name in question was LasVegas.com. CarInsurance.com then later sold for a whopping $49.7 million to the same buyer who also acquired Insurance.com for $35.6 million [2][3].
What makes one domain name cost more than another, though? We'll answer this question, and give you tips to find a cheap domain name, but first, let's answer the original question: how much does a domain name cost?
---
How much does a domain name cost?
The average price for registering a typical domain name is about $10 – $15 a year, an amount that is paid out directly to a domain name registrar. This is what, in technical terms, is referred to as domain name registration.
Such transactions are essentially meant to reserve the selected domain name for a certain period – which is usually about one to ten years. Domain name registrars are the parties who are mandated by ICANN to facilitate and manage the reservations.
You don't have to pay anything, though. Free domain name registrations are offered as a complementary provision by many web hosting providers. They use them to bait individuals and businesses into settling for their web hosting services.
If you, otherwise, choose to purchase just the domain name, the entire registration could cost you anywhere between $5 and $50 a year.
The other option would be to purchase a premium domain name. This is basically a pre-registered parked domain whose ownership can be transferred for a hefty price.
---
Factors that influence domain name cost
The cost of a domain name is dependent on these four factors:
---
1. Top-level domain (TLD)
The top-level domain is the punctuated suffix that follows the domain name to form your web address.
For example, in the case of DomainWheel.com, the TLD is .com. The same applies to Google.com, Facebook.com, Twitter.com, and Wikipedia.com.
Other common TLDs include:
.net – such as php.net
.org – such as WordPress.org
.gov – such as NSA.gov
.edu – such as Harvard.edu
In total, there are over 1,500 TLDs to choose from based on the purpose, area of specialization, industry category, location, and ownership of your upcoming website.
Most domain name registrars offer those TLD categories at varying pricing rates based on their availability, technical requirements, and market demand.
If you're looking to set up an online store, for instance, you'd probably be choosing from TLDs like:
.com, which is meant for "commercial" websites
.co, which is traditionally reserved for "corporations" and "companies"
.store, which is often used for ecommerce stores
.shop, which normally identifies online shops
However, since .com leads in popularity and memorability, the demand is expected to be higher [4]. This, in turn, makes it pricier than .co, .store, and .shop.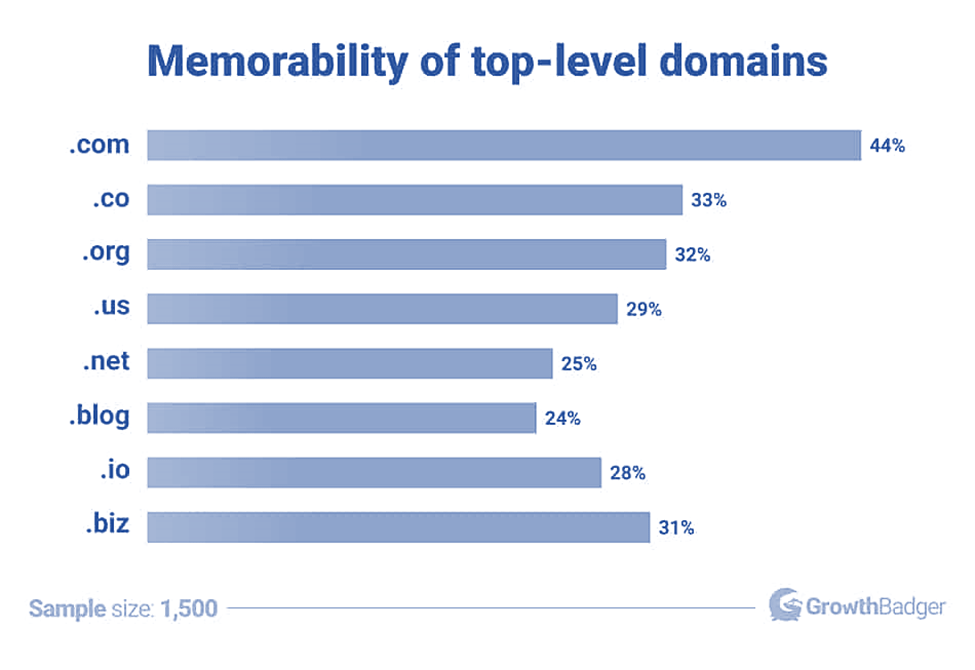 This doesn't mean that all alternative TLDs are cheaper, though. Some, like .io or .ai can cost significantly more.
---
2. Domain name registrar
While they're all accredited by ICANN to serve as DNS registry gatekeepers, domain registrars all have their own rules, processes, assets, methodologies, and strategies for service delivery.
This is what creates a disparity in their domain name costs.
Case in point: the same domain name that some web hosts offer for free could otherwise cost you ten or more dollars on a single-service domain registration website.
The difference between the two is, the former treats domain name registration as a complementary service whereas the latter relies on it for revenue generation.
Across the many categories of service providers, you'll also find varying provisions for DNS management, SSL security, WHOIS privacy protection, business email accounts, customer support, and domain renewal.
It's because of all those feature variations that .com domain TLDs go for $12 on Google Domains, $8.99 on Name.com, $4.99 on GoDaddy, and $9.99 on Domain.com (all listed prices are for the first year).
---
3. Registration duration and renewal
The registration duration is another key factor in the cost of a domain name.
Generally, domain name registrars sell their reservations in packages that are renewable after one to ten years. Some limit themselves to annual renewals, while others stretch their maximum duration to 24 months. Some registrars even accommodate reservations of up to a decade.
Upon comparing the resultant domain name costs, you'll notice that whereas annual registrations quote lower gross amounts, the decade-long options are substantially cheaper per year.
Long-term registrations will also minimize the risk of incurring penalties due to domain name expiration. Otherwise, you might not always remember to renew your service every year, a blunder that could attract heavy fines from the registrar.
---
4. State of ownership
More often than not, startups find their first choice of domain names already taken.
If you ever end up in a such situation, you could take either of these two options:
Look for an alternative domain name that's available and then register it
Reach out to the owner of your first-choice domain name and then purchase the ownership rights from them
The first option will have you paying the standard domain registration costs. As for the second one, however, you'll be forced to fork out a tidy sum of money to acquire your originally preferred domain name.
These pre-registered parked domains are known as premium domain names. You'll find them being sold by business investors and domain flippers in domain marketplaces, where the asking price is typically defined by the domain name's marketability and distinction.
The most expensive premium domain names are made of simple, catchy, one or two-worded terms that are easily recognizable, and highly memorable. This explains why LasVegas.com, CarInsurance.com, and Insurance.com sold for that much.
---
How to find a domain name cheaply
The high cost of premium options shouldn't lock you out of finding the best domain name for your brand. You can still come up with a unique, unregistered option that is memorable, captivating, and relevant to your brand. The trick is to combine your creativity and the power of AI.
You can start by brainstorming business name ideas. Think of all the random brand names you could use by drawing inspiration from your products, services, business values, locality, physical characteristics, target audience, and historical role models.
Feel free to also play around with figurative language compositions such as idioms, puns, similes, euphemisms, and double-entendres.
Then when you've compiled solid ideas, you could turn to our AI-driven domain name generator for further polishing. You just need to feed the ideas into its free web-based system, and the underlying machine-learning algorithm will generate contextual variations of available domain names.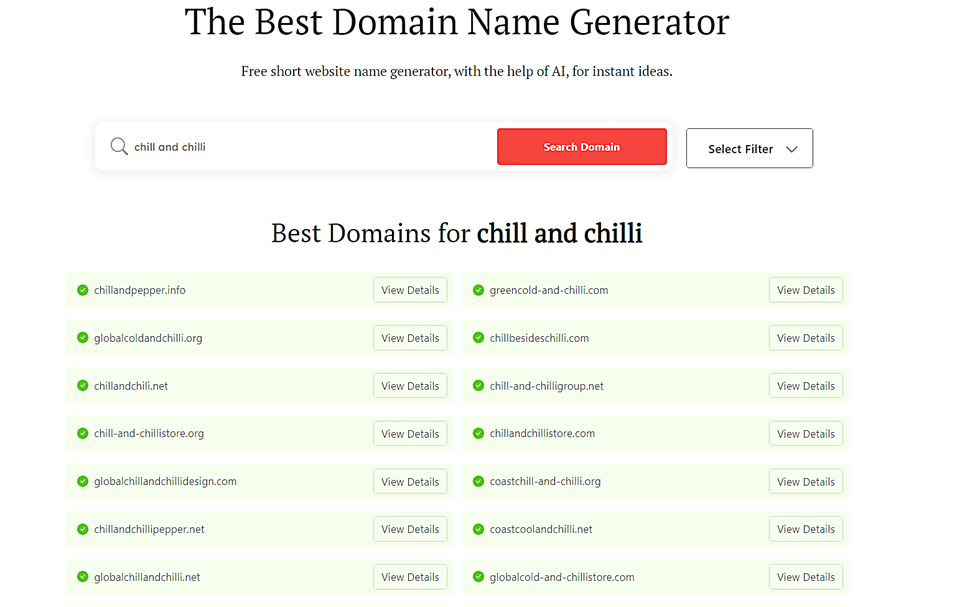 The domain names themselves can be explored across different TLDs. Plus, you'll be getting a supplementary list of words that rhyme and sound like your original keyword, which should help you in developing even more thoughtful ideas.
---
Final advice on finding a domain name 🏁
How much a domain name costs shouldn't be the only thing you consider when choosing one. To find the perfect domain name for your business, consider applying the best practices outlined in these additional guides: