Do you want to share your love of books with the world? Connect with authors and readers? Maybe even get some free books or earn some money along the way? This guide to how to start a book blog is here to help!
I'll show you how to build a book blog in eight steps:
There's a lot to cover, so let's dive into it!
---
How to start a book blog: a step-by-step guide
1. Choose a niche 🧔
Your niche is the market segment your blog will fit into. For a book blog, this will typically be the genre or style of books you want to talk about.
Here are some examples of book blogging niches:
Romance books
Mystery books
Science fiction and fantasy books
These are high-level niches, which means that they cover broad categories. You can get more specific by using a sub-niche like the ones listed below:
Harlequin romances
Cozy mysteries
Space opera books
High fantasy books
When considering a niche, ask yourself these questions:
Are you interested enough in this niche to write about it for years to come?
Is the niche broad enough to keep coming up with article topics for that length of time?
Is the niche large enough to build an audience around?
If the answer to all three of these questions is "yes", you've found a winner!
---
2. Choose a book blog name 📚

The next step in how to start a book blog is to choose a blog name.
A blog name should fit three criteria:
Descriptive. Your blog name should indicate your niche.
Memorable. Your blog name should be easy to remember.
Simple. You want your blog name to be easy to say and spell so that readers can easily find your page and refer it to others.
Don't know what to name your blog? Use our handy blog name generator to come up with dozens of instant ideas. Simply type your genre or another relevant word/phrase into the search bar and click Search Domain: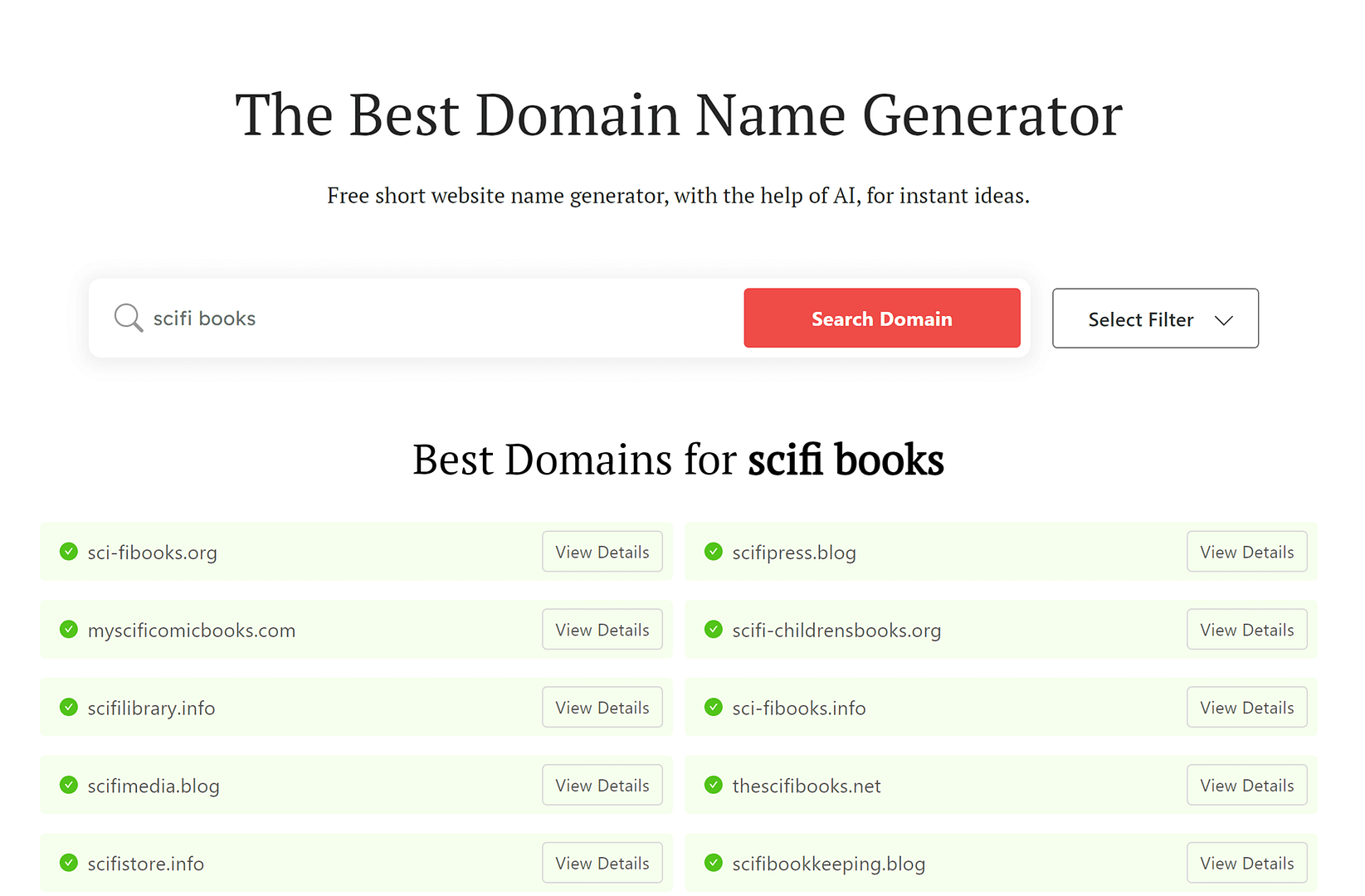 You can also check out our guide on how to choose a blog name.
---
3. Choose a web host 💻
With your name ready to go, it's time to choose a web host. This is the company that will store your website data and make your website visible to users on the web.
There are many things to consider when choosing a web host, some of the most important being:
Domain registration and SSL certificates. These are essential tools for making sure your website gets seen. Having a free SSL certificate also improves security.
Ease of use. Many web hosts offer things like preinstalled WordPress and even managed WordPress updates to simplify website management.
Storage and bandwidth. Storage is how much data you can have; bandwidth is how much data you can send to website visitors/how many people can visit your site. You want plenty of both.
Cost. Web hosting plans can vary wildly, with some costing just a couple of bucks a month and others costing over $30 per month.
We recommend Bluehost for high-quality plans at affordable prices, complete with SSL certification and a free domain.
---
4. Set up WordPress 🔨
WordPress is the world's most popular software for building websites and blogs.
Most of your favorite book blogs probably use WordPress, so it's a great solution to use for your own blog.
Many web hosts offer plans with preinstalled WordPress, while others offer a one-click WordPress installation.
Check out our guides to installing WordPress on Bluehost and installing WordPress on SiteGround for more details.
---
5. Choose a theme 🎨
A WordPress theme is a template that dictates what your site will look like.
There are thousands of free themes to choose from, many of them specially designed for bloggers.
You can search the directory by going to Appearance > Themes and clicking Add New.

There are also many premium themes with more advanced customization options. These typically cost $30-50.
One of the best themes for bloggers is Neve. This theme is highly customizable and there are numerous starter sites you can use to create a beautiful website with minimal effort. Best of all, you can access most of Neve's features for free!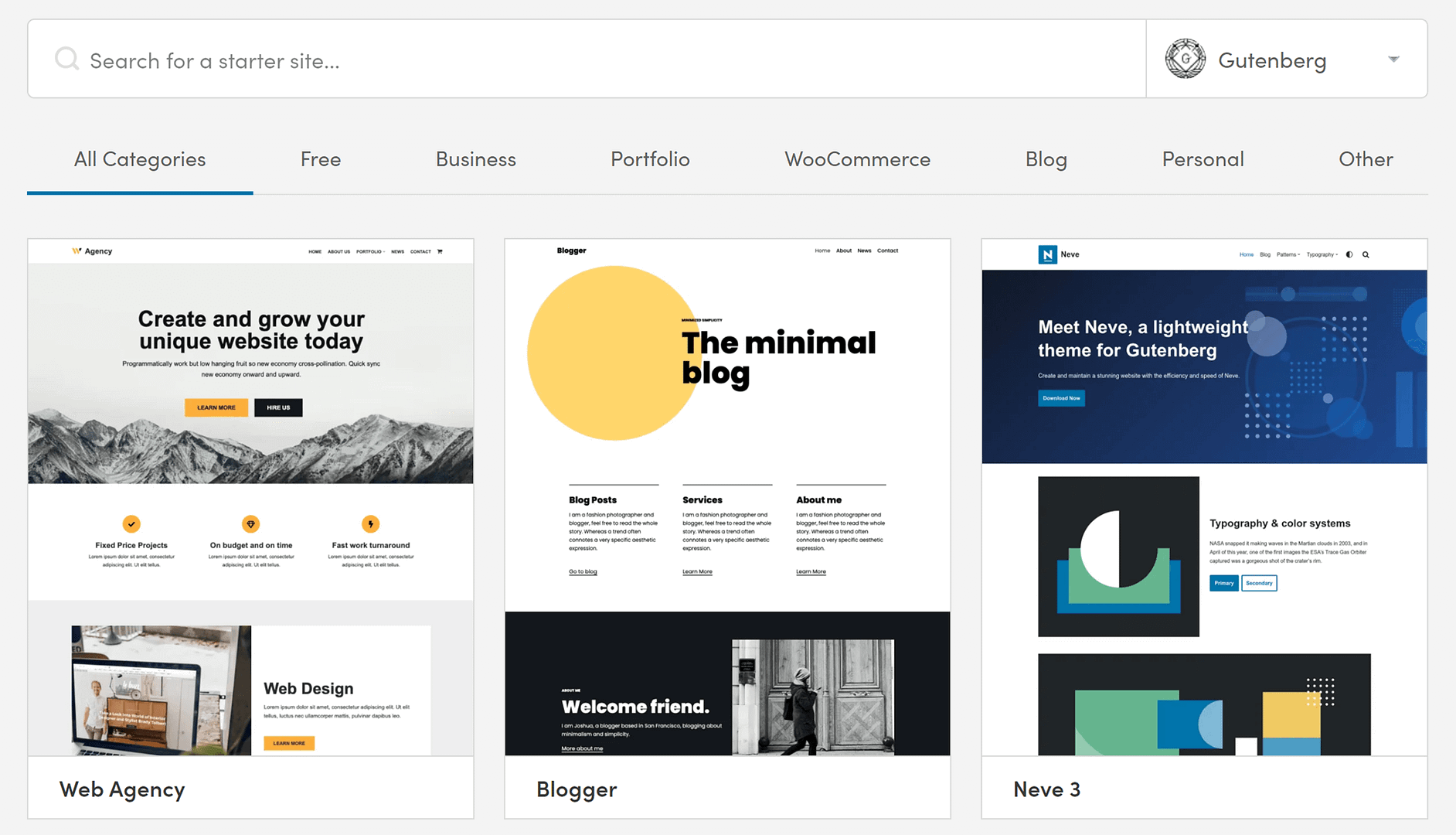 ---
6. Add essential plugins 🔌
Plugins are extensions for WordPress that let you add new features and functionality to your book blog.
As a book blogger, there are a few plugins you'll definitely want to install:
All of these plugins have a free version, so you won't need to spend anything other than time to add them to your site.
You can find these plugins in the WordPress directory by going to Plugins > Add New in the WordPress dashboard and searching for the name of the plugin you want.
As you grow, you also might want to consider premium plugins such as the Ultimate Book Blogger plugin, which is designed to help you add structured information about the books that you write about.
---
7. Set up your core pages 📃
The next step in how to start a book blog is to set up your core pages. At a minimum, you'll need the following pages:
Homepage
About
Contact
Review policy
You can create these pages easily by going to Pages > Add New in the WordPress dashboard.
---
8. Launch your site 🌐
Now that you've got your site set up, it's time to launch!
There are a few things you'll want to have ready for your launch:
A content plan. A content plan dictates what you'll post and when. The key to success here is to post the same types of content on a regular schedule so that people know what to expect. For example, you might post reviews on Tuesdays and do author interviews on Thursdays.
An SEO strategy. You should develop a list of keywords for use as blog post ideas to help your blog rank higher on search engines. For example, if you review science fiction books, you might want to target the keyword "best science fiction books".
A social media marketing plan. Social media isn't always the most reliable way to market your work, but it's not something you can ignore either. At the bare minimum, you want to establish a presence on 2-3 social media platforms and share your blog posts on those accounts when they're published.
With these things in mind, you're ready to start your book blog!
---
Final advice on how to start a book blog
If you're feeling overwhelmed by all of this advice on how to start a book blog, don't worry!
You can always bookmark this page, start with step one, and return to this page when you're ready for the next step.
We've also kept our guide on how to start a book blog intentionally short. If you want to see more in-depth coverage, you can read our full guide on how to make a website.
🛒 Want to create an online store where you sell the books you review? Check out our guide to how to create an online store.