Do you want to learn how to start a photography blog but don't know where to start?
Today I will show you how.
Starting a photography blog is a creative and fun way of sharing your love for photography with the globe. The best part? You can make an extra side income from blogging. If your photography blog blossoms, you may even someday be able to ditch your 9 to 5 and turn it into a full-time gig.
This article will walk you through six steps for creating a photography blog from scratch.
Let's get to it!
---
How to start a photography blog in six steps
---
1. Pick a photography niche 🧍
The first step to starting a photography blog is choosing a niche.
Why?
With countless photography blogs on the internet, if you become a generalist, you will struggle to identify a clearly defined target audience and have trouble positioning your blog. The solution is specialization. Specializing gives your blog a sharp focus and makes it easy to define your target audience, two vital building blocks to a successful blog.
🎦 Here are a few popular photography blog niches to consider:
Wedding Photography
Family Photography
Pet Photography
Portrait Photography
Event Photography
Nature Photography
Photo Editing Tips
Food Photography
Business Photography
Photography Equipment
Note that you can choose two to three related niches if you can't bring yourself to focus entirely on one. For example, if your blog focuses on family photography, you might also include some posts about pet photography, since pets are an important part of many families. The key is to make sure that your niches are closely related so that there's a significant amount of audience overlap.
---
2. Come up with a unique blog name ☀️
The next step in how to start a photography blog is choosing a blog name.
A good blog name does three things:
Tells your target audience who you are and what you do. A blog name is the first encounter readers have with your brand. It introduces you memorably to readers.
Reveals your blog's unique positioning and emphasis. Your blog name distinguishes you from the thousands of other photography blogs.
Acts as a filter that allows readers to self-select. Since a blog name tells readers what you do, this helps them decide whether to check it out or go elsewhere if it isn't a good fit.
In short, your blog name is an excellent branding tool.
When choosing a photography blog name, ensure it's:
Simple. Create a plain name readers grasp easily because a blog name isn't a head-cracking cryptic puzzle.
Unique. With many photography blogs vying for an audience similar to yours, your blog name must be distinctive.
Relevant. Your name must be relevant to the topic(s) your blog discusses.
Memorable. You want visitors to remember your name right away so that they can easily return to your site and recommend it to friends.
Use our free photography business name generator to get name ideas faster. Type your keyword and a ton of ideas will pop up.
---
3. Choose a web hosting provider 💻
Thirdly, choose a web hosting company for your photography blog.
A web hosting provider is a company that keeps your blog's files and makes your weblog visible online.
There are three vital factors to consider when picking a hosting company.
To begin with, choose a hosting company with a 99.9% uptime. Uptime is the time that a website is available online to users. A high uptime shows the hosting provider's servers are reliable and won't let you down when people visit your site.
Next, pick a web host with sufficient disk space and traffic allocations. Typically, 10GB of disk space and a minimum of 5,000 visitors per month are enough when starting.
Finally, choose a hosting provider with fast loading speeds since Google favors blogs with swift loading times.
For more tips on choosing a web host, please read our guide that covers the best web hosting services.
---
4. Install WordPress and choose a theme 🎨
With your blog name and web host on hand, the next step in how to start a photography blog is installing WordPress.
WordPress is a popular Content Management System (CMS) that's perfect for blogging. It has a plethora of free plugins for customizing your blog and a vibrant, supportive WordPress community to help you troubleshoot any issues.
Installing WordPress used to be complex back in the day. Not anymore. Most web hosts have simplified the process so you can do it with a few clicks. Below are two guides on installing WordPress on SiteGround and Bluehost, two web hosts we highly recommend.
After installing WordPress, choose a blog theme. A blog theme is software that determines how your blog functions and looks. We recommend Neve, a gorgeous lightweight theme built for speed in an age of impatient browsers.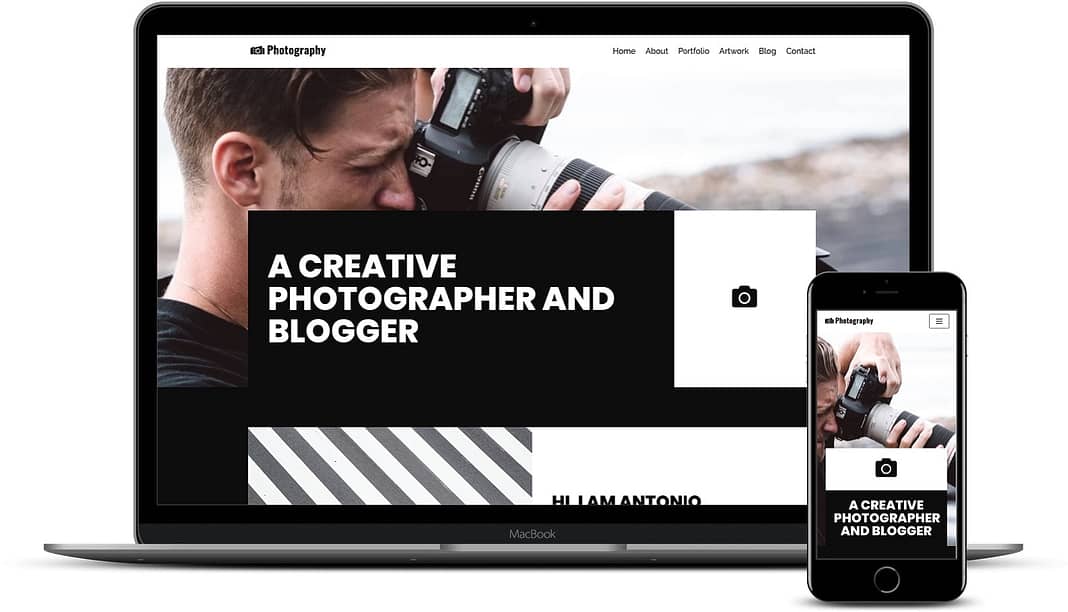 ---
5. Choose your plugins 🔌
Next, choose the ideal plugins for your photography blog.
WordPress plugins help you improve and customize your blog. Typically, your photography blog needs plugins for the following purposes:
---
6. Set up your core pages 🔧
The last step in how to start a photography blog is setting up your blog's core pages.
There are four essential pages for a photography blog:
Homepage. The homepage is the page through which most (not all) visitors arrive on your website. Visitors get the first impression of your photography brand from the homepage.
About Us Page. On the About Us Page, you introduce yourself to your visitors. You share your background, expertise, mission, and fascinating personal tidbits.
Contact Us Page. The Contact Us Page shares your contact details with readers. Whether it's via email or a contact form, visitors should have ways to reach you.
Blog Page. A blog or weblog is a regularly updated informational page where you share articles related to your photography niche.
If you want to use your blog to help you book clients for your professional photography business, you should also include a Services page where you detail what you do and how people can hire you.
---
How to start a photography blog: conclusion
In summary, learning how to start a photography blog is straightforward. If you've already picked a niche and have some name ideas, you can build a blog in an hour or two. But that's just the beginning.
For your photography blog to grow, you need to promote it consistently. Share your blog with your network and on all your social media channels. You can also get more eyeballs to your blog by guest posting on popular blogs in your niche.
🎞️ Want more help getting your photography blog started? Check out our collection of photography blog ideas for inspiration!