Distinguishing between landing pages vs website is pivotal if you are building a website or working on an online campaign but wondering which one is best for you.
These days having an online presence is a must if you want to spread the word about what you do. Whether you are an entrepreneur, affiliate marketer, or running a non-profit organization, you can benefit from a website or a landing page.
But knowing whether you need a website or landing page can be tricky.
This compact guide will clear things up for you.
👉 I will differentiate between a landing page and a website by going over the following:
There's a lot to cover, so let's get started!
---
What is a website?
A website is a collection of publicly accessible interlinked web pages published under one domain name.
Virtually every business or organization today has a website to reach a bigger audience and be available to customers and stakeholders around the clock.
---
What is a landing page?
A landing page is a dedicated stand-alone web page designed to persuade readers to take a specific action.
It's a specific page created for a specific marketing campaign for a specific audience with specific goals. Website owners use landing pages to convert visitors into leads or turn leads into paying customers.
Landing pages are sometimes also incorrectly labeled as squeeze pages, but even though they are closely related, they are not the same. Their relationship is similar to fruits (landing page) and oranges (squeeze page). Put even more simply, a squeeze page is a type of landing page. Compared to standard landing pages, squeeze pages are more concise, use shorter lead generation forms, and have fewer design elements. They also only have one conversion goal, which is to capture the reader's name and email, whereas a landing page might have other conversion goals (e.g. making a sale).
Both landing pages and squeeze pages can be hosted on company websites or created separately through specialized landing page builders.
---
Landing pages vs website: 3 key differences
Next in our landing pages vs website tutorial, let's delve into three differences between the two.
1. Landing pages have limited navigation, websites have full navigation
A simple distinction between landing pages vs website is navigation.
Websites have a full navigation menu.
Typically, the menu includes prominent menu items pointing users to the crucial pages on a site, such as a homepage, about us, pricing, contact us, blog, and more. These pages are ideal since websites target a broad audience with contrasting needs.
But a complete navigation menu is a big no-no for a focused landing page whose goal is inspiring a specific group of users to take a particular action. That's because including the entire navigation menu distracts readers and tempts them to click away to another page, thus defeating the purpose of the landing page.
Hence why landing pages have no (or limited) navigation menu items: to keep visitors on the page. Here's a case study from Copyhackers.
Their only items on the navigation menu are a countdown timer, a link to the sales page – "don't miss your shot" – and another link that gives visitors more information about the offer – "show me what's inside."
---
2. Landing pages have one goal, websites have multiple
Another difference between landing pages vs website is the goal.
👉 A fully-fledged website has many goals. For instance, a homepage, one of the core pages of a website, can have multiple goals, including:
Pointing users to a sales or services page
Sharing the brand's mission with visitors
Introducing the company's founder via a video clip
Taking visitors to featured products or specials page
Encouraging visitors to click through to a portfolio page
Sharing the latest customer reviews as social proof
As you can see from the above list, a website has various goals and calls-to-action (CTAs) that guide site visitors on what to do or where to go next. Below is an example from the HubSpot homepage: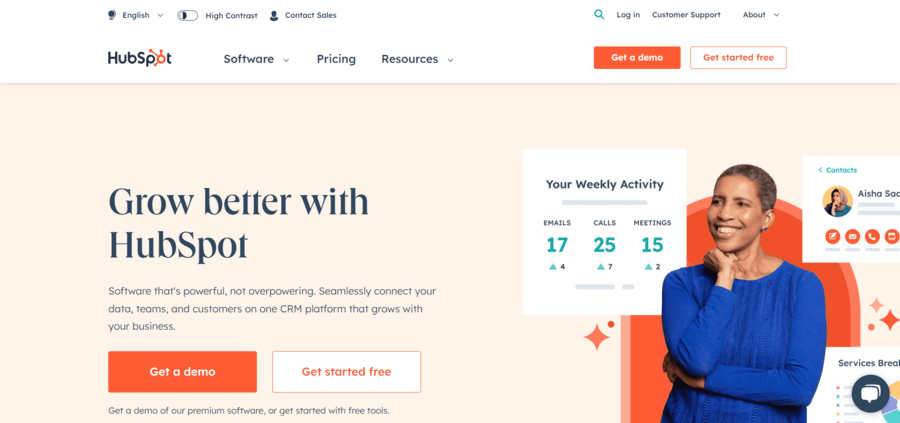 The navigation menu and CTA buttons give visitors a myriad of options. Site browsers can get a demo, sign up for a free account, see pricing plans, explore the software's features, contact sales, or check out educational resources.
Unlike a website, a landing page has a single goal.
👉 That one objective dominates everything from the headline, copy, photos, and CTAs. The one overarching goal of a landing page can be to get visitors to:
Download a free report
Fill out a lead capture form
Book a free consultation call
Register for an upcoming webinar
Click through to a sales page
---
3. Landing pages target specific audiences, websites target general audiences
Next, websites target a broad audience, while landing pages target a narrower one.
A bunch of prospects visit a website at any given moment. Some bump into your business while they browse the internet for answers related to the problems you solve. Another group may be people who heard about your brand from friends and want to learn more about your company and what it does.
An additional set of visitors could be credit-card-ready people who already know about your product and want to buy from you. Yet another group of visitors might want to find your contact information so they can ask questions about your company.
A website caters to all these audiences.
Not so with a landing page.
Landing pages target a specific audience with one common need. It's a highly focused page with a tailor-made offer for a particular audience. The traffic source (where people come from) is used to inform the content of the page.
These warm prospects arrive on the landing page from a paid advert, blog post, or email newsletter because they are interested in an offer and want to discover more about it.
---
Landing pages vs website: pros and cons
It's now time to examine the advantages and disadvantages of landing pages vs website.
Website pros 👍
Allows you to build trust with your target audience
Gives your business online visibility around the clock
Rank for multiple lucrative keywords and boost profits
Drive organic traffic and significantly improve brand awareness
Website cons 👎
Websites can take a long time to rank for competitive keywords
Offers on websites can be too generic, which lowers conversion rates
---
Landing pages pros 👍
Customized offers for specific audiences drive higher conversions
Excellent for generating leads and closing sales
Easier to track than massive websites with multiple pages
Generate high-quality leads for your business
Landing pages cons 👎
In order to run multiple campaigns, you need to create multiple landing pages
Properly optimizing and tracking landing pages can be costly and time-consuming
---
Landing pages vs website: do I need a landing page or a website? 🤔
To conclude our landing pages vs website comparison, both landing pages and websites are effective online tools.
None is better than the other. Your goals determine which one you need between the two.
Websites are best if you want to introduce your brand to the world, tell them about your mission and market your entire product line. But if your goal is to generate leads and close sales for specific products, landing pages will do the trick.
You can also have a website and landing pages for some marketing campaigns to enjoy the best of both worlds.
The key to making the right choice is determining your goals first.
👨‍💻 Want to create a website? Get insightful step-by-step tips from our guide, how to make a website.