Your online presence is more important than ever. And one of the best ways to solidify it is by getting a personal domain name.
Choosing the right name can help you build a brand, stand out online, and attract the right audience for you.
So, where and how do you begin?
💁‍♂️ Well, read on because we're about to explain:
Whether you're an aspiring entrepreneur, a creative, or simply someone looking to stand out in the digital space, this article will give you the tools you need to select the right domain name for you.
Let's begin.
---
What's a personal domain name?
A personal domain name is a domain that people register and use for their online presence.
For most people, this usually means having a domain with their name and surname, but it can also be a nickname, abbreviation, or any sort of variation of your name.
For example, if your name is Tom Smith, you might choose to register tomsmith.com. If that's not available, maybe tsmith.me.
Your domain name can also include how you want to be known. For instance, if you're a travel blogger, tomsmithtravels.com, tomtravels.com, or something along those lines can also work.
To choose the perfect domain name, you have to answer one key question:
🤷‍♂️ What will you use it for?
You see, when most people hear "domain name," they immediately think of launching a new website with a homepage, contact page, blog, and everything else in between.
But personal domains are slightly different.
While you can definitely build a new website after purchasing your personal domain, if you don't have the time right now, you don't have to.
Instead, you can use this domain to help direct people to any relevant pages of yours.
For example, you can use it to direct people to your LinkedIn page, online resume, YouTube channel, or any social media profiles you want to share.
---
What are the benefits?
There are a few advantages to choosing a personal domain name. These include:
It gives you credibility
Having a personal domain name can help make you look more professional, trustworthy, and, ultimately, credible.
Just think about it – if a potential client or employer decides to Google you, wouldn't you prefer them to land on a page that directs them to your LinkedIn, online portfolio, or any other professional links?
Getting a personal domain can help you achieve this.
---
You can protect your reputation
Having your own domain name gives you control over your online identity. You can ensure that your name or brand is represented in the way you want. This way, you protect yourself from others using your name in a way that might harm your reputation.
---
It helps to improve your personal branding
🙎🏼‍♂️ There are many reasons why developing a personal brand is so important. It can help you:
Attract clients or customers
Stand out from your competitors
Build a network
Build a lasting impression and credibility in your niche
A personal domain name can be a great way to create a brand and get these advantages and more.
---
You can host your portfolio or resume
We've already highlighted how you can use your personal domain name to help direct people to your online portfolio or resume.
But you might want to host your portfolio at your domain name instead of just linking to your social media profiles or LinkedIn page.
This route gives you a more professional online presence. It shows potential clients, employers, or collaborators that you are serious about your work and have invested in establishing your personal brand.
In addition, when you host your portfolio on your own domain, you have full control over the design, content, and functionality. You can customize it to reflect your unique style and brand, ensuring that it aligns perfectly with your goals and showcases your work in the best possible way.
---
How to choose the perfect personal domain name
---
Step 1: Brainstorm 🌩️
Finding the right domain name is an exciting process that starts with brainstorming.
During this step, you can grab a pen and paper and start thinking about what makes you unique.
Think about your name, hobbies, passions, what you stand for, or what you want to share online.
You can also think about different variations or synonyms of a word or phrase. For example, let's say you're a photographer and want to include photography as part of your domain somehow. You can jot down related words like capture, snaps, shots, images, pictures, portraits, shutter, lens, iris, etc.
During this process, you can also use catchy phrases related to your interests or profession. So, if you're a chef named David, you might think of "Cooking with David" or "David's Kitchen," for example.
At this stage, you're trying to jot down as many ideas as possible to get a good bucket of possible names.
---
Step 2: Use a blog name generator ⚡
This next step is possibly the easiest on the list.
To get started, all you need is our domain name search generator.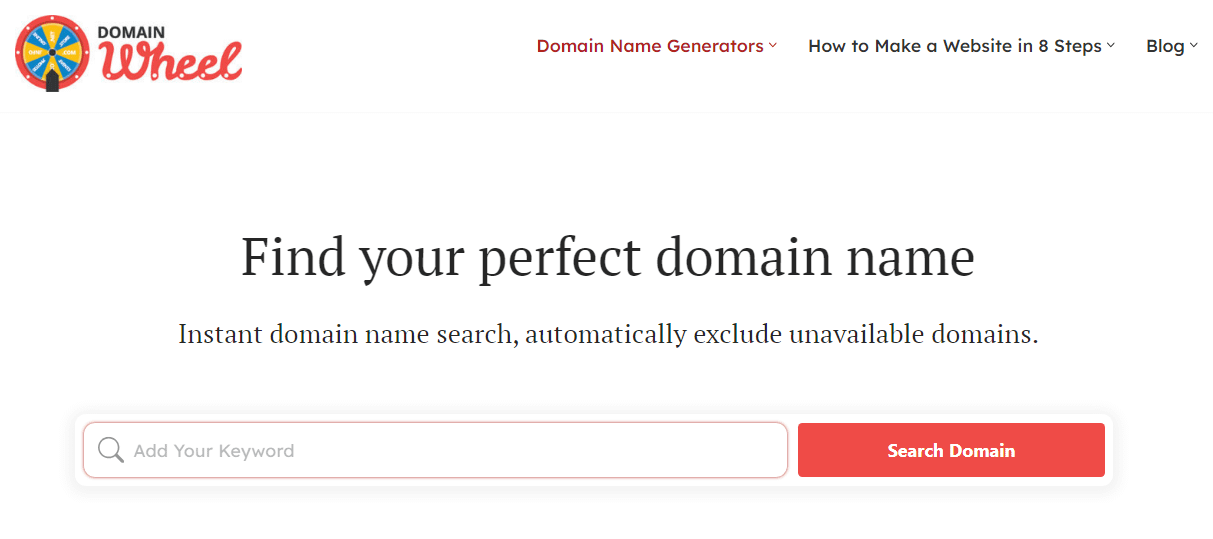 Now, if you just want your name and surname (and nothing else) as your domain, you can simply enter it into the search bar and click Search Domain to see if it's available.
Alternatively, you can type in the words and phrases you came up with from the previous step and then click Search Domain to see if they're available.
The generator will then work its magic and suggest creative names for you.
While using the generator, there are a couple of things to take note of.
Firstly, by clicking Search Filter, you can tell the generator which domain extensions you're interested in.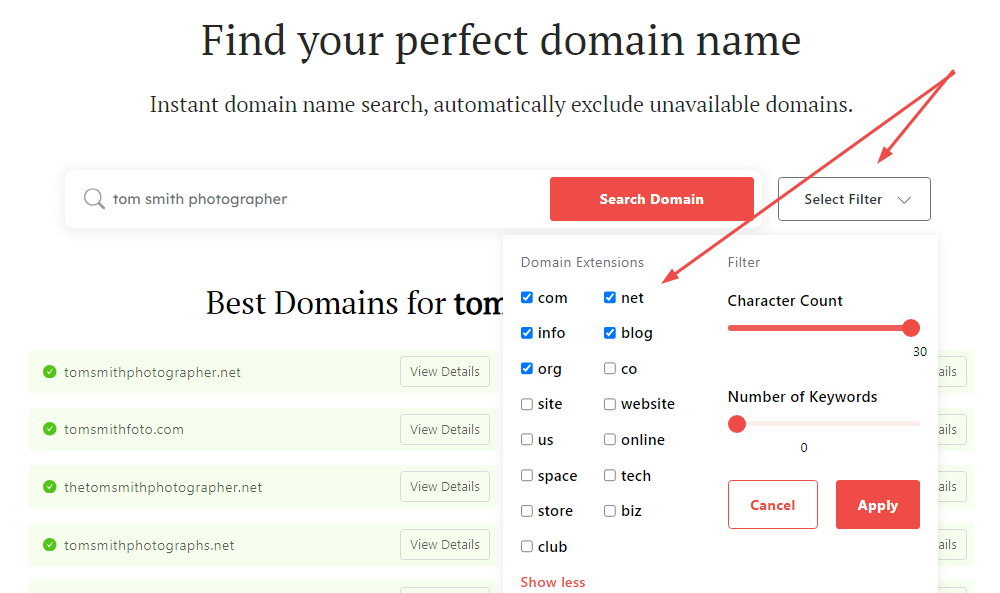 In addition, when you scroll down from the search results, there are three suggestion columns that you might see: Sounds Like, Rhymes With, and Random Suggestions.
These are a great addition to the process because they can help come up with creative words or phrases you may not have considered.
---
Step 3: Opt for short and memorable 🩳
The first two steps will give you many personal domain name options. But of course, we're looking for that one special name.
At this stage, you want to highlight all short and memorable names. Short domain names are often easier to remember and are less prone to typos, ensuring that people can find you online without any hassle.
To ensure that your domain name finalists are short and memorable, delete names that:
Have complex spelling. The last thing you want is for someone to misspell your domain and land up on someone else's page. When it comes to domain names, the simpler the spelling, the better.
Have unusual characters. This includes numbers, spaces, underscores, and hyphens.
Are not easy to pronounce. Word-of-mouth is one of the most important aspects of marketing. Having a name that's simple to pronounce can make things a little easier.
After completing this step, you should have a few good options. You can now use the following step to help you choose your final name.
---
Step 4: Consider SEO 📈
We know that SEO (Search Engine Optimization) helps us attract the most relevant organic traffic. So it only makes sense to consider it when choosing a domain name.
To incorporate SEO into your personal domain name, consider including keywords related to your niche or industry.
If you want to create an SEO-friendly domain name, you want to consider a name that's relevant to your content, easy to remember, short, reflects your brand, and uses a common domain extension. This helps search engines and users easily understand your domain's purpose, thereby improving its SEO potential.
Once you have a name that you're happy with, you can simply click View Details next to the name and follow the prompts to register it as your own.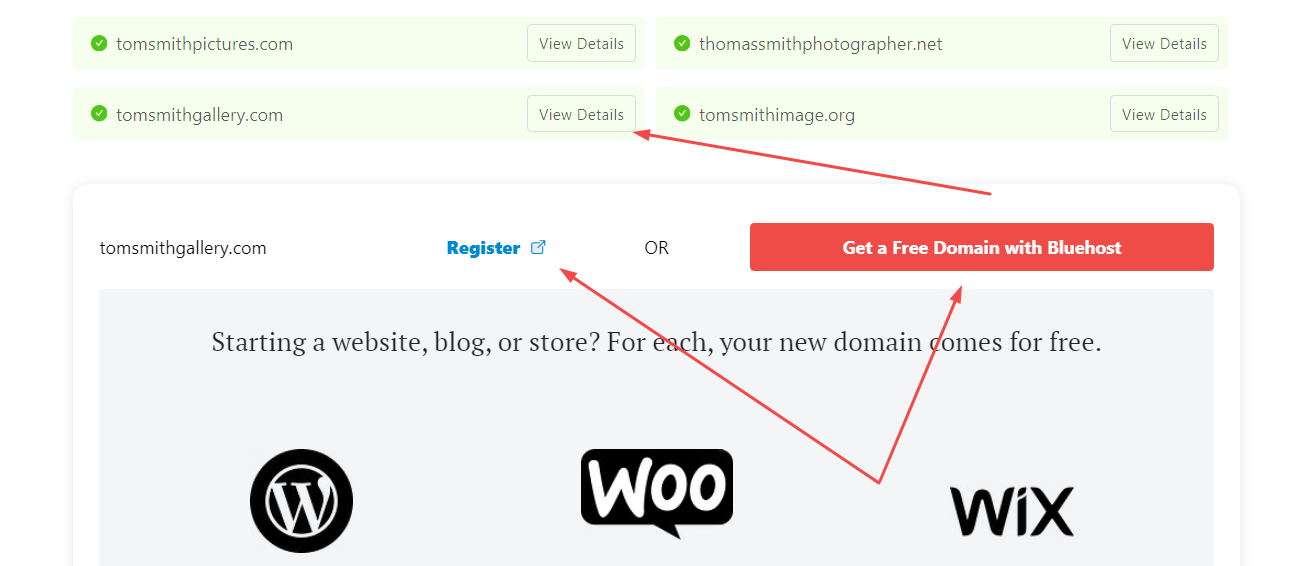 ---
Final thoughts on choosing a personal domain name 🏁
Your domain name is not just an online address. It's your digital identity, brand, and key to making a lasting online impression. It offers credibility, protects your online reputation, and helps you stand out in the vast online landscape.
As we've shown above, choosing one can be a fun process. ⚙️
To sum up, here's what you'll need to do:
🌩️ Brainstorm relevant words and phrases
⚡ Use our domain name search generator to help you find ideas
⚡ Use the same generator's creative suggestions to see if there are any unique names you may not have considered before
🩳 In your process of elimination, take out long, complicated names that are difficult to remember and spell
📈 Consider SEO for your domain name
✍ Register your name
And that's all there is to it! 🤩
Whether you're an aspiring artist, entrepreneur, or simply looking to share your passions with the world, your personal domain name plays an essential role in shaping your online journey. So take your time to ensure that you choose the right name for you and your needs.
As a final bit of advice, if you find out that the domain you want is already taken, then you can read up on how to find out who owns a domain name to see if they'd be interested in selling it to you.