Ever wondered – how much does it cost to start a blog?
The short answer is $35.40 for the first year.
The longer answer is what we're going to break down in the rest of this post.
Starting a blog doesn't have to be as intimidating or pricey as it might seem. In fact, if you take advantage of all that technology has to offer, it can actually be surprisingly affordable.
In this post, we'll look at how much it really costs to start a blog from scratch. We'll discuss various hosting options and other important considerations like domain names. Let's begin.
---
What do you need to start a blog?
Starting a blog is a great way to express yourself and join in on conversations around topics you're passionate about.
Before you can get into the fun part, you need to ensure your blog is set up correctly.
To create a fully functioning blog, you'll need the following elements at a bare minimum:
A domain name
A content management system (CMS)
And a web host
Yes, there are plenty of other costs that may come up along the way – themes, plugins, analytics tools, etc. However, the three mentioned above will help you get started on the right foot, and you can always add more tools as your blog starts getting traffic.
Understanding the cost of these key components is essential in being able to answer how much does it cost to start a blog.
Below, we'll take a look at each of these components and how much you can expect to spend on them.
---
How much does it cost to start a blog: The 3 main components
---
Component 1: The domain
A domain is an address on the internet that allows users to access a website or blog.
For example, our domain name is "domainwheel.com."
Finding the right domain is essential. After all, the name must connect with the brand you're trying to build.
To get ideas, you can use our blog name generator. It's an AI tool that will help you get dozens of creative name ideas in just a few seconds. Just enter some keywords and click "Search Domain."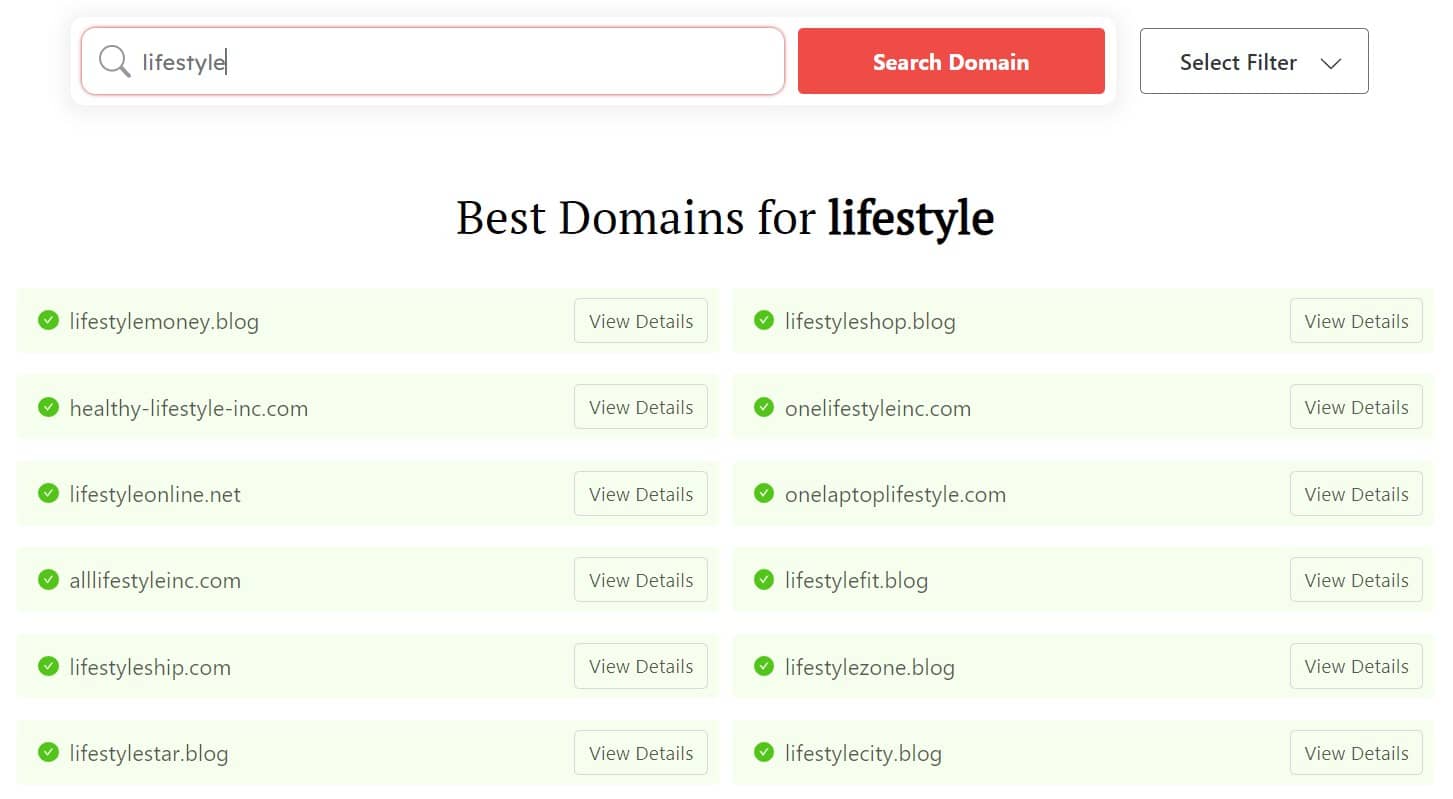 If you're not crazy about the options, you can scroll down to get domain ideas related to your keywords. These can be ideas that "Sound Like," "Rhyme With," or are just "Random Suggestions."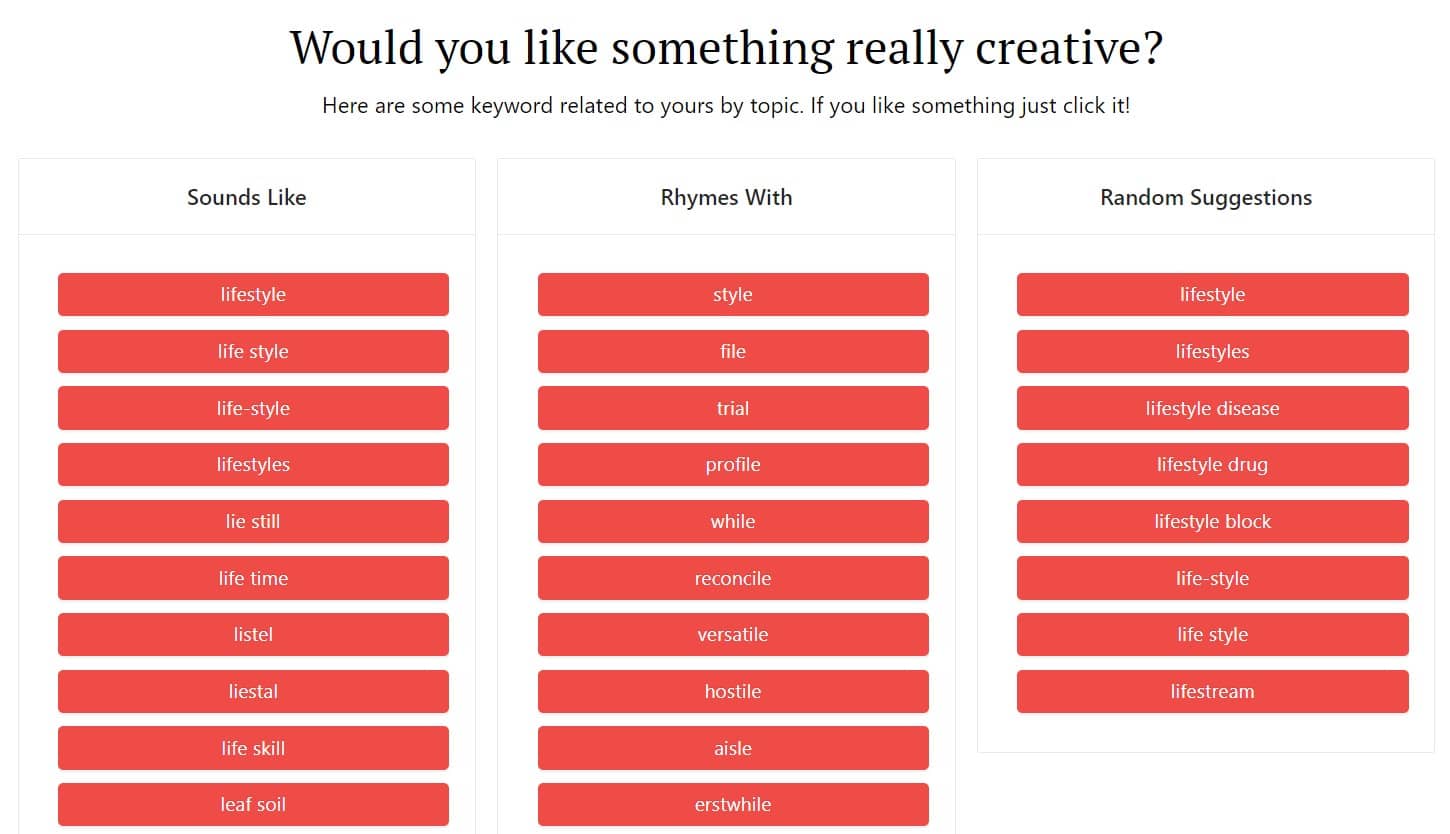 Once you're happy with a domain name, click "View Details," right next to it, to find out how to register and claim it before anyone else takes it.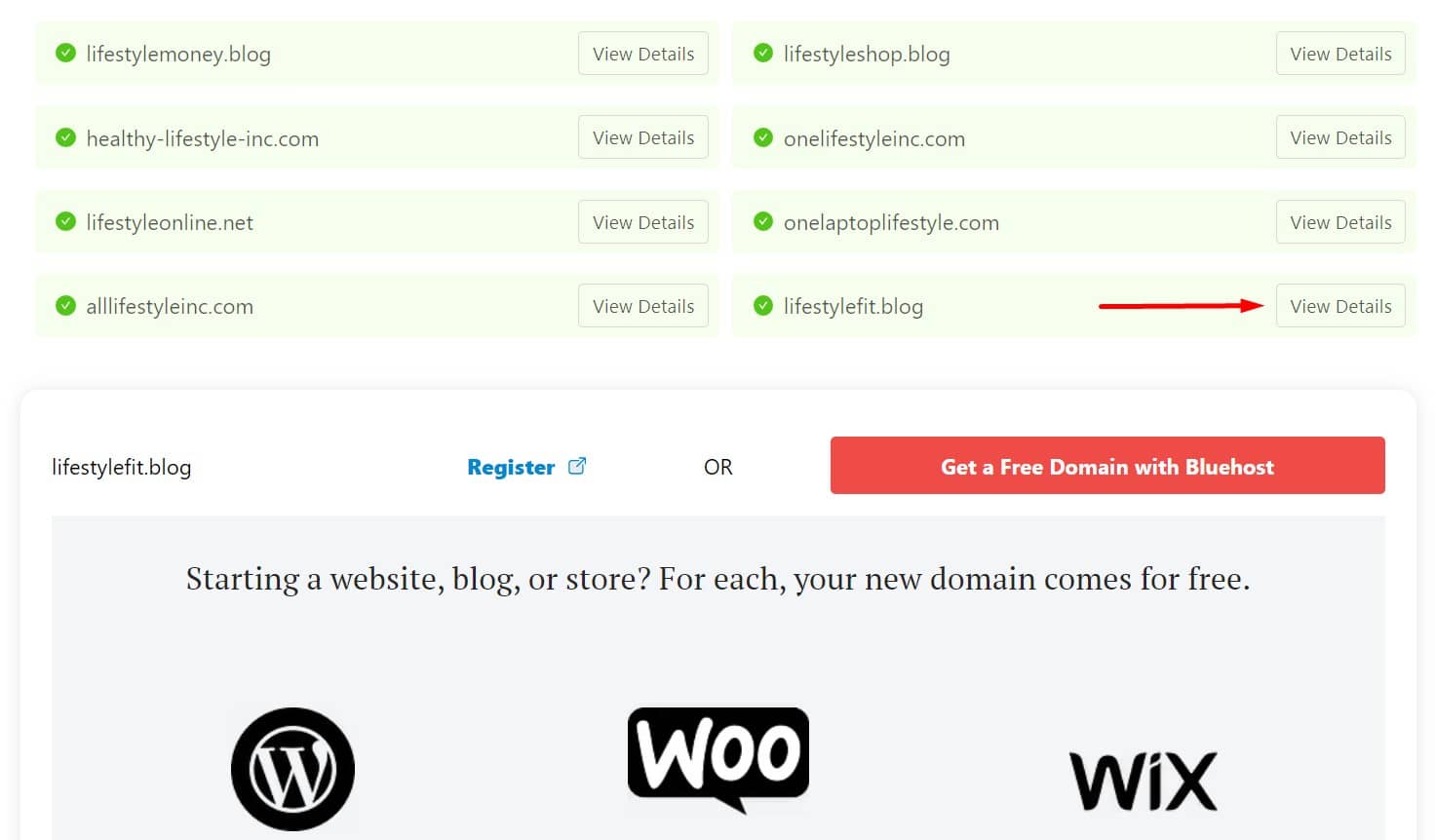 Cost 💳
The cost of registering a domain usually isn't too much. Most average at around $10 – $15 per year.
If you choose Bluehost as your web hosting provider, you can get the domain name for free for the first year.
---
Component 2: The CMS
Your blog's content management system is what lets you publish your blog posts from a user-friendly content editor rather than needing to work directly with code. It does all the work to let you manage everything about your blog without needing any technical knowledge.
Various content management systems (CMS) are available, and it can be hard to know which one will best suit your blogging needs.
We recommend the free WordPress.org software because it's easy to use, well-supported, and intuitive. It has an extensive library of plugins and themes to customize your blog and make it look professional, consistent, and visually appealing.
You're also in good company when you use WordPress – over 43% of all the websites on the internet use WordPress, which makes it by far the most popular way to create a blog or website.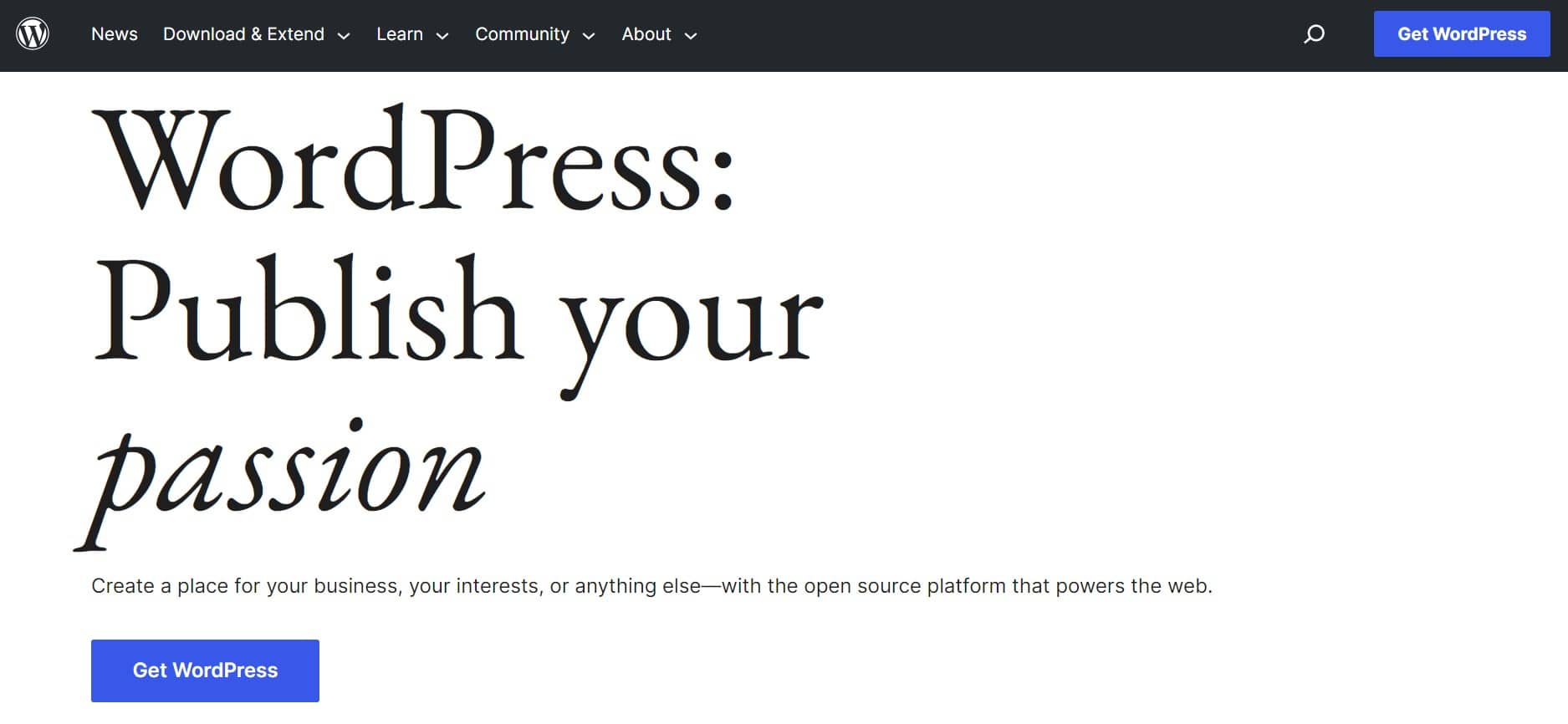 Overall, WordPress offers an affordable solution for getting your blog up and running and helping you put your best foot forward in the digital world.
Some people do create blogs with website builder tools like Squarespace or Wix. While this is a viable route, we don't recommend it because it will usually cost you more money in the long run and you don't have as much flexibility.
Cost 💳
The WordPress software is 100% free – you just need web hosting to run it (more on that next).
Squarespace. Squarespace plans start at $16 per month for annual plans.
Wix. While Wix does have cheaper plans, realistically the cheapest plan for a blog starts at around $12.50 per month.
---
Component 3: The web host
Your web host is what powers your blogging content management system and makes your blog available to visitors from around the world.
If you use a website builder like Squarespace or Wix, they already include hosting as part of their service, so there's no need to purchase it separately.
If you use WordPress, our recommended blogging tool (and the software that powers over 43% of all websites on the internet), you will need your own hosting to power the WordPress software.
Don't worry, though – purchasing your own WordPress hosting is still a lot cheaper than using Squarespace or Wix!
While there are lots of great web hosts that offer a variety of different plans, we highly recommend Bluehost for those just getting started.
Bluehost offers an easy-to-follow setup guide to get up and running quickly and stress-free. It's affordable, reliable, and feature-rich, with plenty of storage space, unlimited bandwidth from shared hosting packages, 24/7 support, and so much more.
Plus, you get a free domain registration thrown in for the first year. All these features combined make it the perfect choice for beginning bloggers who want to focus on writing content instead of troubleshooting technical issues.
If you want to get started, we have a step-by-step guide on how to install WordPress on Bluehost.
Cost 💳
Bluehost. Bluehost plans are available at affordable prices, starting at only $2.95 per month.
Siteground. Siteground, like Bluehost, is recommended by the WordPress.org team. Plans start at $3.99 per month.
A2 Hosting. A2 Hosting offers all the tools you need to run your WordPress blog. Their most affordable plan is the 12-man subscription, which starts at $2.99 per month.
---
Can you start a blog for free?
If you're on a tight budget, there are ways to start a blog for free.
However, free plans come with limited features, which can ultimately limit the functionality or appeal of your blog.
For example, you get more ads on your site (which could drive away readers), fewer design options than paid plans offer, and limited storage space for images or video content. You also have to deal with the CMS's branding and you usually have to use a subdomain.
For example, instead of yourblog.com, you might have to use yourblog.wordpress.com or yourblog.wix.com, which obviously isn't great from a branding perspective.
For the above-mentioned reasons, we recommend investing money into starting your blog. Even if it's just the basic plan. Remember that a little investment is needed if you're trying to build a brand.
---
So, how much does it cost to start a blog?
To fully answer the question of how much does it cost to start a blog, let's put together the three key costs from above.
Here's a table that shows the cost to create a blog and run it for the entire year using our recommended setup – WordPress hosting on Bluehost:
| Component | Cost |
| --- | --- |
| Domain Name | Free for first year with Bluehost |
| CMS | Free (WordPress.org software) |
| Web Hosting | $35.40 for one year of hosting |
| Total | $35.40 for the first year |
Once you have your blog, you might want to enhance it with a premium theme (for its design) or premium plugins (to add functionality), which can be another variable in the question of how much does it cost to start a blog.
But a bare minimum, you can create a fully functioning blog for less than a cup of Starbucks coffee each day.
---
Create your blog today
Starting a blog is a great way to bring your passion to life and share it with the world. It can cost you nothing if you choose to go totally free, but there will be sacrifices such as customization limitations, few options for domain names, more competition from other blogs in the same free avenue, and ads running on your site.
Alternatively, you could invest a little bit of money each month or yearly, depending on the strategy that works best for you, and enjoy the many benefits that come with having control over how you'd like your blog to look, feel, and function which can ultimately lead to more success as content creators.
If you choose a provider like Bluehost, you can expect to pay $2.95 monthly for hosting and use WordPress for free. For the first year, you'll also get a domain name for free.
Whatever route you choose to take when building your blog, always strive towards creating something beautiful and impactful.
If you're ready to get started, you can follow our step-by-step guide on 👉 how to start a blog. We also have specific guides on how to start various niche blogs:
🙋 If you already know the niche that you want to write about, those specific guides can help you get started.